The Best Dog Cooling Pads in 2022
Last Updated: January 4, 2022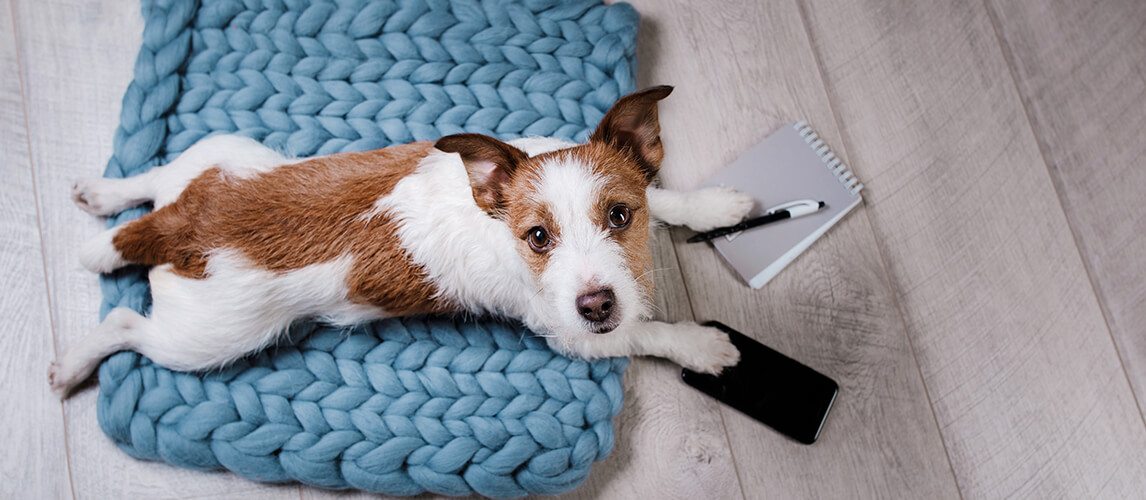 PetSide may earn a small commission from affiliate links in this article.
Learn more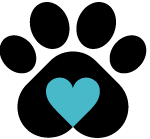 By Petside
Published 11:05 am
Keeping a dog cool is not just for their comfort. Dogs have a very limited ability to lose heat from their body and it is very dangerous for them to get too hot. The best cooling pads for dogs will keep your pooch comfortable and safe as the temperatures soar.
They are very convenient to carry around with you and many don't even need to go in the fridge or freezer. They have their own internal mechanism for staying cool. They come in many sizes and because they can be wiped down, they can be used over and over again so you get your money's worth out of this product! To get you started on choosing the best one for your dog, here is our guide to finding the best dog cooling pads that are out there.
The Best Dog Cooling Pad
Best Dog Cooling Pads Buying Guide & FAQ
What to Look for in a Cooling Pad
There are plenty of dog cooling pads to choose from and it can be hard to make the right choice. Here are the main things to look out for.
You need a cooling pad that your dog can fit the whole of their body on. This will produce the most effective cooling effect. You may have particular size requirements so it will fit in a dog crate or bed. For more options head over to our guide on dog beds.
Most cooling mats are available in several sizes so just choose what suits you. Some smaller ones can be fitted together with Velcro to make a bigger pad.
How does it cool your dog down?
Cooling pads work in different ways. Some have a cooling gel pad inside them that gets cold when pressure is applied to it. Others need to be cooled in a freezer or filled with water.
Those that require no freezing or water are most convenient and easier for you! They just recharge themselves when your dog is not lying on it.
How long will it stay cold?
This is an important consideration, especially if you are traveling. Some of the better gel pads stay cold for up to three hours. Pads that have ice in them may not stay cold for so long.
The main danger is that your dog will chew the pad. Therefore, it needs to be made from non-toxic materials. Some products specify that they are not suitable for dogs that chew so look out for that in the dog cooling pad reviews!
Slipping is another possible hazard so look out for pads that have a non-slip backing.
Inevitably, something that a dog lies on is going to get dirty so cleaning is an important issue. Look for products that you can easily wipe clean.
If they have a soft fabric cover, it's best if this can be removed and popped in the washing machine.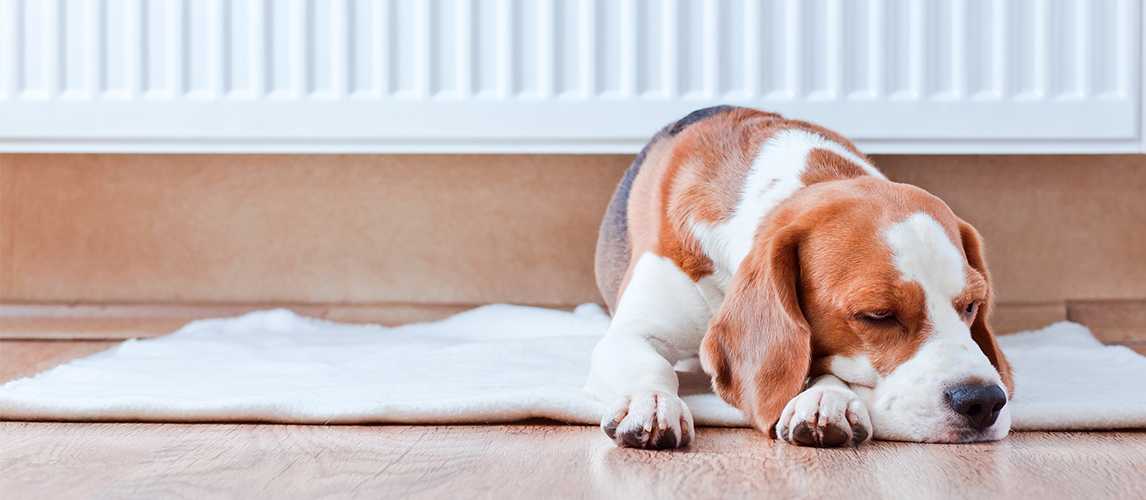 The Importance of Keeping Your Dog Cool
Over-heating in dogs is a very serious issue and sadly dogs die every year from heatstroke. It is important that you know what this is and how to stop it by keeping your dog cool.
Hyperthermia is a medical term for being too hot. This happens when the body temperature rises above what is considered safe and normal. For a dog, any temperature above 103 degrees F would be considered abnormal. Dogs can get hyperthermia when they have an infection (a fever) or when they are exposed to ambient temperatures that are too hot for them to cope with.
Heat stroke happens when a dog that does not have a fever gets too hot and their temperature exceeds 106 degrees F. It can lead to multiple organ failure and death. Excessive exercise can contribute to non-fever hyperthermia.
Heat-stroke is most common in breeds that have long-hair and in those that have short flat faces. These are often known as the brachycephalic breeds. Dogs cool down by losing heat from their respiratory system when they pant so if they have a short nose they lose less heat.
You may also like our article on Dog Thermometers.
When It Is Very Important to Keep Your Dog Cool
This is something you should always bear in mind but there are times when it is even more important.
When the outside or inside temperature is very hot.
When it is very humid.
When your dog cannot breathe properly due to an upper airway disease such as an infection.
When your dog has an underlying disease that makes it harder for them to cool down. This includes paralysis of the larynx, heart disease, nervous system disease, muscular disease.
When exercising vigorously.
When your dog is very young or very old.
When your dog has just moved to a hot climate.
When your dog is overweight.
When traveling in the car.
When your dog is left alone for long periods.
Signs of Overheating in Dogs
Overheating is very dangerous for dogs. They cannot sweat and have a limited capability for cooling themselves down. It is important that you know how to spot the signs of overheating in your dog so that you can do something about it.
The Mains Signs of Overheating in Dogs
Here are the main signs that you may spot.
Panting that is heavier than normal
Excessive drooling – this is called ptyalism
Gums and tongue appearing bright red
Rapid and irregular heartbeat
Vomiting blood (hematemesis)
Blood in the poop
Difficulty breathing
Wobbly and uncoordinated walking
Seizures and muscle tremors
Confusion
Unconsciousness in which your dog cannot be woken up
Heart stopping (cardiopulmonary arrest)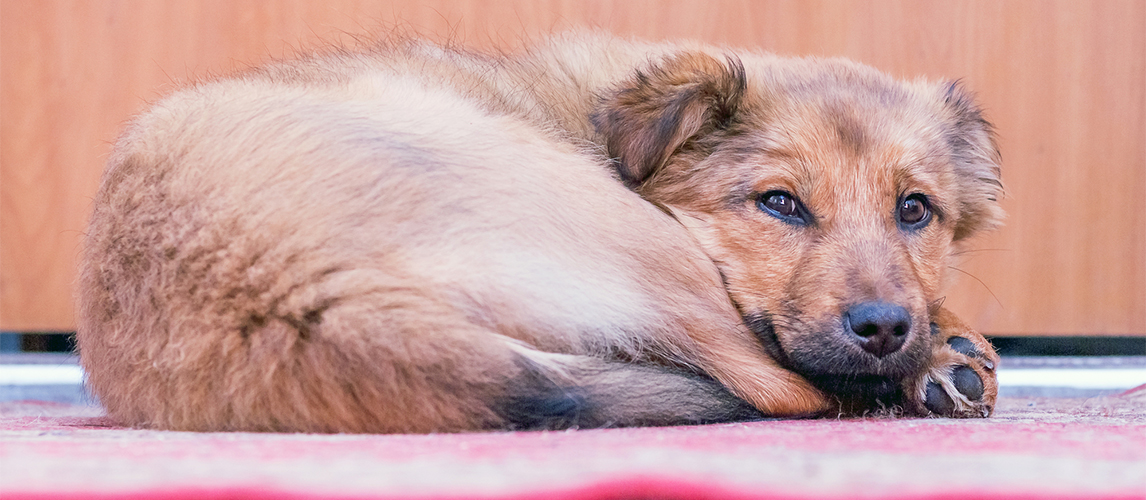 What to Do If Your Dog Overheats
The first thing you must do is get your dog to a vet. However, heat stroke can kill a dog very quickly so you need to take some emergency action whilst you are getting there or waiting for your transport.
External cooling techniques. Spray your dog with cool (not cold) water or dip their whole body in cool water. Wrap their whole body in a cool, wet towel. Put them in front of a fan or an air-conditioning unit.
Evaporative cooling techniques. If you can get some isopropyl alcohol, dab it onto their foot pads, the groin area and under the forelegs.
Do not use cold water. Cold water can actually make things worse. It will make the small blood vessels near the skin surface constrict. This stops the flow of blood to the skin and makes it even harder for your dog to cool down. Shivering is not good either at it creates internal heat.
Take it easy. Very rapidly lowering the temperature is not safe for your dog. This process needs to be carried out gradually. Let your dog drink if they want to but don't force it on them.
Once you get to the vet, they will take over and there are other techniques that they can use. They will continually monitor your dog's rectal temperature at this time.
Sadly, permanent organ damage is a possibility. Dogs that have had heatstroke can get a blood-clotting disorder and kidney failure. They can also suffer from a fluid build-up in the brain. Your vet will need to carry out tests to check for these complications. They may need blood tests and an electrocardiogram. They may also need intravenous fluids. It is likely that they will need to stay at the vet's surgery for a few days.
For more options, check out our detailed review of Dog Cooling Vests.
Other Ways to Cool the Dog in Summer
Keeping your dog cool in the summer is not just about keeping them comfortable. You could be saving their life! Over-heating is a life-threatening condition in dogs and owners need to be aware of the dangers.
Here are the main ways in which you can keep your pooch cool when the temperatures soar.
It is never safe to leave your dog in the car. Even if you think it is not that hot and even if you intend to be away from your vehicle for just a few minutes, it is not safe. Temperatures can rise very rapidly inside a car and it can easily reach temperatures in excess of 102 degrees F even when the outside temperature is around 85 degrees F. It takes just 10 minutes to do this even if the window is slightly open. Within half an hour, the internal temperature could have reached 120 degrees F.
Even when you are in the car, it can get too hot for dogs. If you don't have efficient air-conditioning in your vehicle, it may be safer to leave your dog at home.
Houses and apartments can also get very hot. Remember, if you shut your dog in a particular room of the house when you are out, the sun shining through the window can make it heat up rapidly. It may be better to allow your dog to roam around the house so that they can find a cool spot. Giving them access to the outside may also be a good idea. Another alternative is a cooling fan, an air-conditioning unit or simply opening a window.
Sadly, many dogs will literally exercise themselves to death when the weather is hot. Therefore, only take them out in the cooler parts of the day i.e. early in the morning or later at night. Make sure you take water with you and stop for frequent rests in shady areas.
High humidity is a real danger for dogs because they may not be able to pant enough to cool themselves. Panting relies on evaporation and when it's humid, very little evaporation takes place!
Watch out for the sidewalks
Concrete and paving can get very hot in the strong sunlight. It can reach temperatures where it is hot enough to actually burn your dog's feet. Before you set off, check the sidewalk with your hand. If it is uncomfortable for you to touch, it will be uncomfortable for your pooch. You may want to invest in some dog boots but try to do most of your walking on grass.
Bright sunlight makes the ambient temperatures rise very quickly so try to head for shaded areas. This may be a good time to choose a forest walk under the trees rather than on an open beach where there is little shade. If you stop to rest, make sure there is a cool and shady area for your dog to lie down.
Find out more about Dog Hats here.
Your dog may love to spend time with you in the garden in the summer so get it set up to suit them. Make sure that there is a bowl of fresh water at all times. Remember that outdoor kennels can get very hot so think about where you are positioning it. They also don't allow the air to circulate so a shady patch under a tree would be cooler.
It is essential that your dog is adequately hydrated when it is hot so they need plenty of water. At home, make sure that a bowl of fresh water is always available. Think about investing in a pet fountain or a bowl with a reservoir that tops up with cool, fresh water. You could also pop some ice cubes in the water to cool it down. Don't forget to take water with you when you are out and about as well as a travel bowl. Take a look at our reviews of dog water fountains and dog water bottles for more options.
Cool treats that are full of moisture can also help. Try popping some tasty treats inside ice cubes or freeze one of your dog's chew toys. Check out our guide on the best dog chews for more info.
No one knows your dog as well as you do. Therefore, you are best placed to spot the signs of heatstroke and do something about it.
You should also know if your dog is more at risk. Grooming a dog with long hair can help because mats and tangles just hold in the heat. However, don't rush out and get your dog shaved without talking to your vet! Some dog coats actually help them to stay cool in the summer.
Some breeds, such as those with snub-noses cannot lose so much heat from their respiratory system and are therefore more at risk in hot weather. Senior dogs, obese dogs and those with heart or breathing problems are also more likely to get heatstroke.
Our Top Pick
Our top pick best cooling mat for dogs is a very convenient product that comes in three sizes. It has a special gel that cools automatically and does not need to be refrigerated. You don't need electricity or water to use it!
There's a puncture-resistant fabric encasing the gel which is non-toxic and completely free from latex. It stays cold for up to three hours and then recharges in 15-20 minutes.
To clean it you simply wipe it down and it folds flat for storage.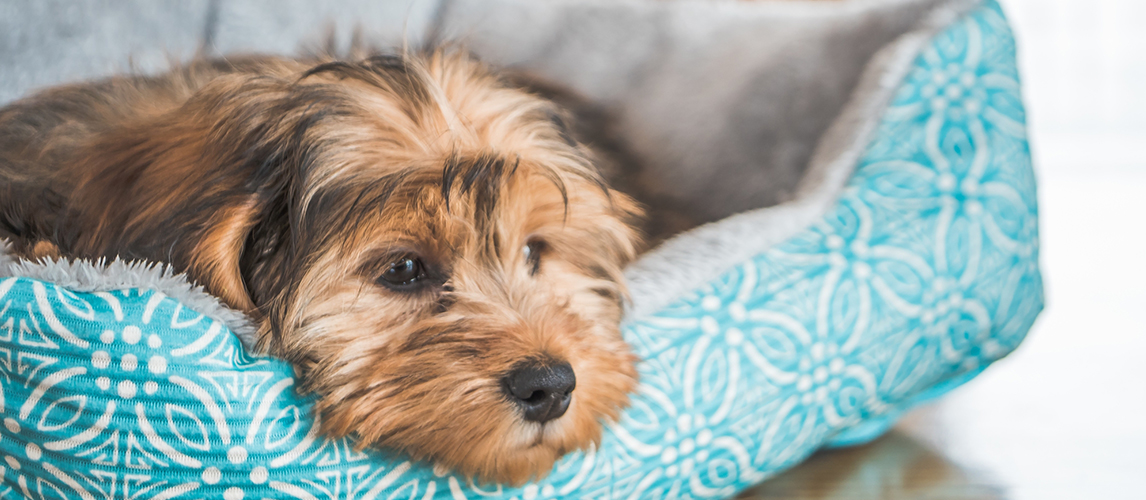 FAQ
Q:

What is a cooling pad for dogs?

A:

A cooling pad is a device that owners can use to keep their dog cool when ambient temperatures rise. They come in different sizes to suit different breeds. You can use them at home but they are also very useful when you are traveling. However, it is never safe to leave a dog in a hot car even if you have provided them with a cooling pad for dogs. Even when you are at home, you must monitor your dog for signs of overheating when the weather is warm.

As well as cooling down your pooch on a hot day, the best cooling mat for dogs will provide relief for dogs who are in pain due to long term conditions such as arthritis. Senior dogs and sick dogs find them very soothing. Some can be heated up as well as cooled down and so they fulfill a dual purpose.
Q:

How does a cooling pad work?

A:

A pet cooling pad will contain some sort of material that is cooler than the surrounding air. Some models contain water and some contain ice. The ice pads can be stored in the freezer.

Others contain a special type of gel that gets colder when pressure is applied to it. Therefore, when your dog lies on it, the temperature drops. These recharge themselves in around half an hour and require no power.
Q:

Does a cooling pad cool all the time?

A:

Cooling pads will not work indefinitely. Eventually, they will reach the same temperature as your dog's body. Therefore, you may need to get two so you always have one available.

It should not take long to get your cooling pad working again. The pressure-gel models need around 30 minutes to recharge and then you can start using them again. The ice beds need to be popped back in the freezer.
Q:

How do I clean my cooling pad?

A:

The best cooling pads for dogs are very easy to clean because they are designed to be used by dogs and we all know how messy our four-legged friends can be!

There may be a fabric layer which can be popped in the washing machine. Then you will be able to wipe over the cooling surface with a mild detergent and water.