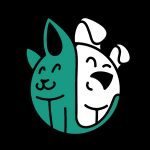 There is nothing like a pair of comfy pajamas to keep you warm and cozy in winter and cool and comfy in summer. Your pooch also deserves to be pampered and wrapped in an extra layer of comfort all day long, especially if the weather outside calls for a cup of hot chocolate and a relaxing evening on the couch. Cute dog outfits are no longer reserved for special occasions like Christmas and Halloween. Pet pajamas have become the go-to apparel for dog owners who are looking for something fun and functional for their furry babies. We know that you only want the best for your pooch, so we have come up with this guide to help you with your shopping. Below are the best pajamas for dogs available for purchase right now.
The Best Dog Pajamas
See More Reviews

Our top pick comes from Lazy One who design and produce onesies for all family members, including dogs. Their dog flapjack onesie combines comfort with safety and is the perfect bedtime pajama for your pooch. This product was made from ribbed cotton that is both elastic and durable, giving your pooch the freedom to move around and curl up inside the kennel or on the couch. The pajamas are free from azo dyes and are nontoxic. They are also available in a wide range of sizes so you can buy your pooch a pajama that matches your own. Lazy One onesies allow you to add a touch of humor and fun to holiday photos and family portraits with a snowflake pattern that is perfect for winter time.
Key Features:
Made of 100% preshrunk cotton
Nontoxic and free from azo dyes
Opening in belly area for easy bathroom breaks
Machine washable
Available sizes: XS-S-M-L
Specification:
Brand

Lazy One

Model

DFJ336S
Widen Electric Dog Pajamas
See More Reviews

The Widen dog pajamas give new meaning to the word cute and are available in three different designs. Your pooch can wear them indoors or outdoors, no matter the occasion. This onesie is made of cotton and has an adorable ribbon on the back. There are three delightful designs to choose from. The pink onesie is covered in unicorns and fairies and is perfect for your young and vibrant doggie. You can match the personality of your pooch with any of the three colorful patterns. 
Key Features:
Cotton onesie with ribbon
Available in pink, blue and yellow
Can be worn indoors and outdoors
Available sizes: S-M-L-XL-XXL
Fitwarm Cute Duck Dog Pajamas
See More Reviews

Fitwarm duck pajamas are made of washable soft cotton to help keep your dog warm during winter and fun family outings. The waist is elastic for added comfort and the duck pattern is bright and eye catching. These pajamas can be worn every day and come in six sizes including x-small and double x-large. This four-legged design does not have any buttons and will not get in the way of potty time.
Key Features:
Cotton pajamas with elastic waist
Bright yellow duck pattern
Comfortable and ideal for everyday wear
Suitable for small and medium size breeds
Available sizes: S-M-L-XL and XX-Large
Tooth & Honey Pit Bull Pajamas
See More Reviews

The Tooth and Honey pajamas were designed for large breeds such as pit bulls. They provide enough coverage to keep your pooch warm without being too snug or uncomfortable. The stretchy fabric is made of polyester blend, so it will not shrink if you put it in the dryer. Tooth and Honey large dog pajamas are black with a fantasy unicorn pattern that will put a smile on your face every time you look at your pooch. They are available in four sizes including medium and double x-large.
Key Features:
Polyester blend pajamas with unicorn pattern
Provide full coverage for ACL recovery
Machine washable- can be placed in dryer  
Suitable for large breeds with short hair
Available sizes: M-XL-L-XXL
See More Reviews

The CuteBone Dog Pajamas are tailormade for small dogs and puppies and come in four patterns. You can dress your puppy in this four-legged design to keep him warm all night long. These puppy pajamas are made of premium fabric and are incredibly soft and comfortable to wear. They also have an opening in the belly area to make potty time easy and hassle free.
Key Features:
Polyester pajamas with rocket pattern
Elastic design for added comfort
Belly opening for potty time
Suitable for small dogs and puppies
Available sizes: XS-S-M-L
Scheppend 2-Pack Puppy Pajamas
See More Reviews

You can add a double dose of cuteness to your collection of dog outfits with the Scheppend pajamas. These pajamas are sold in pairs and are made of soft cotton. They have a wide collar, so your dog does not feel trapped or uncomfortable while wearing them. The sleeves are long enough to prevent shedding and provide an added layer of warmth to short haired breeds during winter and cool summer nights.
Key Features:
Cotton pajama pair with duck and fish pattern
Elastic surrounding the collar and cuffs
Wide opening makes potty time possible
Sizes available: XS-S-M-L-XL
Specification:
Brand

Scheppend

Weight

WLPJS17
Fitwarm Soft Cotton Dog Pajamas
See More Reviews

The monkey pajamas from Fitwarm are another premium product that is available in six sizes including x-small and xx large. The pajamas are made of cotton and can be easily washed inside the washing machine. They are also fitted with an elastic waist and have a delightful monkey and banana pattern that will look adorable on any dog.
Key Features:
Cotton pajamas with monkey pattern
Machine washable
Four-legged design with elastic waist
Available sizes: XS-S-M-L-XL- XXL
LovinPet Large Dog Pajamas
See More Reviews

This dog outfit from LovinPet is perfect for all seasons and was designed for large dog breeds who deserve warm and comfortable apparel. These pajamas are made of cotton that is soft and breathable. Wearing pajamas can come in handy if your pooch suffers from allergies or if he recently had surgery and you need to keep his stitches covered. The four-legged design has an elastic waist and an open belly for easy potty time. Each pajama has a set of snap buttons that you can use to dress your pet with ease.
Key Features:
Soft cotton pajamas with plane pattern
Machine washable
Snap button closure
Suitable for large dog breeds
Available sizes: 3XL-4XL-5XL-6XL
Specification:
Brand

LovinPet

Model

LPPJP2A015XL
Petparty Cute Bear Comfy Dog Pajamas
See More Reviews

These cute bear pajamas from Petparty are incredibly festive and were tailormade for small dogs. They are made of a soft cottony fabric that is machine washable and very comfortable. The elastic waist makes movement easy and far from constricting. Pink and white stripes cover the sleeves and body with a teddy bear head adorning the tail area. These pajamas are ideal for small dogs such as chihuahuas and shih tzus. They are also available in blue and yellow.
Key Features:
Striped pajamas with bear head
Machine washable
Four-legged design
Elastic waist
Available sizes: S-M-L
Specification:
Brand

Petparty

Weight

1.6 ounces
See More Reviews

Our final pick is the dog footie pajama from CuteBone. Dinosaur enthusiasts will love adding this outfit to their collection of dog jammies. This four-legged design has an elastic waist that stretches to accommodate the size and shape of small and medium dog breeds. You can dress your pooch in these pajamas to keep him warm during winter or during cool summer nights. The CuteBone jammies are available in six festive patterns including a shark pattern and an alien pattern. Your puppy will also benefit from having an added layer of protection from the cold while he catches some z's in his bed.
Key Features:
Polyester pajamas with dinosaur pattern
Four-legged design with elastic waist
Suitable for puppies and small dog breeds
Belly opening for easy bathroom breaks
Available sizes: XS- S- M-L
Specification:
Brand

CuteBone

Weight

0.32 ounces
Best Dog Pajamas Buying Guide & FAQ
There are many reasons why you should invest in a dog pajama for your pooch. They minimize indoor shedding and help reduce allergy symptoms as well. However, there are certain things you need to consider before adding an outfit to your shopping cart and pressing the purchase button. The following guide includes some of the most commonly asked questions regarding dog pajamas and how you can choose the right size for your pooch.

What Makes a Good Pajama for Dogs
Some pajamas are simply too cute for words, but just because you found the cutest pajamas online does not mean that they will fit your pooch like a glove. The key to a comfortable pajama is none other than size. Size matters a great deal when it comes to clothes, especially ones that belong to your furry baby. The ideal pet pajama needs to be somewhere between loose and snug. It should not limit his movement and it should not look frumpy and baggy on him either. Puppies will also find wearing these pajamas more comfortable and soothing if they were the right size. Most premium pajama makers have come up with their own helpful guide to help you with your online shopping. Others offer a wide range of sizes to meet the demands of both small and large dog breeds.
There is nothing more frustrating than a pair of jeans with a stubborn zipper or a jacket with difficult buttons. We often search for shoes that are easy to wear and the same concept applies to doggie pajamas. This garment needs to be wearable so you can dress your dog with zero hassle. If your puppy or dog has a limited supply of patience when it comes to changing into his pajamas, then you need an outfit that is easy to take on and off. Good pajamas are made with your pooch in mind, so they come with elastic cuffs and a wide collar that will help you get him ready for bedtime. They also have a wide opening in the belly area in case your dog needs to go potty. You need to make sure that the pajama you are interested in purchasing has this opening, especially if your pooch is going to be wearing it all day.
Every season demands its own fabric. Winter is made for wool and other materials that keep your dog warm and protected in cold temperatures. This is especially the case for short haired dog breeds and dogs that have a hate relationship with winter. Some dogs have minimal insulation and could use an extra layer of fabric to keep them warm both indoors and outdoors. Polyester jammies can come to the rescue in snowflake season, especially if your dog has a single coat like the Yorkshire terrier or short hair like a French bulldog. Some pajamas have a fleece lining for a double dose of insulation, and this can make a world of difference to your winter-hating pooch.
Summer was made for cool, breathable fabrics that will prevent your pet from being overheated. Cotton should be at the top of your list when it comes to quality fibers. Dogs with sensitive bodies and those who are more prone to allergies will love the feel of cotton against their skin. Cotton is durable and hypoallergenic. It also gives their bodies room to breathe. This can really make a difference to puppies who spend the whole day jumping around and chasing after their toys.
Puppies and even older dogs can be messy eaters, and their pajamas often become proof of their messiness and overall enthusiasm when it comes to food. Playtime can also lead to stained clothes. If your dog is attached to his favorite pair of pajamas, then regular washing is a must to get rid of germs and maintain proper hygiene in your household. Machine washable dog pajamas will help you keep the hygiene aspect under control and get rid of stubborn stains at the same time. Look for onesies that have less decorative elements if you plan on washing them regularly. Dog owners who live in colder climates have laundry rooms equipped with dryers. Pajamas that can be placed in the dryer are a bonus since you can easily pop them in for a quick tumble instead of waiting for them to dry on their own. This can come in handy if your dog loves wearing his favorite onesie every day.
This is a matter of taste and personal preference. Different pajamas cater to different tastes. Some have fun animal prints while others are more classic and simpler. Your pooch has his own unique personality and traits and you can style him accordingly. Nowadays, pajamas can be both fun and practical at the same time. Onesie makers like Lazy One even sell pajamas for all family members including children.

Best Dog Pajamas FAQ:
Q: How and where should I measure my dog?
A: Grab a measuring tape and start with the circumference of the neck. This is where the collar meets the neck. Getting your measurements right is incredibly important during this step. The length of your dog's back is measured from the base of the neck all the way to the base of his tail. Make sure that your pooch is standing in his regular every day position before measuring his back. The chest should be measured next, and this is done by simply measuring the area behind his front legs. This is considered the widest part of his chest. Chest measurements are crucial if you plan on buying large dog pajamas for your pit bull or great Dane because these breeds have deeper chests when compared to smaller ones. Keep in mind that every product comes with its own size chart. A small pajama on one size chart might be a large on another chart. You can go one size larger if your pooch has a dense coat.
Q: How do I care for my dog pajama?
A: Caring for pajamas is simple once you read the laundry symbols written on their tag. Machine washable garments should be washed with similar colors and cold water should be used to avoid shrinking the fabric. Use pet friendly detergents that are hypoallergenic and free from any harmful chemicals. You can iron out all the creases to help your pooch look dapper and ready for family portraits and festive occasions.  Your second option is to hand wash the pajamas, especially if they have delicate accessories like silk bows, buttons or bear heads sewn to the fabric. Use a safe detergent to wash them and a fabric conditioner if needed. Cold water is also recommended for hand washing. Rinse the pajama more than once before line drying it.
Q: Do the pajamas shrink?
A: Most cotton and linen onesies will shrink, especially if they were made of 100% cotton. Some pajamas already come preshrunk beforehand to prevent them from shrinking even further after washing them at home. Polyester is more resistant to shrinkage. However, using hot water will shrink this synthetic fabric, which is why cold water is always recommended for washing.
Q: How can I get my dog to wear pajamas?
A: The earlier you can introduce pajamas to your pooch, the better. This means dressing him up in pajamas while he is still a puppy. Teaching him to love this extra layer of warmth and protection will come in handy in the long run. Puppies who wear onesies will not give you a hard time whenever you need to dress them as adults, especially if you experiment with different fabrics and styles.
A simple pajama with very little accessories and buttons can help your adult pooch adjust to his new outfit. Comfort is the main goal here, so avoid buying him a onesie that covers his feet and private parts. Look for pajamas that have fasteners instead of long sleeves and collars that need to be pulled over his head and past his paws.
Add a fun element to pajama dress up time. This means rewarding your pooch throughout this process and using words of encouragement and praise to build a positive connection with his pajamas. Hold up the garment and let your dog explore it with his senses. Reward him with his favorite treat and use your words to show him that he did good. Allow him to come in contact with the fabric and give him time to get used to the way it feels against his coat. Place the pajama on top of him without fastening it and reward him again for standing still. Finally, secure the garment around his shoulders and waist before giving him one last treat.
Some dogs require practice in the pajama department, especially if they have never tried it before. You can apply the same reward concept to regular dog pajamas that have a neck hole and sleeves. All you need to do is give your dog a treat whenever he undergoes onesie training. First reward your dog for standing still while you approach him with his new pajama, then use one hand to pull the garment over his head through the neck opening. Feed him his treat with your free hand during this step.
If you have a fussy and impatient dog on your hands, then getting him dressed for bedtime or an outing needs to happen quickly and efficiently. Your goal should be somewhere between ten and sixty seconds. One again, building a positive connection with his pajamas will make this experience rewarding and pleasant for the both of you.

Our Top Pick
Lazy One Dog Pajamas
The Lazy One onesie made it to the very top of our list for many reasons. It combines comfort with safety and is made of ribbed cotton that is durable and breathable. It is also machine washable and free from toxic dyes. This onesie adds a touch of fun and humor to your household, especially during holidays and family photoshoots. This design is available in four sizes and ticks all the right boxes in terms of quality and comfort as well as price.
Related Reads
Related Reads