The Best Dog Pools in 2022
Last Updated: January 4, 2022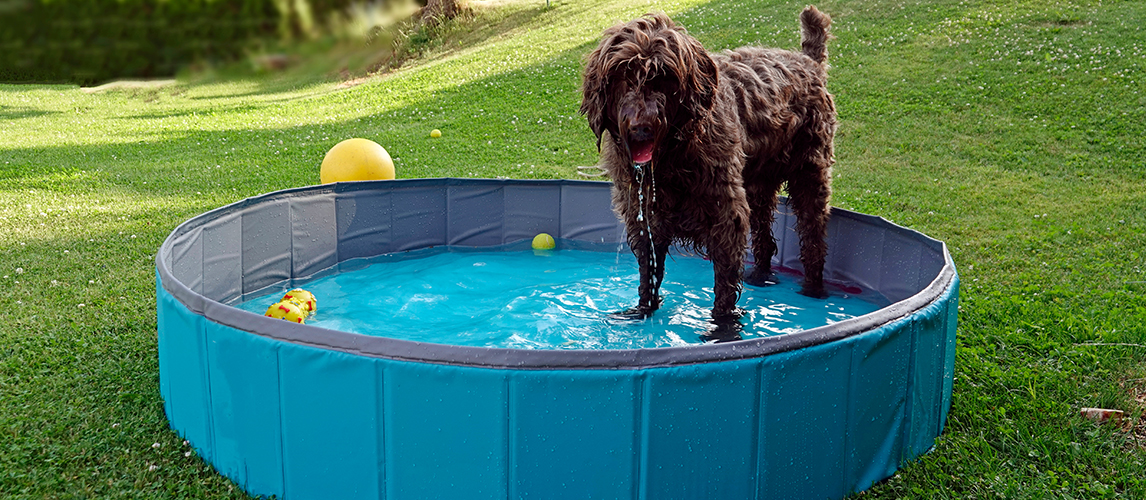 PetSide may earn a small commission from affiliate links in this article.
Learn more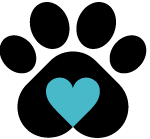 By Petside
Published 14:31 pm
There are very few things that are more soothing than taking a dip in the pool on a hot summer day. Humans love it and as such, it is highly likely that our canine companions wouldn't mind going the same avenue to cool off. If you are totally on board with the idea of getting your pet a pool, then you have to be able to sort out the weeds from the premium crops. Since it is not the easiest choice to make, here are a few quality products that have earned the title of the best dog pool.
The Best Dog Pool
Best Dog Pools Buying Guide & FAQ
The best response to the raging heat is to lounge by the pool and the canine equivalent for that is a well-constructed dog pool. Since there are quite a lot of these currently out there on the market, here are some pointers that can streamline the whole process for all pet owners looking to add a splash to their lives.
Things to Consider When Buying a Dog Pool
We live in a time where the simplicity of a product is its winning quality; no one wants to spend hours trying to set up or take apart any dog pool, they obviously want to have their pets jump in start having fun. On that note, it is wise to choose a model that poses the least amount of stress on that front, whether you have to blow it up for use or simply unfold it. It may seem like a background factor, but in the case that you do not have to struggle to set up your dog pool then you will realize how lucky you are.
Be it a plastic dog pool or one made of synthetic fabric, the resilience of the material used to make your dog pool makes all the difference in the world. Dogs are as active as any creature can be and as such, you need a sturdy pool to make sure that a few weeks down the line the pool is still in optimum shape. There is also the possibility that your dog may get a bit excited and scratch their claws on the pool; it is not an avoidable scenario and that's why buying a pool that is scratch proof can help.
Another factor to consider is whether the pool has any protective coating, be it UV or otherwise. This will improve the longevity of the pool and give you value for your money.
As it has been made apparent, there are a number of capacities at which dog pools can be used. Some can contain both dogs and humans, some are dog baths, some can be used as ponds as well as baby baths. The possibilities are truly endless, but you need to be sure that you are using the pool for the right reasons. In the case that a pool is meant solely for human use, using it for your pet may result in it deteriorating before you even get to use it.
It is true that you get what you pay for and as such price is a big factor to consider when looking to buy a dog pool. The trick is to find what is right for you yet still within your elected budget. There is no need to spew out money for a pool that will not last a day out in summer and as such look for the specific qualities you need in something that will in no way break the bank.
You may also like our articles on Dog Life Jackets and Dog Sunglasses and Goggles.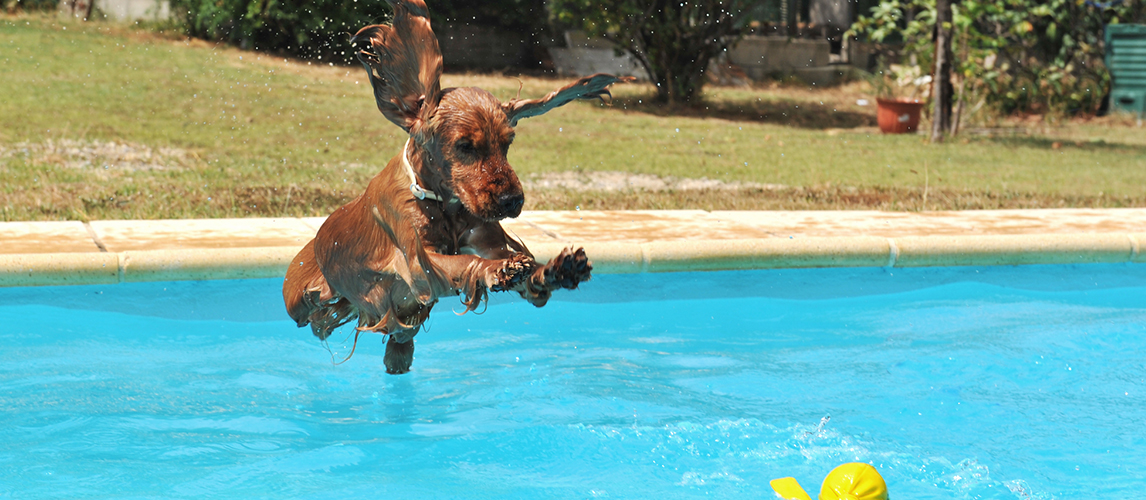 The Benefits of Dog Paddling Pools
These fun-sized pools are highly sought out and one of the main reasons is because of how easy on the pocket they are. Even the most expensive of dog paddling pools are quite affordable compared to the cost of getting a premium large pool itself. So, in the case that you are on a budget, this may be a more viable option for you altogether.
The fact that they are dainty and portable makes it a whole lot easier to enjoy these dog paddle pools in a number of locations. Be it your back/ front yard or even on a vacation getaway, these type of pools can ensure that the amount of fun your pup has is not limited to one location.
There are a number of ways to keep your pet cool during the height of summer, but the most efficient by far is through the use of a dog paddling pool. Not only does it save you the time but it also provides an avenue to use a given amount of water without being repetitive.
Check out our guide on Dog Floats For Pool.
Keeping Your Dog Swimming Pool Clean And Safe
In the case that your dog sheds hair, get a pool with in-built drainage
Always wipe the pool after use to avoid the build-up of algae and dirt
Use anti-bacterial cleaner for the wiping
Only add a small amount of chlorine
Wash any pool toys used
Our Top Pick
This is the best option for the environmentally conscious dog owner, not only is it made of environmentally friendly PVC, but it is also made to deliver worlds of fun to dogs everywhere. Everywhere, in this case, means any location you could think of, being that this dog pool is portable and compact, it is easy for you to set it up in your backyard or elsewhere. In addition, it is incredibly easy to install and needs no inflation to be set up. All in all, it is easy to use, durable and versatile dog pool that could potentially become your dog's best friend this summer.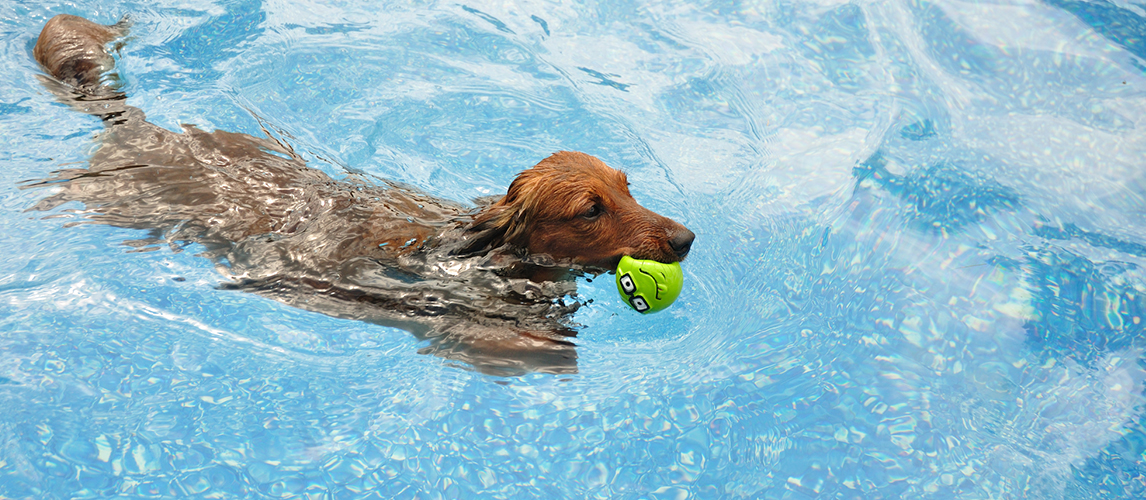 FAQ
Q:

Is chlorine bad for dogs?
Q:

Can a dog drink pool water?

A:

In small quantities it is harmless, but ingestion should be avoided
Q:

Will I need a ramp?

A:

Yes, ramps increase the general safety of your pup. For a wider selection of choices, check out our dog ramps and dog boat ramps guides.
Q:

How long does a dog have to wait to go swimming after eating?
Q:

Can a dog drown in a pool?
Q:

How to get my dog into the pool?

A:

Coax your pet, then proceed to get in so they feel safe following you in. Also, show them how to get out and keep repeating this till they are comfortable.