The Best Dog Ball Launchers in 2022
Last Updated: January 4, 2022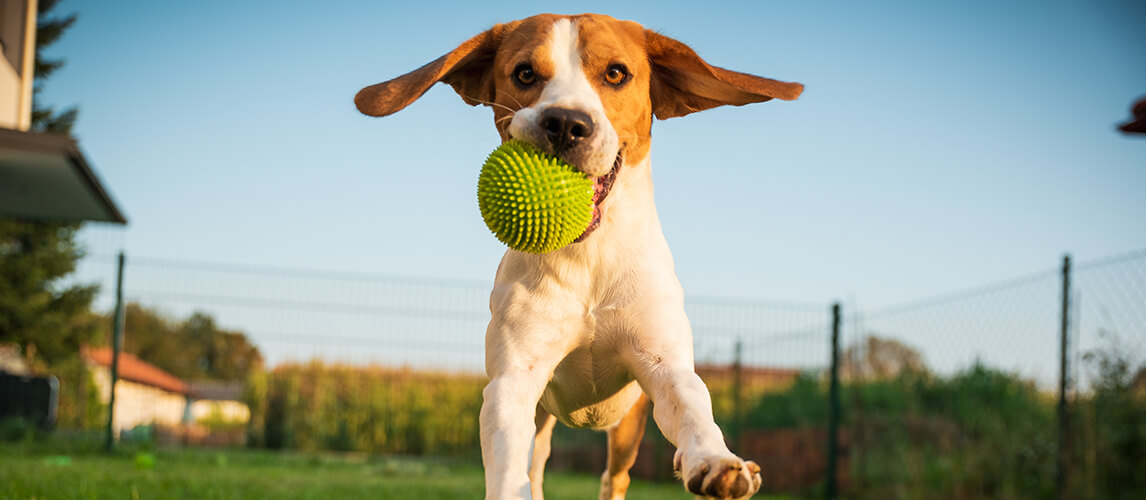 PetSide may earn a small commission from affiliate links in this article.
Learn more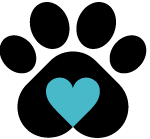 By Petside
Published 11:40 am
If your pooch is anything like mine, they absolutely love a game of fetch, perhaps a little too much. If you've ever come back from a walk with a totally wag-happy dog but an aching arm from pitching that ball time and time again, then maybe a new approach is needed to up your throwing game. A dog fetch machine makes playing with your canine a total breeze while still giving him or her the exercise they need. And playing fetch with your pet is a fantastic way to spend quality time with your canine best friend.
From a manual launcher to a fully automatic ball thrower that your dog can even work by themselves, there's a way to make playing fetch with your pet totally fun again. With a wide range of products now on the market, we take a look at what we think are the best dog ball launchers out there so you can catch the right one for you and your pet.
The Best Dog Ball Launcher
Best Dog Ball Launcher Buying Guide & FAQ
Things to Consider When Buying a Dog Fetch Machine
When it comes to dog ball launchers or dog fetch machines, there's a wide choice of products so picking the right one for you and your dog needs a little thought. You may want to consider the following before you pick the best dog ball launcher that's going to bring you and your pet hours of ball fetching fun:
To get the most out of your dog ball launcher, you want to pick the product that enables you to throw the ball as far as you need, with the least effort. Depending on your preference (and demand levels of your pooch!), your physical ability as well as your budget, you can choose a manual device or opt for a semi-automatic or fully automatic dog ball thrower.
Most dog tennis ball launchers use a standard size tennis ball (or the equivalent) which is fine for medium or larger breed dogs but for smaller dogs you'll need to make sure the ball launcher is the right one for their size. Some models are available in a mini-ball size which is safer for small breed dogs. Also, be careful of using too small a ball for your larger canine as they could get lodged in their throat. Another thing to think about is the range of the ball launcher – you need it to throw the ball to a sufficient distance to exercise your dog. Again, the range can differ, depending on your pet's size so do check, otherwise you could end up with either a very bored big dog or an out-of-breath small one!
The model of dog ball launcher you choose also needs to cater for the way your pet likes to play. Will you be using it outdoors or in a confined space, such as a backyard or indoors? Will you be using it in all weathers, or only on dry days? Do you really want to challenge your pooch with multi-balls, or will there be several dogs playing with you at one go? Different models will cater for all your various needs – for example, a manual dog ball thrower is better for wet weather, while an automatic model where you can control the range, can be also used indoors.
Now you've decided on the type and size of launcher you want, check the construction and design to make sure it is robust enough to last many play sessions with your pet. For manual dog ball launchers, also check the flexibility and length of its wand. The longer and heavier the launcher, the further it can throw the ball. For semi-automatic launchers that use a spring to power the throw, check the quality of the spring as well as the strength of the recoil lever. A really strong lever can kick-back into your shoulder when you fire. Automatic dog ball throwers need to have precision in the settings and well-made auto-shooting parts to ensure it will last the distance, particularly with an active and keen pooch, always wanting to play!
Take a look at our review of Gifts for Dog Lovers.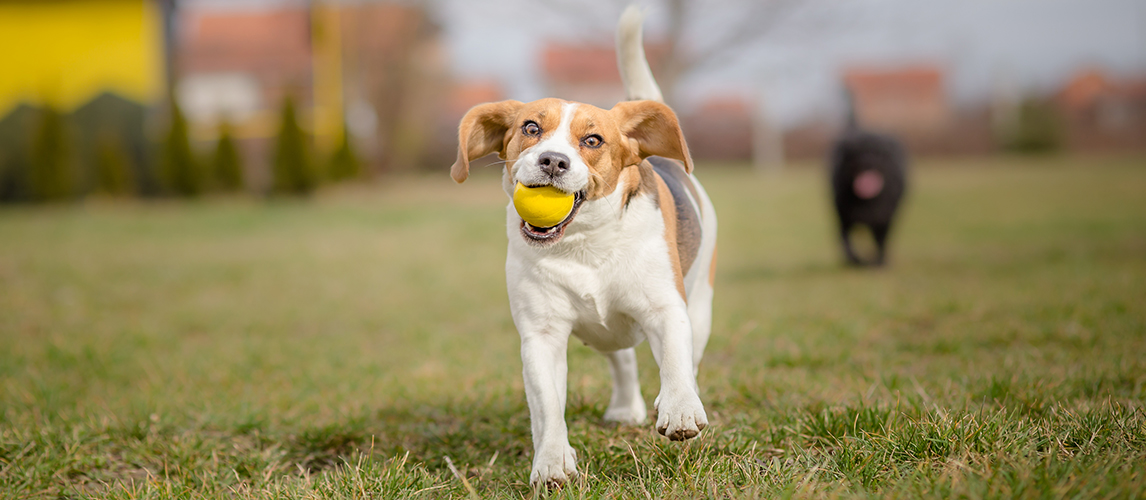 Benefits of Using a Dog Ball Launcher
The benefits of a dog ball launcher are for both the pooch and its human! For your dog it's all about their fitness, play and mental stimulation as well as offering a great bonding exercise between pet and owner. It also promotes an active lifestyle for your pet, packaged in a fun game he will literally keep coming back for more. For the owner, it means you can play relatively effortlessly with your pet and is a great way to interact with your dog, particularly if you have a physical limitation or simply are not very good at throwing!
How to Teach a Dog to Use an Automatic Dog Ball Thrower
With a little patience, you can teach your pet to use an automatic dog ball thrower all on its own, meaning he can entertain himself without you needing to get involved. Here's a simple, four-step routine to get him triggering the ball all on his own:
Step one: Introduce your dog
Take some time to let your dog get used to the machine and any noises or movements it makes. Leave them with the thrower for a while, perhaps put a treat or two next to it, until they are totally comfortable to be around it.
Once ready, turn on the ball launcher and stay with your pup. Praise your pooch when he brings a ball back to you and let him see how you re-load. Have fun and it will soon become an easy routine for your pet.
Step three: Let your dog take over
While having a fun session with the launcher, guide your pooch to the basket to return the ball there instead of to you. Be sure to provide a treat or plenty of praise as a reward if he returns the ball to the launcher and keep practicing until he naturally starts to take over.
Step four: Fine-tune any mistakes
Gently show your dog the way if he shows signs of confusion and keep up the praise. Correct faults by pointing at the basket when he fails to return it. Keep this up and before you know it, he's got it down pat and playing on his own!
Types of Dog Ball Throwers
A dog launcher has a simple task – to throw a ball as far as you need to go, with minimal effort on your part! To get the right launcher for you and your four-legged friend, you can choose from three types of dog ball throwers:
These are the most wallet-friendly and while simple, they are remarkably effective for everyday outdoor play. You do need to put some work in with a manual model, but it can be really satisfying to be able to chuck the ball as if you were an Olympic shot-putter! A manual ball thrower is great if you are physically fit and want an easy to use and carry everyday ball launcher to take on your dog's walk.
Think a child's ball blaster gun and you are not far off the mark. They are not perhaps as robust as a manual launcher, but they can blast the ball a good way and they are also good fun to use, without being too heavy or cumbersome to take out. Great for a family as the kids will love to get involved.
Also known as auto dog ball launchers, we are now getting into the world of automatic tennis ball territory! These auto models are perfect for keeping Fido entertained for hours, with minimal effort on your part. They can also be safely used indoor or in more enclosed and smaller spaces. However, as you would expect, they are significantly more expensive than a manual model and you do need to invest some time in training your pet, so he gets used to using one.
You may also like our articles on Dog Balls and Dog Frisbees.
Our Top Pick
Great value, easy to use and with an impressive throw distance, the Chuckit! Dog Ball Launcher easily scoops our Top Pick title for everyday use, with every size of dog. Its simple manual design means you can take it on every walk and can easily stash it away in the car when not in use. Hand-free pick up, comfy grip handle and minimal effort throwing, this is a well-made product that will give you pooch hours of fetching fun.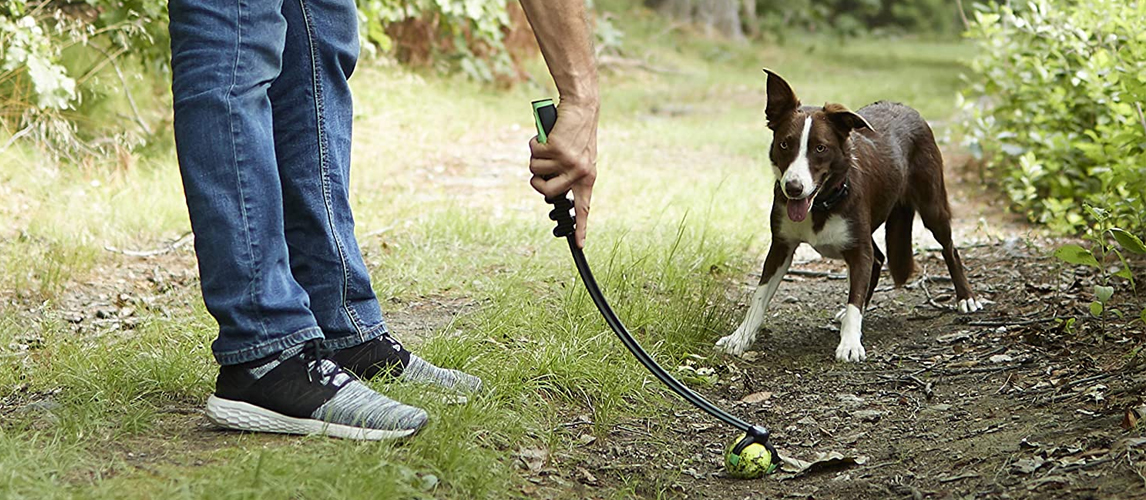 FAQ
Q:

What are dog ball launchers?

A:

Whether a manual, semi-automatic or automatic, a dog ball launcher does exactly what is says on the tin – it throws a ball a decent distance for your dog to run and fetch. A manual thrower means it needs be human powered, whereas a fully automatic machine uses either batteries or a plug-in source to power the ball's pitch. A ball thrower is great for both the energetic dog or a pooch that needs to up its exercise, giving fun, repeated exercise where you also get a helping hand.
Q:

How do automatic dog ball throwers work?

A:

An automatic dog ball thrower is a super nifty pet gadget that uses a small motorized device to shoot the ball out at a distance which, on many models, can be adjusted to fit your pet and the space available. They also have bucket or funnel where the ball needs to be dropped, hitting a sensor to shoot the ball out of the other side again. The beauty of an automatic ball thrower is that will a little patience, you can train your playful pet to fetch a ball and drop it back into the machine. This means endless entertainment for your dog, will minimal effort on your part.
Q:

Why do dogs love playing fetch?

A:

As well as food, sleep and attention, your dog loves to play, and it is in his instinct to fetch. Many dog breeds have also been long-trained to retrieve and this desire is still there in his nature as well as to hunt.

Playing fetch enables your pet to act on these instincts, as well as his desire to have fun. Plus, the exercise they get from playing fetch makes him feel good – just watch that tail wag as he waits for you to throw the ball again! And let's not forget, playing fetch means he gets some one-on-one time with his favorite human – and he will love showing off as he brings back that ball and gets some loving attention.