The Best Dog Hoodies in 2022
Last Updated: January 4, 2022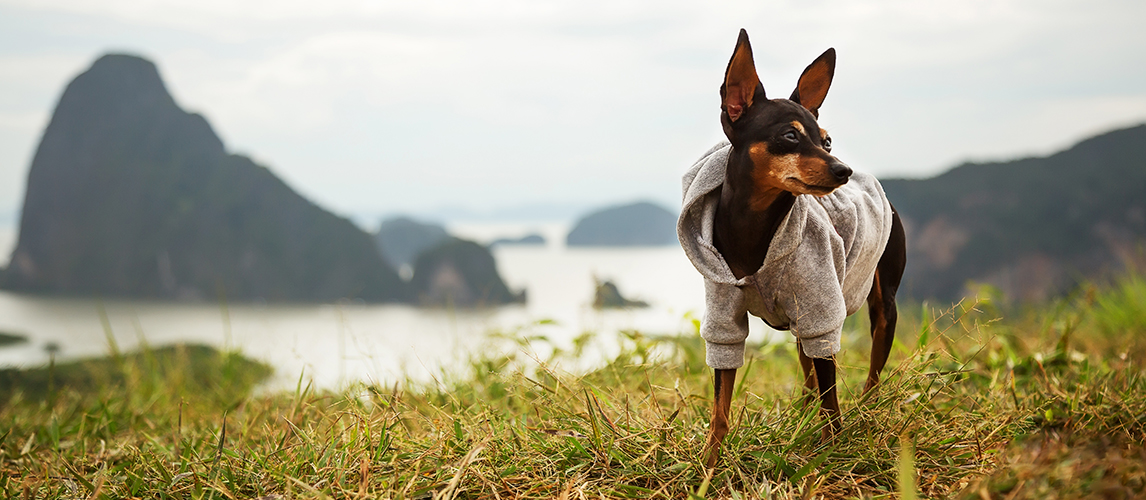 PetSide may earn a small commission from affiliate links in this article.
Learn more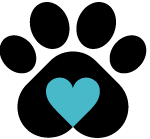 By Petside
Published 14:07 pm
When done right, dressing up your dog in "human" clothes is adorable and your dog loves it, too. While we don't think you should be popping your pooch in your favorite t-shirt anytime soon, getting your pup a dog hoodie can be a grea t way of keeping your dog warm while styling them in your own preferred fashion trends.
If you're not sure what pet hoodies are suitable for dogs, read our buying guide and we'll tell you everything there is to know about giving your dog clothes, as well as answering some of your most frequently asked questions. Not to mention our own top picks in puppy hoodies and why we love them.
The Best Dog Hoodie
Best Dog Hoodies Buying Guide & FAQ
Things to Consider When Buying a Dog Hoodie
Naturally, you want your dog's hoodie to feel comfortable, which usually comes down to the fit. As these aren't tailor made for your pup, the closest you can get to the ultimate comfort is by looking at the size guides given. These can change from seller to seller, so be sure to always measure your dog first and go for the closest size available. If your dog is between two sizes, always opt for the larger of the two.
The right materials can make a huge difference in the comfort of your dog. Heavier fabrics, like those included in a dog fleece hoodie, can easily cause your pup to overheat- especially if you live in the warmer states. If you're based in warmer areas, then it's best to opt for lighter fabrics that are less likely to cause your dog to become uncomfortably warm, which can make them ill.
Meanwhile, those in colder states should be able to get away with cotton clothing. You can also use thicker fabrics if your dog has a fine coat, or if you've been advised by your vet to pop clothing on your dog for health reasons. No matter where you live, it's important to get clothes made from breathable fabrics that won't cause your dog to sweat, overheat and become ill.
Your pup should be able to move freely and easily, as well as being able to urinate whenever they need to do so. Grabbing a hoodie that has been designed to move with their joints, as well as giving them plenty of clearance for when nature calls. Add to this the fabric and the sizing and, overall, you should be left with a jumper that's comfortable enough for even the pickiest of pooches.
Even the cheapest of pet hoodies can feel like a fantastic waste of money when they fall apart within a few hours of being worn. Naturally, as a pet owner, you would want a dog hoodie that is of high enough quality that it won't cause any health and safety issues, such as loose fibers which are then likely to be eaten by your pup.
At the same time, you should be aware that this is an item that is likely to get damaged easily, as your dog runs around in the great outdoors, rolls around as they play or simply tries to have a good old scratch- so don't spend too much money on an item that is likely to become damaged and dirty, quickly. Quality can be a little hard to detect when buying things online, so it's best to check out any complaints regarding stitching and design before you buy.
This is naturally one of the best ways to decide on whether a dog hoodie is right for you, as you'll be able to get the next-best thing to trying before you buy. Check for verified purchasers online and see what they have to say about each item- especially if you notice that they have a similar breed of dog to yourself, as it's likely they'll be of the same build and carry similar traits.
While they aren't vital to enjoying your new purchase, having handy extras added on to your new dog clothing can make use of your item easier, quicker or safer which is always a bonus. For example, many of the items on our list are compatible with your dog leash, so you can let your dog wear their new hoodie while out and about. Others have removable hoods, or pockets that are designed to carry around toys. While these may not be essential, they are certainly a bonus!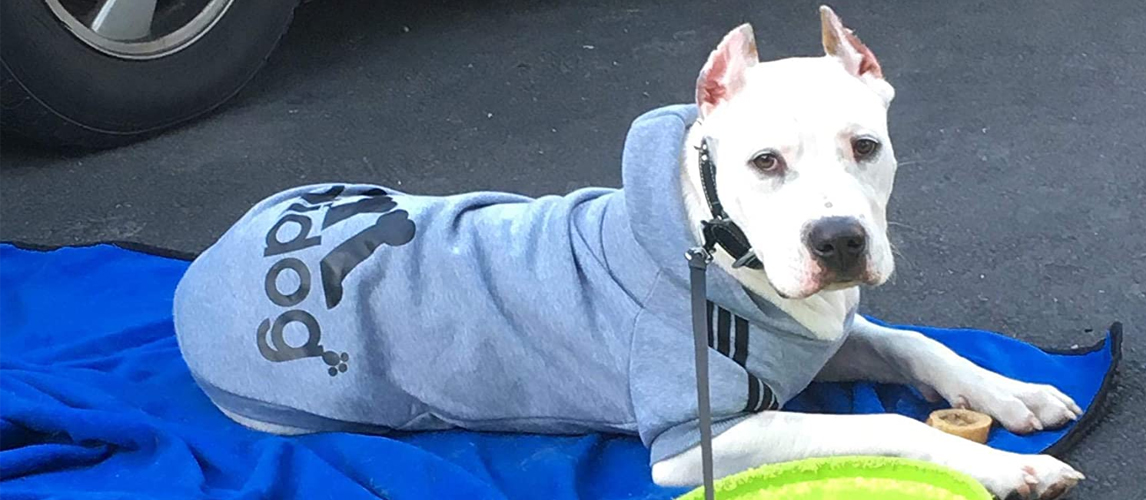 Why You Should Buy a Dog Hoodie
Naturally, a hoodie's biggest benefit is going to be that additional warmth that it can provide. This is great for those whose dogs are getting a little older and can do with an extra layer, as well as those with thinner fur or for any dogs and puppies who live in the colder states.
In much the same way as a weight blanket, a hoodie can provide your dog with a feeling of comfort. This can help with separation anxiety, or simply allow them to feel a little more comfortable as they go about their day-to-day life.
As well as providing an extra layer in the winter months, dog clothing can be beneficial to those dogs who suffer from allergies. Protecting their body and head (if their hood is pulled up) from allergens that are in the world around them. As well as this, a dog hoodie can help deter fleas from jumping onto your dog and laying eggs, since the puppy hoodie can simply be washed after a long walk.
It can also help us humans, who may suffer from fur or dog-related allergies that can flair up when near dogs. If you have a friend who is likely to suffer from a histamine attack when near your dog, it can be worth popping them in a pet hoodie to reduce the level of allergens in the air around them.
Providing your dog is perfectly happy with the arrangement, dressing up a dog can simply be fun! Having cute logos and crazy designs across your dogs new clothing can mean they can join in on cosplay antics or dress up a little for any occasion.
Take a look at our reviews of Dog Pajamas and Dog Bandanas for more info.
Our Top Pick
Loved by buyers for providing a comfortable, snug fit at an incredibly cheap price, the Adidog pet clothing from Scheppend came at the top of our list for it's soft but breathable fabric, easy-to-use button-up design and the fact that this novelty clothing comes in some great colors and sizes. This is a dog hoodie that will suit any and all dogs and we love that it comes as a full outfit for our pups.
For more options, check out our detailed review of Dog Sweaters.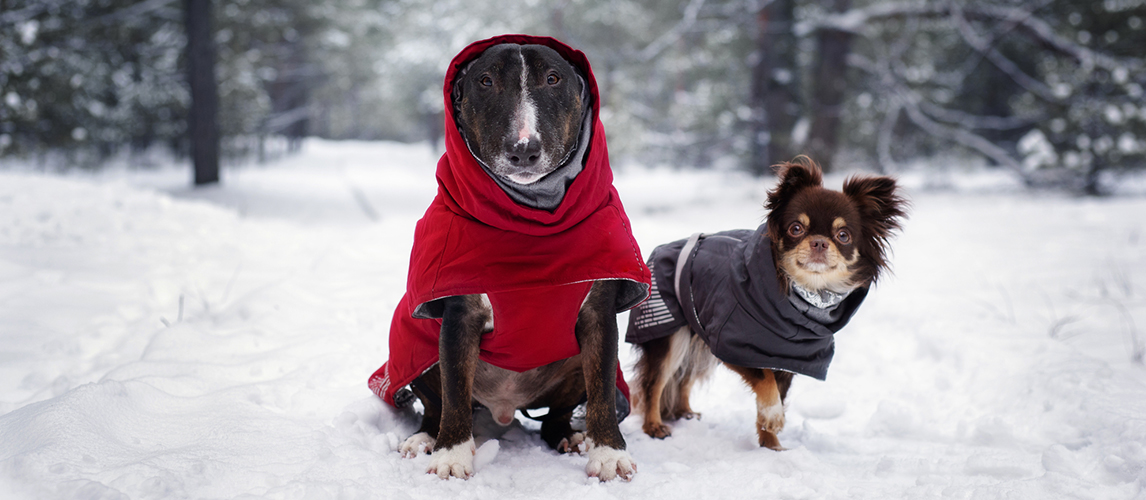 FAQ
Q:

What is a dog hoodie?

A:

Dog hoodies are simply a piece of clothing which closely resembles our own version of the humble hooded jumper. They can usually fit over the head and have their legs popped through the "arms" of the clothing, although there are also designs that include zip up hoodies for dogs and those hoodies that are fastened with buttons.
Q:

At what temperature does a dog need a hoodie?

A:

The temperature at which your dog needs a coat- or, in this case, a hoodie- can depend on a range of factors in itself. For example, double-coated breeds such as the border collie are less likely to require a hoodie until the temperature drops significantly (roughly around or below 20F). Meanwhile, dogs with thinner or no fur will struggle at a much higher temperature (around 40F).

These are, of course, only guidelines and the individual differences of our dogs can cause them to become uncomfortably cold at almost any temperature, within reason. Little dogs, such as toy breeds, will need extra padding during cooler days and lean breeds like the whippet will certainly appreciate a helping hand when the temperature drops.

If you notice any significant changes in your dog's behavior as the weather begins to get cooler, it might be worth popping a hoodie on your pet- even if they are a larger breed or have thicker fur. It's also handy to remember that the cold weather can be a nightmare for your dog's paws, so avoid walking them in freezing temperature and invest in some dog booties if you're concerned about their comfort.
Q:

How do I get my dog to wear a hoodie?

A:

Before we begin, it's important to remember that some dogs simply don't like wearing clothes. If your dog shows signs of stress, fear or irritation as you attempt to put on their hoodie, or is showing signs of discomfort (scratching, pacing and so on), then remove the clothing and reassure your pup that this is not a punishment.

The biggest factor for many dogs is that they feel comfortable in their hoodie- so be sure to get the correct sizing, that gives them the same maneuverability as they would have, were they not wearing clothing. It can also be worthwhile to make the time to allow your pup to get used to the hoodie itself- a great way of helping this along is to wash the new clothing before you use it, so your dog recognizes the scent.

Once they register a familiar scent, your dog is less likely to be concerned by the hoodie, which means you can progress onto the next phase. This includes rubbing the fabric along your dog, so that they can get used to the feel of the fabric on their fur and not be alarmed by it. When you know your dog is comfortable this, you can try popping the hoodie onto your dog for the first time.

Be sure to give them plenty of praise and treats as you go, so your pooch can associate the pet hoodie with food and positive memories. This will encourage them to enjoy their time in their new pet clothing and can significantly lessen any stress or anxiety that might otherwise be caused.