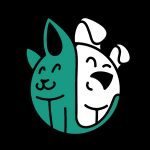 While some dogs love splashing around in the rain, others prefer to stay nice and dry. And if you have a pooch of the latter variety, a doggy umbrella is a highly practical and clever investment to keep them sheltered from the elements. Not only is keeping your dog dry in their interest, but it also helps to keep that terrible wet dog smell out of your home and saves you the effort of drying them before they set a wet paw back in the house!
Obviously, this is a very specialized product which not every pet owner has, so we are here to help you make your mind up with our detailed product guide. After reading it, you should feel better in taking a more informed decision about which is the best umbrella for dogs.
The Best Umbrella for Dogs
NiceHyacinth Pet Dog Umbrella
See More Reviews

See More Reviews



First up on the list, we have this dog umbrella which is suitable for smaller pups less than 12 lbs in weight and 19″ in length. The transparent PVE material is tough and durable, while the folding design makes it easy to take around from place to place.
Rather than going through the time and effort of putting a raincoat on your dog every time the two of you step out of the house together, this is much more straightforward way of keeping your mutt dry. Simply clip them into a harness and keep control via the long handle.
Key Features:
Fits dogs less than 12 lbs and 19"
Built-in leash hook
Thick PVE transparent umbrella material
Removable handle for comfortable gripping
Specification:
Brand

NiceHyacinth

Weight

12.8 ounces
K&L Pet Umbrella for Dogs
See More Reviews

See More Reviews



As well as providing the obvious waterproof function, this dog umbrella is also windproof to protect your pup from blowing gales. Suited to smaller dogs, the frame is made from sturdy solid metal, while the transparent polyester material ensures dryness.
There is a leash hook built into the device, so you can secure your dog in place and ensure that they experience the full benefit of being sheltered. The dog leash umbrella is highly easy to assemble whenever you need it.
Key Features:
Specially designed for smaller pooches
Waterproof and windproof design
Comes with built-in leash hook
Built-in leash hook
Specification:
Brand

K&L Pet

Weight

10.4 ounces
See More Reviews

The main part of this puppy umbrella is made from waterproof and transparent PE to provide maximum visibility. As for the frame, it is made from stainless steel which provides a high level of structure and stability.
This umbrella is suitable for smaller dogs with a back length of 19 inches or less, so make sure that you get out the tape measure before investing in this product. You can hook it up to your pet via the built-in attachment and direct your pet using the handle like a regular leash.
Key Features:
Cloth made of thick polyester material
Long chain
Easy to assemble
Eye-catching design
Specification:
Brand

LESYPET

Model

FBA_4LS-40051

Weight

7.4 ounces
Perfect Life Ideas Umbrella for Dogs
See More Reviews

Keep your smaller dog safe and dry with this pet umbrella, which opens up to 29 inches in diameter. If your dog or puppy has a back length of under 20 inches, they should be able to fit underneath comfortably. The waterproof transparent plastic ensures that it is not going to disrupt your dog's field of vision, and you can also see what they are getting up to clearly. The built-in metal leash chain is roughly eight inches long, which gives them plenty of scope to move around comfortably.
Key Features:
Suitable for dogs less than 20 inches long
Clear transparency for maximum visibility
26 inches long and opens to 29 inches in diameter
Protects your dog from rain and snow
Specification:
Brand

Perfect Life Ideas

Weight

7 ounces
Transparent Umbrella for Dogs with Built-in Leash
See More Reviews

See More Reviews



When you buy a pet umbrella, your primary concern is to make sure that your pet stays dry underneath it. This one has a built-in leash to keep your pooch in place. The umbrella body is entirely transparent, which offers maximum visibility when you are walking along together. If your pet is 24 inches long or less, they should be able to fit underneath comfortably.
Key Features:
Made from transparent PE plastic
Comes with built-in leash hook
Transparent umbrella body offers visibility
Specification:
Brand

Moore

Weight

8 ounces
See More Reviews

This transparent umbrella allows your pet to see the world around them and you to keep an eye on how they are doing. All you have to do is attach the chain leash to them and they have an added layer of protection from the elements. When you aren't using the doggy umbrella, you can detach the handle and the grip from the umbrella to store it easily.
Key Features:
Specifically designed for smaller dogs
Easy to attach via the chain leash
Take the umbrella apart for storage easily
Specification:
Brand

Morjava

Model

W555-DU

Weight

13.1 ounces
Abzon Transparent Pet Dog Umbrella
See More Reviews

Most small dogs will be comfortably covered by this dog umbrella. The handle is extra-long, which makes it easy for you to hold and lead your four-legged friend. Sometimes, dogs like to move around all over the place, but the handle pivots around to ensure that you are not holding it at an awkward angle. The transparent design gives maximum visibility to both you and your canine companion.
Key Features:
Comfortable longer handle
Ideal for smaller pets
Fashionable style
Transparent color
Specification:
Brand

Abzon

Weight

15.2 ounces
Pet Life Pour Protection Umbrella
See More Reviews

Designed to attach to all types of leash and harness, these pet umbrellas come in several different stylish designs. You can collapse and fold the umbrella when you don't need it for easy storage. The hinges are extra-sturdy and designed to withstand the toughest of weather conditions. There is a reflective trim around the edge, which helps to keep your mutt visible when you are walking through the rain together at night.
Key Features:
Umbrella with reflective lining
Available in multiple colors
Easily foldable and collapsible
Attaches to all leashes and harnesses
Specification:
Brand

Pet Life

Model

1UMBPKW

Weight

8.8 ounces
Paercute Pet Dog Umbrella
See More Reviews

This large pet umbrella gives plenty of protection to your smaller pooch. Since it is transparent, your pup is less likely to be disturbed by its presence. The materials used are high-quality to ensure that this umbrella lasts for a lot of walks in the rain. The guide is clear and shows you that assembly of this product is straightforward, so you can offer your pet protection in no time at all.
Key Features:
Long handle for your comfort
Transparent color for full view
Larger enough to offer complete rain protection for smaller dogs
Specification:
Brand

Paercute

Weight

12.8 ounces
Best Umbrella for Dogs Buying Guide & FAQ
Now that you know more about nine of the top products on the market, we are now going to delve into more detail about dog umbrellas in general. To start with, we will look at the specific features which you should be on the lookout for, before discussing some of the main benefits of using a product like this. After this, we have our frequently asked questions (FAQ) section, which aims to clear up any issues which you may still have regarding dog umbrellas.
What to Look for When Buying Umbrella for Dogs
There are plenty of features which make a great dog umbrella, and we will talk you through a few of the main ones here and now. This way, you can make a tick list of the product features which you want the most, and match this up with the various choices above.
The most important feature of an umbrella is that it is actually waterproof! Some umbrellas are only designed with fashion in mind, while others just offer protection against the sun. The umbrellas which we have discussed in the product guide are all waterproof, so you can comfortably purchase any of the above models and know that they are going to protect your dog from the elements.
Another important consideration to make is the size of the umbrella. After all, if it doesn't cover your dog entirely, it will not be doing its job effectively. The canopy should comfortably span the length of your dog. Most of these umbrellas are meant for smaller dogs or puppies, and they should have size and weight guidelines which tell you the size of dog they can accommodate. You should measure from the tip of their nose to the edge of their tail. Remember that it is best for the umbrella to cover a few inches beyond your dog for maximum protection. And if you have a growing puppy, choosing a larger size ensures that the umbrella will be useful for longer. You could also estimate how big your pooch is expected to get as an adult to tell you whether the product will continue working.
You may think that transparency is just from a style point of view, but it also has other functions as well. Firstly, it lets your dog to see around them with fewer restrictions, which allows them to enjoy the environment around them while still staying dry. Also, if you choose a transparent umbrella, it allows you and your pooch to continue interacting during the walk. Otherwise, there is a constant barrier between the two of you, which stops the opportunity for bonding with your furry friend and may cause them to be upset if they suffer from separation anxiety. But some people prefer the umbrellas to come in block colors as they look more stylish. Ultimately, this is a matter of personal preference.
Bear in mind that the umbrella also needs to be comfortable for you to use, as well as covering your pup. You will obviously be the one holding the handle, so it needs to be a comfortable length for you to guide your dog without stooping. Some of the handles also twist to allow your dog to roam around freely, helping to ensure maximum control. And you also want to check the grip to make sure that you are comfortable holding it for the duration of your walk.
Easy to Assemble and Disassemble
Of course, you are not going to need the umbrella all the time. And if it easy to assemble and disassemble, you can store it away and bring it out without hassle. Many of the above products come with an assembly guide, so check through these to give you more information on exactly what you need to do.
The question of durability largely comes back to materials used. Look at the plastic of the umbrella and the metal of the handle and chain to see whether the product has been built to last. You could also check through the customer reviews for more information on how well each umbrella has withstood the test of time. Perhaps there may be a warranty period or another form of guarantee which reassures you that this is the kind of product which will last for a minimum period.
It is also worth knowing whether the leash or harness attachment is universal, or it only works with certain compatible products. You don't want to end up buying the umbrella and not being able to use it. You should also check the length of the attachment to see how much space will be between the umbrella and your pup.
Sometimes, you want to take your dog out in the rain after dark. If you choose an umbrella with a reflective trim or some other illuminating feature, this ensures that your pooch remains visible to any passing traffic and keeps the two of you safer.

Benefits of Using Umbrella for Dogs
Now, you probably want to know more about the reasons why you ned a product such as this one, what sort of dogs they are suitable for etc. After all, a dog umbrella is quite an unusual product, and you may have never considered the specific benefits before. Well, we are here to help with an overview of some of these advantages.
Protects Dogs Who Hate the Rain
While a lot of dogs love going out in the rain, others simply hate the experience. Smaller dogs can feel scared and overwhelmed in heavy rainfall. And you don't want to be restricted by the weather when taking your mutt out for exercise. Once you have got your dog used to the umbrella, you can bring them outside rain or shine, ensuring that they get the daily dose of physical exercise which they so badly need.
While a dog umbrella may seem confusing when you first get one, these products are actually very easy to use. And they are certainly less fiddly than trying to put a rain jacket onto your overly excitable pooch before you go outside! Once you have attached their harness and put up the canopy, you can simply use the handle to guide your dog, just as you would with a regular leash. Most of the above products have a clear diagram which shows you how they need to be assembled, so make sure to inspect this before making a purchase.
Offers Other Elemental Protection
As well as protecting against the rain, dog umbrellas also offer a layer of defence against other elements too. Firstly, they act as a windshield which helps to stop your little pooch getting blown away when strong winds strike. And the umbrellas which are designed with plain solid colors provide mobile shade, offering protection against the harsh rays of the sun. Of course, an umbrella also defends against anything else falling from the sky such as snow and hail.
We all know how easily dogs can get soaked to the skin, but if you use a doggy umbrella, this ensures that their body stays dry. This lessens your workload when you get back indoors again. Otherwise, you have to hold your dog in place and dry them with a towel to stop them from dripping water all over your home and getting your things soaked.
Stops Lingering Pet Odors
We all know the unpleasantness of that wet dog smell and how it seems to linger when it gets into your home. But if you stop your pooch from getting soaked in the first place, this helps to protect your house and keeps it smelling fresher! Of course, you should make sure to dry your dog's paws and any other part of their body which has still become exposed to the elements.
A Stylish and Fun Product
If you want to be the hit of your local dog park, there is no doubt that a dog umbrella will get you some attention! While style may not be your primary concern, most owners want their pooch to look good, and being sheltered under a stylish umbrella will make them look simply adorable! You may even find that you start a new trend and you see a lot more pooches under a canopy in the near future!
Exercise Your Dog in All Weather Conditions
If you feel like you can't take your dog out for a walk in bad weather conditions, this places a serious restriction on their physical health. And your pooch needs daily exercise to maintain their heart health, keep them flexible, and stop them from becoming obese. Remember, a dog umbrella can also protect against wintery weather like snow and sleet too. If you live in a cold climate, an umbrella leash could end up being useful for a whole season and not just occasionally.
An Extra Layer of Protection
Some types of weather like hail could be potentially harmful to your dog, but the canopy of a dog umbrella ensures that they have an extra layer of protection against this falling ice. Also, it stops other falling objects from hitting them. While this may not be a primary reason to invest in a dog umbrella, it is an extra plus point which could sway your decision-making.

Umbrella for Dogs FAQ:
Q: What is an umbrella for dogs?
A: An umbrella for dogs offers protection from the rain and is designed in a similar way to a human umbrella. The main difference is that the deisgn has been reversed, with the canopy at the bottom and the handle at the top. The canopy is close to the ground to offer maximum protection to your dog, while the handle is for you to hold and guide your pooch along. Most come with some sort of leash or harness attachment to ensure that your hound stays in place underneath the umbrella. The main purpose is to offer a mobile, temporary shelter to your dog which protects them from different weather conditions including rain, snow, wind, and even the sun. Many umbrellas are clear to allow for maximum visibility and interaction between you and your dog. However, there are some which come in block colors with reflective trims, giving them a higher level of night time visibility.
Just like introducing any other type of product to your dog, you should start off slowly when you are getting your hound used to walking under an umbrella. You can first try hooking it up to them while they are indoors. Make sure that you offer plenty of praise and a few treats to get them excited. It helps to have someone else present who can distract them if they seem to focus too heavily on the umbrella. When you first start going out for walks, you should start off with a short one and monitor their reaction. Once they have become fully used to it, you can go out on your regular treks through the elements.
Q: Are umbrellas for dogs suitable for large breed dogs?
A: The products above are designed with small breed dogs in mind. The size and constraints in design mean that they will not cover your larger dog's body entirely, and it will also be more difficult for you to hold and control your pooch. If you have a bigger dog who hates the rain, you are better off getting a pet raincoat or some similar wearable protect to offer them the protection they require. With the growing popularity of pet umbrellas, you never know when we will start to see large dog umbrellas springing up for sale!
Q: Does every dog umbrella come with a leash attachment?
A: While not every dog umbrella comes with a leash attachment, most of the ones which we have discussed above come with a hook or clasp to attach to a leash or harness. These are quite short in length to ensure that your dog stays underneath the canopy when they are hooked up. Otherwise, your pooch is likely to move out of the protected area and the product will not do its job properly.
Q: Can it be attached to a harness?
A: If the harness has a D-ring or other leash attachment ring, there should be no problem attaching the umbrella to it in the same way that you can hook it up to a regular dog collar.
Q: Would the umbrella hold up for a puller?
A: Since dog umbrellas are made for smaller pooches, they are not likely to yank the umbrella out of your hand. However, if you have a very strong little puller, they can tug their leash with the force to pull on the umbrella handle with the same amount of force. You are better off choosing an umbrella with a sturdy and durable construction to ensure that it withstands your dog's strong pulling without risking damage to the design.
Our Top Pick
If you have a dog who is less than 12 lbs in weight and 19" in length, this pet umbrella provides plenty of protection against the pouring rain. The thick and transparent canopy is both stylish and durable. When you are not using it, you can fold it away, but it is also easy to assemble when needed. As for the handle length, it is long enough to provide most average-sized people with comfortable control over their dog.
It is a nice, stylish product with a black trim around the transparent canopy. For us, it ranks as our favorite umbrella for dogs, and one which will keep your furry friend nice and dry the next time you go splashing around outside together!
Source:
How to convince your dog to go out in the rain, Mercury News
Pet Umbrella is a dog's best friend, New Atlas
Related Reads
Related Reads