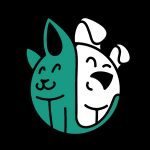 Sometimes it is a joy for both you and your dog. Sometimes the rain is pouring outside, and your furry friend has to drag you out of the house. Sometimes long, sometimes short – no matter where and when you take your dog for a walk, you are going to need a great dog leash.
Nowadays, you have so much choice available that it can be overwhelming. However, if you do your research and pick the right one carefully, you are much more likely to get a high-quality leash which lasts for years to come. To help you make up your mind, we have written this guide of the best dog leashes. So, if you are ready, then let's get going!
The Best Dog Leash
TUG Heavy Duty Retractable Dog Leash
See More Reviews

One of the best features of this retractable dog leash is that it is tangle-free, so you don't have to go through the effort of detangling it when your dog wants to go off in different directions. The tape extends to 16 ft, giving plenty of room for your pooch to roam. When you want to lock or unlock it, all you have to do is roll your thumb over the button.
The manufacturers have also considered your own comfort, and the ergonomic handle provides an easy grip. But it is also anti-slip to make it less likely that your dog is going to bolt away from you. Three different sizes are available so make sure to measure your hound before purchase.
Key Features:
Easy-adjust retraction
Tangle-free 360-degree movement
Quick lock and unlock
Comfortable grip and anti-slip handle
Specification:
Brand

TUG

Weight

1.05 pounds
See More Reviews

If you are looking for a leash which is both stylish and durable, this one is certainly a great option. The rope dog leash is made from rock climbing material, and the metal clip hook latches on tightly. As for the handle, it is comfortable and padded to protect you from rope burn.
Like to go out on night-time walks? The threads in the rope are highly reflective to give you and your pooch a high level of visibility. The five-foot length gives you control of your dog, while still giving them enough freedom to explore.
Key Features:
Made from rock-climbing rope with durable metal clip
Padded handle to protect from rope burn
Available in five colors with reflective threads
Five-foot length
Specification:
Brand

BAAPET

Model

Dog Leash-1

Weight

5 ounces
Walky Dog Plus Hands Free Dog Bicycle Leash
See More Reviews

If you like to combine walking your dog with a bike ride, this hands-free leash allows you to do this. Made from tough stainless steel, you can install it on a wide range of different bikes in just a few minutes.
This exerciser leash has been built to stand the test of time. It has gone through an anti-corrosion treatment to prevent rusting, and it is also UV fade and rot resistant. There is a shock absorption system which allows for sharp and sudden movements from your dog.
Key Features:
Quick lock release
Stainless steel large leash clip
Internal shock absorbing system
Tested for safety
Specification:
Brand

Walky Dog

Model

WD-SS/M

Weight

3 pounds
TaoTronics Retractable Dog Leash
See More Reviews

One of the best features of a retractable dog leash is that you only need a single hand to walk your pooch. Adjust the leash to the length that is comfortable and safe for you and your dog using the braking, release and recoiling system.
This leash is suitable for dogs weighing upwards of 110lbs, so whether you have a large or a small dog, you can walk them with maximum control. As for the handle, the ABS plastic casing is durable, while the grip is ergonomic and handle anti-slip.
Key Features:
Release and break locking leash system
Weather proof design
Durable enough to withstand pulling of dogs weighing up to 110lbs
Includes a carry case of plastic bags
Specification:
Brand

TaoTronics

Model

TT-PA001

Weight

12.5 ounces
SHINE HAI Retractable Hands-Free Dog Leash
See More Reviews

Whether you enjoy hiking, biking or jogging, this hands-free leash allows you to undertake all of these activities with your dog by your side. The waist belt adjusts between 24″ to 43", making it comfortable for most people. If you need to pull your dog back to safety, there are two built-in handles if needed.
The reflective stitching in the leash makes it safe for use after the sun has gone down. The belt stretches up to 82", which means that it is suitable for all sizes of dog, and they have the total freedom to move around you as they like.
Key Features:
Adjustable waist belt from 24" to 43"
Tough dual bungees construction
Additional handles for safety and control
Reflective stitching offers night-time visibility
Primal Pet Gear Dog Leash
See More Reviews

This dual-handled dog leash ranks highly amongst dog owners. Use the longer handle for safe environments where you feel comfortable for your dog to roam. But if you venture towards busier main roads, use the shorter handle to rein in your pooch and keep more control.
This is a premium-quality leash, but one which is still affordable enough for all dog owners. It is designed to be compatible with all medium and large dogs, but it may also work with some smaller breeds too.
Key Features:
Two handles: 6 ft and 1 ft from the clip
Extra padding on handles
Ideal for training
Manufactured with high-quality materials
See More Reviews

Safety is a primary concern for the manufacturers of this dog leash. The color is bright yellow, and there are also reflective stickers and neon-colored components which offer an even higher level of visibility. It also includes a brake and permanent stop feature for added safety.
Suitable for dogs weighing up to 44 lbs, you can operate the leash single-handedly. It is lightweight enough to ensure that you can use it with no strain.
Key Features:
Highly visible and reflective leash
One-handed operation
Suitable for dogs of up to 44 lbs
16 ft length
Specification:
Brand

Flexi

Model

PN2.266.S NEO.15

Weight

6.9 ounces
Fairwin Braided Leather Dog Leash
See More Reviews

Designed with medium-sized dogs in mind, the leash is made from real genuine leather, giving it a classic look. But it is also strong and durable, and the metal clips have been tested to carry up to 500 lb pull force, ensuring that your dog is not going to break free.
At 5.6 ft in length, it is comfortable enough to allow your dog to roam, while you can also rein them in as and when you need to. And the grip in the handle is also easy and comfortable for you as well.
Key Features:
Classic, real leather dog leash
Metal clips with pure copper alloy casing
Resistance carries 500 lb pull force
Convenient and comfortable length
Specification:
Brand

Fairwin

Model

PET-SJA004

Weight

6.1 ounces
See More Reviews

If you have a pair of pups that you need to take out for a walk, this double dog leash allows you to walk both of them at the same time. You may be worried about them getting tangled up, but the 360° swivel clasp design stops this from happening, so you can continue walking your dogs without the hassle of constantly stopping.
As for the handles, they are comfortably padded to protect your hands from rope burn. They also have a shock grip in case your furry friends try to pull away from you a little too hard.
Key Features:
Weaving design for two dogs
360° swivel clasp to prevent tangles
Comfortably padded handles
Offers balance between freedom and control
Specification:
Brand

Peteast

Model

FBA_TP111R

Weight

8 ounces
Max and Neo Double Handle Dog Leash
See More Reviews

Ranking highly amongst dog shelters and owners alike, this leash has been designed with several features in mind: toughness, durability, comfort, and affordability. The two handles allow you to choose between control and freedom, depending on the situation and how well trained your dog is.
An added bonus of buying this leash is that the company donate another one to a dog shelter, so you know that your purchase is also contributing to a good cause.
Key Features:
High-quality construction with nylon webbing
Includes two padded soft neoprene handles
Each purchase includes a donation to a dog shelter
Two lengths and seven colors available
Specification:
Brand

Max and Neo

Weight

2.4 ounces
SparklyPets Heavy Duty Rope Leash
See More Reviews

If you have a dog who always seems to wear through their leashes all the time, this one has been made to be chew resistant. And if you have a strong dog who loves pulling, the elastic bungee and leather joints are tough enough to resist their tugging.
As well as the regular handle, there is also an extra one close the clip, so you can gain extra control over your pup if you need it. There is also a reflective strip for those walks after the sun has gone down.
Key Features:
Chew resistant leash
Made for large and strong dogs
Shock absorbing bungee
Extra handle design
Specification:
Brand

SparklyPets

Model

Soft Portable Running Dog Leash Kit L004

Weight

8.8 ounces
Downtown Pet Supply Training Leash
See More Reviews

Available in six different striking colors, you also have a range of different sizes depending on how far you want your dog to roam. This is a great option if you are trying to teach your dog recalls or any other obedience skills.
Thanks to its swivel style, it will not get twisted when your furry friend wants to go off in different directions. As for the material, it is made of nylon, which offers an increased level of durability compared to cotton leashes.
Key Features:
Training leash ideal for teaching dogs recalls
Reinforced stitching
Nickel-plated swivel clip
Durable nylon material
Specification:
Brand

Downtown Pet Supply

Model

dtpslead50orange
Paw Lifestyles Extra Heavy-Duty Dog Leash
See More Reviews

Nearly twice as thick and strong as standard dog leashes, its tightly-webbed nylon ensures an even higher level of durability. The handle is extra-padded, which offers plenty of comfort if you are out on an especially long walk.
There are two seams of luminous reflective threading to keep you highly visible and protected when you are out on walks after dusk. The nylon of the leash is weather-resistant, so you can take your dog out without worries rain or shine.
Key Features:
High level of toughness and durability
Padded handle offers premium comfort
Dual seams of luminous, reflective threading
D-ring for carrying of plastic bags or training clicker
Specification:
Brand

Paw Lifestyles

Weight

11.7 ounces
Coastal Pet Products Dog Leash
See More Reviews

Made of soft braided nylon, this leash is flexible and easy to fold away during carrying and storage. The leather slide is adjustable to fit any collar around any dog neck size. A highly useful leash for training, it allows you to correct your dog both quickly and gently.
Measuring six-foot in length, your dog has plenty of room to roam around at their leisure.
Key Features:
Soft, braided nylon material
Easy folding for carrying and storage
Adjustable leather slide to fit any size neck
Measures 6-feet in length
Specification:
Brand

Coastal Pet

Model

761303

Weight

0.8 ounces
See More Reviews

Finally, we have this simple and easy-to-use leash which hooks on and off your pet's harness effortlessly. Available in a range of lengths and widths, you can choose the one which is best-suited to your pet.
While the design is simple and classic, the construction is still durable to ensure that this will be a useful companion for your dog's walks for years to come.
Key Features:
Durable design
Easy-to-use metal clip
Range of colors, lengths, and widths available
Specification:
Brand

PetSafe

Model

LSH-1-X-6-RYL
Best Dog Leash Buying Guide & FAQ
Things to Consider When Buying a Dog Leash
If you are still not 100% sure which lead is right for your four-legged friend, this buying guide is here to help you make your decision. Here are a few of the top considerations which are all worth bearing in mind.
The first point regarding size to bear in mind is how big or small your dog is. So, if you have a larger dog, you should make sure that you choose a leash which is designed for bigger hounds. Some leashes also have weight guidelines to match up with your dog, so now is the time to get them on the scales!
Your other main considerations when it comes to size are the length and width of the leash. Shorter leashes are better for training and safety, while longer ones give your dog a little bit more freedom to wander around. Some of the leashes which we have discussed above have two handles, so you can vary between the two options. As a general guideline, 6 ft is a fairly standard length for a dog leash. You can also get the adjustable ones which allow more variation. Otherwise, you have the long line leashes ranging between 50 to 150 ft which are useful for command training including long stays and recalls.
As for the width, you either go for a thick or a slim leash. The thicker ones are best-suited to dogs who are especially strong pullers or tough chewers. They offer enhanced durability and will not snap if your hound suddenly wants to get away. The thinner leashes are better for smaller dogs or puppies, as they are lighter and not as restricted.
The material which the dog leash is made from is the second important consideration to bear in mind. Every material that you could choose has its own set of pros and cons. First up, we have nylon leashes, which are a popular choice as they are strong, stylish, and affordable. These are generally lightweight, making them ideal for smaller dogs and puppies, but you should make sure that you choose one with a comfortable padded handle to avoid the risk of rope burn. Cotton leashes are a good option if you have a dog who likes to go swimming or if you go out in the rain a lot. These are not all that common, and they are not as sturdy as other options.
Chain leashes are not seen as often as they once were. While they are affordable, the metal could be harmful to your dog, particularly if they like to bite into them. It also doesn't offer the same give as other materials. A better option is a leather leash, which is both strong and gentle on your hands. On the downside, it can be quite expensive in comparison to some of the other materials available.
There are a couple of main clip styles which you can choose between when you are picking the right leash for your dog. Even a leash made from a highly strong material will be ineffective if it is not clipped up strongly. Dog leashes can often get wet, so it makes sense that you select one made from a material which will avoid corrosion such as stainless steel or brass. Not only this, but you also want the leash to be able to withstand force as some dogs are known to pull quite aggressively.
The two main varieties of leash clips are bolt and trigger snaps. The former come with a spring located in the shaft which slides open to attach to your dog's collar. They are a relatively common and popular variety, but if the spring loosens over time, your dog may be able to escape. On the other hand, you have trigger snaps which open by pushing the little lever which works as the trigger. These tend to be larger and more reliable as the large spring is less likely to weaken. Even if your dog creates a lot of tension, the design allows it to be more secure.

Types of Leashes
Now that you know more about the key features which you should be looking out for, it is time to talk more about the different types of leashes available to you.
The classic style of leash is still a popular choice for daily walks and regular training. Generally, they are made of a material like nylon or leather, but some are made of rubber or cotton. These tend to range in length between four to eight feet, which gives your dog plenty of roaming space, but you still have control if you need it. On the downside, they are not adjustable to deal with different situations.
Retractable leashes are another common variety. They come with a durable ergonomic handle with a length of leash on the inside – often this extends to as much as 30 ft, giving you plenty of control over how far your dog can roam in front of you. There is also a locking mechanism to set the leash to the length that you choose. The main problem with extendable dog leashes is that the it is usually thin, so you should check the pulling weight to ensure that your dog won't break free.
As the name implies, this type of leash allows you to walk your dog without using your hands. The belt-style leash is a highly popular choice, which has two loops to fit around your waist and your dog. Many people use these for activities such as hiking, biking, and jogging. Before committing to buying one, you should make sure that you look for anti-tangle features so that you aren't at risk of tripping over your four-legged friend and causing an injury to both of you.
If you are a cycling enthusiast, this type of leash is ideal for you. It will attach to your bike's frame and allows you to set how far away from your bike they run. There will be some installation involved on your bike, but this is relatively straightforward. You will probably need to undertake some training sessions with your pooch before they get used to this style off leash.
If you have more than one dog, rather than having a separate leash for each of them, you could instead invest in a multiple dog leash. It will come with a single handle with numerous leashes attached. The best ones include some kind of tangle-free feature to ensure that you are not constantly having to interrupt your walk to pull apart your dogs.
At first, it looks like an ordinary dog leash. But it also contains a second handle in the design which offers increased control over your dog. So, you can give your dog the freedom to roam when it is safe, but you also have the option to rein them in if you encounter an unsafe situation like a busy road.
As it says in the name, these long dog leashes have one or more bungee cord areas which are designed to reduce the shock to your dog's neck and your arm if they try to pull away quickly. These leashes are particularly useful for big and strong dogs who are always trying to break free.
Training Your Dog with a Leash
Just because you have bought a leash for your dog, you can't automatically assume that they are going to be comfortable with you using a it on them straight away. Just like training your dog to do anything, you need to approach the task with plenty of patience. It may be frustrating at times, but you should take a long-term view of knowing that the effort will be worth it for years of walks to come. So, here is some advice on how to get started.
Getting Your Dog Used to the Leash
If your dog has not yet worn a collar, you need to get them used to it first. Allow them to sniff and poke it as they like before you attempt to put it around their neck. Give them the chance to become accustomed to the feel of it. Next, you should bring out the leash and repeat the chance to offer exploration time. When you first attach the leash, you should leave it to dangle off the collar rather than trying to take hold of it straight away.
Make sure that you have plenty of treats to hand so you can reward your dog, and they will associate the leash with something positive. You can use these to entice your pet to come closer to you, getting them used to the concept of walking with you. Once your dog is comfortable enough, you can pick up the leash and walk around the home. Let your dog lead the way at first rather than directing them where to go too forcefully. Over time, you can take your dog out to your backyard, then around the block, and finally on longer walks.
Another useful activity is to get your dog accustomed to a verbal command such as 'walkies', which immediately indicates to them that it is time to go out and they should be ready for you to put on their leash.
While you are walking with your dog, you should always aim to stay ahead or alongside your pet. You should be the one leading them and not the other way around. Bring plenty of water with you to ensure that your dog stays hydrated while you are out and about. The length of the walk should depend on the individual breed of dog you own, their age and physical condition. Speak to your vet if you are looking for some more advice on the subject. Stay alert to your dog's behavior to ensure that they are comfortable and content while you are walking them. At times, your dog will want to explore and get to know their surroundings a little bit better, so you should allow them a bit of freedom during the times when it is safe to do so. Stay alert and watch out for any triggers which could cause your dog to try to escape such as spying another pooch at the other side of the road.
Introducing a Puppy to Walking on a Leash
Many of the points which we discussed above can also apply to teaching your puppy to walk on a leash. Make sure that you choose a collar and leash which is suitable for your little furry friend. Again, start off by putting the collar on them. Distract them with their favorite toy and offer them treats and rewards until they get used to the feeling of it around their neck. When you first decide to attach the leash, drop it to the ground straight away and ensure that they don't get tangled up.
When you are trying to get them to walk, you can carry some treats along with you to encourage them to keep moving in the right direction. Stay supportive and patient. There may be times when you need to bend down to offer your dog some extra love and care if they are feeling anxious. If your puppy pulls the leash, stop walking and stand still. Do this consistently to stop this bad behavior. If your little dog sits or lays down, take a few steps away, call them, and offer a treat to get them moving if necessary. Consistency is important when you are leash training your little dog.
Over time, they will start to associate the leash with the excitement of going outside. Many dogs get overly excited, so rather than allowing them to get out of control, wait patiently until they are calm before putting the leash on them.

Best Dog Leash FAQ:
Q: How do I know if my dog is comfortable with a leash?
A: You should watch your dog carefully to work out whether they are comfortable with their leash or not. If they are relaxed, it is less likely that they will be trying to pull away from you while wearing it. Gauge your dog's reaction when you first show the leash to them. If they cower away or run off entirely, this is obviously not a good sign. Also, if they regularly try to bite it off, this is also a common signal that they are in distress.
Q: How do I know if a leash is durable enough for my dog?
A: Most manufacturers provide a pull weight recommendation which offers you more information on how durable the leash is. Some can withstand weights of up to 550 lbs, making them suitable for the toughest of dogs who try to pull away. The leash should also give you an indication of what size dog it is designed for. If you are concerned about your dog pulling too hard on it, you should choose one which is made of a tough material like leather or durable nylon.
Q: How do I clean a dog leash?
A: Since you are going outside on a regular basis and the leash is likely to get wet and dirty, it is important that you clean it. However, the method which you use depends on the material which it is made from. Check the manufacturers instructions to see what guidelines they provide you on leash cleaning. The majority of nylon leashes can be put in the washing machine, while leather leashes are better off being washed with special soap and dried with a towel.
Q: What size of a leash do I need for my dog?
A: The size of the leash depends on your dog and what activities you are taking them on. If you get one of four feet or less, this provides you with the most control and is useful for strict training and high-traffic zones. A leash of six feet is the most standard size available, allowing your dog plenty of exploration, while still retaining control. Eight to 10 feet gives your dog even more freedom to bound around, while anything more than 10 is best for command training activities. As for the width, this depends on how big your dog is and how hard they pull. The stronger the pooch, the thicker and tougher the lead you require.

Our Top Pick
TUG Heavy Duty Retractable Dog Leash
Operational with just one hand, this 16 ft tape leash allows you to adjust the length as needed. You can allow your dog the freedom to bound around or rein them in if they are at risk. Lock and unlock the leash with the button on the top.
The design is clever to allow your dog to move in any direction without it getting tangled up around their body. Three different sizes are available, so choose the one which is best-suited to the size of your pup. While the handle is tough, it is also comfortable enough for you to go out on long walks.
For us, it ticks all the boxes and is our top pick.
Sources:
How to Solve Dog Behavior Problems - howstuffworks
Related Reads
Related Reads