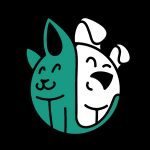 Every dog needs a collar. But if you are sick of the regular ones which constantly break, you will want something stronger and sturdier. A leather dog collar certainly ticks these boxes. But with more and more choices available, how do you set about making your decision? Well, we are here to help with our product guide which features all our favorites. Browse through the descriptions and key features, and you will get plenty of useful information about each and every one of them.
The Best Leather Dog Collar
Soft Touch Collars Leather Padded Dog Collar
See More Reviews

This stylish leather dog collar will add a touch of class to your canine companion. The brown and cream collar features a soft sheepskin padding, which is bound to be a hit with your four-legged friend. As for the buckle, it is made from solid brass with a finish which stops it rusting or corroding.
The leather is naturally tanned with no strong chemicals or dyes used, so you can be confident that it is suitable for your dog. The lifetime guarantee provides you with extra reassurance that this is the kind of product which will stand the test of time.
Key Features:
Four sizes available depending on your dog's neck size
Built-in ring for dog tags
Made from naturally tanned leather with no strong dyes or chemicals
Exceptional quality and workmanship
Specification:
Brand

Soft Touch Collars

Model

no.1

Weight

4.8 ounces
Custom Catch Personalized Dog Collar
See More Reviews

If you are worried about your dog getting lost, why not order them a custom leather dog collar? You can have their name, phone number and any other information you like engraved. There are plenty of text styles and colors available, so you can fully personalize the collar.
Made of genuine leather, this is the kind of leather collar that you buy for your dog when you want it to last for years to come. Durable and heavy-duty, there is also a guarantee of the high-quality of the product.
Key Features:
Fully customizable leather dog collar
Lots of text styles and colors available
Durable and long-lasting
Bone, hears or paw designs for no additional cost
Specification:
Brand

Custom Catch

Model

CC-DC-GL-PI-RD-NOPNT
BlackJacks Leather Dog Collar
See More Reviews

Designed for large breeds of dog, plenty of different widths are available, so you should make sure to measure your canine companion accurately before purchase. The metal work is high-quality, and this is the kind of collar which provides a long-lasting replacement to your typical models.
If you have the kind of dog who is quite rough and aggressive in their play, you will probably find that they lose or break collars on a regular basis. But this one is designed to stand up to tough attention and come away strongly.
Key Features:
Many widths available for the perfect fit
High-quality metal work
Tough and durable
Personalized confirmation of size from company
Perri's Padded Leather Dog Collar
See More Reviews

A wide variety of different designs are available for this leather collar, so you can choose the one which is best-suited to your furry friend. Whichever one you choose, it is Amish made in the USA. Your dog's comfort is important, and the lambskin padding on the inside helps to make it pleasant to wear.
The black collars have stainless steel metal parts, while the brown ones have metal parts made from solid brass. Whichever you choose, the construction is solid to ensure that it stands the test of time.
Key Features:
Wide range of colors and designs available
Lambskin padding inside
Stainless steel or solid brass metal parts
Amish made in the USA
Soft Touch Collars Leather Dog Collar
See More Reviews

This stylish and attractive leather collar is handmade and hand stitched, so you can be confident that you are getting a product which has been made with love. The two-tone color scheme looks great on all sorts of dogs. Each collar comes with a built-in space for dog tags next to the buckle.
The interior is softly padded, which helps to protect your dog's neck from any rubbing or irritation. As for the hardware, it is designed not to rust.
Key Features:
Handmade and hand-stitched
Two-tone color scheme
Built-in space for tags
Softly padded interior for maximum comfort
Specification:
Brand

Soft Touch Collars

Weight

5.1 ounces
AOLOVE Classic Padded Leather Pet Collars
See More Reviews

Choose between 10 different colors depending on your dog's style. You are not short of choice whether you looking for a pink leather dog collar or a red leather dog collar. They are also an affordable option, so you can order more than one if you want to vary up your pooch's style! Five adjustment holes are built-in, so if you have a growing puppy, you have plenty of scope to change the size if needed.
As for the leather, it is both strong and durable. The hardware is nickel-plated and there is a heavy-duty D-ring to protect your dog's neck.
Key Features:
Five adjustment holes
Made from strong and durable leather
Fashionable and stylish design
Thin style for small and medium dogs
Specification:
Brand

AOLOVE

Model

AOLOVE-004

Weight

1.6 ounces
Link AKC Smart Dog Collar
See More Reviews

If you are looking for a premium dog collar for your mutt, this one features an in-built GPS and activity tracker. You can link it to your smartphone to track your dog and monitor their physical activity levels. If you don't manage to pick the right size, the company will replace it for free.
You can set activity goals, which can be customized based on information like your dog's breed, age, and size. You can even get temperature alerts if your dog is in an environment which is too hot or cold.
Key Features:
Smart collar with GPS location
Activity monitoring and sound training included
Safety features including temperature alerts
Battery life of up to three days
Specification:
Brand

Link AKC

Model

KITTN03

Weight

5.3 pounds
chede Luxury Real Leather Dog Collar
See More Reviews

While every collar is handmade and hand-stitched, it is still an affordable option for your canine companion. Inside, it is softly padded to cut back on rubbing and skin irritation. The metal parts add strength and style to the collar.
As for taking care of it, you just need to use a soft damp cloth and leather cleaner. Regular care will ensure that it lasts for the long-term.
Key Features:
Handmade and hand stitched
Softly padded interior
Metal is strong and attractive
Cleaning and care are easy
Specification:
Brand

chede

Weight

2.4 ounces
Logical Leather Padded Dog Collar
See More Reviews

This comfortable padded leather collar is one of the most stylish options out there. As long as you care for it properly, it will resist water and stains. Simply use a soft damp cloth and gentle leather cleaner to do the job.
As for the metal clasp and leash ring, it is all made to Military and Law Enforcement grade, which is suitable for even highly active dogs. When you want to attach a leash or ID tag, you can do so via the strong loop.
Key Features:
Soft padded leather collar
Cleanable with cloth and leather cleaner
Strong metal hardware
Comes with lifetime guarantee
Specification:
Brand

Logical Leather

Model

21LC-BR

Weight

3.36 ounces
Warner Manufacturing Leather Dog Collar
See More Reviews

This personalized leather dog collar is designed for medium to large dogs and also includes a free engraved brass ID tag which allows you to include your dog's key information. Each collar has five holes one inch apart, so you should try to match the middle one up with your dog to give you the most leeway to adjust the size up or down as needed.
As for the brass tag, you can fit as many as 22 characters per line, so make sure that you choose your words carefully to convey all the information you would like on this leather dog collar with nameplate.
Key Features:
Includes free engraved brass ID
Made for medium to large dogs
Five adjustment holes
Hardware is nickel plated
Specification:
Brand

Warner Manufacturing
Berry Pet Spiked Studded Dog Collar
See More Reviews

If you want to give your dog a bit of an edge, this spiked dog collar will certainly give them this style! The spikes give your mutt an extra layer of protection if they get picked on all the time when you are down at your local dog park.
To attach your dog's leash, you simply need to hook it up to the heavy-duty D-ring. Make sure that you take your pooch's measurements accurately and supervise them closely when they are wearing a collar such as this one.
Key Features:
Made of high-quality PU leather
Excellent workmanship
Defends your dog's neck
Chromed D-ring for lead attaching
Specification:
Brand

Berry Pet

Weight

8.8 ounces
Vcalabashor Custom Leather Collar
See More Reviews

These leather collars come in a trendy braided design, and there are several different colors and styles to choose between. There is a little space at the front where you can have your dog's name and your phone number etched in. Since it is affixed firmly, it will not dangle down in an irritating manner.
On the inside is some inner padding which helps your pup to feel entirely comfortable while they are wearing the collar.
Key Features:
Five sizes and six colors available
Laser-printed pet ID badges on front
Stylish braided design
Viosi Leather Padded Dog Collar
See More Reviews

This handcrafted dog collar is made from tanned buffalo hide, which is famous for its strength, durability, and reduced stretching. While leather can sometimes feel not that pleasant on its own, this one features a padded interior for a cozy feel against their skin.
One of the great features of a dog collar is that it allows your furry friend to be easily identified, and this one has space for their tag next to the buckle. Using a set of strong threads, this belt has been hand stitched to perfection. 
Key Features:
Eco-friendly premium collar
Made using tanned buffalo hide
Padded interior
Weaver Leather Sundance Dog Collar
See More Reviews

If design and style are two of the things at the top of your list when you are dog collar shopping, then this one should certainly feature in your considerations. The edges have been carefully scalloped, while the hardware has been oil-rubbed to give it an antique look.
But style isn't its only advantage. It is also a tough and durable product which has been designed to continue looking great on your dog for a long time.
Key Features:
Made from Brown Skirting Leather
Oil-rubbed hardware
Scalloped edges and antique copper berry conchos
Specification:
Brand

Weaver Leather

Weight

6.4 ounces
Berry Pet Beirui Leather Dog Collar
See More Reviews

The final leather collar on our list, this one is both sturdy and stylish. You can hook up your dog's leash via the durable D-ring. While some leather collars don't allow for that much adjustment, this one has six holes. As always, make sure that you leave a one finger gap to allow for their comfort.
As for the buckle, it is made from a high-quality alloy which keeps it looking and performing great for the future.
Key Features:
Double D-ring & Heavy-Duty Alloy Buckle
Six holes for easy adjustment
High-quality craftmanship
Specification:
Brand

Berry Pet

Weight

2.4 ounces
Best Leather Dog Collar Buying Guide
What to Look for When Buying a Leather Dog Collar
Not every leather dog collar is the same. Each one has its own individual set of features which are worth discussing in more detail to further assist you in making your mind up.
The size of the leather dog collar you choose matters. After all, you want it to fit around your furry friend's neck without choking them or causing any discomfort. So, you should measure your dog's neck to pick the size that matches up best. Thickness should also play a role in your decision-making process. If you choose a small thin collar for a larger dog, they are more likely to damage it and you may not be able to see it clearly. Similarly, for shaggier dogs, it could get lost in their mane of hair. Heavy and large leather dog collars are not suitable for smaller pups as they are likely to weigh down their neck too much.
Just like choosing your own leather clothing, the question of whether you go for a real or faux collar is one which is worth considering in more detail. While it is more expensive, real leather tends to last longer and be more hard-wearing. It is also less likely to be irritating around their neck. If you are going for faux leather, you still need to ensure that the quality is good. Otherwise, you could end up with a product which has been too chemically treated and could cause a problem to your dog's skin and coat.
Another question to answer is whether you want a flat or rolled leather dog collar. If you go for the latter, you should make sure to check the quality of the stitching. If it is poor quality, this can end up meaning that it is not as long-lasting, and it is more likely to be uncomfortable for your dog.
While the leather part of the collar is important, so too is the quality of the buckle. Ideally, it should be made from metals which resist rust, or it will be coated in a substance which makes it more rust resistant. Check for sharp edges to ensure that it is not going to cut into your dog's skin and cause them any discomfort. Common materials include stainless steel and brass. As for the D-ring, the quality of the metal and fastening matters. There should not be a gap between the two ends as this could end up allowing the collar to slip off.
Some collars come in a standard format, whereas others can be personalized with information such as your dog's name and your phone number. If this idea appeals to you, why not go for this option? Alternatively, you could get separate identity tags to hang around your dog's neck. Giving your dog a means of identification is a good way of having them found more quickly if they get lost.
As well as being long-lasting, you also want your chosen collar to look great on your dog. There are plenty of different styles and colors to choose from, so pick the one which suits your furry friend's individual sense of style! As for the accessories, these are the added extras which could sway your decision in one way or another. Make sure that any decorations are attached firmly so they are not likely to come off and risk being a choking hazard.

Benefits of Leather Dog Collars
Leather dog collars have plenty of advantages over their traditional nylon counterparts. So, let's present you with a few of them which could help you to make up your mind.
While leather collars are generally more expensive than some other varieties, they also resist damage from daily wear better. Nylon collars often fray and break quickly – especially if you have a dog who loves rolling around on the ground. Real leather is much tougher, and thicker varieties can even withstand the clawing and scratching of bigger dogs. Generally, these collars will last for a few years without you having to replace them. And since you don't have to go through the effort of continual replacement, this is one less thing to worry about for your dog. Not only this, but it is also likely to be a better long-term investment instead of continually buying new collars all the time.
The second major advantage is comfort. Fabrics like nylon can be chafing to your dog, leading to skin irritation and itching. Leather tends to be a gentler material which is less likely to cause an issue. Some of the options above also have soft fleece linings, which help to ensure that your dog is even more comfortable. Of course, you need to select a collar which is the right size and thickness to ensure that it is pleasant for your canine companion to wear.
Last but not least, many dog owners love leather collars because they simply look better. After all, who doesn't want their dog to look their best? Many of them have a classic look which has a timeless appeal, but there are those which come in their own unique design. Of course, there are also those which can be personalized to suit your dog. And while certain fabrics such as nylon are more likely to get dirty and fade in color, leather tends to keep it new look for years and years.
Leather Vs. Nylon Dog Collars
The choice between a leather or a nylon collar is one that you have to weigh up carefully. To help you do this, we will go point-by-point through a comparison chart on some of the key features of each.
Nylon collars are flat, but the edges can be stiff and abrasive to your dog's neck. However, they are generally easier to adjust than the leather ones. As for leather collars, they are usually flat or have rolled edges which are great for long-haired dogs as they reduce matting and conform to your dog's neck over time. You can get some in a Martingale design which slips less and is great for pooches with thinner necks like greyhounds. Since leather collars have less remove for adjustment, you need to ensure that you select the right size which is not too big or small.
Nylon collars are generally easier to look after. All you need to do is wash them with a little soap and water to keep them clean and smelling pleasant. However, they do tend to gather up hair and fray at a much quicker rate. As for the leather versions, you need special products such as conditioners to keep them supple and looking good. You also need to be wary if your dog loves splashing around in the water, as they can very quickly ruin a leather collar. However, if they are properly looked after, leather collars tend to last much longer.
Leather tends to win the battle of durability, but you need to bear in mind that a collar is only as strong as the fastener. The plastic ones don't do well for larger dogs. Luckily, most leather collars have metal fasteners, which are rust resistant and made to stand the test of time.
Leatherwork is a high-quality artform with plenty of design possibilities. You could go for one which is intricately carved or a simple flat variety. As long as it is looked after well, leather tends to look better with age. Nylon collars can also come in stylish and eye-catching designs, and they can also be dressed up with accessories. You can get a variety of nylon collars for the price of a leather one if you like to change your dog's appearance on a regular basis. Which brings us nicely onto the next point…
If you only take into account individual purchase price, nylon collars are usually cheaper. However, since they fray and break more easily, you will probably end up having to replace them more often. Of course, you need to be willing to spend the extra time keeping the leather properly conditioned to ensure that it lasts for as long as possible.
How to Choose the Correct Leather Collar Size for Your Dog
As we have already mentioned more than once, choosing the right size of leather collar is highly important. First, you can take into account your dog's breed. Many have collars which are recommended for certain breeds based on size variations. Of course, you will also need to make a more accurate measurement too. If you have a cloth measuring tape, this is the best option, but you can also use a regular tape measure. You should put the tape snug as opposed to tight around their neck. You should be able to slip two fingers between the collar and your dog's neck as this will ensure that it isn't too tight. If you have a long-haired dog, you will get a more accurate measurement straight after grooming them. Add an extra inch for the times when their fur gets longer.
There are also different width sizes of collar as well. As a rule of thumb, thicker collars will provide more support, which makes them better for stronger hounds. Wider collars also reduce the pressure on your dog's neck. However, they also weigh more, which makes them an unsuitable choice for smaller breeds of dog. 1 ½ inches is standard, so this is the size you can choose if you are feeling unsure.
Another issue can arise if you look for a collar for a growing puppy. If you choose a puppy leather dog collar with increased adjustability, this will ensure that you aren't having to buy new ones all the time. Once you get the collar, check to see how it fits. You should be able to fit two fingers between it and the dog's body – or three if you have an especially large mutt. Check the collar on a regular basis to ensure that it stays the right size. Some collars can expand and retract over time, while your pooch could also gain or lose weight.

Best Leather Dog Collar FAQ:
Q: Can leather dog collars get wet?
A: While some dog owners think that their leather collars can never get wet, as long as they are treated properly and regularly, they can deal with moisture and will continue looking great and working well for a long time. Having said that, it is still a good idea to remove the collar every time you are giving your dog a bath. If you buy an inferior leather collar or don't treat it regularly, you are likely to find that it will stretch out over time.
Q: How do I keep my leather collar clean?
A: All collars need regular cleaning, but this is a different process for leather collars in comparison to nylon ones. You can buy special leather cleaning products, which should be non-toxic and pH-balanced. Generally, these come in a spray bottle which you can spritz onto your dog's collar, before using a soft brush or sponge to remove the dirt and stains. After you have left it out to dry, you can then move onto the conditioning stage. Again, a special cream or conditioner will be needed to cover up the marks and scratches. Choose your products carefully and you can also use them on your other leather products such as belts and purses.
Q: Will the leather stretch?
A: Most leather will stretch at least a little bit over time – especially if it gets wet. To extend the lifespan of the collar, you should make sure that you care for it properly, not allowing it to get wet if you can help it and stopping your dog from clawing or scratching at it.
Our Top Pick
Soft Touch Collars Luxury Real Leather Padded Dog Collar
Now, we come to our top pick. We have selected this two-tone leather collar with a sheepskin leather lining as our number one choice. Both the buckle and D-ring have been lacquered to prevent rusting, which makes this a long-lasting collar that your dog can wear for years.
As for the lather itself, it has been naturally tanned and not treated with harsh chemicals which are likely to irritate your dog's skin. Several adjustment holes have been bored in but measure your dog's neck carefully and the collar will feel more comfortable.
Its combination of style and substance make this collar the leader of the pack.
Sources:
How to Choose the Perfect Puppy Collar - wikiHow
Related Reads
Related Reads