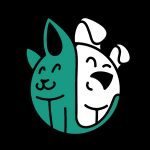 A dog lift harness is a useful way of controlling the movements of your dog. They can be used by very active and working dogs but are also for the rehabilitation of injured or ill dogs. It is important that you choose the best dog lift harness for the job you want it to do.
Many owners have found them particularly useful for teaching a dog to walk nicely at your side but vets also use them to support the front or hind limbs after surgery. Provided you choose a device that fits your dog correctly, they are very comfortable and are tolerated well by most dogs. To get you started on choosing your device, here is our guide to finding the best dog harness.
The Best Dog Lift Harness
Ruffwear Web Master Secure Harness for Dogs
See More Reviews

Perfect for adventurous and working dogs, this dog harness with handle is available in blue or grey and in four sizes so all breeds are covered. For maximum safety, it has two attachment points for your leash. One is in the middle of the back and this will give you more control. The other is positioned at the rear of the back and this gives your pooch more freedom. There is no chance of them breaking free thanks to the strong attachment ring which is reinforced with strong webbing. This is durable and safe.
For comfort, there are five points of adjustment and the straps are padded. For when you need to give a helping hand over rough terrain or obstacles, there is a padded handle on the top for you to grasp hold of and which disperses the load effectively. Because the trim is reflective, you can stay out later at night and there is even a loop that you could attach a safety light to.
Key Features:
Two aluminum leash attachments
Five points of adjustment for size
Padded handle
Light attachment point
Specification:
Brand

RUFFWEAR

Model

30102-407M

Weight

8.8 ounces
Love Pets Love Dog Lift Support Harness
See More Reviews

Available in large or extra-large sizes and in three color options, this harness is made from durable polyester and nylon and has a fleece lining for maximum comfort. This is designed for larger breed dogs who need a little help with their mobility. The large size is for dogs with a girth measuring between 28 and 33 inches and it is important to measure your dog to get the correct size.
To allow you to support your dog safely but is very quick to fit on. It supports your dog's body at the chest or at the hips and back legs depending on their mobility needs.
It is particularly useful for dogs with arthritis or degenerative myelopathy as well as for those recovering from hip, leg and back injuries and orthopedic surgery. When not in use, it folds up for easy storage.
Key Features:
Suitable for large breed dogs
Very quick to fit on
Supports front or rear limbs
Suitable for use after surgery
Specification:
Brand

Love Pets Love

Model

B0149BA6ZE

Weight

4 ounces
Labra Canine K9 Sling Lift Harness
See More Reviews

Recommended by vets to speed up the recovery process, this harness is ideal for supporting dogs after surgery. It can help elderly dogs to maintain an active lifestyle and can be useful for dogs who have had knee, ligament and joint surgery.
It is very easy to put on; you simply slip it under your dog's chest and fasten it with the Velcro strap. Then all you do is use the handle to give as much or as little support as your dog needs. The straps adjust to suit your height and the height of your dog so this reduces the strain on your back. When you are not using it, it rolls up and will easily fit in your bag. It's made of heavy-duty material so it will support even a heavy dog.
Key Features:
Sizes to suit all breeds
Adjustable handle straps
Heavy duty material and fleece lined
Suitable for use after surgery
Specification:
Brand

Labra

Model

B06XCPP6J8

Weight

5.6 ounces
PetSafe Solvit CareLift Full-Body Lifting Harness
See More Reviews

A uniquely designed dog support harness for conveniently supporting and lifting older dogs and those that are injured or are recovering after surgery. It is both safe and comfortable and flexible so that you can provide the particular assistance that your dog needs.
It comprises two sections but both can be used separately or together for dogs that need a lot of support. The harness will lift both the legs and abdomen so no undue pressure is exerted on any part of the body.  It has comfortable rubberized handles and comes with a lifting leash or you can use the shoulder strap. It has a mesh liner which is comfortable and breathable against your dog's skin. It has a protector panel for males which will need to be removed when they pee and is not needed at all for females. Most parts are removable and are machine washable and the rest can be washed by hand.
Key Features:
Two independent sections
Comfortable rubberized handles
Most parts machine washable
Removable protector panel for males
Specification:
Brand

Solvit

Model

62367

Weight

2 pounds
GingerLead Dog Support Harnesses
See More Reviews

Available in seven different sizes so you can get the fit just right, this dog rear lift harness is a very useful rehabilitation harness for use after injury and surgery.  The exterior is made from durable nylon and it is lined with corduroy so it feels comfortable for your dog and will slip. You can machine wash it and dry it.
The leash can be connected to a collar so you can control the speed that your dog is walking at. The chest harness is sold separately for added support. It is quick and easy to put on by simply passing it under your dog's belly.
Key Features:
Available in seven sizes
Durable nylon and corduroy
Does not bunch up or slip
Quick and easy to put on
Specification:
Brand

GingerLead

Model

B00GPYFA50

Weight

5.4 ounces
See More Reviews

An easy to use dog lift with adjustable straps that's available in different sizes. It will support dogs who have limited mobility and who struggle to climb stairs and get in and out of cars. It's great for dogs with joint conditions or injuries and who are recovering after surgery.
It's very easy to clean in a washing machine. It comes with step by step instructions and is made from durable materials.
Key Features:
Durable materials that can be machine washed
Available in four sizes
Adjustable straps for comfort
Specification:
Brand

AMZpets

Model

B01CGF57PO

Weight

1.6 ounces
Outward Hound Lift Harness for Dogs
See More Reviews

A very simple dog sling harness that is suitable for most medium-sized dogs. It is exceptionally quick and easy to put on. The harness gives your dog as much added support as they need after an injury or an operation. It is also useful for senior dogs who have mobility issues and struggle to get in and out of the car.
It comprises a torso band that fits under the chest and abdomen and which provides a wide surface area for support. The large size distributes the load. It is fully padded to make it very comfortable for your dog. It comes with an adjustable hook and closes using a loop. The handles are 17 inches long.
Key Features:
Simple support harness
Adjustable hook and closes using a loop
Fully padded for comfort
Large surface area for support
Specification:
Brand

Outward Hound

Model

21005

Weight

9.3 ounces
ICEFANG Tactical Dog Harness
See More Reviews

Available in three sizes and in three colors, this is a superbly practical harness for working dogs. It's made from a strong nylon fabric with a water-resistant coating for ultimate practicality when out in the field but is padded with a soft, nylon mesh for comfort. It features a highly durable metal buckle attachment which has been tested to 1000 pounds at the point where the load is at its greatest when the dog pulls.
It comes with the option of a no-pull front clip to maximize control and allows you to teach the dog to walk to heel. There is also a back-leash clip for dogs that are well-trained. The handle is durable with tough stitching and the harness can be grabbed easily for lifting in and out of a car. It is compatible with hands-free carrying devices.
Key Features:
Water-resistant coating
Soft nylon lining for comfort
No-pull front clip for training
Back clip for trained dogs
Specification:
Brand

ICEFANG

Model

B01N1YVRC8

Weight

1.2 pounds
SGT KNOTS Support Harness Pet Sling
See More Reviews

This is a super-comfortable pet sling that fits around your dog's hips and prevents hip pain when they have an injury or a degenerative condition from aging. It can help you to improve your dog's mobility and hence their quality of life. It has nylon straps which are both strong and durable and it will fit any size of dog. The fabric is resistant to moisture and sunlight.
The sling itself has a cushioned sheepskin-like covering that is comfortable against your dog's body. This means you can use it for long periods and it won't make your dog sore. The synthetic material makes it suitable for extended use.
Key Features:
Suitable for degenerative hip issues
Strong nylon straps
Suits medium and large dogs
Specification:
Brand

SGT KNOTS

Model

B01E0FLT8C

Weight

6.1 ounces
Mihachi Secure Dog Harness
See More Reviews

A lightweight, polyester harness that has soft breathable mesh panels where it supports your dog's weight so it is comfortable for them. It is also non-toxic, durable and can be machine washed when it gets dirty. The fabric has soft edges and avoids chafing against your dog's delicate skin. It is also reflective for extra safety at night.
There is a tough plastic handle at the top so that you can help to lift your dogs over obstacles and it is even strong enough to support large breeds. There is a D-ring for leash attachment and you can use it with a seat belt in a car. You can adjust the harness in five different areas so you can always achieve a snug fit. There is also a useful safety buckle so you can release the harness quickly if needed.
Key Features:
Durable, lightweight polyester harness
Fabric has soft edges
Tough plastic handle
Specification:
Brand

Mihachi

Model

WEBMASTNEO1L_1

Weight

1 pounds
Best Dog Lift Harness Buying Guide & FAQ
Things to Look for in a Lift Harness
It can be confusing when you are trying to buy a dog harness because there are so many different types. Here are the main things to look out for.
The right type of harness
You need a harness that will suit your requirements. Do you need a harness to control a dog that will not walk well on the lead? Is it for an active dog the needs help on adventurous walks? Is it for a dog that has mobility issues due to old age or surgery? Read the manufacturer's description carefully.
The right type of material
The material must be durable because it will have to stand up to a lot of strain. For working and adventurous dogs, a waterproof material is best. The part of the harness that touches the skin should be soft or padded and preferably breathable for comfort.
Fabrics that can be machine washed are the most convenient. Some are even reflective so that you can use the harness at night.
This is important for you and your dog. The harness must provide support but must not put strain on joints or muscles. The handles must take most of the strain off the hind legs if needed.
Your safety is also important. Adjustable handle lengths will put less strain on your own back.
The harness must fit correctly or it could make the injury worse. Take careful measurements and if possible, try it on for size before deciding.

Benefits of Using Dog Lift Harnesses
The benefits of a dog lift harness depend on the type of harness you buy as they are all designed for different purposes. Many owners get overwhelmed by all the straps and clips and are worried that they are not doing the best thing for their pooch.
Here are some of the main benefits of a dog harness categorized by the type of leash.
The benefit of this harness is that it can be used for regular walks. It will suit a dog that is already trained not to pull on the leash but the main benefit is that it does not irritate the neck in the way that a collar can do. Therefore, it is very useful for dogs that are irritated by collars.
Harness with a front clip
This is a harness that has a leash attachment at the front of the harness and in the center of your dog's chest. This prevents the dog from being able to pull because when they do, they just lift their front legs off the ground. The main benefit is for dogs that do not walk well on the leash as it allows their owner to control their speed and direction.
This is a very simple style of harness that just slips under your dog's chest for use with a normal collar and leash. It provides you with additional long handles and the main benefit is that you take the weight off the limbs. This helps dogs who have joint problems or who have just had surgery or an injury. It has huge benefits for their rehabilitation because you can gradually reduce the amount of support that you give them. They are also sometimes called a mobility harness.
These are designed for adventurous or working dogs. They usually have a strong leash attachment and have a short handle at the top of the harness. The benefit of this is that you can reach down and help your dog over obstacles if they need help.

How to Choose the Correct Size
It is essential that the harness fits your dog correctly for safety and comfort. It needs to provide adequate support and should not bunch up or slip. It needs to be snug and if it has a clip, this should sit high up on your dog's body. If it is very low, it will not help you to control forward momentum.
If it is too snug, it will pinch your dog's skin and could inhibit natural movement which is very unhelpful for rehabilitation after injury or surgery. The area under your dog's armpits is especially vulnerable to rubbing.
Most harnesses are available in several sizes ranging from small to extra-large. Some manufacturers give lists of breeds that would suit each size. However, there can be considerable size variation within breeds too as some dogs are overweight and others are underweight.
The correct size will be determined by the circumference of your dog's rib cage and chest so this is what you need to measure. Get yourself a soft tape measure and measure your dog across the widest part of their rib cage. Then add two inches. If you do not have a soft tape measure, use a cord or piece of string and then take the length using a regular tape measure.
If your dog falls between two sizes, it is usually best to choose the larger size. In general, the extra small size would fit a dog with a chest circumference of 8 to 14 inches. At the other end of the scale, an extra-large harness would fit a dog with a chest circumference of over 40 inches.
How to Use a Dog Lift Harness
If you are going to invest in a dog harness it is important that you know how to put in and use it correctly. They will be provided with manufacturers' instructions but here are the basics.
Putting on a dog harness
The first step is to get your dog used to standing still because you cannot put a harness on a moving dog! You will get terribly tangled up! Most require you to get your dog to step into it so that their front limbs go through the arm holes. Then you can clip it onto them. Start by teaching them to put one paw through the harness and then the other. Giving them a tasty treat can stop them from fidgeting.

Here are the main ways in which you would use a dog harness.
Negotiating stairs. All you have to do is pull up gently on the harness handle as your dog climbs the stairs. Don't lift your dog up completely, just take some weight off the rear limbs. Grip a hand rail so you don't lose your balance.
Getting in and out of a car. This is very tricky for dogs with arthritis of the hips and other joint problems. A split-harness is useful here as it allows you to lift the dog by the hips and shoulders and does not put too much pressure on one spot.
Getting outside to poop and pee. This would be for dogs with severe mobility issues. You need to remove any parts of the harness that would get in the way. Then give sufficient support to allow your dog to relieve themselves. Remember they need to get into the correct position to poop or pee.
Going on adventures. For a fully mobile dog, you simply use the harness as an alternative to a collar and leash. If your pooch gets stuck in a hole or needs a hand over a tall obstacle, you simply reach down and lift them up with the handle.
An immobile dog. Some harnesses are compatible with dog slings that allow you to carry a completely immobile dog around. You use it with a shoulder strap and you need to take care that you are not putting too much strain on your own back.
Best Dog Lift Harness FAQ:
Q: What is a lift harness?
A:  A lift harness is a sling-like device. It either has its own handles or it has an attachment point for a leash. Some have both. They can be used for a number of purposes and therefore differ slightly in design.
Some lift harnesses are designed for working dogs and have a mechanism to stop them from pulling. Others are designed for outdoor adventures and have a short handle so that you can help your dog navigate obstacles. Then, there are the lift harnesses that are used for dogs that have mobility issues caused by old-age, injury or surgery.
Q: How long can I leave a lift harness on my dog?
A: This depends on the type of harness. The devices that are used instead of a collar can be left on all day. They are padded and breathable and will not cause discomfort. The sling-type harnesses can only be used with you holding on to them so they are designed for short term use.
Q: Is it possible for my dog to urinate and defecate wearing a dog lift harness?
A: This is not generally a problem for female dogs because the harness will not get in the way. However, it is possible that it will interfere with urination in male dogs. The harnesses that are designed to be worn all day, often have a removable panel so that they can urinate without difficulty.
It is important that the harness can be easily cleaned just in case it gets contaminated with urine or feces.
Q: Is my dog lifting harness washable?
A: Most dog lifting harnesses are machine washable but a few have to be washed by hand. Some have removable parts that have to be hand-washed and the rest can be popped into the machine.
It is also possible to machine dry many lift harnesses but others have to be air-dried. Always check the manufacturers' washing and cleaning instruction.
Our Top Pick
This harness is for adventurous and working dogs and has two attachment points for your leash. One is in the middle of the back and the other is positioned at the rear of the back. There is a strong attachment ring and webbing.
For comfort, there are adjustment points and padded straps. The handle is padded so you can grasp it and help your dog over obstacles. The trim is reflective and there is a loop that you could attach a safety light to.
Sources
How to Properly Put on a Dog Harness – Pet MD
Related Reads
Related Reads