The Best Wheelchairs For Dogs in 2022
Last Updated: January 4, 2022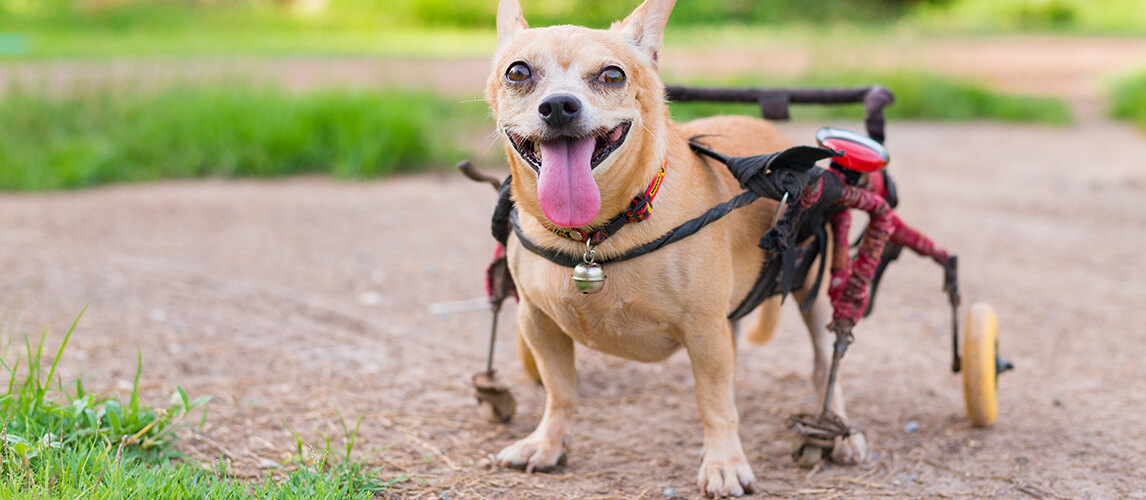 PetSide may earn a small commission from affiliate links in this article.
Learn more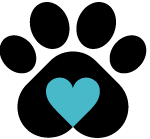 By Petside
Published 12:57 pm
Dogs are energetic animals that love to spend time running around outdoors, so when they lose the ability to walk this can have a very negative impact on their lives. There are many reasons why dogs lose the ability to use their legs. Old age can affect the use of their legs as well as accidents, spinal injuries, degenerative myelopathy, cancer and hip dysplasia. Seeing your favorite four legged friend immobile can be heartbreaking, but luckily there is a solution. A pet wheelchair will give your dog back the use of its legs and enable it to live a full enriched life once again. There are many different dog wheels available to buy and we have taken time out to review the best wheelchairs for dogs and have highlighted their top features, making the job of finding the most suitable wheelchair easier for you. Later we will answer your most frequently asked questions and included a buying guide on what to look for when buying a wheelchair for your furry friend.
The Best Wheelchairs For Dog
Best Dog Wheelchair Buying Guide & FAQ
There are many reasons why you might need a wheelchair for your dog. Perhaps they have been born with a disability, developed a degenerative disease which impairs their mobility or perhaps they have sustained a recent injury which means they cannot fully walk. When you love and care for a pet and they cannot fully enjoy life it's upsetting but luckily a dog wheelchair can change their life and give your pet mobility again. Finding the right type of wheelchair isn't always easy, so below we have compiled a guide, helping you search for the right type of features for your dog.
You may also like our articles on Paw Protection Waxes and Dog Knee Braces.
What to Consider When Buying a Dog Wheelchair
One of the most important things to consider when buying a dog wheelchair is the size. If it doesn't fit properly then you will not only cause your dog discomfort but they may also fall out of the harness too and cause harm to themselves. You will need to know your dog's weight and leg measurement before making a purchase.
Take a look at the type of fabric used in the wheelchair. Does the product provide additional padding to prevent sores? Comfort is paramount when it comes to the quality of your dog's experience.
Again, this comes down to materials. Look out for good quality non-rust aluminum frames as they are hard-wearing and lightweight too. Lighter wheelchairs are easier for your dog to use and also easier for you to carry when not in use. You'll want to look at the wheel quality too and look for good strong PU material or similar, ideally with rubber treads with extra grip for use on any terrain.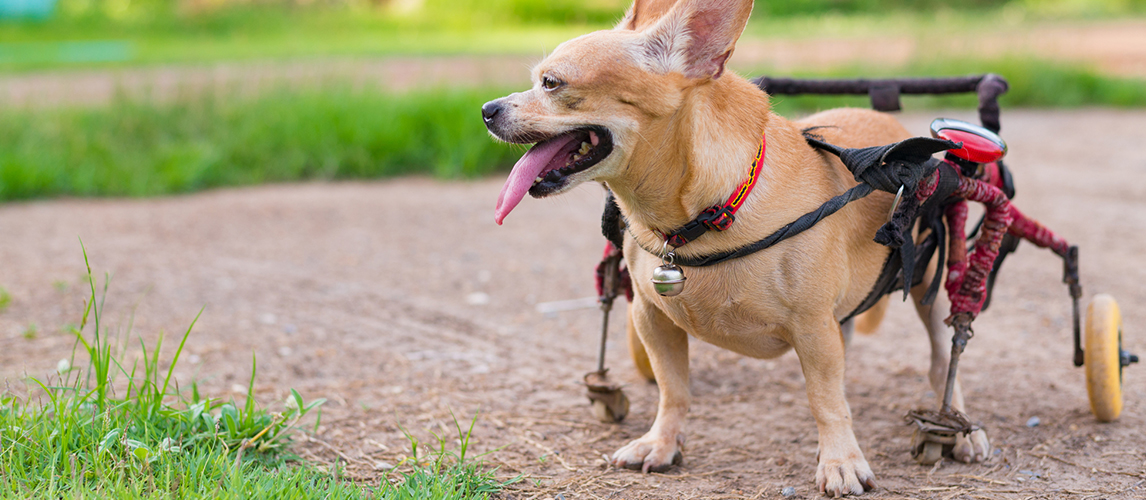 Benefits of Using Wheelchairs for Dogs
Mobility & Better Quality of Life
If your dog has sustained an injury or has a disability which means that they can no longer use their legs properly then their quality if life is going to be greatly impaired. A dog wheelchair will give them back their mobility and therefore their freedom.
If your dog is unable to walk then this is going to have a negative impact on the rest of their limbs and spine. If you use a good quality dog wheelchair then you will enable your dog to move on a daily basis and this will allow your dog's body to get the essential exercise it needs to remain supple.
If your dog is recovering from an operation or injury and cannot walk properly then a dog wheelchair can greatly aid their recovery by providing daily rehabilitation.
Without a wheelchair, a disabled dog may gain weight due to lack of movement and exercise. A set of dog wheels with enable them to use their body to get exercise.
Head over to our reviews of Dog First Aid Kits and Liquid Bandage for Dogs for more options.
Safety Tips for Dog Wheelchairs
You must always supervise your dog in their wheelchair at all times. Unfortunately they can tip over and get stuck in bushes or on tables so makes sure you can an eye on your dog at all times.
Steps and wheels are a combination that does not work under any circumstances. Do not allow your dog to go anywhere near steps.
Dog wheels have not been designed for prolonged use and so it's important that you don't allow your dog to use the wheelchair for long periods of time.
Every time your dog uses the wheelchair makes sure that you check the harness and fittings properly. Not doing this could cause your four legged friend to endure pain and irritation.
Our Top Pick
We found that our favorite product on the list was the Walkin' Wheels Dog Wheelchair.This brand really know their market and have been making wheelchairs for dogs for many years. This particular product really stood out to us because it was fully adjustable, allowing you to set the height, length and width. It's super lightweight and features large durable wheels that have been manufactured from dense foam rubber with a rubber outer layer that will not puncture. All the parts are easy to clean too - absolutely vital when your pooch decides to run through muddy fields in the wheelchair! Because it is fully adjustable it is easy to resell and we like the fact that the company promotes this ethos. Suitable for a number of different types of breeds including: Dachshund, Jack Russell Terrier, Bichon Frise, Maltese, Miniature Poodle, Pug, French Bulldog, Wire Fox Terrier, Chihuahua and more. It's also veterinarian approved and suitable for dogs with a number of different conditions such as: hip dysplasia, paralysis, slipped disc, arthritis, after-surgery recovery, age related mobility issues, injury, degenerative myelopathy, neurological and spinal problems, IVDD and congenital abnormalities.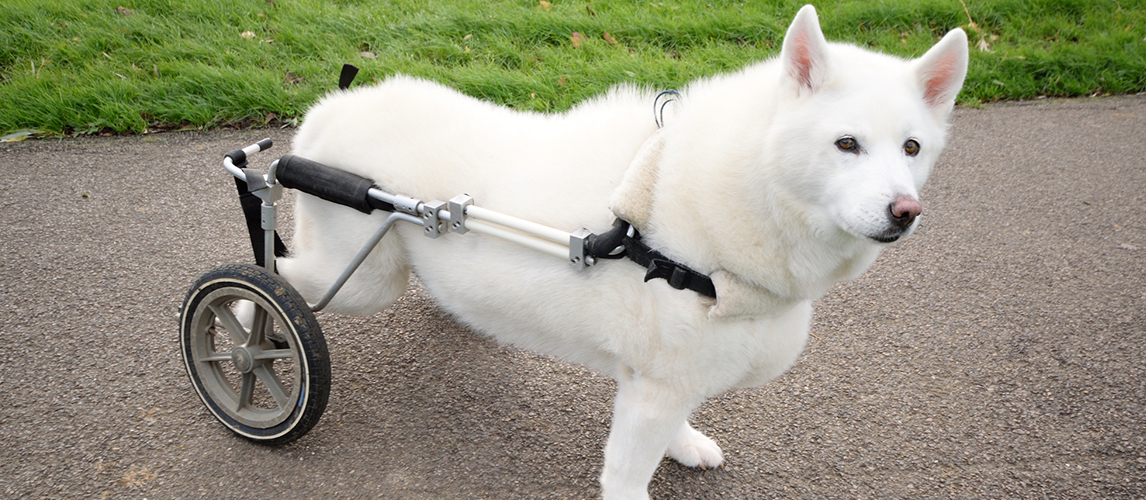 FAQ
Q:

How Does a Dog Wheelchair Work?

A:

A dog wheelchair is a mobile support system on wheels that can help your dog gain mobility. Dog wheelchairs differ in style but will always include a type of harness that you securely strap your dog into, allowing their back legs to lightly touch the ground or be fully suspended from the ground allowing the wheels to bear the weight. Although it is called a wheelchair, there are barely any similarities to a human wheelchair other than the wheels!
Q:

How Do I Train My Dog to Use a Wheelchair?

A:

When introducing your dog to a wheelchair there will always be an adjustment period where they will need a little time to get used to having their legs and body strapped into a harness. You should first allow your dog to get used to the wheels by assembling them and leaving them around the house. Let your dog smell the wheels and get used to them being around. The nest stage would be to introduce your dog to the harness, give them a treat and then see if they will allow you to put it on them. If your dog shows any signs of stress then stop and try it again another day. Give treats as positive reinforcement. Once your dog is used to the harness you can attempt to put them into the wheelchair - remember this is going to feel very strange for them so just take your time. The first time you allow your dog to explore using the wheelchair they should not have too much space as they could spook and run off or attempt to walk down stairs. Try this in your back yard or a small spacious area to give them the chance to get a feel for the wheelchair. Supervise your dog at all times and always give positive reinforcement and treats when they display positive behavior.
Q:

Can a Dog Lay Down in a Wheelchair?

A:

As dog wheelchairs have not been designed for sleeping most will not allow your dog to lay down. A small dog with short legs such as a Corgi or Dachshund may be able to lay down because their legs are not far from the ground, but larger dogs will not be able to lay down in most wheelchairs.