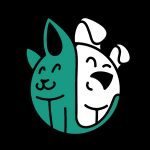 It can be very distressing when your pooch is poorly. All dog Moms and Dads want to do what they can to help their four-legged friend when they are sick. A dog thermometer can be an invaluable device at times like this. These thermometers usually take the rectal temperature which is a very accurate way of finding out if your dog has a fever.
It can be a bit daunting at first but you will soon learn how to use one. It will give you the information you need to decide whether you need to call the vet and whether you need an emergency appointment. Once the treatment has started, they can help you monitor how the recovery is going. If you are not sure how to identify the best dog thermometers out there, take a look at our useful guide.
The Best Dog Thermometer
Enji Digital Dog Thermometer
See More Reviews

A completely safe and reliable digital thermometer that can be used rectally on dogs and other pets. It will record precise temperatures very quickly which makes it perfect for use with dogs even though the product is also safe for human use and has been CE approved. This will display the temperature of your dog within 10 seconds.
The design is waterproof so you can hygienically clean it after use and it has a flexible tip which ensures the comfort of your pet. The temperature will be displayed in degrees C and degrees F. It is exceptionally easy to use – you just have to press a button. It comes with a plastic case to keep it safe and clean during storage.
Key Features:
Precise temperature display
Digital display
Records temperature in 10 seconds
Flexible tip
Specification:
Brand

Enji

Model

TH-65

Weight

0.8 ounces
Instructions are easy to follow
Plastic cover is useful
Alarm is not loud so will not scare your dog
Has to be calibrated
Some customers had inaccurate products
Care Touch Digital Dog Thermometer
See More Reviews

This battery-operated dog thermometer delivers an accurate temperature reading within 10 seconds which is important if you have a restless dog! It has a flexible tip for comfort and is waterproof so you can wash it thoroughly after use. The pack also includes 50 disposable covers for the probe which are ideal for rectal use.
There is a visual and audible alarm when a fever is detected. It has an auto shut-off function to preserve the battery and it will store the last reading.
Key Features:
Flexible tip for comfort
Reads temperature in 10 seconds
Digital display
Auto shut-off feature
Specification:
Brand

Care Touch

Model

ET110

Weight

1.6 ounces
Easy to read
Fever alarm is very useful
Useful disposable covers
Washes well with water or alcohol wipes
May get less accurate with time
Temperatures are not always repeatable
INTEY Forehead Thermometer
See More Reviews

This is a no contact pet thermometer that uses infrared to take temperatures from a distance and therefore causes no distress to a sick dog. It is also the most hygienic option for taking temperatures.
It has several modes and to use it on a dog you simply select animal mode. It has a clear, back-lit LED display that will give you a fast and accurate reading in degrees F or C. There is an audible alarm when a fever is detected. The temperature is recorded within one second and it can store 99 previous readings.
Key Features:
No contact thermometer causes no stress
Dedicated animal mode
Totally hygienic
Back lit LED display
Specification:
Brand

INTEY

Weight

9.9 ounces
Very easy to use
Convenient – no cleaning needed
Very fast readout
Fiddly to replace batteries
May not be as accurate as internal temperature recording
White Coat Fast Reading Digital Dog Thermometer
See More Reviews

This is a rapid read, FDA-approved digital thermometer that can be used to take the rectal temperature of dogs. It gives the temperature reading between 10 and 30 seconds depending on where is being tested. If a temperature of over 100 degrees F is detected, an alarm will sound.
The tip is flexible to ensure comfort and safety for your pet. It can be used to monitor the progression of a fever over time because it has a last reading recall feature. It is very simple to use and shuts off automatically to preserve the battery.
Key Features:
FDA-approved thermometer
Fever audible alarm
Flexible tip for comfort
Last reading recall
Case is useful for storage
Comes with batteries already inserted
Measures in degrees F or C
Only accurate to one decimal place
Some issues with battery longevity
See More Reviews

A thermometer that delivers clinically accurate results and has been designed for babies but can be used on pets including dogs. It is an eco-friendly product that does not contain any harmful materials and complies with EPA, SGS and ROHS standards. It contains no mercury, no lead and no BPAs.
The tip is flexible and waterproof for comfort and hygiene. Readings are recorded in Fahrenheit and Celsius and are 98.9 percent accurate. The thermometer takes 60 seconds to deliver a reading.
Key Features:
Clinically accurate results
Complies with EPA, SGS and ROHS standards
Waterproof for comfort and hygiene
Specification:
Brand

VitalEarth

Weight

0.8 ounces
Very easy to use
Accurate
Environmentally friendly
Big, clear display
Longer to read temperatures than some other thermometers
Does not come with instructions
Best Dog Thermometer Buying Guide & FAQ
Features to Consider When Buying a Dog Thermometer
A dog thermometer is a must-have piece of equipment for dog Moms and Dads. If you have not yet got one yourself, here are the features you should consider:
Check that the design is suitable to be used on pets. Any thermometer that is only for oral use would not be suitable because a dog will just bite it. Rectal and non-contact thermometers are always best.
If you are used to talking about body temperatures in Fahrenheit, then a thermometer that gives only Celsius will not be any good for you. Many thermometers will give a reading in both and you can switch between the two by simply pressing a button.
How quick are the results?
This is a very important factor when it comes to measuring a dog's temperature because dogs seldom like to stand still. The faster the better. Many dog thermometers deliver results within a few seconds.
Not all thermometers are that accurate so check out the specifications and the reviews. Some will need to be calibrated before you use them and may lose accuracy as they get older. The rectal use thermometers are often more accurate than the non-contact because they are actually inside the body.
This is important because it can take a lot of effort to take a dog's temperature and you want to know what the reading is once you have done it! A backlit LED display on a digital pet thermometer will be the easiest, even in poor light.
Ideally, you just want to press one button and let it do the rest. Dogs don't often like having their temperature taken so you need to be quick.
Rectal thermometers that have a flexible tip are safer and more comfortable for your dog. The non-contact thermometers need to be comfortable for you to hold.
Rectal use thermometers must be capable of being cleaned so they must be water-resistant. Some come with disposable covers which cut down on the cleaning needed.

Why Do You Need a Dog Thermometer
 A dog thermometer should be an essential part of your kit for looking after your dog. Here are some of the reasons why:
Sadly, your pooch cannot tell you that they are feeling ill so you must be able to tell in different ways. Taking their temperature gives you a numeric indication of how ill they are.
When you call a vet to tell them that your dog is ill, it is very useful to be able to tell them what their temperature is. This allows the vet to decide if they need an emergency appointment.
Once you have received medication from your vet, you can track if it is working by taking regular temperature readings.
Dogs can get very cold if they have been outside in freezing conditions. It is useful to be able to tell if their core temperature has fallen.
A female dog will have a change in body temperature when they are ready to mate and temperature monitoring can be useful if you are planning on breeding from your dog.
Types of Dog Thermometers
There are several categories of digital thermometer for dogs.
These are probe-like thermometers that are inserted in a dog's butt (anus). They used to be mercury thermometers but now they are digital. Vets consider a rectal thermometer for dogs to be the most reliable for detecting fever. If you are not accustomed to using them, you may feel a bit apprehensive but you will soon get the hang of it. You do, however, have to take great care.
Non-touch dog thermometers
These work using infrared beams that bounce off your dog's body. You don't have to put anything in your dog's body at all. You will usually direct it at your dog's skin or ear and simply press a button. They are often more expensive than rectal thermometers but are very fast. Because they are non-invasive, they can be used for pregnant dogs without risk.
Some owners prefer to use a dog ear thermometer as they are less invasive for the dogs. They do however, have to sit still for you to use it! They usually use infrared waves which bounce off the eardrum and give a reading in just one or two seconds. If you target the wrong part of the ear, you will get an inaccurate reading.
Not all experts agree that the ear temperature accurately reflects the body's core temperature in the same way as the rectal temperature does. A veterinary grade pet ear thermometer will be the best available but will be very expensive. The non-professional models are cheaper but are considered less accurate.
The old mercury thermometers that were traditionally used to take rectal temperatures are no longer considered safe for use as an animal thermometer because they can snap.
Obviously, the adhesive forehead scan strips that are widely used on children are not suitable as a canine thermometer because dogs have fur! However, they can be handy for checking the temperature of a kennel or a room where a dog is due to whelp to make sure that it is suitable.
How to Take Your Dog's Temperature
The method you use for taking your dog's temperature will depend on what type of thermometer you are using.
Taking a Dog's Temperature Rectally
It is best to have someone to help you. One person holds the dog and reassures them by talking soothingly. Their task is to stop your dog from making any sudden movements.  Lubricate the thermometer probe with petroleum jelly. Then, lift the dog's tail and gently and slowly insert the thermometer into the anus whilst rotating it a little. Make sure that only the metal tip is inserted, do not push it in too far. There may be a button to press and the temperature reading will be ready within a few seconds. Most thermometers let you know with a beep.
The accuracy of the temperature can be affected by fecal material and rectal inflammation. It can also be affected by colon contractions or muscle tone in the colon. It is important that your dog stays still because physical activity can also make the reading inaccurate. When you remove the thermometer, you need to wipe it clean with water or an alcohol wipe.
Taking a Dog's Temperature in Their Ear
Even though the rectal temperature is the "gold standard" method for recording internal core temperatures in dogs, some owners prefer a method to take the temperature in the ear. You need to lift up your dog's ears and insert the tip of the thermometer carefully into the ear drum.
Very similar thermometers are also used on humans. You usually have to press a button and the temperature is available to read on a digital LED display in a couple of seconds. Most dogs are very tolerant of having their temperature taken this way and don't make a fuss. However, if your dog refuses to hold their ear still, it can be hard to get an accurate reading.
Other Methods for Taking a Dog's Temperature
The non-contact thermometers require little more than aiming it at an appropriate part of your dog's body and pressing a button. Taking an axillary temperature (at the junction where the limbs meet the body) is common for humans and can be used for animals if they are very resistant to the rectal method. However, there are concerns that the axillary temperature does not correlate with the rectal temperature. The axillary method is not as capable of detecting hyperthermia or a mild fever in dogs but if they have a high fever it is likely to pick it up.
Best Dog Thermometer FAQ:
Q: What is normal dog temperature range?
A: Before you rush to take your dog's temperature, it is important that you know what it should be! The first thing to be clear about is that a dog's normal body temperature is not the same as that of a human. A human should have a body temperature of 97.6 to 99.6 degrees F. The normal body temperature for dogs, however, is between 101 and 102.5 degrees F.
A dog is described as having a "fever" if they have a body temperature higher than 102.5 degrees F. Often this is caused by an infection, hot weather conditions or some kind of inflammation. However, it is also possible for a dog's temperature to rise to above 103 degrees F if they have been running around a lot or are excited and stressed.
Dogs that are too hot because of external air temperatures have a condition called hyperthermia or heat stroke. If their temperature rises above 106  degrees F, it can be fatal.
Q: What causes dog fever?
A: Once you have established that your dog has a fever, you need to work out what is causing it. Only a vet is qualified to do this correctly, so you should get them a vet's appointment as soon as possible. Here are some of the potential causes.
An infection: This is the most common cause of a fever in dogs. When the body is fighting an infection, the core temperature rises. An infection can be caused by bacteria, viruses and fungi. Any part of the body can become infected. There may be an obvious location that you can see, such as an infected wound or the infection may be hidden as in a brain (encephalitis) infection or a lung infection (pneumonia).
A vaccination: It is very common for a dog to get a mild fever after their routine vaccinations. It can last for a couple of days. Your vet will explain this to you.
A poisoning: Many common foods and household substances are poisonous to dogs. Macadamia nuts and human antidepressants are just two examples. If your dog has ingested them, they are very likely to develop a fever.
Unknown origin: Sometimes, it is not possible to work out what is causing the fever. This is a challenge for vets. Often the cause is eventually traced back to an immune system disorder, a problem with the bone marrow or cancer.
Q: What should I do if my dog has a fever?
A: A fever of greater than 103 degrees F in a dog should always be checked out by your vet. However, if the fever is greater than 106 degrees F, you need an emergency appointment.
Before you get to the vet, you can make your dog feel more comfortable by applying cool (not cold) water to the fur on their ears and the pads of their paws. Then, put them in front of a fan. Keep monitoring their temperature as you don't want it to drop too far or too fast. Encourage them to lap a bit of water to keep them hydrated. Never give them human medication like paracetamol or ibuprofen as these are not safe for dogs.

Our Top Pick
Enji Digital Thermometer
Our top pick of the best dog thermometers is completely safe and reliable and can be used to record the rectal temperature of your dog. It delivers rapid results and is also safe for human use. It will display the temperature within 10 seconds.
The design is waterproof for hygienic cleaning and the flexible tip ensures the comfort of your pet. The temperature will be displayed in degrees C and degrees F. It is exceptionally easy to use – you just have to press a button. It comes with a plastic case to keep it safe and clean during storage.
Sources:
What's a dog's normal body temperature? - Animal Planet
Related Reads
Related Reads