The Best Dog Toothbrushes in 2022
Last Updated: January 4, 2022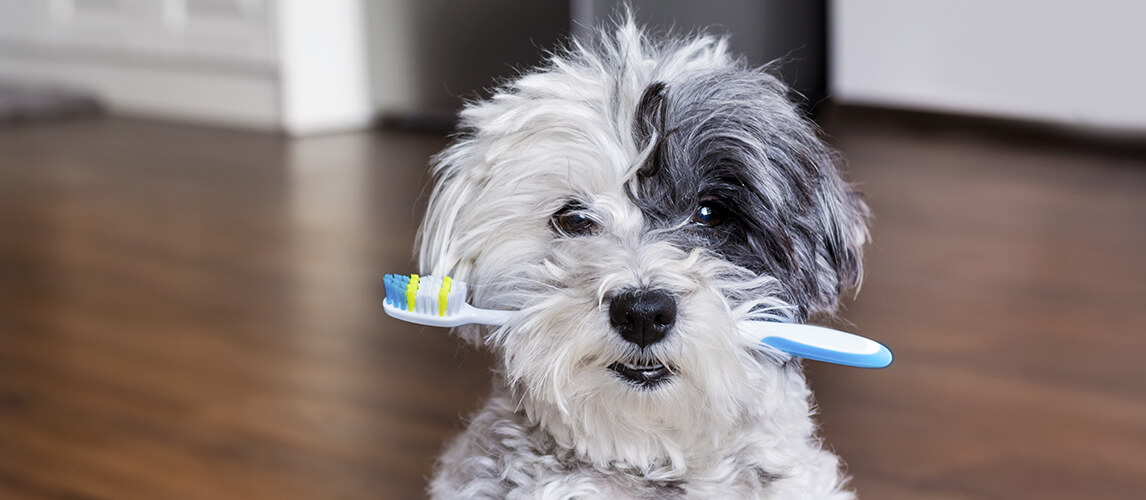 PetSide may earn a small commission from affiliate links in this article.
Learn more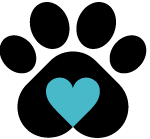 By Petside
Published 09:36 am
Few pet parents think to brush their dog's teeth on a regular basis, but keeping your pupper's pearly whites in top shape will not only help prevent tooth decay and gum disease but also freshen up their breath. Now don't worry, you don't have to brush your pet's teeth every single day – as long as you're using a high-quality toothbrush, a couple of times a week will do. To make the whole teeth brushing process a bit easier both for you and your furry friend, we reviewed dozens of different dog toothbrushes, detailing our favorites down below. And if you need more info on canine dental care and how to choose the best toothbrush for your pooch? Our buying guide contains everything you need to know!
The Best Dog Toothbrush
Best Dog Toothbrush Buying Guide & FAQ
With so many pet dental brushes available on the market, finding the right one for your pup may be challenging. To help you in your search for the best toothbrush for dogs, we've not only reviewed some of the most popular products, but have also put together this comprehensive buying guide. Here, we cover absolutely everything you need to know about canine dental health, including how to find the right brush for your pet and budget, how to properly use it, and so much more.
You may also like our review of the Best Dog Dental Spray.
Things to Look for When Buying a Dog Toothbrush
Before buying a dog toothbrush, you should take a close look at its core features as they can help you make your mind up. After all, you want to choose a brush which is best suited to your pooch, as well as one which is comfortable for you to use. Here are just a few of the most important points that you need to bear in mind.
There are two main types of dog toothbrushes to choose from. First up, there is a standard toothbrush for dogs that essentially follows the design of a human toothbrush. This type either comes in a single or dual-headed format. Then, there is a finger toothbrush that you pop onto the end of your finger to scrub your dog's teeth and gums and remove plaque. We will discuss some of the main pros and cons of each type a little bit later in the blog post.
The brush head size which you choose should be related to the size of your dog's mouth and teeth. As you would expect, smaller dogs need smaller brush heads, while larger breeds require larger ones. Alternatively, you could look at the dual-head toothbrushes which are suitable for smaller and larger breeds alike.
If you get a standard design toothbrush, it is worth looking closer at the handle length. If you don't like the idea of sticking your hand directly into your dog's mouth, a brush with a longer handle is the best option. This also has the natural advantage of allowing you to get right to the back of your pet's mouth to access the harder-to-reach areas. However, you don't want the handle to be too long as this is going to be more challenging to wield and get into the harder-to-reach areas of your pup's mouth.
Another issue that you should consider when choosing a toothbrush for your furry friend is the softness of the bristles. You want the bristles to be soft enough to not damage your dog's sensitive gums, but hard enough to scrub away debris and soft plaque and tartar buildup on their teeth. That said, if you're buying dog dental brushes for the first time, we suggest sticking to gentle brushes and ultra-soft bristles as they're the safest option.
Since you are the one who will be holding the dog toothbrush, you want it to be comfortable in your grip. If you get the opportunity to pick up a few different pet toothbrushes beforehand, this will help you to compare and contrast the different handles. It should be lightweight enough for you to move around easily, and you should feel comfortable holding it in a number of different positions.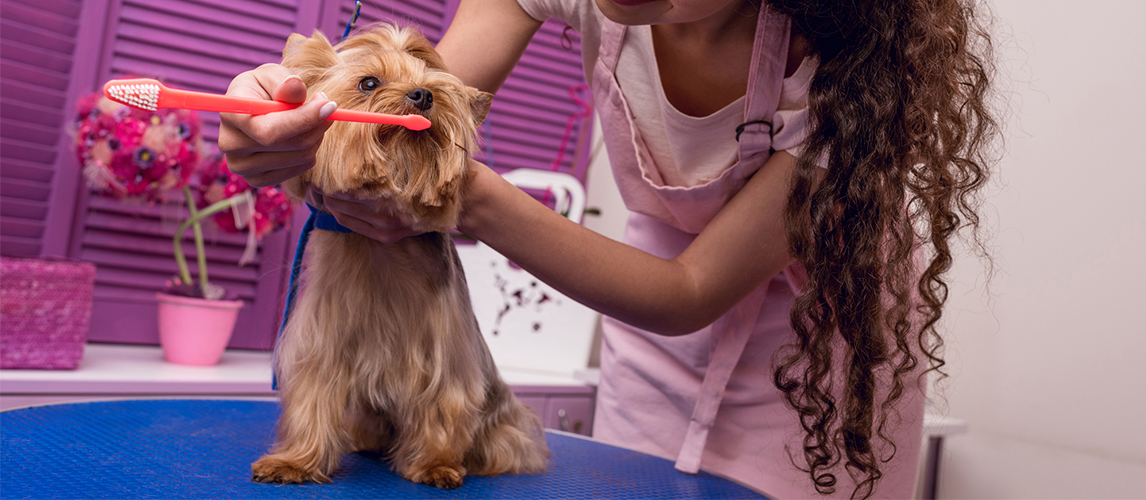 What Type of Toothbrush is Best for My Dog?
Dog toothbrushes come in two main varieties: regular brushes and finger brushes. The decision of which one is best for your pooch should be based on several factors including the size of your dog, their teeth and gum health, as well as their general temperament. So, let's look at both varieties in more detail to give you a helping hand in making your mind up.
First up, we have the regular variety of dog toothbrushes. Just like human toothbrushes, they consist of a handle for holding and bristles for brushing. Often, they have a longer handle which makes it easier to get the brush into your dog's mouth, and they are sometimes double-sided, so you can choose the size of the bristles which are best for your dog and the task in hand. As for the brush head, it is typically angled more acutely to the different shapes of canine teeth. The neck also tends to be angled, allowing you to get right to the back of your dog's teeth. Dogs with larger mouths often benefit from this type of brush. You don't have as much control as with the finger brushes, but you also don't have to worry about putting your hands in your pooch's mouth.
The other main variety of dog toothbrush is the finger brushes. These simply slide over your fingers and allow you to clean your dog's teeth with the soft, flexible bristles. As well as removing debris, the bristles make it easier to massage your pup's gums, so they're a good choice if your pupper suffers from gum disease. This variety can also be effective if you have a puppy who is not used to having their teeth cleaned. While these brushes give you more control, they don't give you the same reach as regular brushes. You may also not feel comfortable reaching into your dog's mouth in this way.
Some of the product options above include both regular and finger brushes, so rather than having to choose between two, you have both. This way, you can clean your dog's teeth in any way that you think is best. Also, this is a good option if you have multiple dogs.
Who Should Buy Dog Toothbrushes?
All dog owners who want to take good care of their dog's dental hygiene should use a canine toothbrush. Of course, this is not the type of activity that many dogs enjoy, but it is one that is essential in looking after your pup's teeth. Ideally, you should start brushing your pet's teeth from a young age, so they become used to the process. That being said, brushing your dog's teeth is a process that will take patience and a gentle hand no matter when you start.
Just like human toothbrushes, pet brushes need to be replaced on a regular basis or when the bristles become frayed. Otherwise, they won't do the job as effectively. Of course, a puppy toothbrush isn't going to take care of everything in your canine's oral hygiene. You also need to use specially designed dog toothpaste. Watching what they eat is also important, and you should also give them chews and dental treats from time to time. Sometimes, you may also have to take your pooch to a veterinary dentist. Oral and dental health issues need to be diagnosed and treated at the earliest possible opportunity because plaque and tartar that have already cemented themselves on your dog's teeth cannot be removed by regular toothbrushing. For more options, check out our detailed review of the best dog chews.
As well as looking after your dog's teeth, there are other advantages involved in brushing on a regular basis. First of all, your pooch will have fresher breath, which is bound to be a relief the next time they dive in for a big, wet, slobbery kiss! Also, putting anything in your dog's mouth requires trust. Once they get used to it, this is yet another way of developing a stronger owner-pet bond. Even if it may not be the most enjoyable experience for the two of you, it is still one which can bring you closer together.
Head over to our review of Dog Vitamins.
How to Brush Dog's Teeth
If you have never brushed your dog's teeth before, there is no doubt that this can feel like a daunting and slightly intimidating activity. You need to have the correct equipment, including a dog toothpaste and brush, and you should ensure you follow appropriate techniques. To make this entire process easier both for you and your pooch, here are a few tips to follow.
Select the Right Equipment
Before you get started on the task of brushing your dog's teeth, you need to have all the right equipment ready to go. First, select your dog toothbrush. If you want to have all your bases covered, you should get a regular toothbrush and finger toothbrushes too. Also choose a dog-friendly toothpaste rather than one which has been designed for humans, as this is not meant to be swallowed and can end up causing stomach upsets. Bear in mind that the equipment needs to be comfortable for you to use, as well as pleasant for your dog.
It is easiest to brush your pup's teeth when you have been training them to get used to the experience from a young age. If you have not done this, you are likely to find the whole process quite challenging, but thankfully, not impossible. Ideally, your pup should be calm and relaxed before teeth brushing begins. The easiest way of doing this is by tiring them out beforehand, so why not take them out on a vigorous exercise session of 30 minutes or more. When your pet is tired, they are much less likely to resist your efforts to brush their teeth. Your first few attempts to brush their teeth are likely to be more of a challenge, but remember, it is all about persistence. Keep these first few sessions short and sweet, and over time, as your dog becomes more used to having their teeth brushed, you can be more thorough.
Get into a Comfortable Position
During the whole process of brushing your dog's teeth, both of you need to be in a comfortable position to help everything go smoothly. You should be at the same height as your dog because if you stand above them, this can be interpreted as a threatening position. On the other hand, if you are below them, your pooch may try to take this as an opportunity to play. Your dog is likely to move around during the process, so you'll need to move with them.
Get Your Dog Used to Touching Their Mouth
Before your first brushing session, it is worth doing some prep work to get your dog ready. After all, you don't know quite how your pup is going to react when you start touching their mouth. So, you can start by getting into the habit of touching their mouth on a regular basis. Offer your dog plenty of praise and encouragement, and also have a few treats to offer them. But make sure that your hands are well out of the way while they are chomping on these! You can also use this as an opportunity to get them used to the taste of the toothpaste.
Check out our guides on the Best Dog Treats and Best Vegan Dog Treats.
Introduce the Toothbrush Slowly
Don't rush into sticking the toothbrush straight into your dog's mouth. Instead, hold it in your hand and let your dog come to it on their own. You can then add some toothpaste and give them the chance to lick it off. Start by brushing a few of their front teeth but go slowly. Just because they are more comfortable with the toothbrush, it doesn't mean that the whole process is going to be straightforward. You need to take your time and have plenty of patience if you are going to make a success of this activity.
For many dogs, brushing their teeth is never going to be a process that they particularly enjoy, so you need to be very gentle and careful with them. Start by slowly lifting up their lip to expose their teeth and a little bit of their gums. When you actually start the brushing process, you should use careful motions, being especially cautious not to poke your dog. You want to cause them as little discomfort as possible. Think about how you brush your own teeth and use this as a guideline for what to do. During the process, you should speak to your dog throughout to reassure them that everything is okay, as the sound of your voice alone can offer them a lot of reassurance.
Brush the Outside Surfaces
The outsides of your dog's teeth are the easiest ones to reach, so it makes sense that you start by brushing there. You can then move onto the upper surfaces and canines, which tend to quickly build up tartar. Many pets will not allow you to reach the inside surfaces of their teeth. If they don't, there is no point in trying to force the issue. Even if you clean your dog's teeth thoroughly, you should still take them in to a professional at least once a year. As well as checking your dog's oral health, they will be able to reach the spots in your dog's mouth which you are struggling with.
The last thing that you want is to put your dog through is extreme discomfort, so you should take your cues from the way that they are reacting and the noises that they are making. You should also watch out for negative signs like bleeding gums which are an indication that you are brushing in the wrong way. You also need to be careful about your own safety. Some dogs have a tendency to bite on toothbrushes, whether they can help it or not.
Always give your dog a reward afterward as this is not a particularly pleasant experience for them to go through. Also, it helps you to positively reinforce that something nice is going to happen at the end of the brushing process. Give them some extra attention or let them enjoy their favorite activity. And having some food treats ready (a couple of hours after brushing) is always going to be popular with your pooch too!
Our Top Pick
While all pet toothbrushes featured on our top list are excellent products, our favorite pick has to be the CET Dog Toothbrush. A simple and affordable option, it is best-suited to small and medium dogs. The brush head is quite small, but the handle is long enough to get to those hard-to-reach areas in your dog's mouth. The bristles are soft enough for sensitive gums but are still quite effective at scrubbing away soft plaque buildup. All in all, a great dog toothbrush that is also suitable for beginners.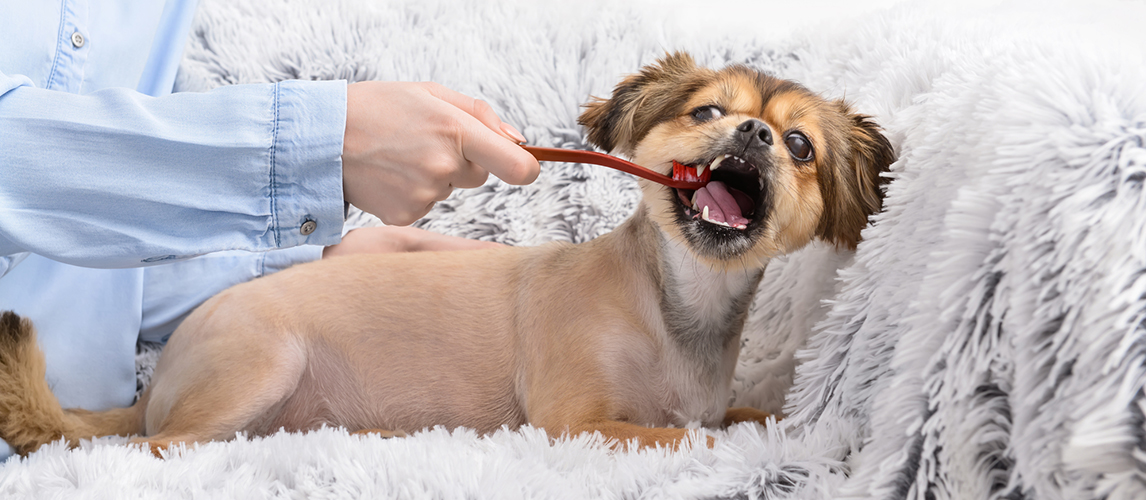 FAQ
Q:

Can I use a human toothbrush?

A:

You should never use a toothbrush designed for a human on your dog. Dog toothbrushes have been specifically made for canines, whereas human models have both larger brush heads and stiffer bristles. Dogs have sensitive gums so these brushes could end up damaging them. Also, they are angled in a different way, so you are unlikely to be able to reach right to the back of your pet's mouth. Baby toothbrushes are closer to the variety which is needed for dogs, but these often tend to have a shorter handle. Ultimately, your best option is to use a special dog toothbrush which has been made for the task in hand.
Q:

How often should I replace my dog's toothbrush?

A:

Just like the question of how often to replace your own toothbrush, there are no hard and fast rules with your dog's brush. Many pet parents agree it's fine to replace them every four to six months, while others believe every two months is best. Several things can influence how often you have to change your dog's toothbrush. Obviously, the quality of the brush makes a difference, which is why it is worth investing in a high-quality model in the first place. This way, you won't have to keep replacing it more often than necessary. But the frequency of the brushing also matters. If you don't brush your dog's teeth as often, the brush will not need to be switched so frequently. Another important issue is how your dog behaves when you are brushing their teeth. If your dog is rough with the brush and chews it up, it is obviously not going to last for as long.

You can tell when it is time to replace your own toothbrush, and the same goes for your dog's. Simply check the head of the brush to determine the condition of the bristles. If they look frayed and they are pointing in all different directions, it is time for a replacement.
Q:

How do I clean a dog toothbrush?

A:

Keeping your dog's toothbrush clean is important in ensuring that it doesn't become full of bacteria and it continues to do the job effectively. Think about how you would clean your own toothbrush. Start off by rinsing it in warm water and clearing away any obvious debris. Make sure that you have proper storage space for the brush where it is not going to get cross-contaminated. You could even get a toothbrush cover for some added protection. From time to time, you could also look into sanitizing your dog's toothbrush. Use a solution of distilled white vinegar and water. You should soak the brush in the solution for 30 minutes before rinsing it off with warm water. Every four to five weeks is a good rule of thumb for disinfecting, but you could do it more often if you believe it necessary.