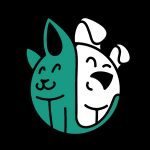 If you're planning to get a puppy then let's hope you're ready! Owning a puppy is hard work but very rewarding if you train them well and make adequate preparations. If there's one thing all dog owners will tell you, it's that puppies like to chew things. Well, actually puppies like to chew everything. In order to prevent puppy carnage you will need to invest in a range of puppy chew toys that are not only fun for the dog but essential for growing teeth too. What should you look for in a good puppy chew? What is the most durable material to buy? Below we look at 15 of our favourite dog chew toys and explain why we think that these make the best choice for your four-legged friend.
The Best Chew Toy For Puppies
See More Reviews

These tough, durable dog teething toys are available in a range of sizes and colours so suitable for puppy mouths of all shapes and sizes! What we liked about this product in particular, was that it was recommended by trainers and veterinary experts worldwide. The KONG puppy toy has been specially designed for multiple uses. Not only can it be used as a fetch toy but it can also be used to chew and can soothe gums and clean teeth.
Another nice feature is that you can fit a treat inside, which will engage puppy's brain trying to figure out the puzzle! This natural rubber has been made especially for puppies, so gentle enough for their gums and teeth whilst still satisfying their chewing needs.  You can really trust Kong dog toys.
Key Features:
Can Be Used To Chew, Chase & Fetch
Helps Soothe Gums & Clean Teeth
Available In Different Sizes
Made With Special Teething Rubber
Specification:
Brand

KONG

Model

41943

Weight

1.76 Ounces
Nylabone Puppy Starter Packs Puppy Chew Toys
See More Reviews

Teething rings are not just for babies, puppies hugely benefit from puppy teething toys too! This strong, durable puppy toy has been manufactured from puppy-friendly material. It's specially made so it will prevent your beloved puppy from chewing other items around the house and keep them busy with this! This chew toy can really help with cleaning teeth which means that your puppy will have fresher breath too. Another nice feature, which sets this apart from other dog chew toys, is that this chew toy contains a tasty bacon flavor that dogs really love! If you're looking for the best chew toy for your puppy, this would make a good addition to your collection.
Key Features:
Durable Nylon Material
Helps Clean Teeth
Keeps Puppies Busy
Contains Special Bacon Flavor
Gentle Texture
Specification:
Brand

Nylabone

Model

N600P

Weight

4 ounces
N-Bone Puppy Teething Ring
See More Reviews

The N-Bone Puppy Teething Ring Pack contains six edible teething rings that have been specially designed for a young dog's teeth and will prevent them from destructive chewing behaviors. These teething rings are completely edible, have a natural chicken flavor and have been fortified with DHA Omega 3 Fatty Acids for your dog's good health. These edible teething rings are also great for relieving pain and soreness from teething and the added calcium will also help strengthen teeth and bones. What we really liked about these particular dog teething toys is that they're soothing your dog's gums and helping their teeth at the same time as supporting their nutritional needs.
Key Features:
Edible Teething Rings With Chicken Flavor
Added Calcium & DHA Omega 3 Fatty Acids
Six Teething Rings Included
Specification:
Brand

N-Bone

Model

113048

Weight

8.5 Ounces
See More Reviews

If you're looking for the best chew toys for puppies, we might just have found the best value for money right here. For around $20 you get a 12 pack of chew toys all designed for teething puppies and each item serving a different purpose. These high quality puppy toys have been manufactured from top quality materials and are all non-toxic. The pack contains a variety of toys including: IQ treat ball, flyer toy rope toy, chew toys, bounce rubber ball (that floats on water), squeaky toys, teething ring and more. If you're looking for a good starter pack for your pup then this kit will give you exactly what you need to stop your four legged friend from chewing your shoes and furniture!
Not just for entertainment, these puppy toys have also been specially designed so that they soothe your dog's teeth and gums whilst teething and help minimize stress. The company also provides 100% money back guarantee if you're not entirely happy with your purchase.
Key Features:
12 Pack Puppy Chew Toys
Safe & Non Toxic
100% Money Back Guarantee
Specification:
Brand

Aipper

Model

B072NXTSF3

Weight

1.7 lbs
Nylabone Puppy Chew Beef Chew Toy
See More Reviews

This flexible puppy chew toy is absolutely perfect for teething puppies as it has been manufactured with massaging nubs that help to soothe painful gums. The toy itself is flexible, has different textures and also has a tasty beef flavor that puppy is bound to enjoy! Toys such as these are not only helpful with soothing gums and teeth but they help with destructive chewing too and can prevent your home being used as the puppy's primary chew toy! This durable dog toy is suitable for dogs up to 15 lbs in weight.
Key Features:
Beef Flavored Puppy Chew Toy
Massaging Nubs To Help Soothe Sore Gums
For Dogs Up To 15 lbs Weight
Flexible & Durable
Specification:
Brand

Nylabone

Model

NPX200P

Weight

3.2 Ounces
Youngever 8 Durable Dog Toys
See More Reviews

Another product which offers amazing value for money. This Youngever Durable Dog Toy Set includes 8 individual dog toys that are suitable for small to medium size dogs. Made from 100% natural rubber and cotton these puppy chew toys are safe and non-toxic. The toys have been designed for dogs under 50lbs and are also said to be good for aggressive chewers. The kit provides different types of toys that soothe sore gums from teething and also minimizes chewing around the home. A dog with a dog chew is a happier dog and with this kit they will have eight individual toys to choose from. Included in the set is a solid bouncing puppy rubber ball, chew and fetch rubber ring, rubber teething ring and durable cotton teeth cleaning. A mesh bag is included and if for any reason you are not happy with this product then the company also offer a 100% refund.
Key Features:
8 Pack Durable Dog Toys
100% Natural Materials
For Dogs From 10 lbs – 50 lbs Weight
Mesh Bag Included
100% Refund Offered If Not Entirely Happy With Product
Specification:
Brand

Youngever

Model

B074W6NZ21

Weight

1.6 lbs
Nylabone Just For Puppies Key Ring Puppy Teething Toy
See More Reviews

The best way to encourage non destructive chewing behavior is to have the right type of chew toys for your puppy. It's also important to make sure that the best puppy toys that you are providing are safe and non-toxic too. So it's important you buy from a trusted brand. This Nylabone puppy chew toy is perfect for little puppies as it has been designed with softer material that is perfect for newly formed teeth and sensitive gums. The different textures of the toy offers relief from gum soreness and also helps clean teeth and can prevent tartar buildup too.
Key Features:
Made From Softer Material
Different Textures For Better Oral Health
Designed For Teething Puppies
Encourages Non-Destructive Chewing Habits
Specification:
Brand

Nylabone

Model

N219P

Weight

3.2 Ounces
KONG Cozies Dog Squeaky Toy
See More Reviews

Meet Marvin the Moose! He's part of the KONG Cozies range and has been specially designed to be soft and cuddly with an extra layer of material which means that they are extra tough and can take a good chewing! Destructive chewing behaviors doesn't just stem from teething. A dog can take to chewing items around the house when they are bored, lonely or stressed too. This is where soft, plush dog toys really come in handy as they can offer comfort as well as play –  they're perfect for a game of fetch too. If Marvin isn't your favorite then don't despair as there are 10 cute Kong dog toys to choose from including: Elmer the Elephant, King the Lion and Spunky the Monkey!
Key Features:
Soft Plush Toy
10 Characters To Choose From
Squeaky
Comforting
Specification:
Brand

KONG

Model

ZY36

Weight

1.92 Ounces
Nylabone Pet Chew Teething Pacifier
See More Reviews

We've featured a few of the Nylabone dog toys because we feel that this is a trusted brand who really know how to make the right kind of chew toys for the right type of dog. This Nylabone dog chew toy is no exception. Made specifically for small puppies, this teething toy has been manufactured from a softer material which is gentle on puppy teeth. The product has various shapes and textures to keep your furry friend entertained and to help soothe their gums and clean their teeth. Another reason we chose this as one of our favorites? How cute is a dog pacifier? Seriously!
Key Features:
Made Specially For Puppies
Made With Softer Material
Different Textures For Better Oral Health
Different Shapes To Keep Your Puppy Entertained
Specification:
Brand

Nylabone

Model

N330P

Weight

1.12 Ounces
See More Reviews

Designed especially for small dogs, this puppy chew kit contains six individual toys which have been designed to keep your puppy entertained. The kit has a good selection that includes a cute (and most importantly… squeaky) banana toy, brightly colored bouncy dog ball (which all dogs love regardless of age and breed), rope ball (which increases dog/owner bonding), rope carrot (to gain dog interest), natural floating rubber ring (for chewing and games of fetch) and a squeaky TPR ball which is highly textured to enhance your dog's oral health. It's really good value for money too at just $14.99.
Key Features:
Six Dog Chew Toys For Small Dogs
Durable Toys For Better Oral Health
Excellent Value For Money
Specification:
Brand

Yotache

Model

DT-SM-P6

Weight

11.2 Ounces
Dog Toy Pet Stages Cool Teething Stick
See More Reviews

We heavily invest in our babies when they go through painful teething and make sure we buy the right type of teething toys etc So it should come as no surprise that puppies need the same amount of love and care. It can be a painful experience for dog's to endure and we therefore more than happy to include this cool teething stick from Petstages on our list. This puppy teething toy is perfect for inflamed gums because it can actually be frozen to sooth your puppy's gums. When the toy is frozen it becomes naturally crunchy too so it can really satisfy the urge to chew. We liked that this was brightly colored and fun looking too.
Key Features:
Cooling Teething Stick
Can be Frozen
Satisfies Urge To Chew & Soothes Gums
Perfect For Teething Puppies
Specification:
Brand

Petstages

Model

126

Weight

0.64 Ounces
See More Reviews

We have to admit that our choice to include this onto the list was a little bit biased. The main reason we chose this duck dog toy is because it's just so cute! Also it's perfect for your fun furry friend as it's colorful and contains a filling which isn't messy or dangerous for your dog. Anyone who has ever bought a cheap dog toy will appreciate the importance of a safe and non-toxic toy with an easily replaceable squeaker. Available in sizes extra small and small, this puppy chew toy is absolutely perfect for small dogs and puppies who need to satisfy their natural urge to chew.
Key Features:
For Small & Extra Small Dogs
Non-Messy Filling
Extra Replaceable Squeaker Included
High-Quality Plush Toy
Specification:
Brand

KONG

Model

NY3

Weight

0.64 Ounces
See More Reviews

Made in the USA, this puppy chew toy has been specially designed for puppies and small dogs up to 15 lbs in weight. This is a soft dog toy which has been manufactured from special soft material which is gentle in the mouth and soothing for gums. Teething puppies will love the texture of this bone-shaped toy as it has been created with little massage nubs which help to clean teeth and prevent plaque and tartar. It will also create healthy chewing habits and prevent your buddy from chewing your favorite pair of shoes! The dental dog toy has been designed with a chicken flavor that dogs absolutely adore.
Key Features:
Made In USA
Perfect For Small Dogs & Puppies Up To 15lbs
Dental Nubs To Prevent Tartar & Plaque Build Up
Chicken Flavor
Specification:
Brand

Nylabone

Model

NPP901P

Weight

0.8 Ounces
Nylabone Dual Action Puppy Toy
See More Reviews

Available in petite and medium sizes, this dual action puppy toy has been specially designed for teething puppies with non-permanent teeth. The special texture of the chew toy really satisfies a dog's natural urge to chew everything and teaches them non-destructive chewing habits too. The team behind Nylabone have really thought about the design of this particular teething toy, which you can see with the raised ridges and nubs which help to clean the puppy's teeth and control plaque and tartar. This dog toy comes in a delicious bacon flavor that dogs simply cannot resist.
Key Features:
Dual Action Puppy Toy
Made For Puppies With Non Permanent Teeth
Dental Nubs To Prevent Tartar & Plaque Build Up
Chicken Flavor
Specification:
Brand

Nylabone

Model

NPP901P

Weight

0.8 Ounces
See More Reviews

If dog owners could agree with anything it would be that dogs love to chew and tug! This dual action dog toy is great for several reasons. Firstly, it's been manufactured from hard natural rubber so your dog will have lots of fun getting their teeth into this. Secondly, it's a great tug toy so you can really bond with your dog whilst playing with this. The squiggly, spiral design is unique and playful and will definitely capture a dog's imagination. It has been designed for puppies and small dogs.
Key Features:
Unique Spiral Design
For Puppies & Small Breed Dogs
Chew & Tug Toy
Non-Toxic Material
Specification:
Brand

JW Pet

Model

43144

Weight

0.32 Ounces
Best Chew Toys for Puppies Buying Guide
There are lots of different types of chew toys on the market which have been designed for puppies and adult dogs. The teeth of young dogs are very important and so it's vital that you buy the right type of chew toy. Below we will give you advice which puppy chew toys are best for teething puppies and also which to avoid. We will answer your commonly asked questions too.
Keep reading for the best advice you can get...
What To Look For in Chew Toys for Puppies
We have to remember that when a puppy starts teething it's going to be a stressful and painful experience for them. No different from a human baby teething, when a dog's teeth start to come through then they are going to want relief and this usually involves finding an item around the house that they can chew. To avoid this you will need to buy them a range of specially designed teething toys that will keep them entertained and give them dental relief.
Here is what you should look for:
Durable Hard Rubber - buying your puppy a hard rubber toy is one of the best things that you can do. Firstly, this type of material is difficult (if not impossible) to destroy and will last the duration of their teething and maybe even through to their adult years. Secondly, some of the rubber teething toys such as a KONG can be filled with treats to keep your puppy interested and challenged as well as water which can be frozen to soothe their sensitive gums. Some softer rubber teething toys can also be purchased for younger puppies with non-permanent teeth.

Rope Toy - if you're buying a rope toy then you're going to have to find something thick and good quality. Don't ever buy cheap when it comes to dog toys. The rope toy should be pretty indestructible so that your dog don't pull off any fibers that could become lodged in their gut. Rope toys can also be frozen to help soothe your puppy's gums.

Textured Rubber - again, buying strong, durable rubber is the best option for puppy. Buying a toy with different textures will give them something to chew and sink their teeth into as well as prevent tartar or plaque on any teeth they have.

What to Avoid In Toys For A Teething Puppy
Cheap Rope Toys - don't ever be tempted to save a few dollars when it comes to puppy teething toys. Cheap rope toys can pose a real safety threat as the fibers could get ingested and cause a blockage.

Flimsy Rubber/Plastic Squeaky Toys - firstly, these types of toys are only going to last a short while and therefore be a waste of money, but also they can be destroyed too easily and could also be eaten and get stuck in your dog's throat or stomach.

Toys With Small Parts - never buy a teething toy or dog toy that has any small or hard parts. This includes ribbons, fibers or plastic.

Cooked Bones - something that we always think of as a healthy treat for dogs but the reality is that cooked bones are dangerous to teething puppies as tiny sharp fragments can easily break off and cause damage to your dog's intestines and stomach.

Soft Toys With Foam - avoid, avoid, avoid! Cheap foam stuffing or any type of foam stuffing for that matter is too dangerous.

Large Chewies - anything made from rawhide with a large knot etc can be super dangerous too as they can easily cause obstructions in the intestines.
Keep Your Puppy's Interest In Their Toys
One of the most surprising problems that many dog owners face is that their dog's quickly lose interest in their toys. This obviously becomes a much larger problem when man's best friend decides to chew items around the house instead.
Here are some tips to get your dog more interested in toys:
Buy A Selection - your dog isn't necessarily going to like the first toy that you buy them, so it's important that you have a selection of different toys for them to try. Try laying them out on the floor and seeing which toys your dog naturally gravitates towards and then stick to those types of toys.

Reward & Praise - if your dog picks up a toy then give them plenty of praise and you can reward them with a treat too. The more the dog associates the toy with a treat, the more they will realize that they are being rewarded for good behavior.

Feed Dogs With Treat Toys - puppy toys such as the classic KONG which can be filled with treats are great because they encourage your dog to interact with them. These toys are perfect for puppies who lose interest fast as it gives them something to figure out...and then eat!

Play Tug - interact with your dog and its toys. They absolutely love playing tug and this game really enhances the bond between dog and owner. Never play tug with a puppy though as their teeth are too soft and can grow incorrectly if 'tugged'.

Flavored Toys - chew toys with a natural beef, bacon or chicken flavor are a way of gaining your dog's interest. What dog could resist a meaty flavored chew toy?

Edible Chew Toys - if that fails then you can buy edible chew toys that are made from natural ingredients which often have added vitamins and calcium included. Not only good for their digestion, these toys are great for teeth too.

Best Chew Toys for Puppies FAQ:
Q: Are Chew Toys For Puppies Safe?
A: There is no yes or no answer to this unfortunately. In theory, chew toys for puppies are completely safe but it largely depends on the quality of product and suitability that you buy. When buying a chew toy/puppy teething toy then make sure you buy from a recommended brand. Don't try to save money here and buy the cheapest. Make sure you buy something suitable for puppy teeth or non-permanent teeth. There are a number of softer teething toys available to buy on the market. Avoid stuffed toys with foam inside, cooked bones are a no no and never buy cheap rope toys too as these all can be ingested and cause dangerous obstructions.
Q: How Do I Know Which Size To To Buy For My Dog?
A: It's important to buy the right type of teething toy or dog chew toy for your specific dog. If you buy a dog toy that is too small for your dog then there is a large risk that they will eat this and it will cause obstructions that could be fatal. You also don't want to buy a hard rubber dog toy for a small puppy as this could damage their teeth. Good quality dog toys from reputable brands will always label their toys clearly. It should tell you on the packaging whether or not the toy is suitable for your dog. The only information that you will need is the age of your dog and its weight. It's also vital to know if they have lost their baby teeth yet too.
Q: Should I Supervise My Dog While He's Chewing A Toy?
A: Firstly, never try to stop your puppy from chewing. It's completely normal behavior and puppies explore the world with their mouth. They need to chew when going through teething as this is a painful time for them and chewing offers relief. Dogs and puppies also chew when they're bored or stressed. You shouldn't need to supervise your dog when he has a chew toy but this largely depends on the type of toy that they are chewing and the current state of the toy! If your dog has a toy that is on its last legs, that's to say, looking pretty old. Then you will need to supervise so you can take it from them and throw it away when it becomes too small. Small chewable parts are obviously very dangerous as they can cause obstruction in the throat or intestines. If your dog is playing with a toy with a squeaker and they have almost found the squeaker then again you will need to supervise as a squeaker which is eaten is a hazard. Edible toys and bones can be dangerous too when they start to get too small.
So, use your common sense with dog toys. If the toy is in good condition then you can leave pup alone chewing. If it's getting a little too 'chewed up' then supervise until it's time to replace.
Our Top Pick
This wasn't really a tough choice for us. The classic KONG Puppy Toy came up as our number one favorite because it's simply the best toy of its kind and recommended worldwide. These extra strong dog toys are practically indestructible and available in different sizes to suit different dogs. It's been designed for multiple uses too. Not only is it a fun and bouncy toy that can be used in a game of fetch, but it can also be filled. Fill with water and freeze to soothe your puppy's teeth or fill with treats to keep them entertained for hours. This trusted brand is used all over the world and it's definitely worth the investment. Cheap dog toys will cost you a lot more in the long run, maybe even your dog's health. So buying a dog toy from a trusted brand completely makes sense and we think is a sensible investment for your puppy. Enjoy!
Sources:
Related Reads
Related Reads