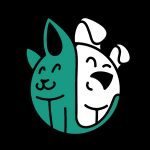 Dogs need to be stimulated mentally as well as physically. If we don't provide enough mental stimulation for our dogs, they can suffer from a range of issues including separation anxiety, depression and destructive behavior. We all want to be with our dogs all the time but sometimes that is not possible. On these occasions, an interactive toy is just what they need.
There are many different shapes and types of toys. Most need your dog to work out how to get a tasty treat out of them. This is why they can also be used to slowly serve them a meal and prevent them from eating too quickly. You have a range of shapes and sizes to choose from so to help you, here is our guide to the best interactive dog toys.
The Best Interactive Dog Toys
Outward Hound Hide-A-Squirrel Puzzle Dog Toy
See More Reviews

What could be more fun for a dog than finding multiple interactive toy pets in a fluffy tree stump? This superbly interactive toy will keep your pooch amused for hours. It's available in four sizes so all breeds are catered for. It will stimulate your dog mentally and keep them amused for hours.
Each toy has several stuffed squirrels that 'hide' in holes in the tree trunk so your dog can hunt them down and pull them out. As an added reward, every squirrel has a large squeaker inside it. You can buy extra squirrels if you wish. You can use the squirrels independently for toss and fetch games as well. If squirrels are not your dog's thing, you can get similar games with bees, birds or hedgehogs.
Key Features:
Fluffy squirrels hiding in a tree stump
Suitable for hide and seek games
Includes squeakers
Available in four sizes
Specification:
Brand

Outward Hound

Model

31004

Weight

13.6 ounces
KONG Wobbler Interactive Dog Toy
See More Reviews

This Kong interactive dog toy is also a treat dispenser. It will provide hours of fun as your dog struggles to get at their tasty treat. It fulfills your dog's natural instincts to hunt out food and provides plenty of mental stimulation for them. Because the treats are dispersed very gradually and it takes a lot of effort to get them, it is also useful for weight management. You can use it as a way of slowing down meal time as it will dispense kibble one at a time.
It has a tough FDA food-approved, high strength, plastic polymer construction and you pop the treats inside by unscrewing it. Then, as your dog plays with the toy, it spins and wobbles and rolls around the floor in an unpredictable way that dogs find fascinating. You can clean it in your dishwasher.
Key Features:
Fulfills natural instincts
Tough construction
Dispenses treats in an unpredictable way
Dishwasher-proof
Specification:
Brand

KONG

Model

PW1

Weight

1.8 pounds
StarMark Bob-A-Lot Interactive Dog Toy
See More Reviews

A small and compact treat-dispensing toy that provides a real challenge and hours of mental stimulation for smaller dogs. It also provides them with physical activity as they chase it around the room! It's brightly colored and an irregular rounded shape so it's safe for your dog's mouth but is challenging for them to grab hold of.
You can fill it with regular sized kibble or dog treats as it has dual chambers. Then you can adjust the opening to make it easy or hard to get the treats out. It will suit most small and medium breeds and can help to eliminate destructive behaviors caused by boredom. It is also useful for separation anxiety.
Key Features:
Treat-dispensing toy
Adjustable opening
Dispenses treats and kibble
Irregular shape
Specification:
Brand

StarMark

Model

SMBALS

Weight

1.4 pounds
Our Pets IQ Treat Ball Interactive Dog Toy
See More Reviews

A toy that will stand up to some rough play and that will provide hours of entertainment and stimulation for your dog. This is a ball-shaped toy made from a tough plastic material which is non-toxic and can stand up to the punishment your dog will give it.
It dispenses treats and kibble as your dog plays with it and to put the treats inside you simply twist it apart. This also makes it convenient to clean. You can use it as a slow feeding device to help with weight-management and to help with a healthy digestion and prevent bloating. It's very useful for dogs that eat their food too fast. It's suitable for small and medium dogs and you can adjust the level of difficulty to keep your pooch challenged as they work out how to get the food out!
Key Features:
Made from tough plastic
Ball-shaped toy
Adjustable delivery of treats
Suitable for small and medium dogs
Specification:
Brand

Our Pets

Model

2130010792

Weight

4.8 ounces
ZippyPaws Woodland Friends Burrow
See More Reviews

A hide and seek fluffy chipmunk burrow to challenge your pooch. You can purchase additional chipmunks if you wish. It comes with three chipmunks which each have a squeaker inside them. You can join in with this game or leave your dog to get on with it themselves.
It will suit small and medium sized dogs who like a challenge and because it is soft, it will not damage delicate mouths. This makes it suitable for teething pups. You can play fetch with the chipmunks when you want to interact with your dog.
Key Features:
Fluffy chipmunk burrow
Additional chipmunks can be purchased
Suitable for teething pups
Provides mental and physical stimulation
Specification:
Brand

ZippyPaws

Model

ZP109

Weight

9.6 ounces
Allstar Innovations Wobble Wag Giggle Ball
See More Reviews

A completely safe, interactive toy that is suitable for dogs of all breeds and ages. It is constructed from a strong, durable vinyl which is completely safe and phthalate-free. It's a ball-shape so it will roll around the room or yard, giving your dog something fun to chase. However, what makes it really interactive is the noises that it emits. Thanks to the shape of the internal tubes, it emits a series of giggle sounds as it is moved. The more your dog moves it, the more sound it emits!
It requires no batteries and is completely safe to use indoors or outdoors. The tubes also provide convenient grab holes for your dog so they can bite the ball and toss it around.
Key Features:
Completely safe and phthalate-free.  
Strong and durable
Emits giggle sounds
Requires no batteries
Specification:
Brand

Allstar Innovations

Model

WG071104

Weight

1.2 pounds
See More Reviews

The more sophisticated interactive toys require a level of training and challenge your dog mentally. This particular toy uses the flip board design and has been assigned as difficulty level two. It is a great lead-on from the difficulty level one toy and is suitable for smaller dogs. Your dog will have to concentrate to work this one out!
It is essentially a circular board within which you hide a number of tasty treats. To get at the treats, your dog will have to flip lids using knobs, lift up cones and slide disks to the side. There are varying levels of difficulty so they may get some immediately but will take ages to get the others!  It's made from strong plastic but has a non-slip rubber base ring so it will not slide around the floor and frustrate your dog. It comes with a handy booklet with plenty of tips on how to get the most out of your toy.
Key Features:
Sophisticated interactive toy
Requires training
Treats are released by overcoming obstacles
Non-slip base
Specification:
Brand

Trixie

Model

32026

Weight

1 pound
SPOT Ethical Pet Interactive Toy Puzzle
See More Reviews

A natural wooden toy that will provide high-quality mental stimulation for your dog and reward them with a treat when they solve the puzzle. Because it's made from a natural material, it is safe for your dog to chew and is beneficial for their dental health. It provides sensory stimulation for your dog and teaches them to think before they act which is good for their general behavior.
It consists of a flat board with ten sunken holes where you can hide treats. To get at the treats, your dog has to be able to open the sliding disks using their paws or mouth. You should supervise your pet while they are playing with the toy.
Key Features:
Natural wooden interactive toy
Great for dental health
Ten sunken holes to hide treats
Develops cognitive skills
Specification:
Brand

SPOT

Model

5654

Weight

1.63 pounds
PetSafe Busy Buddy Kibble Nibble Dog Toy
See More Reviews

Suitable for dry or slightly moist kibble and treats, this toy can be used simply as a fun activity or as a way of delivering a meal in a controlled way. Some dogs gulp down their food too quickly which can lead to them bloating, can lead to problems with digestion and leaves them hungry too soon after! This toy will slow down the feeding process because they will only be able to get a little food at a time and will have to work for it.
Because it unscrews completely, it is easy to take apart for refilling and cleaning and it will fit on the top rack of the dishwasher. This interactive toy is made from non-toxic plastic but it is not a chew toy so you need to remove it from your dog once all the food has delivered. There are useful rubber bumpers that will stop the toy from making a loud noise on hard floors. It's available in two sizes to suit all breeds. You are able to trim the prongs that dispense the kibble so it comes out faster for dogs that struggle to get the hang of it.
Key Features:
Meal-dispensing toy
Easy to fill with kibble
Dishwasher safe for easy cleaning
Durable but not designed as a chew toy
Specification:
Brand

PetSafe

Model

PTY00-13738

Weight

12.8 ounces
ZippyPaws Interactive Squeaky Hide and Seek Dog Toy
See More Reviews

This is an interactive toy for pups that will keep them happy and stimulated for hours. It consists of several cute monkeys hiding in a banana. Your pooch has to find them and work hard to get them out. This appeals to their hunting instinct and helps to develop cognitive functions.
It will suit small and medium breeds and whilst it's most suitable for pups, many adult dogs will love it too. However, it will not stand up to very large dogs with very strong teeth who like to chew a lot. Each of the monkeys contains a squeaker to make it even more fun. If monkeys are just not your dog's thing, there are plenty of other fun options including a colorful piñata, polar bears in an igloo and even Valentines cookies in a cookie jar!
Key Features:
Soft interactive dog toy
Most suitable for pups and smaller dogs
Hide and seek game
Fun squeaking monkeys
Specification:
Brand

ZippyPaws

Model

ZP229

Weight

0.8 ounces
West Paw Interactive Treat Dispensing Dog Puzzle
See More Reviews
A treat-dispensing interactive toy to keep your dog highly engaged and stimulated. It can also be used as a normal toy for fetch games inside and outside. It's made from FDA-compliant materials so it's safe for food contact and is available in bright colors which are easy-to-spot in the grass or in the water. The materials can be recycled.
This is perfect for dogs who swallow their treats whole and don't know how to make them last. In this toy, you can hide a wide range of tasty and healthy snacks and it will take ages for your dog to get at them. You can use it for apple slices and cheese chunks as well as bully sticks and dog biscuits.
It's fully dishwasher safe and it even floats!
Key Features:
Made from FDA-compliant materials
Perfect for hiding treats
Bright colors
Suitable for a wide range of snacks
Specification:
Brand

West Paw

Model

563

Weight

11 ounces
See More Reviews

Let your pooch indulge their foraging instincts with this interactive mat that makes your dog feel like they are hunting for food in the wild. It's an enrichment and interactive toy that can be used by any dog, irrespective of their size or breed. It's basically a mat with a very long pile within which you can hide tasty treats.
It is designed to appeal to your dog's natural curiosity and allow them to use their amazing sense of smell and inbuilt desire to work. To your dog, this will feel just like hunting for food in long grass. It's sustainably produced and contains many upcycled material. It is also machine washable.
Key Features:
Activity, long-pile mat
Suitable for all dogs
Machine washable
Appeals to your dog's foraging instinct
Specification:
Brand

PAW5

Model

B01N1FV55I

Weight

1.4 pounds
PetSafe Busy Buddy Twist 'n Treat Puppy Toy
See More Reviews

This product is designed for pups aged under six months who are getting their adult teeth and it is available in three sizes. It is a highly interactive toy that your pup will love. You can pull it apart to put in the treats and when it closes, your pup will have to work hard to get them out. You can have a wide gap for pups that are struggling to get anything out or a narrow gap for pups that need a bigger challenge.
It's made out of durable but soft natural rubber so it is perfect for small mouths but would not suit a large, mature dog. You can use it with dry treats but you could also stuff it with food or smear something delicious like peanut butter inside it. You could use it as a kibble feeder for pups that eat too fast. When your pup has finished with it, you can put it on the top rack of the dishwasher.
Key Features:
Made from soft natural rubber
Can be used with treats or wet food
Adjustable to suit your pup's ability
Dishwasher safe
Specification:
Brand

PetSafe

Model

BB-P-TNT-XS

Weight

2.4 ounces
See More Reviews

Shaped like a tennis ball, this dog food puzzle is durable to stand up to enthusiastic chewers. It's made from a totally safe rubber material which is non-toxic and soft. Because it is non-abrasive, it can be used by dogs and cats of all ages. It has soft rubber jaws all around its surface in which you can lodge kibble food.
As your dog tries to remove the kibble from the toy, the soft rubber prongs gently massage their gums and scrape off plaque promoting dental health. You can also use it as a normal ball to play fetch with your pet. It floats on water so it won't get lost at the beach.
Key Features:
Made from non-toxic and soft rubber
Jaws to hide kibble
Promotes dental health
Will float on water
Specification:
Brand

Playay

Weight

2.4 ounces
Nina Ottoson Dog Brick Treat Puzzle
See More Reviews

No dog can get bored with this puzzle toy to play with. It's a training dog puzzle that is shaped like a board. It's made from durable materials and is easy to clean by hand washing in soap and water.
Within the board, there are 20 compartments in which you can hide kibble or treats. Your dog has to flip, slide or pull off the covers to get at the treats. There are scent holes to make sure that your dog is well aware of what is hiding inside! This toy will mentally stimulate your dog and will help to prevent boredom and destructive behavior.
Key Features:
Interactive board game
Places to hide treats
Removable covers to reveal treats
Durable and washable
Specification:
Brand

Outward Hound

Model

67333

Weight

1.6 pounds
Best Dog Interactive Toys Buying Guide & FAQ
Things to Consider When Buying Puzzle Toys for Dogs
Here's what you should consider when buying the best dog interactive toys.
Is it appropriate for your age of dog? Some dog puzzles are designed just for pups whilst others and more appropriate for adult dogs.
Toys to keep dogs busy need to be robust. There is no point in buying a delicate toy for a dog with sharp teeth and a powerful bite. Make sure that the material is tough enough for your dog and that it is free from toxins.
Supervision. If you intend to use the toy to keep your dog amused whilst you are in work, there is no point in getting one that requires supervision. Read the description carefully.
Some toys come in several different sizes so they will suit different breeds. Smaller dogs tend to like smaller toys.
It's useful if the level of challenge in interactive toys can be adjusted. Some dogs are just better at solving the puzzle than others and need the toy to be on the most challenging setting.
It's very useful if smart dog toys can be popped in the dishwasher for cleaning.

Why You Should Use Dog Interactive Toys
We all know that dogs need regular physical exercise to keep them healthy but it's not so well known that dogs also need mental stimulation. When your dog has plenty to occupy their mind, they are a lot happier and less restless and this promotes good physical health too.
A bored dog is not a good thing to have in your house! They will go in search of things to do and these may not be things that their human companions approve of! Of course, you have the option of continually playing with your dog yourself but this is not practical for most people. You could also hire in a dog walker or pet sitter to take over when you are not available but that is a very expensive option.
Some dogs need more mental stimulation than others. In general, the traditional working breeds such as the Golden Retriever and the Australian Cattle Dog will need more entertaining than the laid back breeds like the Bull Dog. However, all dogs will eventually get bored if they have nothing to do.
Interactive dog toys are an effective and inexpensive way of keeping your pooch amused. Here are some of the main reasons why you should use interactive dog toys.
To help with separation anxiety
Many dogs hate to be left alone. Some are absolutely distraught when their owners are out at work and school. This can show itself as very unwelcome behavior. A dog with separation anxiety can destroy items within the home, bark excessively and poop and pee in inappropriate places. Boredom is a big part of that. A dog that is engrossed in dog activity toys will not be so bored and will not suffer so badly from separation anxiety.
It's not just humans that can suffer from poor mental health, dogs can also suffer from depression. Research has shown that dogs who have adequate mental stimulation are not so likely to suffer from depression. You can help to prevent depression by giving your dog plenty to do.
Some breeds have so much energy that they are just crazy. Without plenty of physical and mental stimulation, they will drive themselves and everyone around them insane. Interactive toys can help to fend off hyperactivity and the behavioral problems it brings with it.
Keeping their brain young
There is now research to suggest that dogs who are not adequately mentally stimulated can suffer from cognitive dysfunctions as they get older. Therefore, giving your dog plenty of interactive toys throughout their life can protect their brains in old age.
The causes of depression in dogs are complex but research now indicates that boredom plays a big part. A bored dog is more likely to be aggressive towards humans and other animals and this is a big problem for owners.  Dog puzzle toys can be a big help.
In dogs, boredom can manifest itself as stress. Stress in dogs is linked to a whole range of health problems including digestive issues and skin complaints. Keeping your dog fully occupied will cut down on their stress levels.
Prevents destructive behavior
Many dogs have sharp teeth and claws and can cause a lot of damage to your home and your possessions. Dogs that are showing extreme destructive behavior are often not mentally stimulated. If you give them plenty to do, they do not go looking for something to destroy!
Stimulating older and sick dogs
For reasons of old age or ill health, not all dogs can run around a park to wear themselves out. However, their brains are still alert and they can get terribly bored and frustrated. An interactive toy can be invaluable in keeping them amused.
Interactive puppy toys can help your pup learn that they have to work to get good things! It helps them to express their natural instincts and stimulates cognitive development.

Other Ways to Stimulate Your Dog's Mind
There are plenty of other ways to stimulate your dog's mind.
Play dates. Dogs love the company of other dogs and it helps greatly with their socialization. Arrange a get together with other dogs and let them all have a great game of chase!
Training sessions. There's always something new you can teach your dog. They love the attention that they get during training sessions.
Exploring.  Check out new places in your neighborhood or get in your car and drive out of town. Dogs love to try out new places.
Games. There's an endless range of games you can play together. Anything from tug of war to fetch will stimulate your pooch mentally as well as physically.
Best Dog Interactive Toys FAQ:
Q: What are dog interactive toys and how do they work?
A: Dog interactive toys have some sort of puzzle for your dog to solve. When they move the toy in a particular way, they are rewarded with a tasty treat or a noise. Some can be used as feeders and will deliver dried kibble gradually so your dog has to eat slowly.
Q: Do dogs need mental stimulation?
A: Mental stimulation is just as important for dogs as physical stimulation. It prevents things likes depression and separation anxiety and cuts down on destructive behavior. Toys for bored dogs are vital for mental stimulation.
Q: How can I tire my dog out?
A: Try taking them for a long walk somewhere new. Games of fetch work well too. Meeting up with other dogs is always a good idea.
Our Top Pick
Our top pick of the best interactive dog toys is a set of squirrels in a fluffy tree stump. It's available in four sizes and each toy has several stuffed squirrels that 'hide' in holes.
Every squirrel has a large squeaker inside it and you can buy extra squirrels. You can get similar games with other animals including bees and hedgehogs.
Sources:
Related Reads
Related Reads