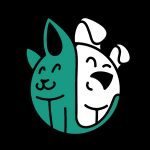 Every dog deserves a ball to play with. And while it may seem like a very simple toy, it is one which can provide hours of fun. As such, it is worth taking the time to choose one which is best for your four-legged friend. There is an abundance of dog balls out there these days, so making your mind up which one is best can feel like a monumental task. Don't worry; we are here with our detailed product guide which talks you through 20 of the best dog balls currently available.
The Best Dog Balls
See More Reviews

With a thick rubber core for durability, these balls are meant for long-term use. In bright blue and orange colors, you can easily spot the ball wherever you are playing outdoors. It is great for all sorts of games. You can bounce it on hard surfaces and encourage your dog to jump up or throw it in water and let your pooch swim after it.
The smooth rubber surface resists mess, allowing you to simply wipe it down when it is time for cleaning. And if you don't want to touch the ball at all, you could get a Chuckit! Launcher, which also gives you more throwing power. Choose between five different sizes depending on how big a dog you own.
Key Features:
Features a natural rubber core
Lightweight and buoyant
High bounce to encourage jumping
Colors are high visibility
Specification:
Brand

Chuckit!

Model

17001

Weight

6.6 ounces
HDP Kong Rubber Ball Extreme
See More Reviews

Billed as the toughest and most durable ball on the market, this Kong ball dog toy is great for playing fetch, but it also has other advantages including helping to clean teeth and soothe gums. If you have a dog who tends to get through balls quite quickly, this is the ideal option to withstand their tough biting.
Three different sizes of rubber dog balls are available, so you can choose the one which is best for your four-legged friend. It is extremely bouncy, so you can encourage them to jump up and catch it, giving your pooch a great all-round workout.
Key Features:
Made from tough natural rubber
Helps to clean teeth and soothe gums
Made in the USA with globally sourced materials
Available in three sizes
Specification:
Brand

KONG

Model

UB1

Weight

9.1 pounds
KONG Jumbler Interactive Fetch Dog
See More Reviews

A ball toy from highly-rated brand KONG, this one features a two-in-one design for even more games. There is a tennis ball inside with a loud squeaker which encourages your dog to play with it. The handles on either side make it easy to pick it up and shake it around.
The color is bright purple to make it easily visible when you are outdoors. KONG toys are well-known for their toughness, and this one is designed to be durable enough to withstand plenty of play sessions, which adds a new dimension to your games.
Key Features:
Two-in-one ball toy
Interior tennis ball with loud squeaker
Handles make pickup and shaking easy
Tough and durable
Specification:
Brand

KONG

Model

TMB1

Weight

1.21 pounds
KONG Air Dog Squeakair Ball
See More Reviews

This set of three balls is ideal for games of fetch. And since you have three, you always have a spare in case one gets misplaced. All of them come in different bright colors, so they are easy to spot when you are playing outdoors.
Inside each of the balls is a squeaker which is there to get your dog excited and encourage them to play. As for the material, it is non-abrasive, so you don't have to worry about your dog's teeth getting damaged.
Key Features:
Three balls – ideal for games of fetch
Brightly colored
Squeakers inside each ball
Non-abrasive material
Specification:
Brand

KONG

Model

659089

Weight

1.8 pounds
Kong Squeezz Ball Dog Toy
See More Reviews

Another great dog toy ball from KONG, this one feature ribbed edges which allow it to bounce in an unpredictable way which will drive your pet wild. As for the material, it is both durable and non-toxic, so you don't have to worry about it negatively impacting your pet.
Choose the size which is best-suited to your furry friend. The large dog ball is made for the biggest hounds to sink their teeth into. Inside is a protected squeaker which encourages your pet to play.
Key Features:
Protected recessed squeaker
Erratic bounce
Durable, non-toxic material
Sizes available for different breeds
Specification:
Brand

KONG

Model

PSBX

Weight

5.3 ounces
JW HOL-ee Roller Original Treat Dispensing Dog Ball
See More Reviews

Part ball, part treat dispenser, this toy encourages your pet to work a little bit harder to get their food. You can fill it up with all sorts of different treats and watch as your dog tries to get them out. The material is natural and non-toxic, and there are slats all around the ball to make it easier for your pooch to pick up.
The uniqueness of the design means that you can play a plethora of different games including fetch and tug of war. As well as providing physical stimulation, it also provides a mental workout as your dog tries to free the treats.
Key Features:
Fillable with a range of different treats
Ingenious design for various playtime activities
IQ-boosting
Made from breathable, non-toxic rubber
Specification:
Brand

JW Pet

Model

43111

Weight

5.4 ounces
Hartz Dura Play Bacon Scented Dog Toy
See More Reviews

The soft design of this bacon-scented dog toy makes it especially good for senior dogs and teething puppies. The ball bounces around to give your dog a challenge to catch it. And it even floats on water!
The outside of the toy is made from durable latex which is easy to wipe clean as needed. On the inside, the unique foam technology makes the ball chewier. To entice your pup to play, there is a squeaker and a tempting bacon aroma.
Key Features:
Perfect for throwing and bouncing
Soft and flexible
Made from tough and durable latex
Bacon scented
Specification:
Brand

Hartz

Model

3270014800

Weight

3.04 ounces
Chuckit! Ultra Squeaker Ball
See More Reviews

This dog ball comes with a built-in squeaker, which is designed to drive your dog wild. As for the material, it is made from durable rubber which bounces higher and farther than at run-of-the-mill ball.
You don't need to worry about not being able to spot the ball as the colors are bright and highly visible. If you want to be able to throw it more easily, it is compatible with a Chuckit! Launcher. Various sizes are available, so choose the one which is right for your four-legged friend.
Key Features:
Ultra-squeaky ball for your dog's amusement
Made from durable rubber
Floats in water
Bounces high and encourages jumping
Specification:
Brand

Chuckit!

Model

52068

Weight

3.2 ounces
See More Reviews

This three-pack of balls boast being virtually indestructible, which is a relief if you have a dog who is particularly rough when they are playing. Each of the balls is brightly colored, which makes them easy to spot and set apart from one another.
You don't have to worry about your dog having a bad reaction to putting this ball in their mouth as it is FDA-compliant and BPA-free. These balls also float in water and they are easy to clean when the time comes.
Key Features:
Three colorful rubber dog balls
Made from all-natural rubber
Easy-to-clean
Great for pools
Specification:
Brand

Snug

Model

SNRDB3P

Weight

9.6 ounces
KONG Squeaker Tennis Balls
See More Reviews

As you will have been able to tell already, KONG is a highly popular brand for dog toys, and this set of tennis balls are a classic option. But unlike regular tennis balls, they come with squeakers inside to encourage your dog to play with them.
As for the material used to make them, it is non-abrasive, so you don't have to worry about it wearing down your dog's teeth.
Key Features:
Ideal toy for games of fetch
Squeakers encourage play
Five different sizes available
Material is not rough and abrasive
Specification:
Brand

KONG

Model

AST2

Weight

1.8 pounds
Chuckit! Indoor Ball Dog Toy
See More Reviews

Sometimes, you want to play with your furry friend indoors and this ball is perfect for tossing around inside your house. The design is lightweight and soft enough to protect your most important possessions, and its texture also makes it ideal for puppies whose teeth haven't developed fully yet.
But the ball is still made with the same kind of Chuckit! durability which will ensure that it lasts for years to come. You can even get a ball launcher, which is ideal if you have a bigger home and you don't want to get your hands covered in slobber!
Key Features:
Lightweight design to protect surfaces
Rolls easily across tiled and hardwood floors
Durable design
High-visibility colors
Specification:
Brand

Chuckit!

Model

213201

Weight

2.4 ounces
Jolly Pets Romp-n-Roll Ball
See More Reviews

This dog ball comes with an easy-grip rope, allowing you to enjoy games of tug of war with your furry friend. This is the kind of product which is designed to last for a long time, and you can rest assured that it will not deflate even if it gets punctured.
Made for larger dogs of 60 lbs or over, you can enjoy all sorts of games together which involve kicking, throwing, tugging, and dangling.
Key Features:
Durable ball with easy-grip rope
Will not deflate
Suitable for larger dogs
Made in the USA
Specification:
Brand

Jolly Pets

Model

608 RD

Weight

1 pounds
Nerf Dog Ridged Squeaker Football
See More Reviews

If your dog is sick of the regular round balls, you could try this American football-shaped one. Made by celebrated brand Nerf to be both lightweight and durable, it is the kind of product which is built to last many playing sessions.
Since it is so brightly colored, you can spot it easily no matter where you are. It is the ideal size for medium and larger breeds of dog.
Key Features:
100% non-toxic, BPA-free, and FDA approved
Weather and water resistant
Perfect size for medium and larger hounds
Highly visible
Specification:
Brand

Nerf Dog

Model

6988

Weight

12 ounces
JW Pet Company Crackle Ball Dog Toy
See More Reviews

This uniquely designed pet ball is made from recyclable bottles which make an appealing crunching sound when your dog picks it up. A common frustration amongst dogs is when they can't pick up balls easily, but this one has holes all over it, allowing them to catch and carry it around wherever they like.
Three different sizes are available, so choose the one which your furry friend will be able to play with best. The design consists of non-toxic rubber all the way around, and there are no seams to ensure extra durability.
Key Features:
Safe and long-lasting
Comes in assorted bright colors
Perfect for games of toss and fetch
Available in three sizes
Specification:
Brand

JW Pet

Model

47014

Weight

2.88 ounces
Pet Qwerks Talking Babble Ball Interactive Dog Toy
See More Reviews

'Come here puppy' is just one of the 20 pre-programmed funny phrases which this ball emits when your dog starts playing with it! The construction is highly durable, and you can simply replace the batteries when it stops talking.
If you think that your pup is bored playing with the same old balls again and again, this one is certainly worth giving a try. When your dog starts playing, the ball will turn on and it will also deactivate automatically.
Key Features:
20 phrases and sounds
Durable ABS construction
Interactive toy
Automatically turns on and off
Specification:
Brand

Pet Qwerks

Model

TBB1

Weight

4 ounces
JW Pet Company iSqueak Ball Rubber Dog Toy
See More Reviews

While this dog ball is seemingly simple, it is the kind of classic design which a lot of canines really love. The natural rubber is tough enough to withstand some rough biting, while it is also infused with vanilla extract to encourage your pup to come closer.
When you want to wash the ball, you can do so easily without worrying that the colors and design are likely to fade away. Choose between three different sizes depending on the dimensions of your dog.
Key Features:
Thick-walled and heavy-duty in design
Colorful and vibrant
Easy to wash
Infused with vanilla extract
Specification:
Brand

JW Pet

Model

43031

Weight

3.04 ounces
Allstar Innovations Wobble Wag Giggle Ball
See More Reviews

A dog toy which has been made for dogs of all ages and sizes, there are several pickup points which allow your hound to get their teeth stuck in and shake the ball around. When they do, it will emit a giggle sound which will drive your pup crazy.
This is the kind of toy which is suitable for both indoor and outdoor usage, so your dog can play wherever they like. It is another great addition to your dog's toy box!
Key Features:
Suitable for all ages and sizes of dog
Usable indoors and outdoors
Emits a giggling sound when rolled or picked up
Six clutch pockets
Specification:
Brand

Allstar Innovations

Model

WG071104

Weight

1.1 pounds
Gnawsome Medium Squeaker Ball Dog Toy
See More Reviews

This highly-rated squeaker dog toy features a spiky texture. When your dog starts to bite and chew, it provides a gum massaging effect without presenting a choking risk to them. It is suitable for both indoor and outdoor playing sessions.
The material is brightly colored and made from food-grade, BPA-free thermo-plasticized rubber. This toy fits into the category of small dog balls.
Key Features:
Features loud internal speaker
Vivid, engaging colors
Gum-massaging spiky texture
Soft, safe, and durable
Specification:
Brand

Gnawsome

Model

10005

Weight

2.4 ounces
See More Reviews

As it says in the name, this is the kind of dog bouncy ball which is made for games of fetch. The natural rubber design ensures that they bounce up high and run a long way, so your dog will enjoy hours of fun trying to get a hold of the ball and bringing it back to you.
Chuckit! is a famous manufacturer of dog balls, and, as you would expect, their products are built to stand the test of time. Small, medium, and large sizes are available depending on how big a dog you own.
Key Features:
High-bouncing ball
Rugged for long-term use
Compatible with a variety of ball launchers
Available in various sizes
Specification:
Brand

Chuckit!

Model

19200

Weight

3.52 ounces
HDP Spot Soccer Latex Ball Dog Toy
See More Reviews

Soft and easy to carry, this latex soccer ball is both safe and non-toxic. It is perfect for puppies and smaller dogs alike. If your dog's teeth are still developing, this ball will not give him anything too tough and hard to risk causing damage. Several different bright colors are on offer.
Key Features:
Made of soft and durable latex
Perfect for smaller dogs and puppies
Non-toxic
Bright colors
Specification:
Brand

Ethical Pet

Model

3673

Weight

0.8 ounces
Best Dog Balls Buying Guide & FAQ
Things to Consider When Buying Dog Balls
Now that you have read more about 20 of the best dog balls on the market, we can now talk a little bit more about the core features which they possess. This way, you can differentiate better between what you are looking for.
Size
Most dog balls come in several different sizes to suit various breeds. Choosing the right size is important from both a comfort and safety point of view. If it is too big, your dog will struggle to pick it up and this will limit the type of games you can play. However, choose one which is too small, this becomes a choking risk and increases the odds that you are going to get into an emergency.
The strength of the ball has a big impact on how long it will last. After all, you don't want to get a brand-new ball only to find that it starts falling apart within a few days. Durability is especially important if you have a larger dog who is a tough chewer. If you know your dog likes to chomp through balls, give them something which is going to withstand their biting.
While you may think that the colors of a ball are only a matter of personal preference, they can also impact how visible it is. If you like to walk through areas where there is a lot of greenery, a brightly colored ball will stand out and make it less likely that it will get lost. Or you may like to go for night-time strolls with your pup and need something which is fluorescent and obvious to spot.
The weight of the dog ball matters for two reasons. Firstly, if you have a smaller pup, you don't want a ball which will weigh their head down too much and make it difficult for them to pick up. And from your own point of view, you don't want a ball which is going to make your arm ache when you throw it too often. A possible solution to this problem is to get a ball launcher which allows you to chuck it further with less effort.
If you have a dog who simply loves getting wet and splashing around in the water, you will want to choose a ball which is buoyant. This way, they can swim after it and get their exercise through this activity.
The degree to which a ball bounces can also impact your playtime activities. A bouncier ball will encourage your pooch to jump up in their efforts to catch it. And while this is great for some dogs, you may not want this quality for hounds who are older or suffer from arthritis as this can end up exacerbating their condition. In this case, you may prefer to get a ball which has a flatter bounce.
The texture of the ball can also have an impact on your decision-making. Softer balls are great for teething puppies and smaller dogs. And if you only plan on playing indoors, softness is obviously important. However, if your pooch is a tough chewer, you will need a harder ball, but not one which is so tough that it is going to risk causing damage to their teeth. Another option is to get one of the 'balls' which has a spiky, rubbery texture, which has been shown to have a massaging effect on the gums of canines.
Some balls emit squeaky noises when they are picked up. Others have pre-loaded voice boxes which say various phrases when they are rolled around. Some dogs enjoy these noises, whereas others are not so keen. It all depends on how jumpy your dog is!

Importance of Ball Toys and Exercise
Sometimes, it is the simplest toys which are the best, and this is certainly the case with dog balls. Playing fetch is one of the simplest ways of encouraging your dog to get the exercise they need, which is so important in their lifestyle. Here are just some of the reasons why ball toys and exercise are so essential to your hound.
Improves Cardiovascular Health
When you throw a ball, your dog can't help but run after it. Obviously, this gets their heart beating faster, which is important in keeping their cardiovascular health in good order. Just as regular exercise in humans enhances heart health, the same goes for canines as well. This improvement in endurance can also improve other areas such as the delivery of nutrients and oxygen to the tissues around the body. While your regular walks are great, you sometimes need an activity which is going to get your dog's heart beating faster, and this is exactly what a game of fetch will do.
Helps to Maintain a Healthy Weight
Regular exercise also has the advantage of maintaining or reducing your dog's weight as required. Keeping your pooch within a healthy weight range will help to ensure that no unnecessary strain is put on their body. Obesity brings a host of health complications, and if this is something which should be avoided. Obviously, the battle against obesity is not won by just buying your dog a ball, but it can form the cornerstone of a great exercise regime which helps to maintain their good health.
Reduces Canine Behavioral Issues
While dogs are great when they are behaving well, they can also be destructive and difficult creatures if they are not treated right. Just a few examples of bad behavior which they exhibit include destructive chewing, hyperactivity, rough play, and nuisance barking. A lot of these issues come down to boredom and an excess of energy which is not being channelled in the right areas. While a ball on its own can't solve all these issues, it can go a long way towards giving your pooch the physical and mental stimulation which they so badly require. Just as exercise can reduce feelings of restlessness and anxiety in humans, the same is true of dogs as well.
Increases Agility and Joint Flexibility
Actions like running and jumping can significantly improve the range of motion in your dog, and this helps to prevent certain conditions such as arthritis developing over time. A pet ball will encourage agility and flexibility, which can help to improve your dog's life as they get older as they are more likely to have a full range of movement. Obviously, you can't hold back the calendar entirely, but you can help to prevent age-related conditions from becoming such a major issue in your dog's life. However, you should adjust the types of games you play based on your dog's age and physical condition. Older dogs are not going to be able to bound around in the same way that young puppies can. Thankfully, there are all sorts of ball games which will suit them.
Builds a Stronger Bond Between You and Your Dog
Playing with your dog on a regular basis helps to build up a strong bond between the two of you. And this relationship of trust is at the cornerstone of being a pet owner. Dogs that get regular exercise are also more likely to be more well-rounded and confident in their day-to-day lives. And the knowledge that your dog needs regular exercise can also give you the push you need to get your own daily dose of physical activity.
Satisfies Your Dog's Natural Instincts
Even though you have a domesticated rather than a wild dog, he still has instincts which you can play a big role in fulfilling. Games of fetch offer the thrill of the hunt without any other creatures getting harmed. Dogs who aren't able to satisfy their natural instincts are more likely to act out in negative ways, which could prove to be destructive and/or dangerous.
It is important that your dog can get along with others – and you can help to guide them through this process. Outdoor exercise helps to expose your four-legged friend to other dogs, people, and environmental factors.
Structured playing is one of the cornerstones of improving your dog's obedience level. And teaching them a game like fetch encourages them to interact with you, as well as responding to commands like 'get it' and 'drop it'. And as we have already discussed, when your dog comes home with less built-up energy, there is less of a chance that they are going to expend it in destructive ways.

Different Types of Balls
There are several different types of balls to choose between. Some are smaller and come in a tennis-ball style, while others have special spots which make them easier to grip and toss around. Others are designed to be batted around on the floor and can be filled with treats. Some can only be thrown manually, while others can fit in special throwing devices. Balls also come in different materials and sizes. Some are float on water and bounce up higher. When choosing the right one for your pet, think about their size and the way they enjoy playing. Also, take your own preferences into account. For example, if you aren't so physically fit and can't bend down so easily, a ball which will fit into a launcher may prove to be the best option for you.
Regular dog balls come in different sizes depending on how big a dog you own. Roughly the size of a tennis ball is normal. They can come in soft felt material or something which is tougher like rubber. Some are bouncy, whereas others are flatter-running. Often, they come in bright colors, so they are easy to spot when you are playing outdoors. Every dog should have at least one or two of these in their collection, and they are always a great go-to option when you want to play with your dog.
These are made of softer materials to ensure that they aren't going to cause damage to your furniture when you are indoors. If your dog has some excess energy but the weather outside makes it harder to go out or you simply don't have so much time on your hands, having one of these provides you with a nice alternative.
Treat-Dispensing Dog Balls
These balls allow your dog to get a workout, while also giving them the incentive of working to get their favorite treats. Often, you can adjust the difficulty level to give your dog more of a mental workout. Also, you can vary the treats that you put inside to ensure that your dog remains interested.
If you are sick of regular games of fetch, you could get a ball which comes with ropes or a handle. This way, you can play tug-of-war with your dog, which helps your canine companion to display their predatory nature. Also, they can enjoy a mental and physical workout, which helps to reinforce the bond between the two of you.
Safety Tips When Picking the Best Ball Toys
There is nothing more important when playing with your dog than them staying safe. With this in mind, let's look at a few top safety tips which will help to keep your pooch out of harm's way.
As we talked about earlier on, it is so important that you choose a ball which is the right size for your pet. Choosing one which is too small will increase the risk that your pup is going to choke on it, or even swallow the whole thing entirely. But if you select one which is too big, this could weigh their neck down or obscure their vision – and this could lead to an accident.
Always check the materials which are in the dog ball before purchase. Chemicals such as BPA or other additives can be harmful to them. Since your dog will be putting the ball in their mouth on a regular basis, you don't want to risk anything going into their body which shouldn't be in there.
Inspect the Ball Before Giving it to Your Dog
Before you offer the ball to your dog, take the time to inspect it for any signs of wear and tear. Roll it around in your hands and ensure that there aren't any bits which are likely to break off. Make sure that the material seems as tough as you thought it was going to be and it is going to be strong enough for your dog.
Supervise Your Dog While Playing
Most of the time, you will be playing closely with your dog, so you will be supervising them anyway. But there could be occasions when you want to allow your pooch to engage in some more independent play. Rather than letting them play on their own, you should offer supervision to make sure that they don't break off pieces of their toy which they could swallow or the whole thing gets caught in their mouth. When you are not able to supervise, you should store the ball in a safe container. This rule of supervision should go for any time your dog is playing with an object.
Be Careful Where You Throw the Ball
Ideally, you should throw the ball in a wide-open area where there are fewer dangers for your dog to get into. Areas where there is a busy road, a fast-flowing river, or other obvious sources of danger should be avoided. And you should also be wary of throwing the ball in an area where there are lots of other dogs. You don't want to risk your mutt getting into a fight over the ownership of their ball!
Not only will proper care and attention make the ball safer for your dog, but it will also ensure that it lasts for the longest possible period of time. Inspect the ball on a regular basis for any tears or pieces which have broken off. You don't want to risk your pooch choking. If you have several balls, it is a good idea to rotate them on a regular basis as this will ensure that they wear down at an even rate. Ensure that you only use the ball in the environment that it was intended. If you have bought a special indoor ball, only play inside your house.
Another element of proper care and attention is keeping the ball clean. Many can simply be wiped clean with a damp cloth using some soap and water. Others can be washed in the washing machine. Make sure that you read the instructions before choosing the appropriate cleaning method, so you don't risk causing any unnecessary damage.

Best Dog Balls FAQ:
Q: What Should Dog Ball Toys for Heavy Chewers Be Made Of?
A: While soft materials may be all well and good for puppies and smaller dogs, if you have a big, tough canine companion, you need to choose balls made from materials which can withstand their attentions. Nylon and rubber are both common options which can deal with tough biting. There are also plenty of heavy-duty dog balls which come with rope attachments. These also make it easier to get the ball away from your dog when you think that they have had enough. Always read the product description carefully before settling on a dog ball for a heavy chewer.
Q: How Can I Get My Dog to Play with Toy Balls?
A: If you have a new pup or a dog who has never played with a ball before, you can't expect them to immediately know what they are doing. So, you have to be the one to take the lead in teaching them how to play. The first thing that you should do is ensure that the ball is the appropriate size for your mutt. Can they pick it up comfortably or does it seem to be causing them some difficulty?
The most common game which you can teach them to play is fetch, and here is some advice on how to get started. The ball also has to be an object that your dog likes and thinks that it is worthwhile chasing after. You may need to experiment with different varieties until you find the one which is best for your furry friend.
To begin with, you need to teach your dog to chase after an object. Some will simply sit and stare after the ball after you have thrown it. You may need to encourage your dog to pick up the ball by going with them and pointing at it. Once they have picked it up, you can then offer them some praise and encouragement. Treats are also a good form of positive reinforcement, but you don't want to overdo using these as you could find yourself in a situation when your dog will only pick up the ball if the promise of a treat is waiting for them.
The next step is to get your dog to retrieve the object once again. This can be tricky for some pooches. If they don't bring it back, you can try using a second one. Throw the first one and once your dog has caught it, throw the second in the opposite direction. This will get them used to the concept of running back to you after the object has been caught. You can then try calling your dog back after they have caught the object. If you can't get them to drop it, you can simply show them the second toy. After some time, they should learn that coming back to you and dropping the object means that you will throw it again.
Some dogs stop to drop the object before reaching you, so you may need to back away and introduce a firm command like 'bring it' to encourage them to complete the distance. Make sure to offer plenty of praise once they get it right. Alternatively, the issue could be that your dog won't let go of the toy. You can get around this problem by putting a treat by their nose. Most dogs will drop the object to go for the treat. If you want to heighten the excitement levels for your dog, you can try throwing the ball and holding them back before allowing them to bound after it.
There are also the other types of balls which can encourage different playing. For example, we already mentioned the balls which come with handles or ropes for tug-of-war. There are a few rules to follow which will help this game to go smoothly. Before you begin playing, you should teach your dog a command like 'drop it', which will help to put a stop to the game if things start getting out of hand. Remember that you should always be the one to initiate a game such as this one. Choose a space which is free of distractions, as well as a place where there is no clutter and objects which could cause harm. Both of you should be able to back up without standing or tripping over anything.
Watch your dog to make sure that they don't growl too much or become overly aggressive. If you need to take a break, you can run through a few basic commands with your dog like 'sit' and 'down'. Let your dog win the game from time to time. This helps to build up their confidence and gives them a sense of reward from playing the game. Otherwise, they could become overly frustrated and disheartened. If your dog bites you, take a break. End the game if it happens again. You want to teach your dog to be careful with their teeth, so you don't end up getting painfully bitten.
Q: Are Regular Tennis Balls Safe for Dogs?
A: For many dogs, tennis balls are safe to play with, but there are some exceptions. Larger dogs and tougher chewers can end up biting the ball so strongly that it breaks in half. If your dog ingests any part of the broken-up ball, this can cause an internal blockage, which could be life-threatening at its most serious. Another problem is that they could compress the ball so that it pops to the back of their throat and cuts off their air supply.
If you are going to offer your dog a tennis ball to play with, you don't want to keep using it for an extended period of time. The outer felt can pick up dirt and grit over time, making it abrasive to bite into. As for the covering, is also tough enough to wear down your dog's teeth. Unlike other dog balls, tennis balls have not gone through rigorous testing and safety standards, meaning that some brands may contain toxic chemical such as lead. If you are feeling unsure, you should only let your dog play with properly designed and branded dog balls.
Our Top Pick
Our number one pick is this one from Chuckit! Its extra-thick rubber core makes it a tough and durable option. And it also bounces up high too if you have a mutt who loves jumping. The bright blue and orange colors make it easy to spot, so you are not stuck scrabbling around trying to find it.
This is the kind of ball which floats on water, so if your dog loves to get their paws wet, it is an ideal option. You can wash off dirt and slobber from the rubber surface easily to ensure that it is nice and clean every time your dog comes to play with it.
Several sizes are available, so you can choose the one which suits your four-legged friend best.
Sources:
How to Exercise with Your Dog - PetMD
How to Entertain Your Dog - HowStuffWorks
Related Reads
Related Reads