PetSide may earn a small commission from affiliate links in this article.
Learn more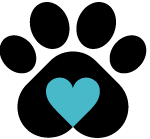 By Petside
Published 09:48 am
Whether you have a fussy indoor puppy or a rowdy outdoor one, they need regular baths to remain clean and healthy, as well as fresh-smelling. However, you don't want to use your own shampoo or soap on your puppy as dogs have a different skin (not to mention hair!) than humans and chemicals found in our grooming products can be too harsh for them. To keep your pupper's skin healthy and supple and their coat thick and shiny, it's important to use a shampoo specifically designed for dogs. To help you choose the best puppy shampoo for your tiny canine companion, we reviewed some of the most popular formulas on the market. We also put together a buying guide that is packed with useful information on how to choose a good formula and properly bathe your puppy, so read on!
The Best Puppy Shampoo
Best Puppy Shampoo Buying Guide & FAQ
If you're looking for the best puppy shampoos to make bath time an enjoyable experience for both you and your pet, you can't go wrong with any of these products. They're all designed specifically for pets, are gentle but efficient at cleansing, so whichever one you choose, we're sure you and your pup will be pleased.
Still not sure which formula is right for your dog? Not to worry because in this part of our buying guide we cover absolutely everything you need to know about pet shampoos, including how to find the best one for your pooch!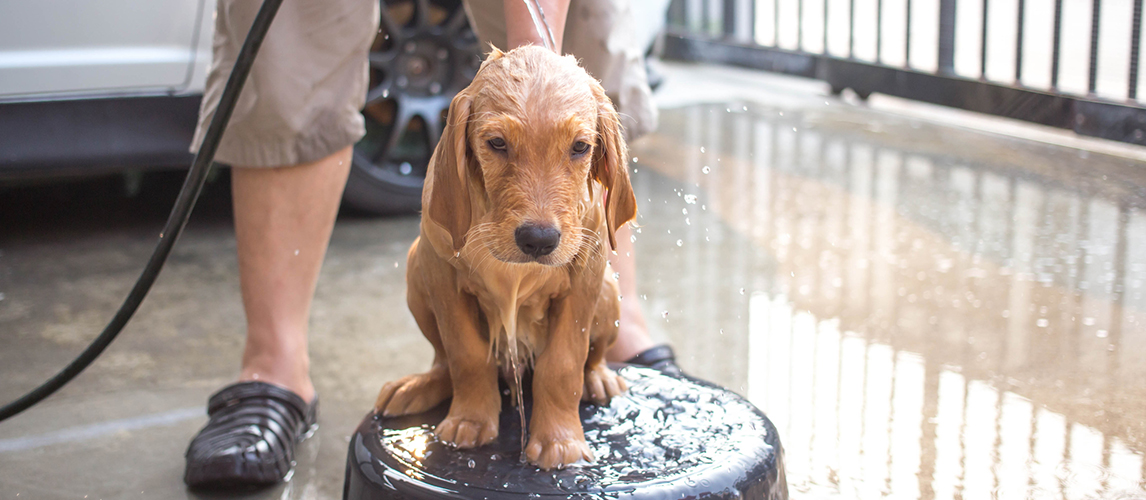 Things to Look for When Buying a Puppy Shampoo
Some of the shampoos that we have discussed above are specifically designed for puppies, whereas others are meant for dogs of any age. Before using anything on your little dog, you need to ensure that it is suitable for their sensitive coat and skin. Generally, puppy shampoos are gentler to ensure that they don't cause any irritation, so when it doubt, go for puppy-specific shampoos.
Aside from cleansing your pet's skin and coat, a good shampoo for dogs will also offer some extra benefits, such as moisturizing the skin and conditioning the coat. If your pup suffers from dry or itchy skin look for formulas that include ingredients such as oatmeal and aloe vera as they provide some relief. There are also shampoos that are specifically made to kill or prevent ticks, fleas, and other parasites, so if your pup is struggling with these annoying pests, look for formulas specifically made to kill and control fleas and ticks plus cleanse the coat. For more options, head over to our guide on flea shampoo for dogs.
Puppies can get themselves covered in all sorts of unpleasant-smelling substances, so look for shampoos that have at least some deodorizing effects. If you have particular preferences regarding scent, make your choices appropriate to your own nose! Take a look at our review of the best essential oils for fleas on dogs for more options.
Getting to know the ingredients in dog shampoos can help you to make an appropriate choice. You should be looking for those all-natural products that are not going to cause any irritation, such as oatmeal, glycerin, and aloe vera. Avoid anything artificial like dyes and fragrances. Natural scents are always better, and these can include lavender, coconut, eucalyptus, and more. And once again, it is worth mentioning that you should never use shampoos that have been designed for humans.
Benefits of Using Shampoos for Puppies
Maintains Hygiene Standards
Just as you buy a shampoo and soap to keep your own hair and skin clean, the same goes for your pup's coat and skin. A gentle puppy shampoo can help to improve their hygiene standards, which in turn gets rid of bacteria that you may have come into contact with around the home.
The reason why so many formulas mention being 'pH balanced' is that if this gets out of whack, it can cause redness and irritation to your pup's skin. This typically ranges between 2.2 and 7.5 and dog shampoos are designed to not alter this significantly.
If you don't use the proper shampoo, it can lead to your dog's coat drying out. Not only should a good shampoo leave your pooch's coat clean, but it should also leave it conditioned, soft, shiny, and generally healthy.
While we love our puppies, they are not always the most pleasant smelling creatures in the world! There are various natural scents that can be infused into pet shampoos to leave your dog smelling at their very best, such as essential oils, coconut or lavender.
There are many common skin issues that can affect your dog such as redness, itchiness, flaking, ticks, and fleas. The right dog shampoo can help to manage and even clear some of these problems if used on a regular basis. Head over to our review of medicated dog shampoos for more choices.
How to Bathe Your Puppy
Before you wet your puppy, you should brush them to remove any mats as they will retain water otherwise. Use only lukewarm water - it should not be any hotter than a baby's bath. Many puppies are naturally averse to baths, so you need to speak to them in calm and reassuring tones. It may even help to have someone else assisting with the task.
Take your chosen dog shampoo, work it into a lather, and massage it over your dog's body, taking care not to get it in their eyes. Rinse them off well as any remaining soap can be irritating to their skin if left to dry. Continue to rinse and repeat. You can either let them dry off naturally, towel them off, or use a cooler blow-dryer that has been specifically designed for dogs. Reward your dog with praise, petting, and/or treats so they associate the process with positive feelings. It is always better to start bathing your dog from an early age as this helps them to get used to the process, plus you are more likely to be able to continue bathing them easily over the continuing years.
You may also like some of our dog grooming guides, such as dog bathtubs, dog grooming gloves, dog dryers for home grooming and dog drying towels.
Our Top Pick
While we like all shampoos featured in our top list, our No.1 choice has got to be Earthbath Natural. Formulated with coconut-based surfactants, vitamins E, B, A and D, plus aloe vera and glycerin, this pH balanced shampoo will thoroughly cleanse as well as condition your puppy's coat and skin. As a nice little bonus, it comes with a pleasant wild cherry scent, so it will leave your pooch smelling fresh and clean!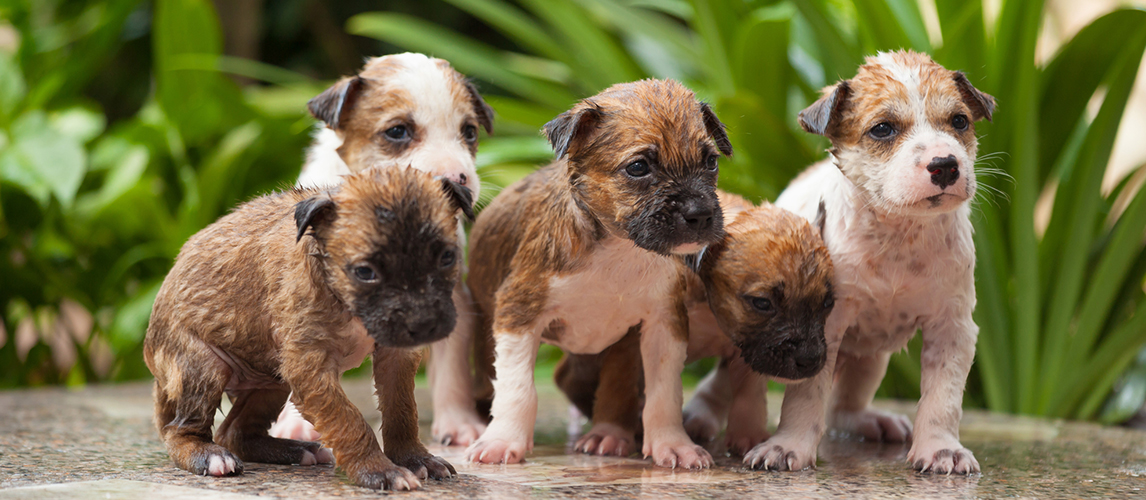 FAQ
Q:

What shampoo ingredients are safe for puppies?

A:

The ingredients that are safe for puppy shampoos include coconut-based cleansers, as well as those with natural soothing effects such as oatmeal and aloe. Also, look out for natural scents rather than anything that has been chemically made. Other common examples of natural ingredients include coconut oil, honey, and shea butter. Everything should be gentle, so the shampoo will probably not produce much of a lather, but it will be tear-free. Avoid anything with artificial colors or dyes, as well as additives and toxic pesticides. Natural and organic puppy shampoos are best for your little dog.
Q:

How often should I wash my young puppy?

A:

The number of times that you wash your puppy should be based on various factors including their breed, lifestyle, and coat. Ask your vet if you need more info on your pup's specific coat and skin requirements. As long as the puppy doesn't have any adverse reactions, you can bathe them as often as once a week. This said, some people only bathe their pup a couple of times a year. The average probably lies somewhere between the two. If your dog spends a lot of time outside in muddy or dirty conditions, more frequent bathing is likely to be required, whereas apartment dogs will probably need less.
Q:

Can I use baby shampoo on my puppy?

A:

Baby shampoo is generally mild and non-irritating, so it may be suitable for puppies if you are in a bind and have no other options. However, it is still best to use products that are specifically made for canines, so consult back to the list offered above and choose the best options for your furry friend.