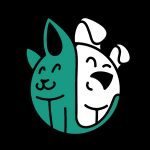 Most dog groomers will have a list of products that they simply cannot live without and this list will greatly differ from person to person. There is one product on the market however, that most dog groomers can agree is a life saver and that product is dog grooming gloves. If you haven't used a pair of dog grooming gloves previously then you're going to really enjoy using them as they're super effective and satisfying to use. Most dogs and cats (regardless to fur length) love being groomed with these gloves too as it gently massages their coats and removes dead skin and fur that can normally cause irritation.
There are lots of different pet gloves on the market and it can be difficult knowing which is the best dog grooming gloves to invest in. We have compiled this list of products to make the selection easier for you, taking into consideration the following: cost, quality and other features that make the products stand out.
We have written a buying guide to help you decide which pet gloves to buy.
The Best Dog Grooming Glove
DELOMO Pet Grooming Glove
See More Reviews

See More Reviews



This pet grooming glove can be used for both cats and dogs and offers great value for money at under $13 for two gloves. The pack includes a left glove and right glove so you have the option to use both hands whilst grooming your pet. These gloves are perfect for the gentle removal of hair, helping your dog to shed their old fur. The gloves themselves feature an upgraded design with 255 silicone grooming tips on each glove that give your pet a gentle massage when in use and allow you to gently brush away dirt and loose fur that could otherwise cause irritation. The gloves have been manufactured from eco-friendly materials that will not cause any damage to the skin. The soft rubber creates a gentle massaging effect that will not scratch or pull the skin. You can use these gloves to give your dog a gentle massage or to gently remove loose hair easily. Just stroke your pet's fur and watch as it lifts the old fur effortlessly. To throw the hair away you just need to simply peel it away from the glove – it's super simple and your pets will thank you for it! The gloves are also great for use in the bath, with the five fingers making it easy to get to those hard-to-reach places.
Key Features:
Gentle Eco-Friendly Material
Two Gloves Included
255 Silicone Grooming Tips
Easy To Use
Specification:
Brand

DELOMO

Model

delomo002

Weight

4.8 Ounces
Gentle Design
Two Gloves Included
One Size Fits All
Dries Fast
One-Sided
Better With Long Hair
Dog Grooming Gloves by Pat Your Pet
See More Reviews

What we liked about this pet deshedding glove was that it had a slightly different design from many of the others that you can buy. The glove features gentle tips in the centre, that are absolutely perfect for massaging your pet, whereas the fingers feature slightly different tips which are perfect for removing tangles and loose pet hair. You will get a right and left glove in the pack which not only means that left-handed people are well catered for but you can opt to use both gloves for dual grooming action too! This dog brush glove will remove loose pet hair easily, with the hair simply peeling away afterwards. We find that gloves like these are particularly good for long haired dogs and cats that tend to get hairballs. Regularly using these soft and gentle gloves will help your pet shed their fur in a pleasant way that most animals love. If you are not entirely happy with the gloves and they don't remove your pet's loose fur then the team behind Pat Your Pet will happily send you your money back.
Key Features:
Enhanced Five Finger Design
Soft Rubber Tips
Money Back Guarantee
Two Gloves Included
Specification:
Brand

Pat Your Pet

Model

PYP060512

Weight

3.84 Ounces
Special Five Fingered Design
Use Wet Or Dry
One Size Fits All
Velcro Fastening
Expensive
Pet Thunder Dog Grooming Glove
See More Reviews

See More Reviews



We included this dog grooming glove on our list because we felt that it was a good 'starter' glove for pet owners who had never used a product like this before. It provides amazing value for money and it offers the perfect opportunity to test the product on your fussy cat or hyperactive dog to see if they like it! The Better Petter will help you effortlessly groom your pets so they can easily shed their excess hair for a better coat. This grooming glove has been designed like a mitten and one size will fit most hands. Easy to use, just simply pet your dog or cat using the mitt and watch as the dead fur adheres to your hand and can just be simply peeled away. Made with 100% recycled materials, the massage tips on this mitt are strong enough to give your dog or cat a nice massage but gentle enough to not pull their hair or cause discomfort – on the contrary they are probably going to love it!
Key Features:
Easy To Use Grooming Mitt
Soft Rubber Tips
Made From Recycled Materials
Excellent Value For Money
Specification:
Brand

Pet Thunder

Model

FBA_GBG001-1

Weight

4 Ounces
Gentle Massage Tips
One Size Fits Most
Works For All Cat & Dog Breeds
Use Wet Or Dry
Right Handed Design
One Glove Included
Handson Gloves for Dog Grooming
See More Reviews

See More Reviews



These multi-award winning gloves are revolutionary and paved the way for all other designs. These are the original dog grooming gloves which have received amazing reviews across the world. Before these gloves came along we were all chasing our pets with brushes, desperately trying to groom their fur! Then these gloves came onto the market and changed the game entirely. The HandsOn pet hair glove has been designed to create a better bond between pet owners and their animals, enabling them to groom their pets effortlessly. These fitted gloves feature gentle scrubbing nodules on the palms and fingers which provide a thorough clean from head to toe. Using this grooming glove on your animal will not only create better circulation but they will distribute healthy oils, promoting healthier skin and coat. Another thing we liked about this glove was its flexibility. Unlike other 'stiffer' mitts, this glove allows you to get into hard to reach areas on your pet and also handle shampoo bottles, leashes or any other equipment without having to remove the glove.
Key Features:
Original Grooming Glove For Pets
Flexible Design
Wet Or Dry Use
Specification:
Brand

HandsOn

Model

HOG00006-KW

Weight

4 Ounces
Award Winning Product
Ultra Effective Massage Nodules
Different Sizes Available For Better Fit
Flexible Materials
Petmate Furbuster Dog Grooming Glove
See More Reviews

See More Reviews



If you are looking for the best dog grooming gloves on a budget then these gloves may be the perfect fit for you. Offering great value for money, this mitt promises to fit comfortably around your hand and has an adjustable wrist strap that fits most hand sizes and keeps it secure. The dog brush glove has been designed with a special mesh fabric that allows water to flow through. The fabric is fast-drying too, so perfect for use any time of year. The rubber side of the mitt features different sized massage nodules that gently massage and clean your dog, cat or horse. These mitts have a reverse side too which picks up the shedded hair for removal. This product works better than a standard comb as it not only allows you to remove hair, it gives your pet a nice massage too and you will get to experience a nice bonding session as you pet them.
Key Features:
One Size Fits Most
Double Sided Grooming Mitt
Wet Or Dry Use
Specification:
Brand

Petmate

Model

89801

Weight

3.5 Ounces
Fast Drying
Cost Effective
One Size Fits Most
Dual Use
True Touch Grooming Glove For Dogs
See More Reviews

The true touch glove has an excellent reputation for being one of the best dog grooming gloves on the market. The special design mimics the human touch so your pet can enjoy a gentle massage whilst you remove excess shedded hair. The glove features over 180 soft silicone massage tips that promise to reach deep down to loosen dirt, debris and hair. This grooming glove provides a five fingered design that gives you lots of flexibility when reaching areas such as tails, backs of legs, around the face and under their chest. It's simple to remove the hair too as it simply just peels off. Using a pet hair glove can vastly improve their coat by distributing healthy oils across the fur and skin. The benefits of using a grooming glove such as this are endless: a healthy pet, less hair on your furniture and around your house, no more hairballs and nice bonding time with your four legged friend. The true touch glove is perfect for all different sizes and breeds.
Key Features:
1 x Right-Handed Glove Included
Original Design
Wet Or Dry Use
Lint Roller Included
One Size Fits Most
Specification:
Brand

True Touch

Model

TU011124

Weight

2.88 Ounces
Good Reputation
Five Fingered Design
One Size Fits Most
Breathable Mesh Fabric
Only For Right Handed People
One Glove Included
SSRIVER Dog Grooming Glove
See More Reviews

With this dog grooming set you get a pair of grooming gloves for the left and right hands. Double handed grooming is faster and more effective than single handed grooming and your dog or cat will get a double massage effect when you are using two gloves. These gloves feature an enhanced five fingered design that will allow you to easily reach those tricky places such as the tail, under the chest and face. With five fingers it's significantly easier to get to those contours, keeping your hands and fingernails super clean too. These gloves provide a gentle massaging effect that picks up loose hair, dirt and debris easily, ready to be peeled off and trashed. One size fits most hands and there is an adjustable velcro strap so you can fasten them securely to your hands. The fabric of the glove is soft and flexible, allowing water or air to flow through the mesh design for ventilation. These pet grooming gloves can be used wet or dry.
Key Features:
1 x Pair Dog Grooming Gloves
Gentle Massaging Effect
Wet Or Dry Use
One Size Fits Most
Specification:
Brand

SSRIVER

Model

SC13

Weight

3.2 Ounces
Double Massage Effect
Five Fingered Design
One Size Fits Most
Ventilated Mesh Fabric
Quite Large For Some Cats
DrillTop Dog Grooming Gloves Set
See More Reviews

We always like to include an alternative product on our list that offers something slightly different than the rest. These dog grooming gloves are different in their design and what we really liked about these gloves was the pattern of the massage tips. Usually pet grooming gloves have quite shallow silicone nodules which are better for short hair, however these gloves are different. Featuring raised massage tips, the manufacturers claim that this greatly increases their functionality and allows you to use the palm of your hand and your fingertips to gently remove loose hair, dirt and debris. These gloves will give your cat or dog a gentle massage whilst grooming which they will absolutely love. Detangling fur won't be a difficult task anymore as your pets will enjoy their grooming sessions and not run away! The gloves have a very flexible design which means that they will work on many different types of animal such as: rabbits, cats, dogs, horses and even gerbils! You can use the gloves on wet or dry fur and they are particularly useful for massaging in soap when bathing your dog.
Key Features:
Unique Raised Massage Tips
Made From 100% Skin Friendly Materials
Adjustable Strap
One Size Fits Most
Specification:
Brand

DrillTop

Weight

3.5 Ounces
Flexible Five Fingered Design
Gentle Massaging Effect
Wet Or Dry Use
Quickly Removes Shedded Hair
Petteasey Dog Grooming Gloves
See More Reviews

These pet grooming gloves certainly mean business and provide the perfect solution to pet hair shedding. You can easily reduce the amount of hair on your clothes and furniture by regularly grooming your cat or dog with gloves such as these. These particular gloves feature small round nubs in the palm, which give your pet a gentle massage as your groom. On the fingertips you'll find raised silicone tips that act as a grooming brush to gently remove tangles, loose hair and any dirt that your dog has picked up from outside. Made from a breathable textile, these dog grooming gloves are perfect for wet or dry use and with the waterproof coating on the fingers will protect your hands from the dirt too. The gloves have been designed to fit most hand sizes and have an adjustable strap for an extra secure fit. These gloves can be used for small or large pets and come with a money back guarantee and replacement warranty too.
Key Features:
Dual Massage Tips
Adjustable Strap
Money Back Guarantee
Replacement Warranty
Specification:
Brand

Petteasey

Model

Pet Grooming Glove

Weight

4.2 Ounces
1 x Pair Grooming Gloves Provided
Skin-Friendly Materials
Unique Massage Nodules
Waterproof Coating
Pet Grooming Glove Hair Removal
See More Reviews

This pet deshedding glove features 300 soft silicone massage tips for the ultimate grooming experience. You get x 2 gloves in this grooming set and they make an excellent replacement for a curry comb or brush. In fact, the massage tips and flexible design of the material makes it easy to reach those tough spots such as legs, faces and other sensitive areas where a brush is just too harsh. This grooming brush has multiple functions and can be used to remove loose hair from your dog or cat or can be used to remove hair from your furniture, sofas and carpets. These gloves have a wide fit that should be suitable for most hand sizes. They have been manufactured from non-toxic silicone, with breathable mesh and adjustable strap. These gloves are super easy to wash too. Once all the hair has been removed (it usually just peels off easily) you can then just wash it with warm soapy water. The mesh fabric will ensure that it dries fast too.
Key Features:
300 Soft Silicone Massage Tips
Gentle
Non-Toxic Materials
Fits Most Hand Sizes
Specification:
Brand

Bikien

Weight

4 Ounces
Breathable Material
Scratch Resistant
Waterproof Coating
Soft Grooming Tips
Best Dog Grooming Gloves Buying Guide
You'll find quite a few different types of dog grooming gloves available to buy online and it can be difficult to know which products to choose. Below we have written a buying guide to help you decide which dog grooming gloves are the best for you.

What to Consider When Buying Dog Grooming Gloves
There are multiple factors to consider when buying dog grooming gloves and below we have listed what we feel are the most important:
It shouldn't come as a surprise to hear that the more expensive and well known dog grooming brands offer the best quality. Often the more famous brands will also provide you with a money back guarantee or warranty so if anything happens to your gloves or you are not happy with your purchase for any reason, you can get your money back or a free replacement. Look out for gloves that are made from high-quality non-toxic material with thick stitching and breathable mesh material. The better quality the fabric, the more use you will get out of the gloves.
You will find that the grooming mitts that you can buy are generally larger than the gloves and cover a larger surface area. These are good for larger animals such as large dogs and horses but not so great for small dogs or cats. The five fingered designs offer more flexibility and generally fit most hand sizes. Take a look at the sizing information before you buy and ensure that you don't buy a mitt too large for your pet.
The raised massage tips on dog grooming gloves should be made from soft, non-toxic silicone. Five fingered designs often feature smaller massage tips in the centre of the glove and larger raised tips on the fingers. Raised tips are generally better for longer hair and detangling fur. Whereas smaller tips are good for short haired cats and small dogs.
Dog grooming gloves don't vary massively in price but you will find that the more well known brands are more expensive. Don't buy cheap if you want good quality.
If you are buying a single dog grooming glove with a five fingered design then check if the glove is left or right handed. You will find that most are actually right handed, so for left handed groomers it might be better to buy a pair of gloves which will include a left handed glove.
Benefits of Using Dog Grooming Gloves
If you haven't used a grooming glove before then you might be surprised to hear that the benefits are endless! Here are just a few benefits to using a pet grooming glove
If you have a cat or dog in your house you will know how annoying it is to find hair absolutely everywhere! On your furniture and on your clothes, hair gets everywhere during shedding season. It's not nice for your pet either as it makes them itchy and irritated as they try to get rid of their old dead hair. Using a grooming glove regularly means that you can easily remove excess hair and it won't hurt or cause harm to your pets. They will love the effect of being petted whilst at the same time being massaged with the gentle massage tips.
Bath time has never been easier! Using a pet grooming glove will allow you to get to those hard to reach places and get a nice foam on the special shampoo that you use.
Although there are a few exceptions, most animals absolutely love the feeling of the soft silicone massage tips gently massaging their coat and face. Use the glove to give your favorite animal a helpful massage.
When you groom an animal with a grooming glove you not only remove shed hair, dirt and debris from their fur but you also distribute healthy oils across their coat, resulting in a much healthier, shinier coat.
Using a grooming glove regularly will help the removal of flea and flea eggs and will help you to identify if your pet has in fact got fleas. It is not a replacement for a flea treatment, but will definitely help.
Massaging your dog or cat regularly with a grooming mitt will help you and your animal form a strong bond. For us this is one of the main reasons we love grooming gloves.
Grooming gloves will keep your hands protected and clean at all times.
Keep those nasty hairballs at bay and use a grooming glove. If you use it regularly enough, there won't be much fur for your animal to accidentally ingest.
You can use grooming gloves on most pieces of furniture to remove hair. There's nothing more annoying than hairy sofas and carpets, the gloves can simply wipe this away with the silicone tips.

Dog Grooming Gloves Vs. Dog Brushes
A dog grooming brush is not a replacement for a grooming glove or vice versa. As a dog or cat owner, it's always advisable to own both as generally speaking the brushes can be better for removing tough tangles and fleas. The gloves can be more enjoyable for cats and dogs who are scared of hard brushes. They enjoy the feeling or being petted and massaged whilst you remove their shedded hair. Gloves are better for hard to reach places too such as faces and under the chest and they can help build a better bond between animal and pet owner.
Our Top Pick
Our favorite product from the list was the DELOMO Pet Grooming Glove which can be used for cats or dogs. You get a pair of gloves for under $13, offering 255 silicone grooming tips on each glove that give your pet a gentle massage when in use and allow you to gently brush away dirt and loose fur that could otherwise cause irritation.
Sources:
10 best dog grooming products - Independent
Related Reads
Related Reads