The Best Dog Shampoos in 2022
Last Updated: January 4, 2022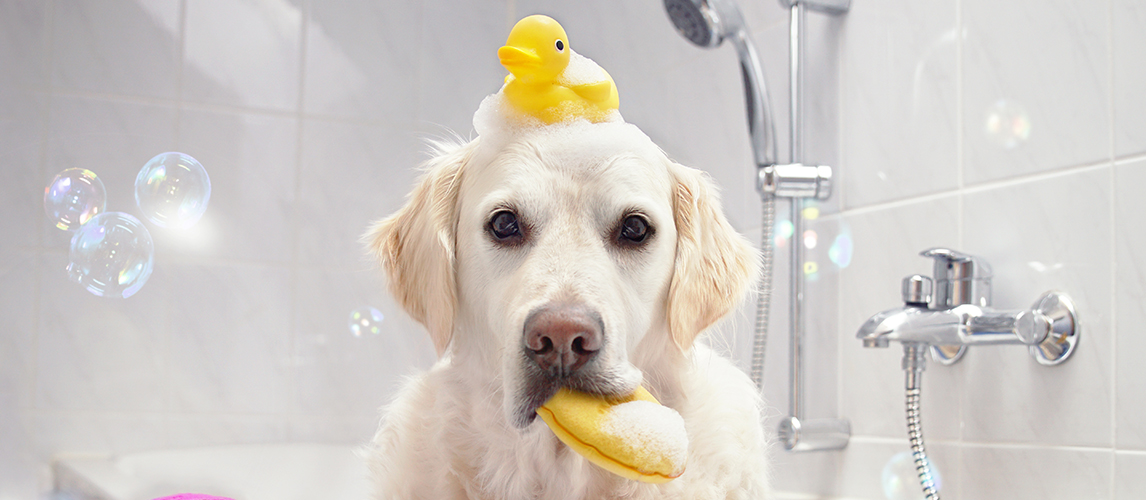 PetSide may earn a small commission from affiliate links in this article.
Learn more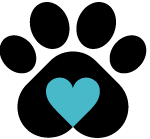 By Petside
Published 10:42 am
Dogs are mucky pups and even if you groom them on a daily basis, that regular dog time bath is a must. A good bath will remove deep-down dirt and grime, tackle pervasive doggy odors and help to manage fleas and ticks as well as any skin conditions or sensitivities. But simply using the nearest human shampoo will not do, as they are too harsh for your pooch. Getting the right shampoo specifically formulated for dogs is the only way to go.
A good dog shampoo will clean without stripping the essential oils from their coat and skin. We've picked out 10 of the best dog shampoos so you can make a clean start when it comes to your pet's bath time routine.
The Best Dog Shampoo
Best Dog Shampoo Buying Guide & FAQ
Why You Should Buy a Shampoo For Your Dog
As much as we love them, dogs are mucky pups and will always find a way to get dirty. Keeping them clean is an essential part of their grooming routine but it's important not to over-bath them or use harsh cleansers that can irritate their skin. The key to a fresh-smelling pooch is to use a dog shampoo that's perfectly formulated to get them clean. Human shampoos are too harsh for pets and can contain ingredients that may actually be harmful to your dog. Buying a dog shampoo will not only keep their skin and coat healthy, it can also target conditions that are specific to dogs. From getting rid of parasites and fleas, to soothing sensitive skin, allergies and doggy dandruff, a dog shampoo is an essential for your dog care kit.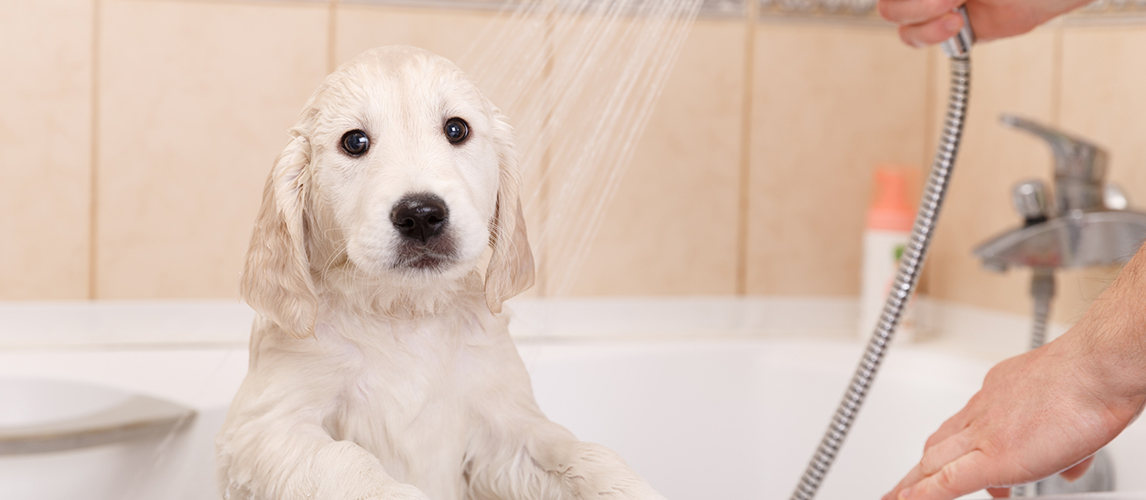 Things to Look For in a Dog Shampoo
Before you decide on your new dog shampoo, there are some essentials to consider:
Your dog's age – always check that the dog shampoo is age appropriate for your pooch. For example, puppies are going to need a very gentle formulation that won't irritate their baby skin, while older and senior dogs may need extra moisturization to tackle dry and tougher spots.
Their skin and coat – just as the shampoo needs to be age-appropriate, it also needs to be the right formulation for your particular pet's skin and coat. Long-haired breeds will need a more conditioning shampoo to help to reduce any tangles in their fur, while shorter haired breeds prone to shedding could benefit from a formula to reduce excessive fur loss.
Ingredients – go for as all-natural ingredients as possible in your new dog shampoo as artificial ingredients and fragrances, alcohol and petroleum by-products can be too harsh and irritate their skin. Check the label for pet-safe and non-toxic natural oils, herbs, vitamins and plant essences and go for organic if you can.
Specific issues – consider any specific issues your dog may have as many dog shampoos are formulated to help tackle a host of skin and coat health problems, such as:
Hypoallergenic – made for pets with sensitive skin, a hypoallergenic shampoo uses mild cleansers and moisturizers to avoid skin irritation.
Dry and itchy skin – oatmeal and aloe Vera formulations work well to soothe, calm and help heal and moisturize dry and problematic skin.
Medicated – formulated for specific skin conditions such as dandruff and dermatitis. Take a look at our review of medicated dog shampoos for more info.
Deodorizing – designed to help reduce that distinct doggy smell if your pooch is pretty stinky.
Flea and tick – for helping to tackle and protect your dog against flea and tick infestations. Find out more about flea shampoo for dogs here.
Check out our guide on Dry Shampoos For Dogs for more info.
Ingredients to Avoid in Pet Shampoos
There are some ingredients to look out for which are too harsh or potentially toxic for your dog:
Artificial fragrances and colors - these may add a lovely smell or color to the product, but they can actually cause irritation and even an allergic reaction in your dog. Opt for no-dye shampoos that use natural products such as lavender or lemon to keep your pooch smelling fresh.
Mineral oils - any mineral or petroleum-based oils should be avoided as they are too thick for your dog's coat and skin and can even prevent your dog from eliminating toxins from their own skin.
Preservatives - preservatives may extend the shelf-life but should be avoided in your dog shampoo as the negatives outweigh the positives in terms of your pooch's health. One well known preservative is formaldehyde which is often listed under a host of other names. You should also be aware of parabens such as methylparaben, propylparaben and butylparaben.
Sulfates - these are often responsible for increasing the 'bubble factor' in soaps and shampoos but your pet doesn't need a super-foamy shampoo, they need a shampoo that is going to safely get them clean.
Alcohol - alcohol can sometimes be used in both human and canine shampoos to smooth down the hair shaft for a sleek, glossy look. However, it can easily absorb into and then dry out your doggo's skin.
You may also like our article on Dog Bathtubs.
Our Top Pick
Gentle enough to be used as a general dog cleanser, Pro Pet Works Oatmeal Pet Shampoo Plus Conditioner is a great value multi-talker. Formulated for dry, itchy or sensitive skin, a little of this soap-free dog cleanser goes a long way and is easy to rinse, leaving your pooch's coat moisturised and their skin calm and happier. PH-balanced, there are no hidden nasties and can be used on all skin types, leaving a lovely fresh smell. Once to have in your dog grooming bag for quick and easy stinky dog cleaning!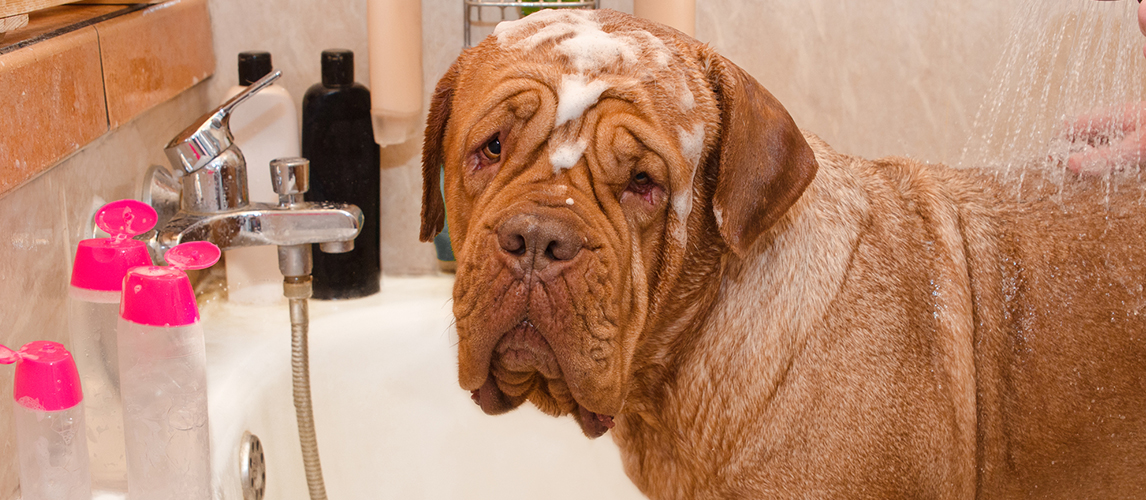 FAQ
Q:

Are dog shampoos safe and what happens if it goes in my pet's eyes?

A:

If the bottle says formulated for dogs, then you know it's safe for your pet. Dog shampoos only use ingredients that are non-toxic and pet-safe and as dog shampoo is milder, it is also designed to be gentle on the skin, with a lower foaming level than human shampoo. This means that it shouldn't irritate if it accidentally gets into your dog's eyes. If a small amount of shampoo does go into your pooch's eyes, gently rinse with warm water and wipe dry.
Q:

Can I use baby or human shampoo on my dog?

A:

While baby shampoos have a mild formula, they are created to suit human PH levels, not dogs and so are not ideal to use on your pet. And adult human shampoos are a definite no-go as they are too harsh and may have ingredients that could be harmful for your dog. Always use a shampoo that has been specifically formulated for dogs.
Q:

Do I need to treat my dog's fur with a conditioner?

A:

Not all dogs need a conditioner as they have natural oils in their fur to lubricate their coat. But if your dog has a long coat or particularly dry skin, then a conditioner can help. Conditioning your dog's fur reduces tangles and can put a lovely gloss on their coat so if you think your dog deserves a treat then a conditioner is a good way to go. However, only ever use a gentle conditioner that's formulated for canines, and don't use your own. Many dog shampoos have a 2-in-1 formula that's includes a conditioner, meaning your pooch doesn't have to spend any longer in the bath than he needs to! For a wider selection of choices, check out our dog conditioner guide.
Q:

What can I use instead of dog shampoo?

A:

While you should always use a cleanser specifically formulated for pooches, there's no harm in occasionally using an alternative if the dog shampoo has run out. Home detergents and human shampoos can really dry out your pooch's skin and should be avoided however you may have suitable ingredients for a make-do shampoo around the house. A solid olive, coconut or vegetable oil-based soap is a safe alternative, ideally unscented, as it won't irritate your dog's skin. Alternatively, make your own doggy shampoo using baking soda (which is nice and alkaline) and water, or a mild baby shampoo mixed with water and a little white wine vinegar to cut through the doggy dirt.
Q:

Some dogs smell worse after having a bath with shampoo. Is there a need to change the prescribed shampoo?

A:

All dogs have that special 'dog smell' which is their natural odor. However, that stinky-ness can ramp up for a host of reasons, and it's not just to do with how dirty they are. Infections, certain skin conditions, excess oil and blocked anal sacs can smell even if your dog is clean and bathed. So, if you think your dog's current shampoo is not working or you suspect there is an underlying reason for that smell, have a chat with your vet so he can advise if you need to change.