The Best Dog Grooming Tables in 2022
Last Updated: January 4, 2022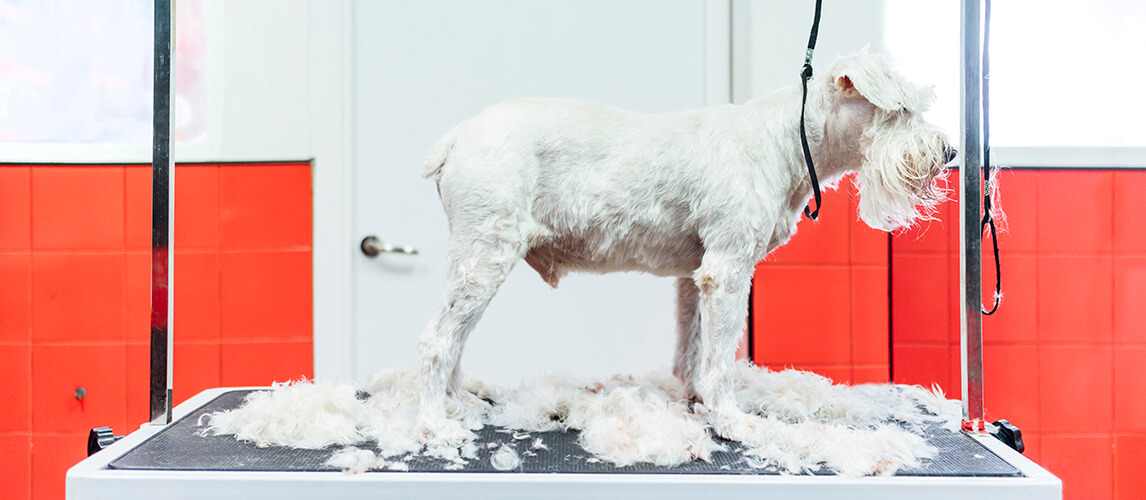 PetSide may earn a small commission from affiliate links in this article.
Learn more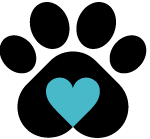 By Petside
Published 11:31 am
A dog grooming table is a useful piece of grooming equipment for both professional groomers and pet parents who like to take this task on themselves. By keeping your pooch stable and secured to one place, a grooming table saves time, hassle, and trouble for everyone involved. This is also an invaluable product for owners of particularly squirmy pets who cannot keep still while having their nails cut, being brushed, and otherwise groomed.
But before you invest in a piece of equipment such as this, it is worth knowing more about some of the best products out there, as well as their key features. That's why we tried and reviewed some of the best dog grooming tables on the market, detailing our favorites below. To further help you make an informed purchasing decision, we also put together a detailed buying guide. And if after reading it all you still have more questions? Our FAQ section contains everything you need to know!
The Best Dog Grooming Table
Best Dog Grooming Table Buying Guide
With so many pet grooming tables available on the market, picking out the best one for your pup may be challenging. To help you make the right purchasing decision, we've put together this comprehensive buying guide, where we cover the individual qualities that make a great dog grooming table. We've also provided some advice on how to deal with difficult dogs on the table and answered some of the frequently asked questions about pet grooming at home, so read on!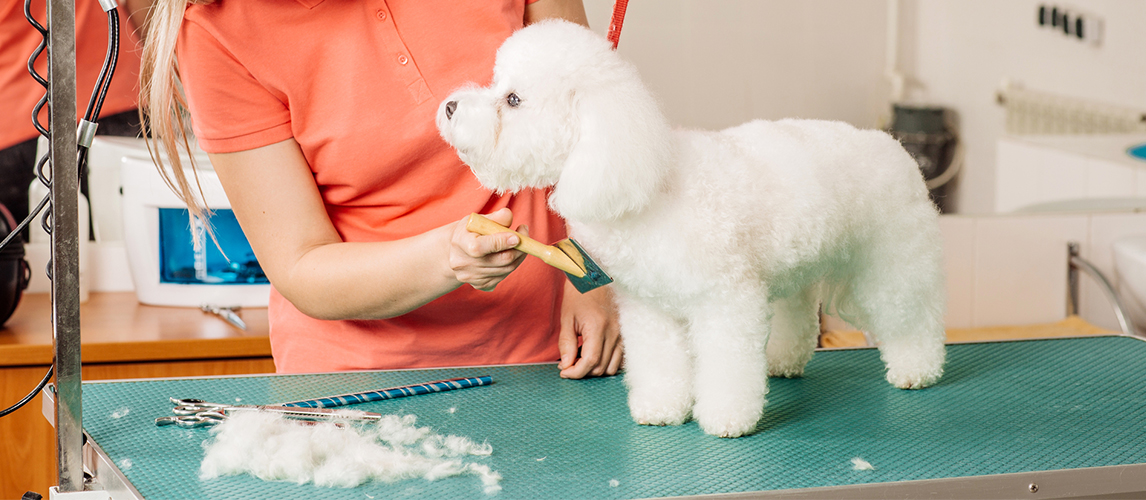 Qualities of Good Dog Grooming Table
Dog grooming tables aren't only made for the professionals; there are plenty of pet parents who can benefit from investing in one of their own. There are many qualities that make a good grooming table, but some of the most important features that you should be looking out for include:
Perhaps more important than anything else is making sure that you select the right size of a grooming table. Measurements are usually given in inches and indicate the length of the longest side of the table. If you are given the choice of too big or too small, it is always better to go with the former. Otherwise, your dog won't fit on the table comfortably and there is more of a chance that they are going to slip off and hurt themselves.
Another highly important consideration when choosing a dog grooming table should be its weight limit. Bigger tables, being that they're made for large dogs, typically have a higher weight limit, whereas smaller tables have a lower. However, don't rely on the size of the table alone - it's best to weigh your dog and compare the numbers to the weight limit of the model you're considering.
Stability is an important feature – particularly if you have a dog who hates getting groomed or wet and is likely to struggle around somewhat. Look for grooming tables with big, thick legs and non-skid bases. Also, check the material on the surface of the table to see whether it is non-slip.
Professional or Personal Use
If you are a professional dog groomer, you will probably be looking for a different kind of table than if you are an occasional at-home groomer. In your house, you are unlikely to have a huge amount of space, so it is preferable that you choose a table that is lightweight and collapsible so you can store it easily. However, if you are a salon groomer, you will probably want to be able to accommodate larger dogs. Otherwise, you will put serious restrictions on your clientele. You may even want to consider an electric or hydraulic grooming table in this case.
Are there any features that make the table adjustable? In terms of height adjustability, it is usually the hydraulic and electric models that have this feature. As for the grooming arm, it should definitely be height adjustable regardless of the type of the table to suit the size of your pooch. An adjustable grooming arm also allows your dog to shift into sitting, standing, and lying positions, making the entire grooming process more comfortable. Some tables also rotate, so you can easily groom your pup at a range of different angles.
A lot of the features which we have already discussed contribute towards safety. For example, making sure that you choose a table that is the appropriate size and weight for your dog goes a long way towards keeping your pet stable and safe during their grooming sessions. The materials are also important in ensuring that the table is tough and durable. We suggest looking at models made from metal or aluminum alloy as they tend to be the strongest and most long-lasting. You could also look out for features like rounded corners if you're a beginner as they can help prevent your dog from getting poked while being groomed.
When you grooming your dog, things are bound to get a little messy, so choose a table that is easy to clean. Thankfully, the majority of tables available feature a waterproof rubber surface, which makes it easy to wipe down after every single use. It's also a good idea to look for a static-free board to ensure that it does not collect hair and dirt so easily.
Your budget is bound to play a role in your decision-making. If you have a limited amount to spend, it is likely that a folding grooming table is your most viable option. If you have more cash to spare, a hydraulic table may be within your reach. And if you have a few hundred dollars more, you will be able to get your hands on a professional-standard electric table.
While the brand isn't always everything, it often does give you a clearer indication of quality. Check the company website for their credentials, their years of service, and how long they have been in business. This will also give you a good opportunity to check the customer reviews to see what other people are saying about the brand. Often, you can use these as a way of getting the information that you wouldn't otherwise have access to.
Read here our reviews of Dog Grooming Clippers, Dog Thinning Shears and Dog Shedding Brush.
How to Deal with Difficult Dogs on the Table
Some dogs are harder to groom than others, and this is usually due to feelings of anxiety; some struggle to relax, whereas others can't stand the process at all. From your dog's point of view, they are suddenly confronted by a completely alien set of tools, some of which make loud noises. This is why it is important to familiarize your pup with all of the equipment that you are planning on using beforehand.
First off, you should try to choose a time when your pet is feeling at their most calm, such as after a nice meal or following a long exercise session. Make sure to offer plenty of praise and encouragement during this entire process. Attach the restraining loop to their collar to keep them in place. The quick-release should stop them from getting hurt if they try to jump off. However, most dogs tend to remain still if you have secured their collar.
When you are first trying to get your dog to stay in place, you can use treats as an incentive. If you have someone else to feed your dog the treats, this will make things way easier as you can concentrate on the grooming. To start off with, you may have to offer the treats on quite a regular basis – as often as every 30 seconds. You can then start working your way up to several minute intervals. Start by brushing your dog's coat, before moving onto the more difficult areas of their face, ears, paws, and tail.
Take a look at our guide on the Best Dog Treats.
One of the more challenging tools to use is the clippers and it may take some time before your canine companion is fully used to the noise. If you use shears, hold them up, so your dog can see and inspect them before use. Over time, your dog will hopefully relax and get used to the process. Ideally, they will even start to enjoy it!
If you are still having a lot of trouble, you may have to consult with your vet about sedation aids. They will advise what to use, how much to administer, as well as answering any questions. You should try your dog out on a dose beforehand to see how long it takes to work and the length of time it remains effective. This will help in your future grooming sessions, as you will know exactly when to administer it for maximum effectiveness. If you are going to groom them on the table, it needs to be large enough for them not to fall, as they will not have maximum alertness. Bear in mind how long the sedative is likely to last. The main aim is that your dog will become so used to the process that the sedative will no longer be a necessary part of it.
Check out our articles on Dog Grooming Gloves and Dog Nail Clippers.
Our Top Pick
While all grooming tables and equipment that ended up on our Top List are excellent choices, our top pick has got to be the Go Pet Club. This model features especially sturdy legs with rubber-capped feet for stability that can be folded away when you need to transport the table or store it in a small space. As for the grooming arm, it adjusts to up to 40" in height, making it perfect for most dog breeds. All the materials are rust-proof to make it more likely that they are going to stand the test of time, and the surface is non-slip, waterproof, and static-free. All in all, a fantastic dog grooming table!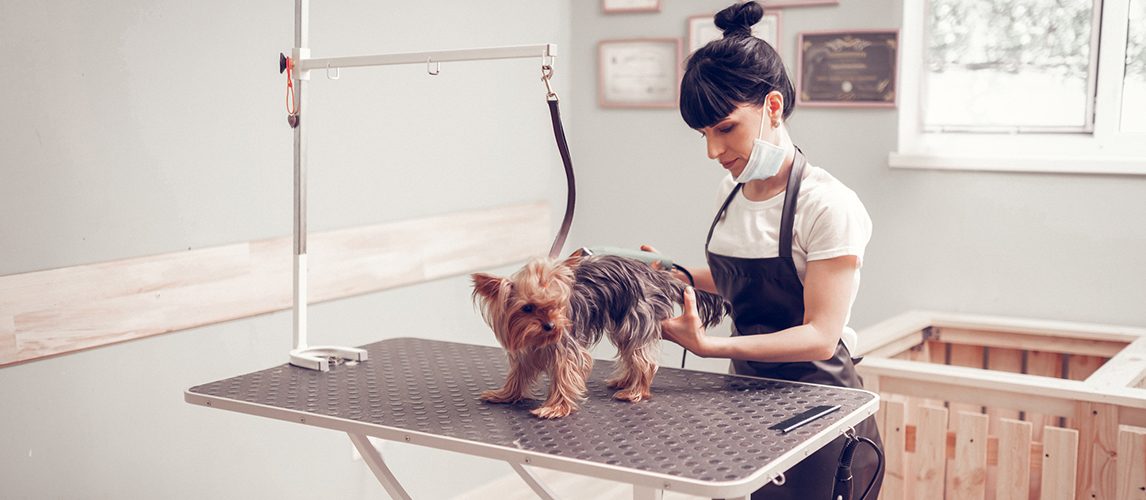 FAQ
Q:

Why Groom a Dog at Home?

A:

There are plenty of direct benefits involved in grooming your dog at home. The first and most obvious is that professional grooming can get very expensive and with a personal grooming table you can save yourself a significant chunk of money. Of course, learning to groom your dog properly at home is an activity that takes patience, so don't expect to be an expert straight away! Also, as we have already discussed, some dogs are more naturally resistant to this activity than others. But if you start at a young age, it gets them used to the activity and makes your life so much easier in the future.

Grooming your dog removes dirt, dandruff, and dead hair, as well as bringing out the natural oils in their coat. Regular brushing reduces shedding, which helps to keep your home free of so much dog hair – a relief for any pooch owner! Also, during the grooming process, you have the opportunity to inspect your dog for any abnormalities which may suggest that they are not in prime health. Often, when you catch these things early, they are easier to treat. Finally, grooming your dog yourself is another way to improve the bond between the two of you. While it may not be all that enjoyable at first, over time, it will hopefully become an activity that you both learn to love.
Q:

Why Get a Dog Grooming Table for Your Home?

A:

While dog grooming tables are an absolute necessity for professionals, they are a useful addition to any household with a dog. Even if you don't do the entire grooming process yourself, it is nice to have a dedicated place where you can give your pooch a little brush or trim. It is especially useful if you have a long-haired breed who needs regular professional grooming work. Dog grooming tables save you from having to groom your dog on the floor or one of your furniture items. This means you don't have to bend down all the time, and you don't have to worry about damage to your expensive wooden flooring or furniture.

Another advantage is that dog grooming tables come with built-in devices to keep your dog still and stable during grooming. Some of them are adjustable, so you can easily get your dog into the position you would like without forcing them. Also, they are generally easy to clean when you have finished the job. Finally, they provide an indication to your dog that grooming is about to take place, rather than it being an activity which comes entirely out of the blue.
Q:

Electric or Hydraulic Grooming Table?

A:

If you want a more advanced grooming table than the standard manual products, electric or hydraulic are your two main choices. The question of which one to choose depends on your individual priorities and preferences. Electric tables tend to be easier to adjust – pressing a button rather than using a foot pump. On the other hand, hydraulic tables don't require any electricity. This means that you don't need to connect them up to a power outlet or run a cable up to them. Also, electric tables tend to be the more expensive option of the two, so they are best-suited to professionals or people who take their dog grooming very seriously indeed!