The Best Dog Thinning Shears in 2022
Last Updated: January 4, 2022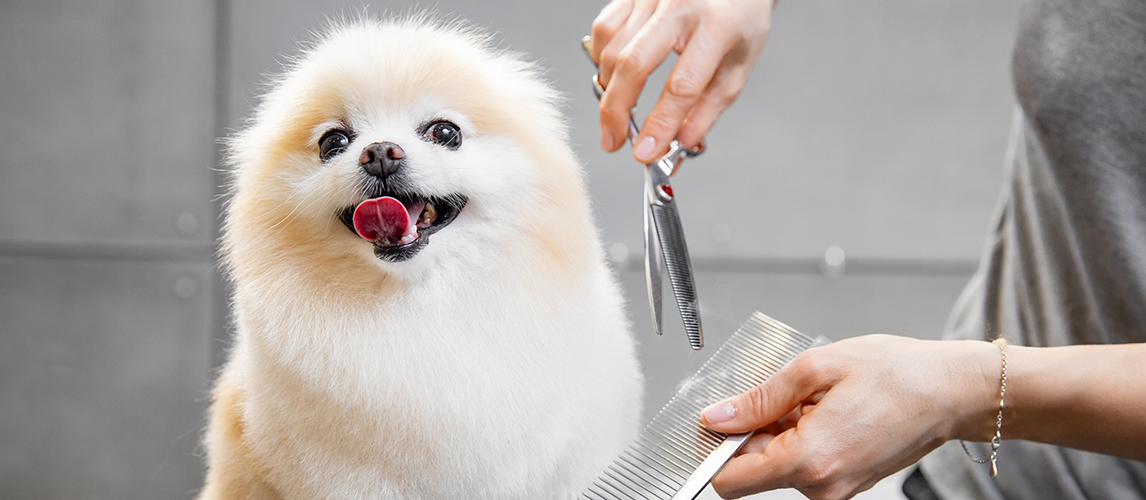 PetSide may earn a small commission from affiliate links in this article.
Learn more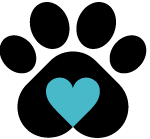 By Petside
Published 09:24 am
Bathing, brushing and grooming your pup is a sure way to keep them clean, healthy and great-looking. And while some pet parents choose to pay professional groomers, others happily do this task themselves. Whether you're tight on a budget or you simply don't want to stress your dog out by letting another person groom them, you can take matters into your hands by becoming adept at using thinning shears.
The only problem? A sheer number of products available on the pet market, making the selection process quite confusing for an average dog owner. Don't worry though as we're here to guide you by the hand, bypassing all average shears to discover the first-class thinning shears suitable for you and your pooch!
The Best Dog Thinning Shears
Best Dog Thinning Shears Buying Guide & FAQ
What to Consider Before Buying Dog Thinning Shears
Just like any other purchase, it's important to take some reflection time before purchasing a pair of brand-new dog thinning shears. Accordingly, it's imperative that, within this thinking period, you consider the thought-provoking questions detailed below before making a final decision.
What kind of material are the shears made from?: The quality of material is what sets apart a pair of lousy scissors from a superior model. Steel as a variation of metal – put differently, an alloy made from metal – is much stronger than pure metals like iron. This is on account of the excess of carbon in iron making it weaker than alloy steel. Therefore, opting for scissors made from high-grade stainless steel rather than traditional icon scissors is the way to go.
On a similar note, you may not think much about the difference between shiny-surfaced shears and satin-finished shears. However, their distinction is actually very important. Shiny-surfaced scissors resist corrosion far better than their satin-finished counterparts.
Do you have larger fingers?: For those proudly boasting larger-than-average fingers, brands who sell dog thinning shears have paid attention to your concerns. The majority of scissors now flaunt removable finger rings to ensure everyone can be comfortable while grooming.
Are you left-handed?: Finally, scissors have started catering towards the needs of left-handed people as well as right-handed people. If you don't find out if a pair of scissors are inclusive for both hand sizes after reading about them, chances are they're not – this is a major design perk that brands love to flaunt. If you still live in hope, contact the company to find out the answer.
Related Post: Dog Shedding Brush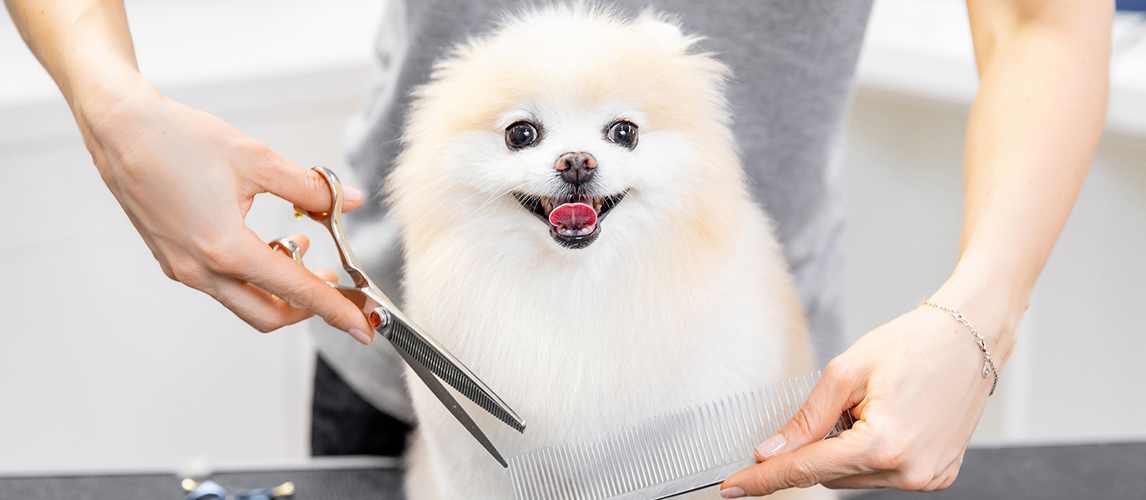 Types of Dog Grooming Shears
Excluding thinning scissors – as we're sure you've heard enough about them already – here are other types of common dog grooming shears:
Straight Scissors: This type of scissors should only be used if you're a professional groomer trying to achieve a straight finish or for grooming a dog with a double coat. We don't recommend using straight scissors for novice groomers; it takes skill to achieve a smooth finish with these shears!
Curved Scissors: Traditionally used to achieve a "rounded" finish, curved scissors are recommended for novice groomers for "scissoring" the top of a coat.
Related Post: Dog Grooming Clippers
Benefits of Thinning Shears for Dogs
The amount of money you'll save over time is colossal: On average, dogs require grooming every four to six weeks to keep their hair in prime condition. Next, let's consider the price of an average groomer – $50 to be exact. Even if you purchase a pair of our most expensive scissors reviewed in this buying guide – that's our premium pick, Sharf Gold Touch Pet Shears, priced at $70 – that's still a whopping $330 dollars saved on grooming expenses, even if you only took your dog to the groomers every six weeks.
Bonding time with your pet: Let's face it; the average adult's life never lets up. Therefore, taking the time to groom your pet is a moment of serenity in both your days when you can show your pet how much you love them through treats and cuddles!
Related Post: Dog Grooming Gloves
Our Top Pick
Pet Magasin's Thinning Shears effortlessly slides into first place as our top pick. Boasting twenty-eight serrated comb blades, an ergonomic handle, and being constructed from stainless steel, these features only represent a select few of what these thinning shears have to offer! Get your pair now before they're all gone.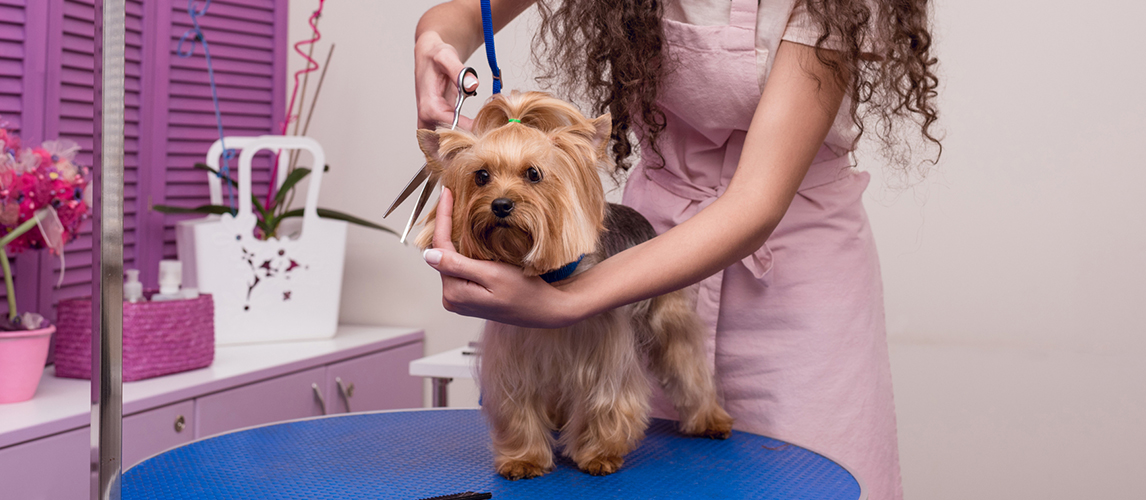 FAQ
Q:

What do thinning shears do?

A:

Thinning shears are uniquely designed to get rid of a small amount of fur. They are used to brush and thin out the hair of canines with heavy coats so air can reach their skin.
Q:

How do I use thinning shears on my dog?

A:

First, pick your trimming spot. You can use a table for puppies. For larger canines, the floor is the best place. Put all your tools close to you so you can quickly get them when required. Then, gently comb your dog's hair to take out any tangles or mats. After, use the shears on your dog's coat. The handle end of the clipper must be close to the canine's body while the tip of the shear must be angled away. Next, slowly cut the dog hair, beginning with his paws. During the shaving process, check to see if the hair is even.

Read here our review of the grooming table for dogs.
Q:

How should I care for dog shears?

A:

Clean your shears rigorously after every trim. Remove every fur and hair which may be stuck in between the combs and around the clippers. If you spray your clippers before use, wipe them off. Also, dry the shaving tool after cleaning. Furthermore, you can use shear lube to clean the screws, and doing this will prevent it from rusting. Lastly, remember to store in a cool and dry environment.