The Best Dog Shedding Brush in 2022
Last Updated: January 4, 2022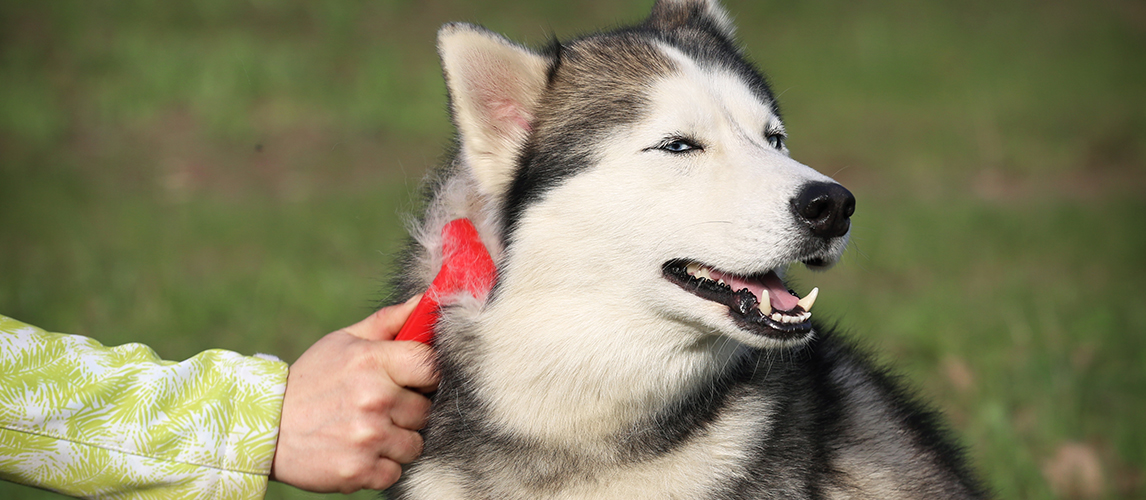 PetSide may earn a small commission from affiliate links in this article.
Learn more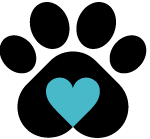 By Petside
Published 12:31 pm
All dogs benefit from regular grooming as this keeps their coat healthy and clean. But with so many breeds out there, not all dogs' coats are the same and they will all shed their fur at different rates – and amounts. And for double-coated pooches, excessive shedders or pets that undergo a seasonal 'blow' where they seem to shed their coat all in one go, sometimes a straightforward dog brush is not enough. Which is where the dog shedding brush comes into its own.
Designed to get deeper into the fur to reach the dog's undercoat where all those loose hairs, as well as trapped grime and dirt can lurk, deshedding tools will neatly give your dog's shedding coat a helping hand. And by removing the fur as it sheds, it can help their human too, and stop their clothes, furniture or car looking like they've grown a fur coat on their own! So, if your dog is constantly leaving a fur trail around your home or you want to ensure they are getting a good, deep groom to reduce shedding without irritating their skin, a dog shedding brush should be on your shopping list. And to help, we've brushed up on some of the best dog shedding brushes you can buy.
The Best Dog Shedding Brush
Best Dog Shedding Brush Buying Guide & FAQ
Why Use a Dog Deshedder?
A regular grooming routine is the best way to keep your dog's coat and skin in tip-top condition and getting the right tools will give you the best results. Your dog will shed for a host of reasons, depending on their breed and coat type, including changes in temperature and even their diet. And if your pooch is prone to excessive shedding or has a coat which 'blows' every season, then a special de-shedding brush is a handy tool to have.
A coat blow is when your dog switches from their winter to summer coat by 'blowing' or shedding the old hair away. A deshedder can help to remove the old hair and hurry up the whole shedding process to leave them looking neat. Deshedders work by using metal bristles to reach your pet's undercoat and safely removing all the loose, dead hair as well as helping to gently stimulate their skin and coat.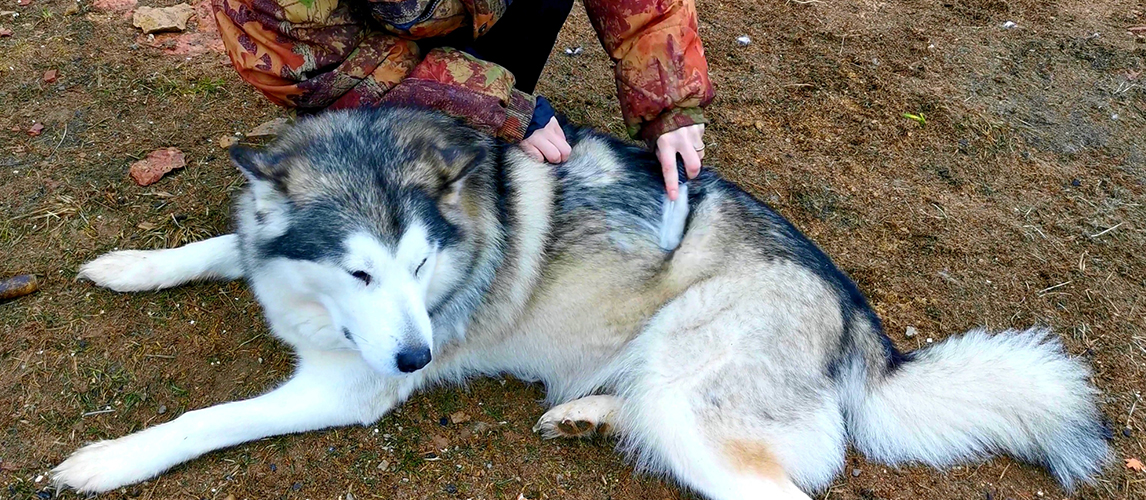 Things to Consider When Buying a Dog Brush For Shedding
Here are the key things to look for when buying a dog brush for shedding fur:
Your dog's coat type - the teeth on the brush or comb must to be suitable for your dog's breed and coat type. Too long or too short for their fur and they can pull or scrape the skin, or even not reach those inner loose hairs. Head over to our review of dematting comb for more options.
Material - the handle, body and teeth of the deshedder should be durable enough for regular use and made from materials that won't harm your dog's coat or skin. Look for hardwearing, chew-proof material for the body, such as pet-safe plastic, with a slip proof handle. The best materials for the teeth or bristles of the brush are stainless steel.
Design – while you want the deshedder tool to be durable, it also needs to have a lightweight and ergonomic handle so that it's comfortable for you to hold and use, without causing strain on your hand or wrist.
Size – the size of the deshedder needs to be appropriate to the size of your pooch and the type of fur they have, whether that's long or short. The brush head needs to be large enough to get through the fur but small enough to be able to use quickly and efficiently around the whole of your dog's body.
Ease of use - especially if you have wriggly or grooming-adverse pooch, your deshedding tool should be easy to hold and use. And once you have groomed your pet, you need a deshedder that's also easy to clean as you don't want to have any hair or dirt left on its bristles. Look for deshedder tools with easy clean teeth or bristles, including retractable teeth that leave the loose dirt and hair in your hand, ready for the trash can.
Dog Hair Brush vs Dog Shedding Brush
When it comes to a conventional dog hair brush and a deshedding brush, there are a few fundamental differences:
A dog hair brush is a basic grooming tool that works on the topcoat of your dog's fur. While it is good at sweeping off the loose surface hair and dirt and works well with very short-haired breeds, a dog brush cannot really get down into a dog s undercoat, especially if your pet is a long-haired breed or has a double coat.
A dog shedding brush can reach deeper into your dog's fur as you groom him, getting to those loose undercoat hairs and deeper grime, dead skin and dirt. The bristles can also give your dog s undercoat and skin a beneficial massage as you groom, helping to stimulate blood flow for healthier skin, reduce shedding and disperse the natural oils for glossy fur.
Our Top Pick
With its stainless steel teeth and ergonomic handle, the Furminator deshedding brush for dogs is the ideal tool for long-haired breeds. Designed for larger dogs, these tools have all the quality of the Furminator brand, and are tough on loose fur yet kind on your pooch's skin. Add in its ejector button for quick fur disposal and we think this is one of the best brush for dogs that shed you can buy.
Related Post: Dog Grooming Gloves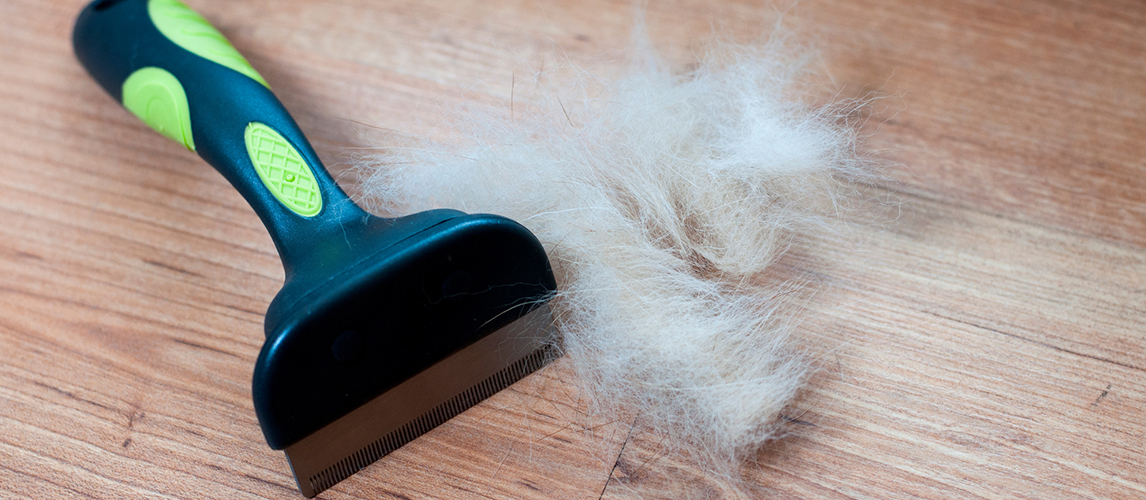 FAQ
Q:

Can I stop a dog from shedding?

A:

Shedding is perfectly normal and keeps your dog's coat healthy and appropriate to the time of year. But it can be managed by regular grooming using the right brushes that can also help to reduce shedding. However, if your dog is an excessive shedder, or he loses his coat out of season, it's worth taking him for a vet check-up. His diet, his living environment, stress and even underlying health conditions can cause excessive shedding, so you need to find the cause.
Q:

How often should I use a dog shedding brush?

A:

How often you use a dog shedding tool depends on how heavy your pet is shedding and also their fur and skin type. For dogs who shed regularly, it's important to brush them several times a week to keep their fur healthy, brushing daily during the heavy coat blow of the key shedding seasons. For light shedders, once or twice a week should be sufficient. And no matter how often you use a dog shedding brush, always go gently over their more sensitive areas, such as their ears and tail.
Q:

How do I take care of my dog deshedding tool?

A:

Your deshedder should withstand plenty of use but to extend the life of your deshedding tool and keep it safe and hygienic for your pet, it's essential to keep it clean. Always refer to your manufacturer's instructions on how to care for your deshedder but as a general guide, rinse the tool with warm water after every use to remove loose fur and allow to thoroughly dry before storing it away, ready for your dog's next grooming session.