The Best Dry Shampoos For Dogs in 2022
Last Updated: January 4, 2022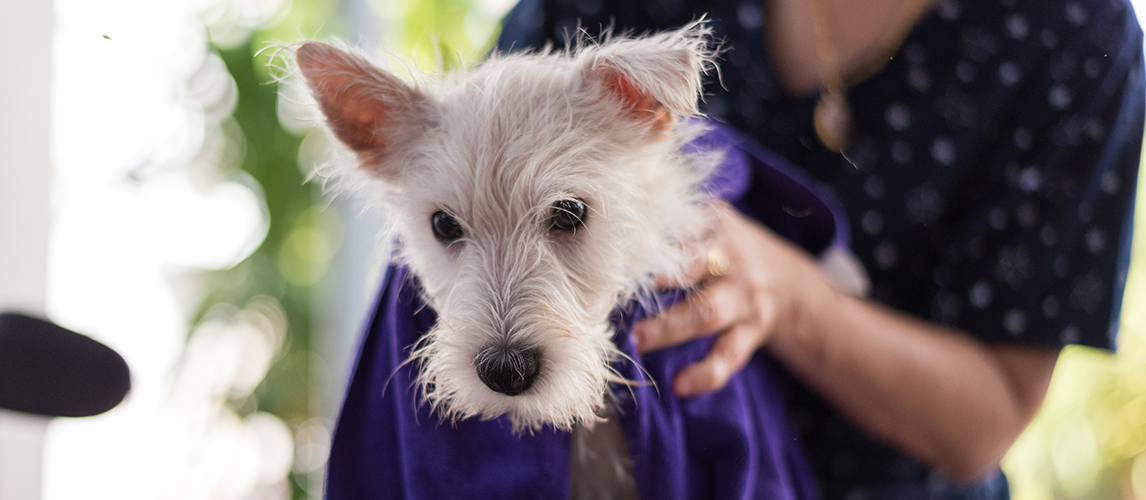 PetSide may earn a small commission from affiliate links in this article.
Learn more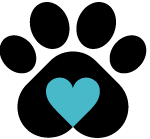 By Petside
Published 11:12 am
Despite your best efforts it's not always possible to have a clean and nice-smelling pooch. Yes, you have regular grooming and bath routines all set but what can you do in-between when your pup's coat whiff gets a little too much? One easy-to-use option is to cut out the water and go dry.
Dry dog shampoo is a neat way to nip the grime and smell in the bud when you need to clean your dog on the go. With a squirt of powder or mousse, waterless shampoo can absorb excess oil, dirt and odor to tide your pet over until it's time for their next bath. While dry shampoos are not meant to replace your pet's regular grooming routine, as a quick pick-up they can help to keep both your pet and you neat and happy.
We take a dip into the best dry shampoos for dogs so you can choose the perfect 'shake and go' waterless dog shampoo for your furry friend.
The Best Dry Shampoo For Dogs
Best Dry Shampoo For Dogs Buying Guide & FAQ
And there you have it, 10 fantastic dry shampoos for dogs that are guaranteed to transform your pupper from smelly and messy to clean and fresh. Still not sure which shampoo formula to get for your dog? No worries, as our buying guide is here to help. Here, we cover everything you need to know about waterless shampoos for pets, including how to find the right one for your pooch, how to use it and more.
What To Look For In The Waterless Dog Shampoo
Not all dry shampoo for dogs are the same, so you need to make sure the product you choose fits with your pet and your overall dog-owning lifestyle to make sure it is a happy and fresh experience for you both. Here are the key things you should look out for:
If you can, go for a dry dog shampoo in a spray bottle as keeping a fast-moving pooch clean is difficult enough! With a spray bottle you can make sure you can accurately cover more of your dog's body with less effort…or mess.
It's important to get the right waterless dog shampoo product for your pet, especially if they have any allergies or skin conditions. Check the package to see what it's best suited for and if in any doubt, go for a product that is suitable for sensitive canine skin or clearly states it is suitable for all skin types. A mild formula is also the best product to opt for if you are going to be using your dry dog shampoo on a regular basis as anything harsher can strip your dog's coat of natural oils and dry their skin out.
Take a look at our review of Medicated Dog Shampoos for more options.
Make your dry bath for dogs work harder by opting for a product that also contains skin-nourishing properties. Make sure you go for natural conditioners such as coconut or aloe vera so you don't actually irritate the skin. Find out more about dog conditioners and coconut oil for dogs here.
Your pet's skin has a specific PH level and this needs to be kept balanced. Choose a waterless dog shampoo that has been formulated to keep this PH level exactly where it needs to be (between 5.5 to 7.5).
While dry dog shampoo is not meant to be a replacement for a regular bath for your mucky dog, it can be used as a freshen up if your pooch is smelling particularly 'ripe'. Look for a dry shampoo product that can also work on those odor-causing bacteria so you can keep your pup fresh for longer between their regular full grooming sessions. For more options head over to our guide on pet odor neutralizers.
Make sure your waterless dog shampoo won't interfere with your pet's regular topical flea treatments. Check the label to ensure it won't dilute any topical treatment's effectiveness.
You may also like our articles on the Best Flea Treatment for Dogs and Best Flea Spray.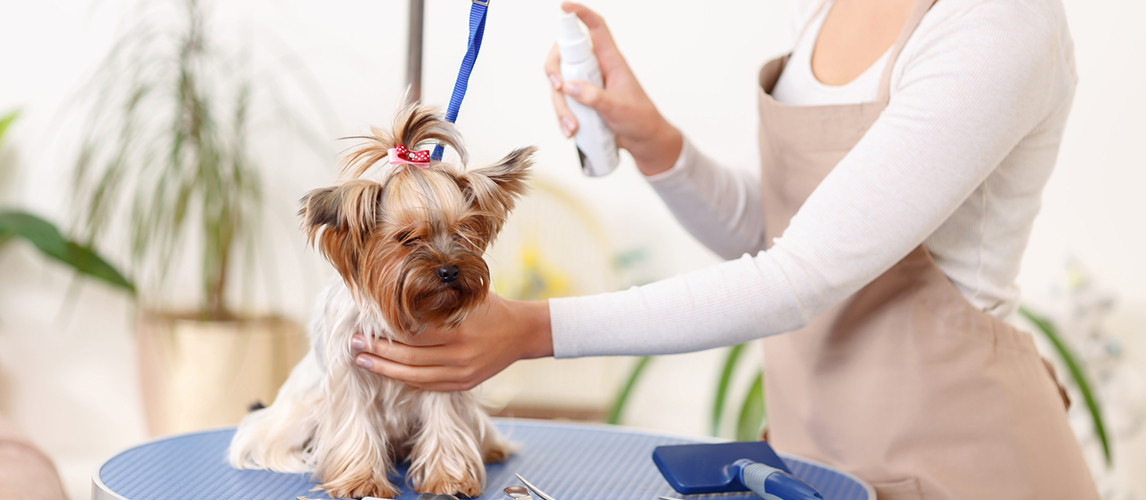 Benefits Of Dry Dog Shampoos
As any dog owner will know, a full bathing session can be a time-consuming and messy task, especially if you have a particularly furry or large pet. So, while a full clean is essential to your pet's regular grooming routine, a dry dog shampoo is ideal for those mucky in-between moments. Dry shampoo can help to eliminate grease, dirt and odor from your pet's hair and can be used on the go while out and about, particularly at the end of a wet, muddy or dirty walk. Dry shampoos can also help if you have a dog that can become aggressive or anxious when faced with a full-on bath, reducing the number of baths your pooch could need and so reducing the stress for everyone involved. A waterless dog shampoo can also help to keep their fur fresh and in good condition if your dog has recently had surgery and is in recovery so not yet ready for a full water bath.
What to Avoid in Waterless Shampoo for Dogs
While they are a useful addition to the dog cupboard, you do need to exercise a level of caution when it comes to the ingredients you may find in a dry or waterless dog shampoo.
The core ingredients of most dry dog shampoos – starch power and clay, or Fuller's Earth – are what makes it so effective, but used too often or by applying too much can actually do harm to your pet's skin and fur by absorbing too much oil and clogging the fur so follow the 'how to use' instructions carefully.
There are also 'avoid' ingredients you need to keep an eye out for:
First up, avoid any artificial coloring or fragrances that can irritate your canine's skin
Tea tree oil can also be problematic as, although it has antibacterial properties, high and concentrated amounts can be bad for your dog's skin if it's on the dry side
Watch out for ingredients such as formaldehyde, parabens and isopropyl alcohol (also known as rubbing alcohol)
If in any doubt you should also steer clear of products that don't list all the ingredients but use terms such as 'proprietary blends' or 'conditioners' without explaining what these are.
DIY Dry Shampoo For Dogs
A shop-bought waterless dog shampoo is not your only 'dry bath' option for your dog, you can also opt to make your own! A DIY dry shampoo for dogs is surprisingly easy to make and is also cost-effective, plus if you are worried about the contents of a manufactured version, you can take full control over the ingredients you choose to use. Before you make your own, just ensure the ingredients are suitable for your own dog's coat and skin, and always do a spot check first before going for a full-on dry shampoo session.
Most of the ingredients you need are probably already in your store cupboard – a simple mix of baking soda (deodorizes) and corn starch (absorbs oil) is a good way to start. You can then tailor your DIY dry shampoo to any specific needs such as flea or odor control (essential oils such as lavender) – but always dilute. Then mix up in a shaker and off you go.
Our Top Pick
Wahl Natural Pet No-Rinse Waterless Shampoo scoops our best choice title thanks to its natural ingredients, coupled with its impressive dry-cleaning power to keep your pooch sweet-smelling and their coat in tip-top condition. It's easy to use too – just massage in and wipe away – treating your pet to a freshen up without drying out their skin. A great product to have with you when you need to quickly clean up and go.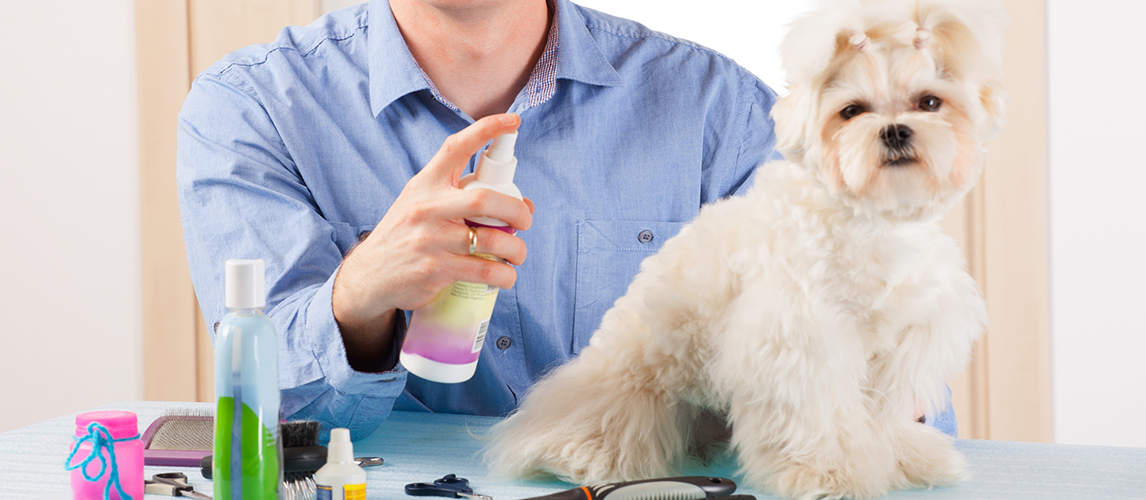 FAQ
Q:

What Is Dry Dog Shampoo?

A:

A waterless dog shampoo is a powder-based cleaner and freshener that doesn't need water to work on your pet's coat. You just apply the dry shampoo on to your dog's fur and make sure it spreads well, using a towel to work it in if you need to. Then use a dog brush to remove the surplus dry shampoo and all the dirt it has absorbed.

Used as an interim shampoo between full baths or grooming sessions, dry shampoos can help to remove surface dirt, absorb excess oil and generally freshen up your pooch, to tide you over until the next time you can put them in the bath.

Some are straight up surface dirt cleaners while others can also deodorize the fur and condition your dog's skin and coat.
Q:

How Does Waterless Shampoo Work?

A:

Waterless shampoo is only intended to be used as a freshen up and should never replace your dog's regular bathing and grooming routine. But as a go-to for when you need a quick pooch spruce up or to quickly clean off a mucky pup, they are a great addition to your grooming kit.

Just like his human, your pooch has sebaceous glands at the end of their hair follicles. On your pet, these glands are in larger numbers, especially near their paws, back of the neck, rump, chin and tail areas. Each gland secretes an oily substance called sebum, which is intended to keep your pet's skin and coat healthy, shiny and well-moisturized. This sebum also has natural antibiotic properties and is the reason why your pooch has his distinctive 'doggy' smell. Between baths, the sebum can build up on your dog's fur, leaving it greasy, dull and a little bit smelly.

A dry shampoo for dogs works by sucking up any excess oil – as well as the dirt, bacteria and dust it attracts - that is sitting in your dog's fur and can keep their coat looking good and smelling sweet between their regular full grooming session.
Q:

How Do I Use Dry Shampoo for Dogs?

A:

Using a dry shampoo on your dog couldn't be simpler, which is a big part of the attraction. Here's a quick lowdown on how to 'dry clean' your pooch:

Find a well-ventilated room, or take your pet in to the back yard
Get your dry shampoo and spray it over and into your pet's coat, especially the dirty patches
Massage the shampoo into their coat well, using a towel if needed to get a good coverage
Leave the dry shampoo on the coat for the time indicated on the packaging
When the time is right, brush your dog's coat to remove the powder and dirt (some dry shampoos don't even require brushing, so check the packaging).
Q:

Is Dry Shampoo Safe for Dogs?

A:

Follow the instructions on the packaging and don't use your dry dog shampoo too often and it will be perfectly safe for your pet. The key things to look out for are not using too much of the dry powder in one sitting as it can dry out your pet's natural sebum. Using too much waterless shampoo can also clog the hair follicles and trap sebum, which your dog's coat still needs to be healthy. Choosing the right product for your pet will also protect against allergies and skin irritations. And never see your dry shampoo sessions as a replacement for regular baths as this could eventually store up a lot of problems for your pet's coat and skin.