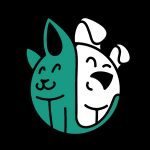 In an ideal world, all pups would be fed entirely on milk from their Mom dog until they were ready to make the transition onto adult food. Canine milk is exactly what they need. The initial milk (called colostrum) boosts their immunity and delivers exactly the right nutrients for a growing pup. Sadly, not all pups get enough (or any) milk from the Mom dog. In order for the pup to survive, you have to offer a puppy milk replacer.
Milk replacers can be bought as powder or liquid and are designed to match canine milk very closely. They have a high protein and fat content to give your pup loads of energy. It is vital that you select a milk that is appropriate for your pup and your vet will give you advice on this. To get you started, here is our guide to the best puppy milk replacers.
The Best Puppy Milk Replacer
Pet Ag Esbilac Puppy Milk Replacer
See More Reviews

Your pup will get a full 900 kcal per kg from this puppy milk replacer. You can start using it straight away for pups from birth and up to six weeks of age. It comes as a powder that is easy to make up into milk using water. The recipe features vegetable oils mixed with dried cream and milk. It gives your pup all the valuable protein and fat that they need to grow, develop, explore and play.
The protein content of Esbilac puppy milk replacer is 33 per cent with a fat content of 40 per cent. There are also friendly bacteria (Lactobacillus casei) which produce lactic acid and are great for your pup's digestion. There is also a careful selection of vitamins and minerals. Your pup's delicate digestion will have no problem coping with this formula and it tastes great.  
Key Features:
Plenty of energy – 900 kcal per kg
Delivers 33 per cent protein and 40 per cent fat
Contains cultures of Lactobacillus casei
Specification:
Brand

Pet Ag

Model

99501

Weight

1.2 pounds
Petlac Puppy Milk Replacer
See More Reviews

This puppy milk formula provides a growing pup with 28 per cent fat and 29 per cent protein so they will have plenty of energy. They also get 2mg of iodine in every kg of the milk. You can also use it as a nutritional supplement for pregnant dogs or those that are feeding pups. 
When they are fed on this newborn puppy milk, your pup will get 858 kilocalories for every kg that they digest. It will be supplied to you as a powder that you will make up into a liquid milk using warm water. It has been fortified with a careful blend of vitamins and minerals and also has Lactobacillus fermentum which produces acid to help digestion.
Key Features:
Can be used for pregnant dogs
29 per cent protein
Provides 858 kilocalories for every kg
Specification:
Brand

PetLac

Model

99299

Weight

13 ounces
Milk Products Grade A Ultra Puppy Milk Replacer
See More Reviews

This is a generic product that is not just for pups, it can be used for other animals as well. It is supplied as a powder and you will need to reconstitute it with water before use. It has a high protein content (24 per cent) and this is made up of solely milk proteins. There is also a high fat content (24 per cent) in this puppy milk powder.
Part of the fat content is made up of coconut oil. It also contains vitamins and minerals such as selenium, zinc and Vitamins A and E.
Key Features:
High protein content – 24 percent
Contains coconut oil
Minerals and vitamins
Can be used for other animals
Specification:
Brand

Sav A Caf

Model

01-7428-0215

Weight

4 pounds
Goat'S Milk Esbilac Puppy Milk Replacer
See More Reviews

Many experts think that goat's milk closely matches the milk produced by dogs. This makes it an ideal product for the production of puppy milk replacers. This product is a powdered milk that provides balanced nutrition for young dogs. There are plenty of proteins provided by goat's milk which has been dried. There are also soybean oil, vitamins and minerals on the ingredients list.
Esbilac puppy formula comes with 33 per cent protein and a very large fat content which is 40 per cent. It will provide your pup with 900 kilocalories for every kg of milk. You can also use it for supplementing the diet of ill animals and those that are convalescing after surgery or after an illness. They will find this goat milk for puppies easy to digest and it is highly palatable.
Key Features:
Suitable for convalescing dogs
33 per cent protein and 40 per cent fat
Easy to digest
Specification:
Brand

PetAg

Model

99461

Weight

5 pounds
Esbilac Liquid Puppy Milk Replacer
See More Reviews

If you prefer to use a liquid puppy milk replacer, this may be the best option for you. It is supplied in cans that each contain 11 ounces of liquid milk. You can use it as a supplement for newborn puppies until they reach the age of six weeks. It is also suitable for adult dogs who cannot eat properly due to illness or surgery as it is so easy to digest and does not put a strain on the digestive system.  
This puppy milk formula is packed with loads of vitamins and minerals so your pup will be able to develop and grow as they would on canine milk. In terms of calories and protein and fat content, it is very similar to canine milk. Pups find it delicious and gentle on their little tummies.
Key Features:
Liquid milk in cans
Designed to be similar to canine milk
Gentle on pup's tummies
Puppies love the taste
Specification:
Brand

Pet Ag

Weight

7.7 pounds
Nutri-Vet Milk Replacement For Puppies
See More Reviews

Colostrum is the first milk that a Mom dog produces after she has given birth. It is exceptionally rich in the nutrients that a newborn pup needs. This puppy milk replacer contains colostrum and is suitable for all breeds of dog. It has a delicate balance of antibody molecules as well as vitamins and essential electrolytes that every pup needs.
It delivers the best milk proteins and they have been combined with corn syrup. This canine milk replacer powder is also great for pregnant dogs and those that are nursing young pups. It comes as a powder and you have to make it into a liquid milk using warm water. Your pup will get 6,000 kilocalories for every kg of milk that they drink. It tastes great and will not upset an immature digestive system. This milk for dogs has a high protein content (33 per cent) and a high fat content (40 per cent).
Key Features:
Suitable for all breeds
Delivers valuable colostrum
Contains 6,000 kilocalories per kg
Specification:
Brand

Nutri-Vet Wellness

Model

99879-3

Weight

14.1 ounces
Manna Pro NurseAll Non-Medicated Milk Replacer
See More Reviews

You can use this milk replacer for many different animals including cattle, horses and sheep. It is supplied as a dried powder and is made with whey proteins. Your pup will get 24 per cent protein and 24 per cent fat to give them plenty of energy.
There are also natural acids which will help with natural digestion. It is supplied as a powder and you make it into a liquid milk using warm water. Pups love the taste – it is suitable from two days after birth until they transition to adult dog food. 
Key Features:
Can be used by cattle and sheep as well as dogs
High in protein (24 percent)
Natural acids for digestion
Specification:
Brand

Manna Pro

Model

0093940206

Weight

3.5 pounds
Royal Canin Babydog Puppy Milk
See More Reviews

You can use this puppy milk replacer from the moment the pups are born until they transition onto adult food. The protein content is 31 per cent and the fat content is 37 per cent so they will get plenty of energy
The formulation contains docosahexaenoic acid (DHA) – an essential fatty acid and it matches canine milk closely. It mixes easily with water and pups love the taste.
Key Features:
Contains 31 per cent protein
Easy to digest
Powder formula
Specification:
Brand

Natural Balance

Model

02RCBDM400

Weight

14.1 ounces
Best Puppy Milk Replacer Buying Guide & FAQ
What to Look For When Buying Puppy Milk Replacement Formulas
There is plenty of choices when it comes to the best puppy milk replacers. Here's what you should look out for.
Some milks are suitable for newborn pups and others for pups that are a few days old. They can usually be used up until weaning. It is important to buy the correct milk.
Because puppies only have tiny stomachs, they need calorie-rich puppy milk that will deliver sufficient energy. They have very fast metabolisms so they burn up calories extremely quickly. The value is given in calories per kg.
Protein is highly important for pups because they need it to develop and grow. Most replacer milks have high protein contents of around 30 per cent.
Fats provide plenty of easily accessible energy for an energetic pup. Canine milk is naturally very high in fat. In general, the fat percentage of puppy milks should be around 40 per cent.
Micro-nutrients such as Vitamins A, E and D3 as well as calcium, zinc, and phosphorous are all essential for a pup's development.
It is common for pups to get stomach upsets because their guts take some weeks to mature. By choosing a milk that has friendly bacteria cultures, you can help their intestines to break down the milk.

Why You Should Use Milk Replacers for Puppies
If you have not come across puppy milk replacers before, you may be unsure of when you can use them. The obvious use is to feed puppies who cannot get sufficient milk from the Mom dog. They can be invaluable is this sort of situation. However, there are other occasions when they are useful.
Sometimes, pups are left with no Mom to feed them because of an accident or illness. This leaves very young pups who need nutrition urgently. Whilst another female dog (surrogate) is the best option, this can be very difficult to arrange. A more accessible option would be some puppy milk replacement.
Some Mom dogs struggle to feed all her pups because she is in poor condition or because she just isn't producing enough milk. Some of the smaller pups are most likely to lose out and this affects their development. Dog milk replacers are an ideal alternative.
Puppies are very vulnerable to developing illnesses in their first few months. When they are ill, they may be reluctant to feed from their Mom. This can seriously affect their development. If they have a disease that requires them to be isolated, they will not be able to mix with their Mom and littermates for a while. This is when you need puppy milk to feed them with.
Pregnant and nursing dogs
Pregnancy is hard work for the female dog's body! The puppies take a lot of nutrients and there may not be much left for her. Yet this is just when she needs to be in prime condition to survive the birth and feeding newborn pups. It is very important that you give her all the help you can. Puppy replacement milks can be used to supplement the diet and give her all the extra nutrients that she needs.
Sick and convalescing dogs
It can be hard to get a sick or convalescing dog to eat as they may be very weak or may have no appetite. They need plenty of nutrients to help them recover. Because milk replacers are very nutrient-dense, they give your dog everything they need whilst they are not eating properly. They can eat solid food and have milk supplement for puppies at the same time. However, ask your vet for guidance on this. They will let you know when your dog can go back on a regular diet.
Ingredients to Avoid in a Puppy Milk Replacer
It is best if the puppy milk replacer ingredients match what your pup would receive in milk from their Mom. This is what will help them thrive and grow. For this reason, artificial additives are best avoided as they may interfere with a pup's delicate digestion. They should not be needed in the formula.
Also, try to avoid fillers or any other unnecessary ingredients as they do not provide any calories or other nutritional benefit. Try to avoid any products that have a lot of sugar.
Powder vs. Liquid Formulas
There is little difference in the nutritional content of powder and liquid milks. Some owners prefer liquid and others prefer the powdered version. It comes down to personal preference.
If you are short of space and on a tight budget, or if you have many pups to feed, you may prefer powder because it is less bulky and cheaper. You do not have to use powdered milk up so quickly so if you are only using it now and again it may be the preferred option.
On the other hand, you will have to go to the effort to make up the feed every time you feed the pup. This places a lot of responsibility on you to get it correct because if you don't, it can cause health issues. They can also clump and block the teat if you do not take enough care with mixing. Liquid formulas are very convenient to use but can be wasteful if you don't use the whole carton as they only stay fresh for a day or so.

Best Puppy Milk Replacer FAQ:
Q: What nutrients does my puppy need to grow?
A: Some inexperienced owners think that feeding pups is simply a matter of giving them small quantities of adult dog food. This means they are making the mistake of treating pups as small dogs. This is not the case. Puppies have very particular nutritional requirements because they are growing rapidly and developing.
Canine milk from the Mom dog is exactly what they need and fulfills all of a pup's nutritional needs. Therefore, this is the most suitable food for a pup. However, sometimes this is not possible.
Pups have a very fast metabolic rate and this requires a lot of energy. Therefore, they need milk that delivers a large number of calories but they also need the following nutrients:
Fats. Energy (calories) are provided by fats in the milk so it needs to be fat-rich.
Protein. Pups are growing so they need plenty of amino acids which build muscles and other tissue. Amino acids are derived from protein in the diet.
Carbohydrates. These are an alternative source of energy and are a vital nutrient for a growing pup.
Probiotics. Pups have friendly bacteria growing in their gut. They assist with digestion and are a vital part of the immune system. Puppy milks often provide cultures of these bacteria so that they colonize the gut.
Vitamins and minerals. These are only needed in very small amounts but they are crucial for maintaining a pup's overall health and for normal growth.
Q: Can goat's milk replace dog milk to nurse puppies?
A: There is some controversy surrounding the use of goat's milk to nourish pups and there are strongly held views on both sides. You may read accounts from experienced dog breeders who describe how they have successfully raised pups on goat's milk. There is some scientific data to support this. Firstly, goat's milk is nutritionally very close to dog's milk. It matches it more closely than cow's milk. It is very unlikely to cause allergic reactions because there are very low amounts of the proteins that trigger allergies. The fat globules in goat's milk are smaller and it has a higher level of small chain fatty acids which makes it easy to digest.
The counter-argument is that some puppies cannot digest goat's milk properly and that it could even upset their delicate digestion leading to diarrhea and a deficiency of nutrients. Overall, the best thing for a puppy is their Mom's milk but if that is not possible, a canine formula is the next best option.
Q: How to feed puppies milk replacer?
A: Very young pups will not be able to lap up milk replacer because they have not yet developed that skill! They have a suck reflex which means that you could use a bottle or you can deliver the milk directly into their mouth using a special syringe. Sometimes, you have to use a combination of both or may start with one and switch to another. Every pup is different.
Syringe-feeding requires little effort from a pup (apart from swallowing) so it is the best option for very young puppies or for individuals who are very weak or ill. Pick a small syringe to feed very young pups and then transfer to a bigger one. Gently insert the syringe just a little way into your pup's mouth and then press in the plunger to deliver the milk.
One problem with feeding very vulnerable pups is the possibility of introducing infection. Their immune system will not be fully developed and they will struggle to fight off bacteria and viruses. Therefore, you have to take steps to ensure that the syringe, your hands and all of the other equipment that you use is scrupulously clean. Follow the instructions to make the milk that is suitable for your pup's breed and age. For your pup's health and development, you must make sure that they get the right quantity of milk.
To feed a pup with a syringe, you need to be firm and gentle. You need to hold them securely and slowly press the plunger so your pup can swallow the milk without choking. Try to avoid any milk  running out of their mouth so you can keep a check on exactly how much they have ingested. Feeding may have to be carried out very frequently.
For older pups, a feeding bottle is another useful method. The bottles are available in several styles and sizes. You will also need a teat that will fit inside your pup's mouth. It should be flexible and soft so it will not put them off feeding.
Some teats come with holes at the end but others need you to create holes. You can do this with a sterilized needle. If the holes are too big, the milk will flood out and make your pup cough and choke. This can be dangerous. If it flows too slowly, your pup could become frustrated and may give up on feeding. If you are making the milk from powder, follow the guidelines carefully so that it does not clump and block the teat. Sometimes bottle-fed pups need extra water from another bottle to stop them becoming constipated.
Pups like their milk to be warm but take great care that it is not very hot because this can cause burns and scalds inside your pup's mouth. Cold milk can cause the core temperature of a small pup's body to rapidly drop and that can be dangerous for them. Test the milk on your wrist (just as you would for a human baby) before you start feeding.
Most pups need little encouragement to take a bottle. They start sucking as soon as you put it in their mouth. Others take a while to get used to the idea but they all get there in the end.
Keep a record of how much milk your pup is ingesting. A greedy pup will just carry on feeding but that is not good for them and can lead to growth that is too rapid and to obesity. At the other end of the scale, there are pups who will not feed enough and they will not do well.
Our Top Pick
Our top pick of the best puppy milk replacers can be used for pups as soon as they are born until they reach six weeks. It is made with vegetable oils and milk proteins. Its energy value is 900 kcal per kg and it contains 33 per cent protein.
The Lactobacillus casei bacteria help with digestion and it is packed with vitamins and minerals. Pups love the taste.
Sources:
Feeding the Orphaned Puppy - Pet MD
Related Reads
Related Reads