Why Is My Dog Stinky After a Bath?
Nobody likes to hug a dog that smells like the sewer or a dead rat. There are instances when a dog can still be stinky despite the fact that it has just taken a bath. Outdoor dogs can be the unwilling victim of a skunk spray or a willing frolicker on a dead animal. Indoor dogs that remain stinky after a bath may have a different reason for the bad smell. Determining the exact cause of dog stink requires the expertise of a veterinarian. Only then can he recommend an appropriate treatment.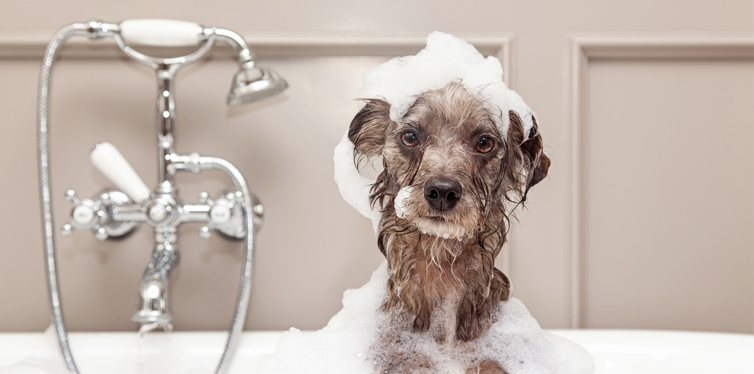 Why Do Dogs Stink?
Foul odor in dogs after taking a bath is often a sign of a medical problem. Before you come to this conclusion, however, it is important to rule out other possibilities. For instance, the dog may have come in contact with a skunk that sprayed it with its formidable liquid. It is also possible that the dog went out and rolled on some stinky object like a decaying carcass. If you are sure that neither is the cause of your dog's smelly phenomenon, then a medical problem is a possibility.
There are many germs that can cause ear infections in dogs. Malassezia yeast species are very common culprits. This is typical in dogs that have excessive buildup of earwax or cerumen in the ear canal. Among bacteria, Staphylococcus and Pseudomonas species are prevalent. Pseudomonas ear infections are common among dogs that spend a lot of time in the water. Dogs with problems in their thyroid gland are more prone to Staphylococcal ear infections.
These microorganisms interact with the immune system cells present in the ear of the dog. This interaction leads to the release of noxious fumes that can make the dog's ear smelly or stinky. No amount of bathing will ever get rid of such a doggy stink because the problem is in the presence of these microorganisms. If any, bathing can worsen the stink. This is because water can get inside the ear and produce a moist environment. These germs love moist environments.
Of course, other manifestations should accompany the smelly ear phenomenon. The vet can look for other signs like head shaking, ear discharge, head scratching, head tilting, and swollen ear canal.
Infected gums and decaying teeth can also lead to foul odor that cannot be removed by ordinary bathing. This stink will never go away regardless of how much you dry your pet with the best dog towels and dryer. The problem is not on the dog's coat; it's in its mouth.
Periodontal disease in dogs leads to the destruction of the gum tissue, the jawbone, and other structures in the dog's mouth. The most common reason for such a disease is bacterial infection that can spread underneath the gum line. This is not easy to spot. As such, the bacterial infection may be long-standing. The only telltale sign that may indicate periodontal disease is a foul-smelling breath.
The main issue is when dogs drool. Their saliva contains a mixture of dead microorganisms and decaying gum tissues. This can get on your furniture or any other surface in your home.
Kidney Failure or Diabetes
Diabetes is quite common in certain breeds of dogs like Poodles, Pugs, and Dachshunds. You may not know it, but the stink may be the result of diabetes. Dogs with diabetes often don't have enough insulin. There may be sufficient supply of glucose in the blood, but they don't get delivered to the cells. As such, the cells will try to utilize fats as their principal source of energy. Burning fat leads to the production of ketones. It is these molecules that can produce the acetone odor in the dog's breath.
The same is true for dogs with kidney failure. The kidneys filter blood and flush out toxins in the urine. When it fails, the kidneys can no longer flush out these toxins. One of the molecules that it flushes out is ammonia. Since the kidneys cannot flush ammonia in the urine, this molecule accumulates in the blood. This can also lead to bad breath in dogs.
There are other medical conditions that can lead to foul smell in dogs. Your vet can help zero-in on these problems.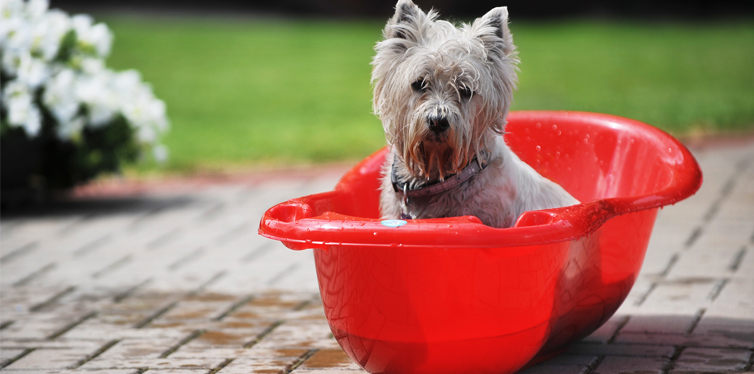 There are many reasons why a dog's skin can get inflamed. It can be because of exposure to a particular allergen or contact with an irritating substance. There are also instances when using the wrong dog shampoo can lead to skin irritation and inflammation. This occurs because of the harsh ingredients found in such formulations.
The problem with skin inflammation is that the skin itself will try to compensate. It does this by secreting more oil in an effort to neutralize the inflammation. The issue is that increasing the oil on the skin can favor the growth of yeast and other microorganisms. This can give the skin a rancid odor over time.
No matter how you bathe your dog, it will still smell stinky. The only way you can get rid of the stink is to treat its skin inflammation.
Inflammation of the Anal Glands
All mammals have a pair of glands located in the area of the anus. Some say these anal glands and sacs help in the lubrication of the anal canal. This facilitates the easier passage of stools. Most pet parents think that the anal glands serve a purpose in territorial marking. One thing is sure – these glands produce a secretion that can be quite odorous.
There are cases, however, when these glands can become inflamed or infected. This can turn the odor into something intolerable. These foul-smelling secretions can get and spread on the dog's fur. This is what can lead to a bad smell in your dog after a bath.
Some pet groomers recommend the manual expression of the anal gland secretions. This is to help prevent blockage in the ducts and sacs. Others say this is not necessary. Your vet can help you decide on what you can do to address such issues.
Treating After-Bath Dog Stink
If the stink comes from a skunk encounter or rolling on a carcass, bathing your dog twice should help get rid of the stink. But if the cause is medical-related, then bathing takes a backseat to the actual treatment of the problem.
For ear infections, the vet can prescribe or administer appropriate antibiotics. He may also order other medications to manage the other symptoms such as itching. It is important to adhere to the antibiotic therapy. If the vet says you have to treat your dog for 7 days, then you have to treat it for 7 days. There is this tendency among pet parents to discontinue the treatment once they see improvements in their dog. It is also crucial to keep your dog's ears dry during bathing so you don't worsen the infection.
Dogs with dental diseases can benefit from a trip to a veterinary dentist. He can remove plaque and tartar that can contribute to dental diseases. Moreover, the vet can perform a very thorough cleaning of the dog's mouth. This will kill the germs that are present on the teeth and gums. If there is tooth decay, extraction is often necessary. Other treatments are possible depending on how your vet assesses the problems.
Dogs with kidney failure, diabetes, or any other systemic disease need to have these diseases managed first. However, because the treatment for these conditions takes a long time to complete, you can observe measures to freshen up your dog's breath. You can give dog chews and treats. You can also give high-quality pet food that addresses its medical problems. Brushing your dog's teeth everyday can go a long way to keeping its breath smelling nice and fresh.
If the main issue is skin inflammation, then the vet can provide you with a solution. This can come in the form of medicated dog shampoos that you can use during bathing. These contain special ingredients that help soothe inflammation. They also provide additional protection for the skin. Your vet may also recommend an appropriate dog conditioner to help moisturize the skin and coat. The inclusion of essential fatty acids in your dog's diet can also help. Omega-3 fatty acids can improve the condition of both the dog's coat and skin. It can also minimize inflammation and irritation.
Dogs with blocked or infected anal glands can benefit from drainage. You should not do this yourself. However, your vet can show and teach you how. A more important treatment is the administration of appropriate antibiotics. These can come in the form of topical ointments or creams that you have to apply on your dog's anus. Your vet can also teach you how to administer such medications.
If your dog remains stinky after taking a bath, it's almost always an indicator of a medical problem in your pet. Let your vet see and examine your dog. This is the only way you can determine the exact cause of its stinky condition and find the most appropriate treatment for it.
Sources:
Does Your Dog Smell Like… Dog? – PetMD