The Best Glucose Monitors for Dogs (Review) in 2020
Glucose is an essential source of fuel with which our bodies are able to function correctly. It essentially acts as an energy provider that enables us to fulfill our daily activities. No doubt, low blood sugar is a serious problem that can affect both humans and animals; therefore, monitoring your dog's glucose levels to help balance their diet and keep them healthy is important. There are glucose monitors for dogs that can help you achieve this, and we will be taking a look at some of the best glucose monitoring kits for dogs.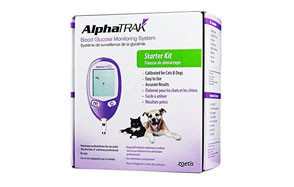 AlphaTRAK Veterinary Blood Glucose Monitoring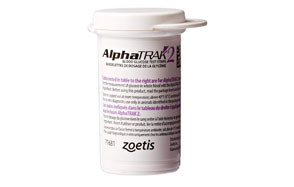 Zoetis AlphaTRAK Blood Glucose Test Strips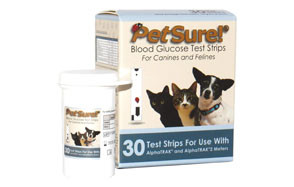 PetSure! Blood Glucose Testing for Dogs
Best Glucose Monitors for Dogs
1.

AlphaTRAK Veterinary Blood Glucose Monitoring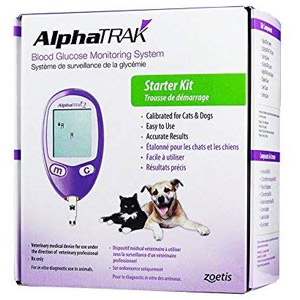 Key Features:
Test results are provided in very little time
Requires only a small amount of blood
Calibrated for dogs and cats
Auto on/off feature for faster testing
Your pet might be suffering from hypoglycemia, which is inherently low blood sugar, which results in low energy and inability to function properly. The AlphaTRAK 2 Veterinary Blood Glucose Monitoring Meter Kit was created to help check the glucose levels in pets and help you properly manage their health. The monitor is easy to use and has been calibrated for use on both dogs and cats, so if both pets have diabetes, the AlphaTRAK 2 is a great tool to use for them. It tests quickly, and with the uncomplicated three-step process, you'll get the results in close to no time.
It also includes patented technology that requires very little blood (just 0.3 µL) to carry out its tests and with the AlphaTRAK 2, you will not be putting your pet under any undue stress. Interestingly, this dog glucose meter can make use of capillary blood, meaning you don't need to extract blood from the veins, which is a much more painful procedure. Furthermore, your dog will experience little to no pain with the monitoring kit, and you will be able to keep an eye on the blood sugar level with ease and comfort. Overall, it comes in a small portable package that you can carry around with you and use anywhere.
Uses capillary blood, so no venous puncture is required
Easy to carry about
Accurate results
Limited accuracy of control solution results
Other strips don't work correctly with the monitor
It's a bit pricey
2.

Advocate Pet Test Blood Glucose Monitoring System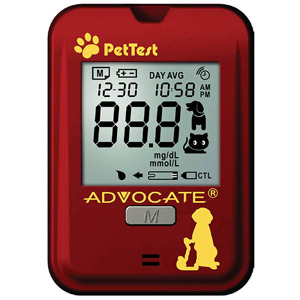 Key Features:
400 test entry memory
Requires only a little blood to work
It can work on cats and dogs
One-button switch between cat and dog mode
The Advocate Pet Test Blood Glucose Monitoring System is a straightforward monitor to use for dog diabetes treatment. The pack, a meter, carrying case, twist top lancets, control solution, lancing device, and batteries. Finding out that your pet is diabetic no longer needs to be a death sentence, and with this monitoring tool, you can control your pet's sugar levels with ease. It features a simple, one-button operation to work, and it is calibrated to work with both cats and dogs. What's more, it doesn't require any coding and uses only a tiny sample of blood to function and works quickly and produces results in seconds. You can switch between dog and cat mode with the press of a button, and the outcomes are always accurate; therefore, trips to the vet will become much fewer.
Many glucose monitors can be tricky to use, but the Advocate pet test is accompanied by an owner's manual and a quick reference guide. So, if you encounter any problems while using it, or aren't clear on an aspect of the test, you're totally covered. This monitor has four daily alarms to remind you to check on your pet and a memory that can store up to 400 entries of test results. The Advocate pet test makes looking after your dog a lot less stressful and is undoubtedly a product you should consider purchasing.
It comes with a user manual
The alarms are handy to remind you to check on your pet
It is inexpensive
Some customers have complained that it can on occasion give false results if a certain amount of blood is put in
The lancet poker might displease some
Readings could become unreliable after a while.
3.

Cera-Pet Blood Glucose Monitor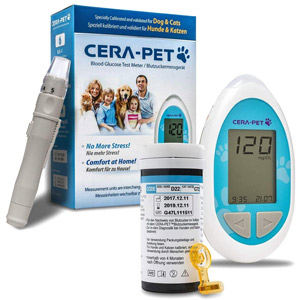 Key Features:
It can store up to 1000 test entries
It is calibrated to work on both cats and dogs
Comfortable carry case
Can work with as little as 5μl of blood
With the Cera-Pet Blood Glucose Monitor, you can get your result in just five seconds. It is calibrated to work with both cats and dogs and prides itself on its accurate results, and the speed at which you get said results are remarkable. Aside from this, it is also convenient to use and contains code keys for each species it is used on. The lancing device also features five comfort levels that allow you to obtain blood from your pet with as little fuss as possible. Thanks to the full instructions that come with the monitor, you can easily use this device without the help of a vet. Included in this pack is a carry case that is durable, portable, and convenient.
You can also take it along with you wherever you go and keep all the components together in one place. This means loss of items is reduced, and you can check in on your pet at any time and in any situation. It has a considerable memory like the Advocate pet test, but it trounces the former in size with the Cera-Pet able to store up to 1000 entries. It doesn't require much blood and can work with as little as 5μl.
Large capacity memory
Delivers results in quick time
The lancing device is adaptable and has five comfort settings
It does not come with a control solution
The results might be unreliable in some instances
Some might find the batteries challenging to replace
4.

Zoetis AlphaTRAK Blood Glucose Test Strips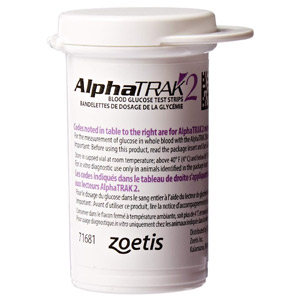 Key Features:
Delivers accurate results quickly
Functions with very little blood
It is gentle on your pet
The three-step procedure makes it easy to use
The AlphaTRAK 2 Blood Glucose Test Strips are compatible with both the AlphaTRAK or AlphaTRAK 2 meters and the pack contains 50 test strips that can be used with both meters and keeps you supplied with strips for your dog. It delivers accurate results in no time at all and isn't overly complicated and is calibrated to work with canines and felines and the three-step procedure required to use it makes it a favorite among pet owners.
You simply need to insert the strip into the meter, perform the test, and read the results when done. There are user manuals that come with the package, which further eases the process of using it. With these strips, you and your vet can work with similar results and together take better care of your pet. Additionally, AlphaTRAK test strips can work with as little as 0.3 µL blood without compromising the quality of the results. However, getting your hands on the AlphaTRAK might be a bit expensive, but you know you are paying for a high level of quality, and your pet is worth that much, isn't it?
It is compatible with AlphaTRAK and AlphaTRAK 2 meters
It comes with easy to understand instruction manuals
Works with canines and felines
The price is prohibitive
It doesn't work correctly with any other meter
It could constitute a child hazard
5.

EverPaw Blood Glucose Diabetes Monitoring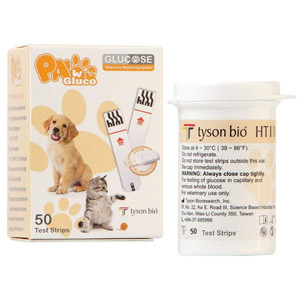 Key Features:
Works with dogs, cats, and horses
Customer service and 3-year warranty
Easy to replace AAA batteries
Alarm system allows for a regular and consistent check-up
While most of the monitors on this list can work for both dogs and cats, the EverPaw Gluco HT111 Blood Glucose Diabetes Monitoring System adds horses to that list which makes this monitoring system extremely versatile and useful for most pets. This glucometer for dogs doesn't require a lot of blood, and a minuscule 0.7µL is enough for it to work with and the manufacturer promises that the results are fast and accurate. It features a safe and hygienic strip ejector which conveniently helps you get rid of used strips and the display screen for the monitor is vast enough for easy display, and reading results is a stressless exercise.
The EverPaw monitoring system has four alarms in place to remind you to check in on your pet and perform tests on them and works with 3 AAA batteries, which are familiar and easy to replace when necessary. What's more, the manufacturer has this product backed with a 3-year warranty and boasts of world-class customer service with product specialists always at hand to help you with setting up the monitor and troubleshooting it when there is a problem. With the EverPaw monitoring system, you can rest easy in the knowledge that your pet is in safe hands at all times.
Works with very little blood
Large monitor makes results more visible
The strip ejector is safe and convenient to use
Some of the readings are suspect
The strips don't work with other monitors
Results could fluctuate
6.

PetSure! Blood Glucose Testing for Dogs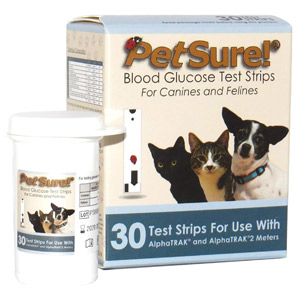 Key Features:
Works with AlphaTRAK and AlphaTRAK2 meters
Easy to use
Requires little blood
Accurate results
Like the AlphaTrack strips, the PetSure! Test Strips work with the AlphaTRAK and AlphaTRAK2 meters. Due to its low price, it is an ideal alternative to the AlphaTRAK strips, which are way more expensive. With the excellent reputation that the AlphaTRAK monitors enjoy, you will feel a lot safer with the results of the PetSure test strips. The procedure for using this test strip is slightly different from the AlphaTRAK strips, but it is just as simple to do.
These strips are also compatible with canines and felines and will give accurate results of both species. It also doesn't require a lot of blood from your pet, which makes the process of getting the blood a lot less stressful for both you and your pet. The pack includes 30 strips, which could be used for a reasonable period, and with the pocket-friendly, you can keep yourself regularly supplied with the PetSure strips.
Compatibility
Pocket-friendly
The vial is easily accessible
Doesn't come with its own meter
The instructions might be confusing to some since it differs from AlphaTRAK
Results might vary when used with the AlphaTRAK and AlphaTRAK2 meters
Best Glucose Monitoring Kits for Dogs Buying Guide
What to Consider When Buying a Glucose Monitor for Dogs
When going out to purchase a glucose monitor for your dog, there are many things to consider:
This is a common factor that everyone has to look out for. Because the glucose test has to be administered regularly, you need to be sure your budget can cover the cost. While the AlphaTRAK is the most reliable, it is also the most expensive. Not everyone can afford this, but not to worry, there are plenty of other brands that are pocket-friendly and effective.
Different test strips need different amounts of blood to give accurate results. If you have a fussy dog, it would be best to use a strip and monitor that doesn't require much blood. AlphaTRAK is a great example, and it only requires 0.3 µL to work. It can also use capillary blood, so extracting blood from your dog's veins is unnecessary
Extracting blood could be a traumatic experience for your pet, and hurting your dog is the last thing you want to do. This is why when buying a glucometer for dogs, you must check what type of lancing device and lancet it comes with. Some products have adjustable lancets, which can increase the level of comfort of your pet when obtaining a blood sample.
It is important to note that not all test strips work with meters. For instance, the AlphaTRAK strips only work with the AlphaTRAK monitor. Therefore, using another monitor will give you unreliable results. It's the same with other brands. There are some brands, like the PetSure strips, that can work with different monitors. It is essential to check if the strips can work with whatever monitor or kit you want to buy.

Why You Should Use Glucose Monitors for Pets
Taking care of your pet is vital as neglect could lead to the animal's death. Using a glucose monitor for a diabetic dog is necessary for several reasons. Below we will look at some of those reasons
Accurate reading: The results of a blood sugar test are critical as the treatment of the dog depends on it, so if you get inaccurate results, you might accidentally be making your dog sicker. With the help of a glucose monitor, you can get accurate results and effectively manage your dog's diet, which in turn leads to a better quality of life for your pet.
It cuts down visits to the vet: A visit to the vet can help you ascertain the blood sugar levels of your dog, but if you do not purchase a monitor for yourself, then you are looking at potentially daily visits to the vet. This is both inconvenient and ineffective. Getting a glucose monitor of your own saves you the trouble and helps you keep an eye on your dog's health
Cost: In the point above, we talked about how stressful and time consuming regular visits to the vet can be. Apart from that, the other problem having to go see the vet every other day brings is the crazy expense. Vet visits cost money, and it is far more cost-effective to just have a glucose monitor for your pet at home. You can check your pet's blood sugar levels yourself and only visit the vet when necessary. This is friendlier to your pocket.
Dog vs. Cat vs. Human Glucose Monitors
Pets suffer from diabetes just like humans do, and while the treatments for both are similar, they are by no means the same. There are glucose monitors that cater to human beings, and in the case of an emergency, you can argue that it can be used on a dog or cat. However, this is not ideal for everyday use as the calibrations for humans and animals are very different. This is why it is imperative to ensure you get a dog glucose monitor as opposed to a human one. Glucose is distributed differently between dogs, cats, and humans.
In humans, 58% of the glucose is located in plasma, as opposed to 42% in the red blood cells. For dogs, this is vastly different as the split is more like 87.5% found in the plasma, and it is even more in cats, with 93% of the glucose residing in the plasma. What this means is that results may vary when using the wrong monitor for the wrong species. This then leads to confusion as to the right results and complications arise from situations like this. With this in mind, it is a lot safer to get a dog-specific glucose monitor. Many of the monitors for dogs can also be used for cats since the glucose distribution is closer between the two. Monitors nowadays can easily switch between dog and cat mode, making testing and administration a lot simpler.

How to Monitor Ketones and Glucose in your Dog
When carrying out a glucose test for dogs, it is necessary to know precisely what you're doing. Monitoring glucose levels is an integral part of this, and while it isn't difficult, it does require a few steps. When monitoring glucose levels in your dog, you can check the dog's urine to see if there is any glucose or ketones in it. If you are unsure, you can always carry out a test with the help of your vet. If the vet is unavailable, you can still do the check yourself with the help of a monitor. Simply draw some blood from your dog and use the monitor to check blood sugar levels. If your pet has been diagnosed with diabetes, you'll need to check the glucose in the urine a few times a day.
Always check in the morning before the dog's first meal and injection
Check in the late afternoon before the second meal
Do a final check late in the evening
Our Top Pick
AlphaTRAK is still the most trusted of all the blood glucose monitoring kit and with good reason. The results are fast and accurate, it is easy to use, and it requires the smallest amount of blood. It is also a firm favorite because of the level of comfort it provides your pet. Unlike other monitors, the AlphaTRAK 2 can use capillary blood, which means you do not need to draw blood from your dog's vein. Reliable, efficient and convenient, these are the reasons the AlphaTRACK 2 kit is our top pick
Source:
Diabetes Complications in Dogs and Cats: Diabetes Ketoacidosis (DKA) – Pet Health Network
Related Reads
Related Reads