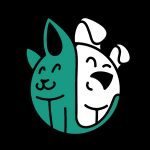 Your average dog sleeps for a whopping average of 12-14 hours. That's more than half a day of dreaming about chasing rabbits around in their dreams – giving us humans lots of time to laugh at their paws twitching while they're in a deep slumber. Yet considering your dog will spend more than half their lives stocking up on those precious zzz's, you as their loving owner will want to make sure they do so in style.
In this buying guide, we've compiled together a diverse and luxurious selection of dog beds to choose from. There will be the perfect bed for every furry friend – whether they're a mischievous pup always getting up to no good or a wise old dog looking for a place to rest his joints.
The Best Dog Crate Pad
MidWest Homes Dog Crate Pad
See More Reviews

See More Reviews



Does your beloved pooch deserve the best of the best? This luxurious Grey Ombre Swirl Pet Bed is just that. Able to be placed inside a crate or even utilized as a stand-alone dog bed, this lovely pad is ideal for medium to large dogs weighing between 41 to 70 pounds. It's constructed from incredibly soft polyester with the added bonus of a tufted, plush polyester cushion for your dog to rest their weary heads on after a long hard day of playing and chasing.
Your pet will never want to go 'walkies' again after lying down in their new plush bed. And when they do step off of it, the non-skid bottom surface will keep it from uncomfortably moving around. MidWest completely understand that the last thing a busy doggy owner needs is the stress of frequently hand-washing their dog's bed. That's why they've made their product so durable that it is even machine washable. We promise that both you and your dog won't be disappointed.
Key Features:
Ideal for medium to large dog breeds
Fashionable bed classily designed with ombré grey swirl pattern
One-year warranty guaranteed from Midwest
Made from the finest of ultra-soft polyester with an added with a deluxe polyfiber cushion
Easy to machine wash
Specification:
Brand

MidWest Homes for Pets

Model

40636-SGB

Weight

4 pounds
K&H Pet Products Dog Crate Pad
See More Reviews

See More Reviews



Say hello to K and H's plush grey crate pad. Now this isn't just an ordinary crate pad, it's also self-warming! In other words, you'll be saving money and the environment at the same time due to the pad being able to capture your pet's body heat, radiating the warmth back to your dog. And if you don't feel your new pad isn't up to scratch, the manufacturers offer a one-year limited warranty on their product.
Worried that your new product won't fit snugly into your dog's crate for leaving them during the day? Your dog will always be comfy due to the non-slip stability bottom as well as the slit corners, ensuring that your doggo's new pad will fit perfectly. And they'll also be snug as a bug thanks to the soft microfleece top. What's not to love?
Key Features:
Self-warning emanates heat back to your pet
Offers a one-year limited warranty
Non-slip bottom composed for stability support a soft microfleece on top for your pet's comfort
Slit corners facilitate crates all shapes and sizes of crate
Attractive grey fabric is incredibly durable
Specification:
Brand

K&H Pet Products

Model

7902

Weight

6.4 ounces
Orthopedic Dog Crate Pad by Big Barker
See More Reviews

See More Reviews



Attention all dog lovers! Big Barker has released their impressive Orthopedic Dog Crate Pad and it's hard not to be blown away. Our favorite feature clearly has to be the orthopedic fabric combined with the top 2″ of comfort foam which will mold your dog's shape perfectly when they're catching a few winks. And if they don't like it, then you can easily return it within a year due to the unwavering warranty.
This tan-colored dog pad will blend into your home, coming off as simply part of the furniture. And you can be sure that it will resist wear and tear too. As well as the cover being highly tear resistant if your dog is a natural digger, the fabric is also waterproof so nasty stains can be wiped away without any hassle.
Key Features:
Durable, American-Made foam won't flatten over time
100% waterproof and extremely tear resistant material
Your pet's comfort will be enhanced thanks to orthopedic foam, preventing your pet from brushing against hard plastic and metal
Takes well to machine washing
Fantastic one-year warranty sends replacement beds for those crate pads incompatible with your dog
Specification:
Brand

Big Barker

Weight

6 pounds
AmazonBasics Padded Dog Crate Pad
See More Reviews

AmazonBasics' products never fail to disappoint and their Padded Pet Bolster Bed isn't an exception to the rule. Fitting most crates up to 36-inches long, the soft fleece cover combined with a comfortable polyester cushion will provide a perfect spot for your dog to lie down and relax for the night. What's more, it can be easily machined washed too!
This lovely cream-colored bed won't have to be put away for any guests coming around, as it is designed to minimize and conceal shedding through its colorful, alluring design. But what we love the most is this pads ability to support older pet's joints. This is ensured through the high-quality polypropylene base which offers the extra support a wise old doggo needs. What's more, this bed is additionally lightweight and easily portable for away trips.  
Key Features:
Ideal for insertion into crates up to 36-inches long
Can be easily machine washed
Outer polyester rim acts as a replacement pillow for pets to rest their head on
Polypropylene foam base supports stiff pet joints
Your pet will be kept snug as a bug thanks to soft fleecy cover
Specification:
Brand

AmazonBasics

Model

AMZBCM-002

Weight

1.77 pounds
Bone Dry DII Non-Slip Dog Crate Pad
See More Reviews

The brand who have designed this Non-Slip Striped Pet Cage Mat named themselves 'Bone Dry' for a reason. We swear that this pet placement is as absorbent as they come – pour anything on it and just watch it absorb in front of your very eyes (don't really, this would be very inconvenient). This is due to its incredibly durable construction; you can never go wrong with durable microfiber and machine washable oxford fabric!
You'll never have to worry about your troublesome pup scratching your hardwood floor again, as the mat will stay put thanks to its solid under-cover non-slip construction. And the elevated side blocks will give your furry friend a sturdy place to rest their weary heads. Go on and buy it, your dog deserves a treat!
Key Features:
Pet placemat is extremely absorbent to catch any sloppy spills
Mat won't bunch up in the crate or slide about due to under-cover
Microfiber, machine washable material acceptable to tumble dry in cold water
Affordable pet crate pad constructed from non-scratch material
Specification:
Brand

Bone Dry

Model

CAMZ34824

Weight

13.4 ounces
Reversible Paw Print Dog Crate Pad
See More Reviews

Are you fed up of walking into your furnished home and seeing your dog's worse-for-wear-looking bed practically molding away in the corner? MidWest Homes for Pets have constructed a lovely blue bed for your pet… as well as a white one if you flip it over! If one side is looking a little worse for wear, simply turn it over for a new splash of color. And it will never look tacky anyway as this product can be machine-washed without causing any material degradation.
Manufacturers are so confident of their products success that they offer their loyal customers a year-long warranty. Yet we highly doubt you'll want to take this product back anyway as it grants your pet the chance to kick back and relax. Compatible in crates designed for dogs up to 25lbs, we know this bed will be ideal for your slightly smaller pooch.
Key Features:
Blue paw print pattern bed comes with a blue and white fleece bottom to be switched at any time
Includes a one-year manufacturer's warranty
Compatible with crates housing small dogs up to 25lbs
Easily machine washable
Comfortable cushion establishes a cozy environment for your pet
Specification:
Brand

MidWest Homes for Pets

Model

40224-FVBLS

Weight

3.8 pounds
Brindle Soft Shredded Memory Foam Dog Crate Pad
See More Reviews

Two words: Memory Foam. There's nothing that us humans love more. Settling down on your Memory Foam mattress must be the equivalent to settling down for the night on a cloud (well, how we imagine a cloud to feel!) So why wouldn't you want your dog to enjoy the same levels of comfort? The three-inches of soft shredded memory foam on Brindle's Dog Bed will create a wonderful place for your dog to rest after their long and tiring days of being man's best friend.
Constructed to fit perfectly into any normal sized crate, the features this wonderful bed possesses includes concentrated supportive pressure to relive your old dog's sore joints, arthritis, and hip dysplasia. And this stone colored mat will blend in with any classy home decor. It's truly the bed your dog deserves.
Key Features:
Bed constructed with 3-inch layer of memory foam creates a comfy spot for your pet to relax
Removable washable cover decreases risk of spills creating stains
Crate pad designed to fit into any normal sized crate
Stone colored mat is classy and subtle within any home
Concentrated supportive pressure constructed to relieve sore joints, arthritis, and hip dysplasia
Specification:
Brand

Brindle

Model

BR2818SP30SD

Weight

4.6 pounds
Paws and Pals Dog Crate Pad
See More Reviews

Would you consider your four-legged friend to be on the high-chic side of the pooch variety? Paws and Pals' fun-filled 1800's Newspaper Design is a product for a dog who likes to stand out from the crowd. Manufactured from high density foam, your pet's joints will be sufficiently cared for as well as their necks and heads due to the design's elevated rim.
One of our favorite perks is the durable construction's ability to be machine washed. This will diminish the long list of nighttime jobs which pile up after work and won't fade the fabric in any way. And the material itself will keep your pupper at the perfect temperature. We're tempted to buy one just for displaying in our homes!
Key Features:
Classy newspaper design pet bed goes well in any home
Ped bed is structured to cater for sore joints by scattering your pet's weight, relieving pressure points
High-quality material was selected to keep your pet cool in summer and cozy in the winter
Lovely bumper rim ingrained into the sides of the bed ensures your pet has a comfortable headrest to lie on
This crate pad is machine washable to accommodate for unavoidable accidents occurring in younger pups
Specification:
Brand

Paws and Pals

Model

PTBD-N01-LG

Weight

2.01 pounds
Hero Dog Anti Slip Dog Crate Pad
See More Reviews

Would it be weird to buy this as a comfy cushion for ourselves? Hero Dog's Dog Bed Mat is completely irresistible and as comfortable as they come. Firstly, its royal blue color is both gorgeous and also helps hide shedding. This bed certainly won't pile up into a ball like low-quality pet beds either thanks to its anti-slip, non-skid bottom.
The premium PP Cotton cushion is soft and contains just the right neck size for your average pup. And if you have a boisterous puppy who just can't stop chewing then this product is for you! Buyers rave about the durable fabric being practically indestructible to the extent that their puppy can tug it around the room, and this bed will still stay compact! Why not buy one to see for yourself?
Key Features:
Durable plush fleece included within purchase
Ideal for working on hardwood floors due to anti-slip and non-skid bottom
42-inch surface area deems this pad to be for all dogs – big or small
Facilitates a good night sleep thanks to 3cm cotton ensuring a thick mattress
Manufactured from non-toxic premium PP Cotton that holds shape even after a wash
Specification:
Brand

Hero Dog

Model

B073FJXYXD

Weight

2 pounds
MidWest Deluxe Bolster Dog Crate Pad
See More Reviews

Last but certainly not least, let us introduce you to MidWest's Deleuxe Bolster Pet Bed for Dogs and Cats. This 18-inch bed will work perfectly as a stand-alone crate bed as well as inside one. Your dog's comfort needs will be met thanks to the wonderfully soft fleecy material and comfortable polyester bolster cushion on which to relax.
If you have a growing pup then not only will this bed fit them throughout all their teenage years but is able to be easily washed. And for family trips away, this portable bed can be easily stored and carried around. One thing we must warn you of is although this pet bed is certainly durable, it's not recommended for purchase if your dog is an excessive chewer. However, if they're well-behaved then reward them by granting them the good night of sleep they deserve!
Key Features:
Durable construction provided by top-quality stitching around the cushioned poly/cotton quilted base
Constructed from polyester with the additional feature of an overstuffed bolster
Anti-slip bottom ensures that dog crate doesn't bunch up in the crate
100% washable and keeps in original shape even after a long wash
Dark blue color helps disguise substantial shedding
Specification:
Brand

MidWest Homes for Pets

Model

40218

Weight

7.2 ounces
Best Dog Crate Pad Buying Guide & FAQ
What Makes a Great Crate Pad
There's nothing more disappointing than purchasing a bed with fantastic reviews only to have it fall apart in front of your very eyes a few days later. To ensure that you purchase the bed right for your dog, ask yourself these few questions about the product in mind before making your final decision.
If you have an adorable puppy scarpering around your home, you'll be very aware of how messy these little rascals can be! Therefore, choosing a crate pad which is able to be washed without falling apart or losing its shape is of the upmost importance.
Will your dog be comfortable?
When dogs get older, just like humans many of them develop aches and pains. Buying them a comfortable bed which will alleviate any discomfort is a tangible way of showing your unconditional love for them. Memory foam is a quality material and an example of such comfort – your furry friend won't ever want to leave the bed after getting a taste for their new blanket.
Does your dog often tear and scratch?
We all own or know those dogs that chew and scratch their way through any item left at their disposal – whether that piece of furniture is your brand-new sofa or your light's cable. If this is true when concerning your own tail-wagger, you may want to invest in a mat with a tear-resistant cover so you won't be throwing your new purchase out the week after.

Benefits of Using a Dog Crate Mat
Your dog will be comfortable when traveling
Are you a family who are always on the move? Glancing in the rear-view mirror when driving, it's impossible not to feel guilty when looking at your beloved pooch all squashed up in the back of your dirty truck. Bringing their dog crate mat along with them will allow your dog to snuggle down in the back and get in a few winks on the ride.
A set place for your dog to kick back and relax!
Just like humans, dogs enjoy having a place where they can simply lay back and relax. Buying a mat will give them the perfect place to do so.
These pads are incredibly energy efficient
Your dog will be kept at an optimal temperature thanks to their inner-core insulation and polyester fiber. Plus, you'll save money on energy bills and help the environment at the same time. Investing in such a product is truly a win-win situation.
How to Properly Clean Your Dogs Crate Bed
They're one of the household furniture items that we never think to clean but in reality, the one we should clean the most! Invisible germs are lying everywhere on your dog's crate bed, and there's no quick way to properly clean it with a simple vacuum!
All pet bedding – including any comfy dog blankets or covers – should be washed at around 140 °F. This should be combined with the added power of natural detergent and through rinsing it a second time. Also, this entire process should be repeated within a week or so! We know it may seem like a lot but cleaning your dog's bed this often is worth it to ensure you have a happy and healthy pup.
Best Dog Crate Pad FAQ:
Q: What is a dog crate pad?
A: Dog crate pads are luxurious items able to transform your dog's empty crate into a comfy hideout. Making for a lovely mat to use in dog crates, your furry friend won't ever want to jump on to your bed again after just one night on their new bed.
Q: Are crate mats waterproof?
A: Although many crate mats aren't waterproof, there are several water-resistant crate pads out there that can handle a little dampness. Such an example is our reviewed Orthopedic Dog Crate Pad by Big Barker which is ideal for younger pups who have accidents every so often.

Q: What size dog crate pads do I need?
A: The answer to this question is entirely dependent on what size of dog you own. Following the steps below and getting it right first time will ensure that your dog will be cozy as can be in their new hideout and will save you making time-consuming returns!
Measure the length and width of the crate from front to back - Yup, it's really that simple! Although there isn't a standard size for dog crates, an average measurement – taken from Pet Dreams' Bed sizing guide – is as follows:
Extra Small - 18"L x 13"W
Small - 24"L x 18"W
Medium - 30"L x 20"W
Large - 36"L x 23"W
Extra Large - 42"L x 28"W
Extra, Extra Large - 48"L x 30"W
Although this sizing may not be 100% perfect, it is designed to fit the most popular dog crates manufactured by reputable brands whilst the unique pattern accommodates variance in size. If you don't feel comfortable using this type of measuring, any brand worth your time will also have accurate size measurements!
Our Top Pick
So, out of all the indulgent beds sold to you in this guide, which one would we choose for our own pet? It would just have to be MidWest's Grey Ombre Swirl Pet Bed. It's perfect for medium to large dog breeds as well as soft and comfortable. The fashionable grey color will be sure to compliment your home decor too. Machine washable and dryer friendly, this bed is also very portable when family holidays come around. And even your dog will love the unique swirl pattern. Not only will it brighten up your home, they'll only be noticing the unmatched levels of relaxation available for the taking. Finally, the functional inclusion of a non-skid bottom surface will stop any potential movement in its tracks. It's here, of the highest quality, and ready for the taking.
Sources:
Is it Ok To Put Pee Pads in a Dog's Crate? - Cuteness
Related Reads
Related Reads