The Best Vacuums for Pet Hair in 2022
Last Updated: January 4, 2022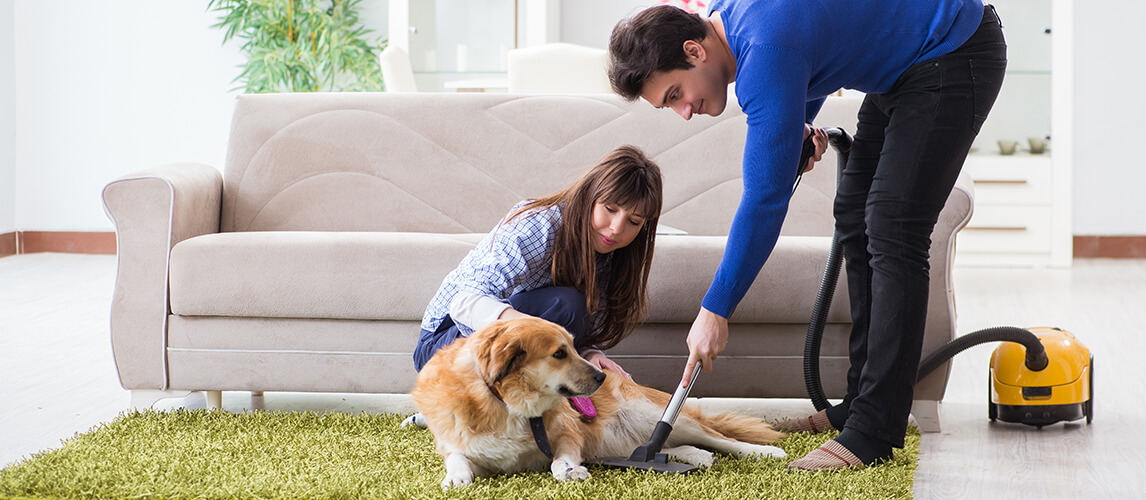 PetSide may earn a small commission from affiliate links in this article.
Learn more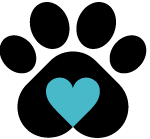 By Petside
Published 10:48 am
As every pet owner knows, canine and feline hair has a seemingly magical way of working itself into every nook and cranny of your home. Especially during shedding season, it can seem impossible to remove pet hair from your floors and rugs. When a regular vacuum cleaner just won't cut it, you do have another option: pet hair vacuums.
Many vacuum manufacturers have jumped at the chance to help pet owners keep their house spick and span. With so many options to choose from, though, it can be hard to know which one is best for your home - that's where we come in. To help you pick the perfect option, we've compiled a list of the 20 best vacuum cleaners for pet owners available right now. We've also addressed some common questions about this useful piece of kit, so you and your pooch can enjoy a clean and hair-free home.
The Best Vacuum for Pet Hair
Best Vacuum for Pet Hair Buying Guide
These 20 vacuums are the best on the market right now if you share your home with a four-legged friend. With so many different styles and functions to choose from, we're confident you'll be able to find the perfect vacuum for you, no matter your preferences and budget.
To help you choose, we've put together this handy buying guide: below, we discuss what to look out for in a pet hair vacuum, how to maintain your new device, and the best way to keep your home clean and tidy when you share it with a feline friend or canine companion.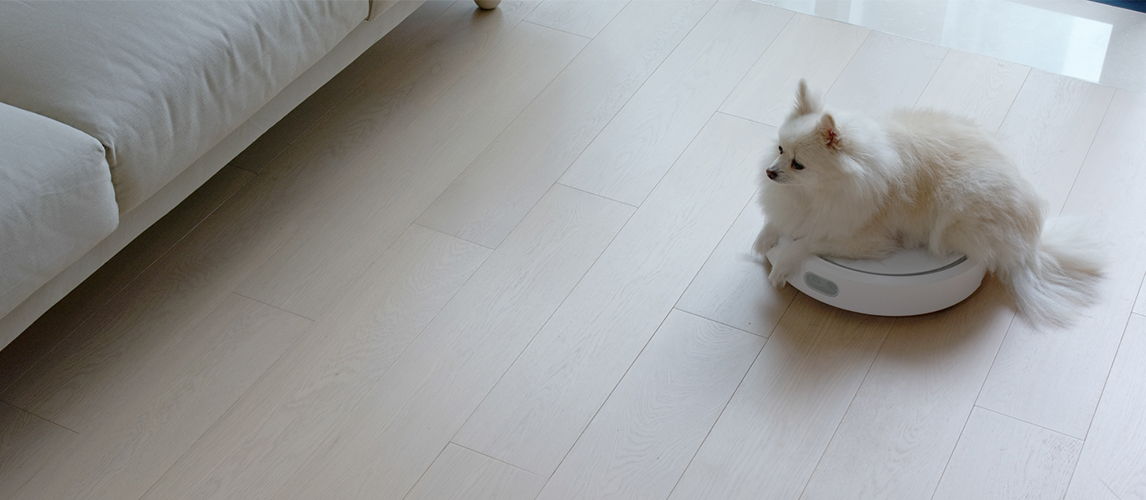 Features to Look for in Best Vacuum for Dog Hair
When it comes to choosing a vacuum with pet hair in mind, it's a good idea to look out for the following features:
As you could probably guess, a decent amount of power is a must-have for any pet-friendly vacuum. Hair and dander can easily become tangled in the pile of your carpet, so it's important that you have enough suction to lift it free.
Chances are, your home is filled with whole host of different floor surfaces. This means you'll need a vacuum that's equally at home on carpet, wood, tile, and rugs. Look out for a vacuum with height-adjustable brushes, since these are designed to cope with different surfaces. Some manufacturers will explicitly list what kind of surfaces their vacuums work best with, too. Head over to our review of the best rugs for dogs for more options.
It's no secret that pets bring a lot of hair, dander, and dirt into your home. For this reason, hygiene is another important factor to consider when choosing your vacuum. Look out for a vacuum with an HEPA filter, which traps 99.9% of dust and dander inside, preventing it from being dispersed in the air of your home. These filters are also great for trapping bacteria, reducing the risk that it poses in your home.
A good vacuum is easy to use, too. Look out for a device that's light enough for you to carry and push around your home, so it's not exhausting to use. It's also a good idea to look out for a cleaning head that swivels. This makes it easier to turn during use, and helps you reach into tight corners in your home.
Most full-size vacuum cleaners include a few smaller attachments, designed for reaching into smaller spots, and cleaning upholstery such as sofas and curtains. Vacuums designed for pet hair should include a small head with brushes - this type of tool is perfect for lifting hair from soft furniture, since the brushes help to sweep hair in.
Take a look at our reviews of Pet Stain Removers and Pet Odor Neutralizer for more info.
Health Benefits of Vacuum Cleaning
Whether you have one pet, several pets, or no pets at all, regularly vacuuming your home comes with a host of health benefits:
Allergy Relief - Regular vacuuming helps to trap those particles which can act as respiratory irritants, such as dust, dirt, and dander.
Dust Mite Removal - A strong vacuum will also kill off any dust mites. These tiny creatures are invisible to the naked eye, but can contribute to allergy attacks when left unchecked.
Healthy Skin - Running a vacuum round your home on a regular basis also promotes skin health. Particles of dust, dirt, and other substances can actually irritate your skin in high concentrations, causing itching or even rashes. Removing these particles prevents this discomfort.
Mental Health - According to a study from Personality and Social Psychology Bulletin, people with cluttered houses experienced higher levels of the stress hormone, cortisol. The link between a clean, organised home and good mental health has also been corroborated by numerous other studies. Vacuuming is one vital component of keeping a clean and organised home.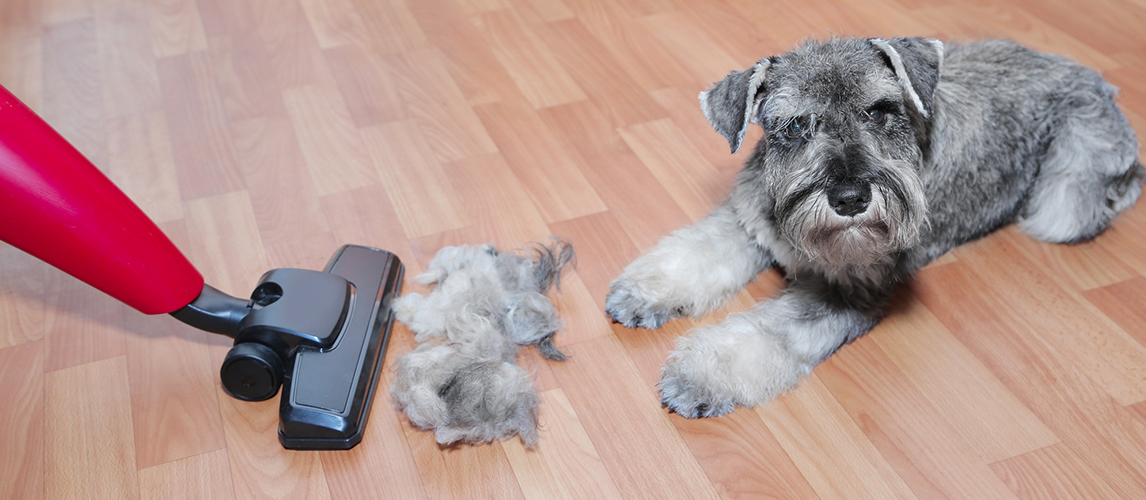 Different Types of Pet Hair Vacuums
On our top 20 list, you'll notice several different varieties of vacuum cleaner:
The classic upright vacuum is perhaps the most common design. The vacuum is one self-contained unit, powered by a cord that plugs into a wall socket. These vacuums tend to be the most powerful, and feature relatively large dust canisters. However, they can be heavy to push around, especially during longer cleaning sessions.
Canister vacuums consist of a wheel-mounted motor and canister section, connected to a hose and cleaning head that you actually hold during use. They can hold a lot of dust and dirt at once, and are lighter to use since you only need to push around part of the machine. However, manoeuvring the canister section can be tricky, and you may need to purchase special dust bags.
Stick vacuums resemble a stripped back version of the upright design. They tend to be battery powered and cordless, making them ideal for use all around the home, and even in your car. They're lightweight, but don't tend to sacrifice much power compared to their conventional counterparts. However, these vacuums have smaller dust canisters, and you may find yourself limited by the battery.
Robotic vacuums, such as the Roomba, have become increasingly popular in recent years. They resemble a large hockey puck, and automatically vacuum your home by travelling around on wheels and deploying a suction mechanism. They're very convenient for day-to-day cleaning, since all you need to do is set them up and wait. However, they're not as powerful as their manual counterparts, need to be recharged between uses, and have a fairly small dust canister.
Handheld vacuums are ideal for reaching into tight spots, cleaning your car, and removing hair from soft furnishings. They're lightweight enough to be held in your hand during use, and often feature a few different hose attachments for reaching into crevices. They're not as powerful as a fully-sized vacuum, though, and need to be recharged after each use.
Wet vacuums are designed for cleaning up watery stains, such as muddy paw prints or spilled food. They're available in both full-sized and handheld models, and tend to be used in conjunction with a special cleaning fluid. They're handy to have around, but not suitable for everyday vacuuming.
Pet Vacuum vs Regular Vacuum
Most pet vacuums offer a few features that differentiate them from their standard cousins:
Pet vacuums typically feature a strong beater brush, to tease hair out of carpets
Most good pet vacuums include an upholstery tool for getting hair off the couch
Pet vacuums are more likely to feature HEPA filter technology, trapping hair and dander
Pet vacuums tend to have especially strong suction
You may also like our article on Pooper Scoopers for Dogs.
Our Top Pick
In our opinion, the best vacuum for dog hair is Shark's upright canister model. Featuring a manoeuvrable swivel head, lightweight design, and anti-allergy technology, the vacuum delivers excellent cleaning power, alongside some really nifty extras. Its adjustable brushes are at home on every type of pile, and even hard floors such as tile and wood.
The vacuum also features an HEPA filter, which prevents 99.9% of allergens - including pet dander - from getting back into the air, so it's perfect if someone in your household suffers from allergies. A set of useful tool attachments accompany the device, including a bristled multi-tool that's perfect for lifting pet hair from stairs and sofas alike. It's these useful features, along with the vacuum's reasonable price point, which have placed it in our top spot: the best pet vacuum around.
Check out our guides on Dog Cameras and Monitors and Electric Dog Fences for more options.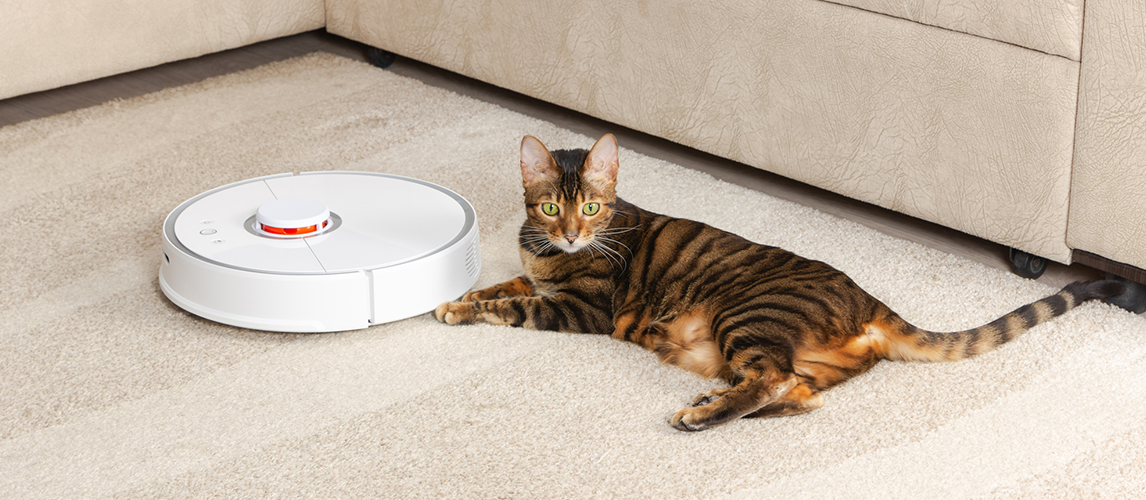 FAQ
Q:

What is a vacuum for pet hair and how does it work?

A:

Pet vacuums work by the same overall mechanism as a regular vacuum. They just have a few alterations which render them better for dealing with the challenges of pet hair and dander.

Inside your vacuum, an electric motor spins a fan. As the fan blades turn, they force air into the machine, and towards an exhaust port. This mechanism drives dirt particles up into the vacuum. A filter placed over the exhaust port allows air to escape, but traps the dirt particles inside.
Q:

How often should I vacuum?

A:

This depends on how many pets you own, and how prone they are to shedding. As a rule of thumb, you should vacuum your home once a week for every household members - including pets.

For example, if you live with a partner and one dog, you should vacuum about three times per week. During shedding season, though, it's a good idea to have a quick vacuum every day.
Q:

Is a Roomba good for pet hair?

A:

Robotic vacuums will vary in their ability to pick up pet hair, but in general they're great for daily hair-sucking top ups.

During shedding season, though, these vacuums may struggle to cope. Either way, it's best not to depend on a robotic vacuum entirely for dealing with pet hair.
Q:

How important is a HEPA filter when selecting a vacuum for pet hair?

A:

This depends on your personal needs. If you're prone to allergies, then an HEPA filter is a must-have.

HEPA stands for High Efficiency Particulate Air, and these filters are made from small interwoven glass fibers, which trap at least 99.7% of particles 0.3 microns or more in size. This prevents them from escaping back into the environment, and potentially causing irritation.
Q:

Is it important to clean or change filters?

A:

Yes. Like any mechanical component, the filter on your vacuum will experience wear and tear over time, so it's vital to maintain or replace it as the manufacturer recommends.

If you don't, the filter could develop a hole, allowing dirt particles to escape back into your home, or become clogged and pose a fire risk.