The Best Dyson Pet Vacuum in 2022
Last Updated: January 4, 2022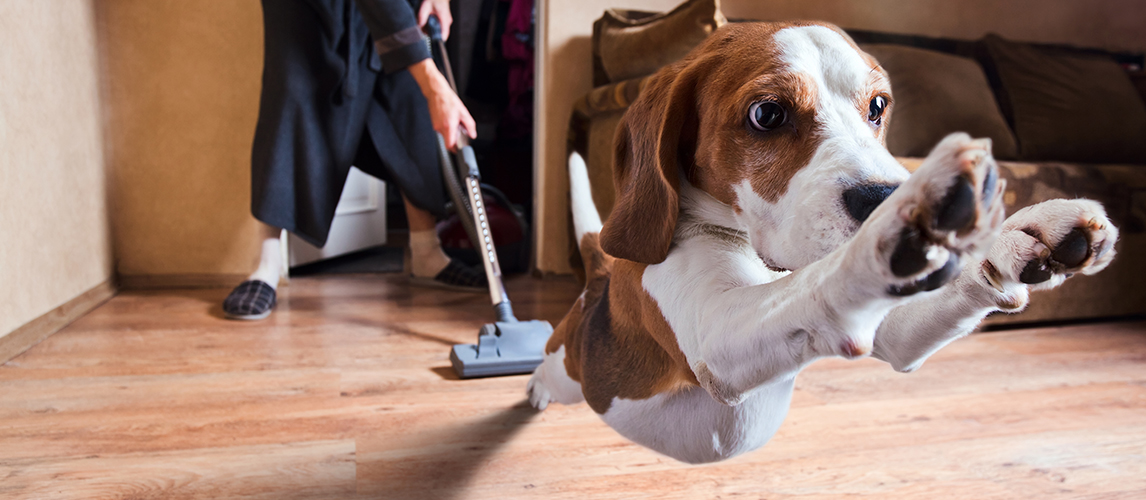 PetSide may earn a small commission from affiliate links in this article.
Learn more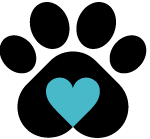 By Petside
Published 09:44 am
Does it seem as if your home is constantly covered in dog hair? If you have a long-haired breed of pooch, this is a particular issue, but it can pose a problem for anyone who has a dog during the warmer months of the year. The simplest solution is to vacuum up those stray strands, and Dyson is one of the premier brands on the market to when it comes to these devices. So, in this article, we will check out 10 of the best Dyson pet vacuums currently available.
While they are all coming from the same brand, each one offers something a little different, so it is worth investigating all the features in more detail to help make your choice just a little bit more straightforward. Ready? Then let's get started!
The Best Dyson Pet Vacuum
Best Dyson Pet Vacuum Buying Guide & FAQ
What to Look for When Buying Dyson Animal Vacuum
So, you have already settled on buying a Dyson animal vacuum, but you don't know which one would be best-suited to your needs? Well, here are some of the top things which you should be on the lookout for before making your final decision.
Some vacuums are better on hardwood floors, while others are most suited to carpet. In fact, many Dyson vacuums are equally adept at dealing with either. And some come with additional attachments which are suited to different surfaces. So, you should buy a vacuum which is going to work best in your home depending on what you will be cleaning on a regular basis.
Corded and cordless vacuums both have their individual sets of pros and cons. While using corded vacuums, you won't have to worry about them suddenly running out of power, but you also have a lot less freedom and have to keep plugging and unplugging them as you move from room to room. As for cordless vacuums, they will not give you unlimited power, but some will give you as much as one hour of cleaning time which is more than enough for most sessions.
There are several different types of Dyson vacuum available, which we will discuss a little bit later in the blog post. Essentially, you need to choose between upright, stick, canister and handheld models. Your living environment and individual cleaning requirements will both play a role in making your decision. Upright and canister vacuums are good for cleaning floors and can cover a lot of ground, whereas handheld models make cleaning furniture easier. Stick vacuums offer a combination of both, but only have limited usage before needing to be recharged. Check out the Different Types of Dyson Pet Vacuums section for more information.
All vacuum cleaners will come with different attachments, and these can end up making a big difference to your cleaning experience. For example, some Dysons come with tangle-free turbine tools which are designed to remove pet hair from carpets and upholstery. Others include a reach-under tool which allows you to get into tight spaces which you would otherwise not be able to access. Ultimately, it is worth looking closer at each attachment and how it is going to improve cleaning your home.
Dyson vacuum sale prices vary, so you need to match your budget up with your needs. However, if you can protect your furniture and other important possessions, you may decide that it is worth paying more, knowing that it is an investment which will last for years to come.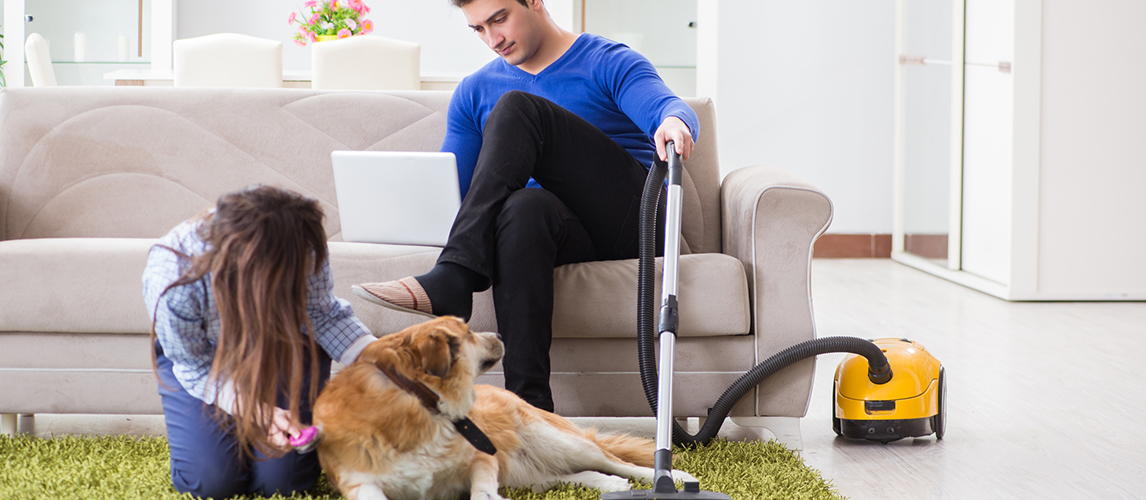 How Does it Work: Dyson Technology Explained
Dyson vacuum cleaners operate using a Dual Cyclone system, which optimizes your vacuum's suction and stops dust from being blown back into the room. When dirt first enters the tube, the first cyclone quickly swirls around at a rapid speed. Gravitational pull causes larger particles to drop down to the bottom of the dust container. A shroud which acts as a sieve stops hair, fluff, and pet hair from passing into the second cyclone. The smaller particles which do enter the second chamber enter the area where wind speed is highest and will fall down too.
The benefits of this technology are numerous. Firstly, these vacuum cleaners offer improved suction which will not deplete over time as there are no longer dirt particles clogging up the air-filtering dust bag. As well as this, no bags are required in this design, which means that you don't have to go through the unhygienic process of replacing a filthy dust sack. And you don't have the additional cost of continually needing to buy new bags.
Related Post: Vacuums for Pet Hair
Why You Should Use Dyson Pet Vacuums
Dyson vacuums have a wide range of different advantages for those households with pets. The technology is first-class, and the cleaners have been designed with your home's needs firmly in mind.
Remove Hidden Pet Allergens
Dyson Root Cyclone technology uses powerful centrifugal forces to spin dirt and dust out of the air and into the cleaner. Its post-motor filler will trap micro allergens and dander which comes from pet hair, leaving your home cleaner in every aspect of the word.
Deals with All Surfaces
While some vacuums are only suited to specific surfaces, Dyson cleaners work on hardwood floors, carpets, and upholstery alike. Their motorized tools and cleaner heads will suck up dirt and pet hair no matter where they are found in the home.
Special Attachments Included
As well as the cleaners, Dyson vacuums also come with a host of attachments which make cleaning up pet hair so much easier. For example, you have the tangle-free turbine tools which have counter-rotating heads to remove embedded hair from cushions, curtains, carpets, and bedding. You also have stiff bristle brushes which dislodge hair and dirt which are deep down in your carpets or even your car. You can also get special grooming tools to remove loose hair directly from your dog. If you can stop hair from ever getting into your carpets in the first place, this will help to make your life so much easier!
Different Types of Dyson Vacuums
Now is the time to look at each of the different types of Dyson vacuum in more detail to help you choose which one will suit your pet-cleaning needs best.
First, we have the classic upright vacuums, but with Dyson, they come with the extra innovation of a ball design which makes it easier to twist and turn around corners. They are usually good when handling the floors, and many of the best Dyson vacuums are equally adept at dealing with hardwood floors and carpet with the brand's famous suction power. On the downside, they are not good for furniture or trying to reach high up places, but you can clean them using the wand and hose attachments.
Dyson stick vacuums are simple, lightweight, and cordless. They have stiff bristles which allow you to get down to embedded pet hair in your carpets. You have to charge them up, and depending on the model that you buy, they can last between 20 minutes and an hour. Many of the Dyson models are also transformable into handheld cleaners, so you have a great deal of versatility and flexibility when cleaning your home. Ejecting the dirt is easy, hygienic, and can be done in a single action.
Canister vacuums are similar to upright vacuums with high power and a stable base. The Dyson Big Ball Multi Floor Canister Vacuum self-rights whenever it is knocked over. Not only are they good for clearing your floors of dirt, but they also allow you to get up high when you need to. And their power can also be used to clear your furniture too. But a negative point is that they are bulkier and not as easy to move up and down stairs.
Finally, we have the Dyson handheld vacuums, which are a popular choice for many pet owners. They are especially favored by those living in apartments or smaller homes which don't require so much cleaning. The Dyson V6 Top Dog Handheld Vacuum is small and light, while also has a mini-motorized tool for dealing with the toughest of cleaning tasks. Other tools and attachments are also available to make cleaning specific surfaces easier. However, like stick vacuums, they still require charging, and their small surface area makes them unsuitable for floors.
Dyson Vacuums vs Other Vacuum Cleaners
Though the Dyson brand has only been around since the 1980s, it took the vacuum cleaner world by storm on its initial release, and now is a name which is synonymous with quality. Dyson's main clean to fame is its Dual Cyclone technology which does not require bags – a pleasant relief for many homeowners who don't want to get their hands anywhere near that dusty and dirty section of their vacuum cleaner!
While other brands like Hoover have been around for over 100 years, Dyson promises various innovations over its competitors. At present, there is a lot of focus on their stick models which Dyson is championing to replace traditional upright models. On the downside, they tend to be at the premium end of the scale, many people decide that this is a price worth paying due to the high-level performance that they offer.
Our Top Pick
A vacuum which doesn't leave you held back by the cord, this Dyson is hassle-free to use and provides the powerful suction that you would expect. If you use it on the standard mode, you will have 40 minutes of running time, and the instant release trigger means that you only run down the battery when you are actually cleaning.
One of the most frustrating things for pet owners is when the dirt and dust gets embedded into the carpet, but this issue is solved by the direct drive cleaner head. And the whole machine HEPA filtration helps to capture the allergens found in pet hair and expel cleaner air than what you are regularly breathing!
The Dyson V8 is our favorite from the high-end vacuum brand and a device which will help overcome your pet hair troubles.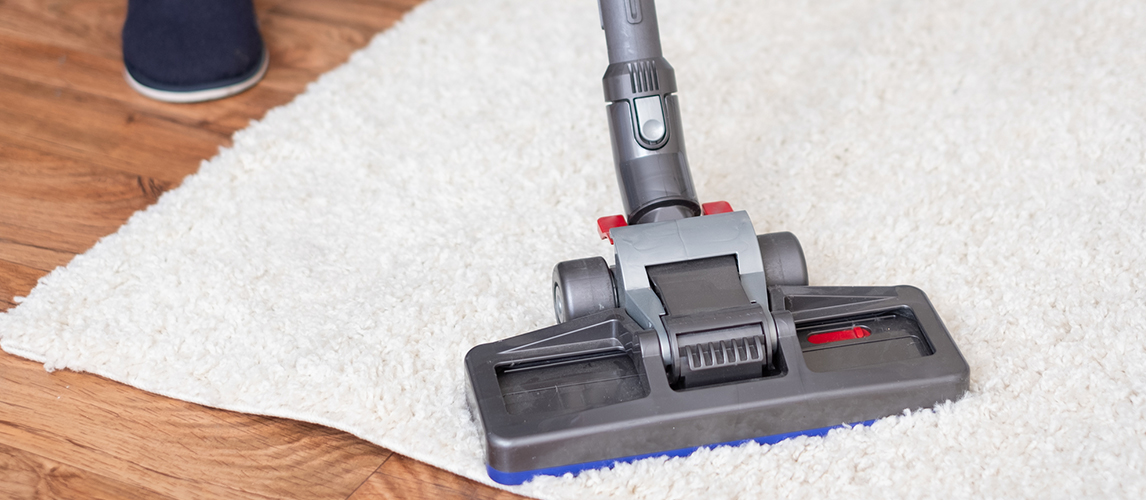 FAQ
Q:

Are Dyson vacuum cleaners reliable?

A:

Dyson vacuum cleaners are generally a reliable brand, but they don't always measure up to some of their rivals. However, most upright and cylinder Dyson vacuums come with a five-year warranty, so you can feel assured that you have protection if they go wrong within this timeframe. Even though they don't always rank at the top of the reliability scale, many customers remain loyal to Dyson and love the other positive features of the brand. Check out Dyson vacuum reviews for customer feedback.
Q:

How to empty a Dyson?

A:

Since all Dyson vacuums are bagless, you will not have to change or buy dust bags. You simply need to empty out the see-through dust container when it reaches the max line. Don't overfill the canister as this can lead to a loss of suction power. First, remove the canister by pressing the 'bin release' button. On some models it is labelled, whereas others are in a distinctive color. If you have a cordless or handheld device, taking out the cleaning wand will make this job easier. Next, hold the canister over the bin to let the dirt out. Some of the more recent models don't even have a removable canister. You just need to hold them over the bin and press the button.
Q:

How to clean a Dyson?

A:

There are various different parts of your Dyson vacuum which may require cleaning from time to time. The canister – where the dust and dirt gathers – is easy enough to clean with a damp cloth or wipe. To clean the floorhead and brush bar, you can use a cloth and scissors to cut away any of the longer hair which has gathered. If you are finding this too difficult, you could always try removing the brush bar – the piece which glides over the floor. This will usually involve removing some screws, but some of the cordless cleaners just require you to slide the bar out by twisting a circular disc.

You should also regularly clean out the filter to keep your Dyson running effectively. Generally, this sits within the middle of the cyclones. On the newer models, these are brightly colored to make them appear more obvious. Upright and cylinder models tend to have a second filter in the ball of the cleaner. There could also be one at the back of the machine or between the cleaner and floorhead. It is sometimes contained in the main handheld unit of cordless and handheld models. If you are unsure, check your instruction manual for more information on how many filters your machine has and where they are located. Once you have removed them, all you need to do is run them under a cold tap and allow them to properly dry (ideally for 24 hours or more) before replacing. Bear in mind that Dyson's Cinetic vacuum cleaners don't have filters at all.
Q:

Why does my Dyson pulse?

A:

If you find that your Dyson vacuum is pulsing on and off, this may be an indication that there is a blockage somewhere in the system. The instruction manual should give you more information on how to take your Dyson apart to check for obstructions, but if you find an issue that you are unable to solve yourself, you can organize a service directly with the company. Remember, if you have a cordless vacuum, the issue may be as simple as the device having run out of battery and needs recharging.