The Best Pee Pads for Dogs (Review) in 2020
Pee pads for dogs or piddle pads are absorbent materials in either square or rectangular shapes used to potty train dogs. It is designed to absorb puppy mess and protect your home from dog waste. If you're a pet parent, pee pads will be your best friend by saving you time from cleaning up after the animal and saving you money spent to repair any damage caused by dog waste. Some of the best pee pads for dogs are listed below together with the unique features that make them stand out.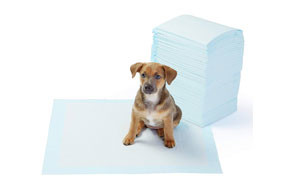 AmazonBasics Pet Training and Puppy Pads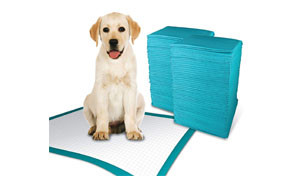 Simple Solution Training Puppy Pads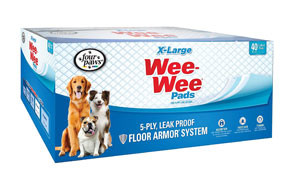 1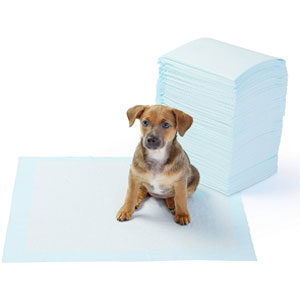 1.

AmazonBasics Pet Training and Puppy Pads
The AmazonBasics Pet Training and Puppy Pads include a set of 100 individual pads, each measuring 22 inches in both length and width. Each pad also has center pads that measure 19 inches in both length and width, with a 1.5-inch plastic border around it. The core of the pad is super absorbent and is designed in five layers. The first layer is the anti-streaming quilted pad, which doesn't fall apart when liquid pours on it by keeping the fluid on the pad. It is followed by the super absorbent sheet, which holds the fluid inside and under the surface. The polymer core turns the liquid into gel, reducing the moisture and odor that come with it. The fourth layer is the locking layer which, makes sure the liquid transforms into a gel by keeping it in the core. 
The last segment, made of polyethylene, is the plastic protecting layer that prevents any of the mess from leaking onto your floors. The surface of the pads dries within a short time so that there are no trails of pee or marks from your dog's paws. The pads are equipped with attractants that lure the dog into peeing on them instead of anywhere else. These features make the pads leak-proof, quick to dry, and very convenient to use. They also come in different sizes for all varieties of dog breeds.
Product Features:
100 per pack
22 inches in length and width
Five-layer design
Has a built-in attractant
2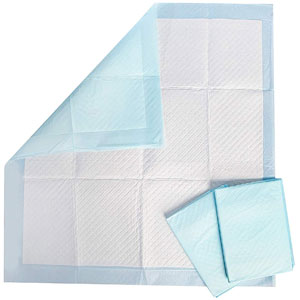 2.

All-Absorb Training Pads
The All-Absorb Training Pads are a set of absorbent potty pads that are easy and convenient to use. This set comes with the features that will make it easy for you and your puppy to live in harmony. Firstly, each of the 100 pads has the super absorbent core, which is essential to any good dog pee pad. This core turns the liquid into gel almost instantly and can hold up to three cups of fluid. It adopts the five-layer system in helping you clean up as much mess as possible without you breaking a sweat. Each pad measures 22 inches in length and 23 inches in width, which is wide enough to accommodate your puppy. For it to be more attractive to your pet, an attractant has been built into the pads so that your pet's instinctively drawn to it.
Puppy mess can stink up the whole room, but not if you have these pads. The odor neutralizer in them will keep your space smelling like there is no mess around. The surfaces also dry quickly to prevent the urine from tracking or marking the place. Not only does this work for training puppies, but it is also helpful when taking care of aged or sick dogs. There will be zero leakages onto your floor, and clean-up will feel like a breeze. There is also the 200-count package if you have a lot of puppies, or you simply want to stock up.
Product Features:
Five-layer technology
Super absorbent core
22 inches by 23 inches in length and width
In-built attractant and odor neutralizer
3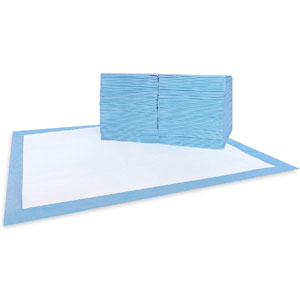 3.

American Kennel Club Pet Training and Puppy Pads
Anything dog product from the  American Kennel Club is guaranteed to be worth it, and the American Kennel Club Pet Training Pads is no exception. Because there are dog experts involved in the designing of this item, it goes the extra mile above other potty pads. This set of pads has a six-layer absorption system that ensures your space is mess and odor-free while potty training your pet. Each of the 100 pads has a tear-resistant top sheet, two anti-bacterial tissue layers that also removes odor and an absorbent plastic layer. The anti-tear layer is responsible for keeping the fluid in place inside the pad. The anti-bacterial layer, on the other hand, takes care of any unwanted smell and bacteria that may cause harm and discomfort.
In addition to these features are two segments that dry the liquid quickly, turning it into a gel to prevent tracking a leaking. The pads have a square shape, measuring 22 inches on all sides and large enough to accommodate your dog. It works well for sick or aged dogs, and there are different packs with different pad counts. The counts go from as low as 50 pads to as many as 150. The attractants in these pads vary from lemon-scented to lavender, and they are guaranteed to attract your dog.
Product Features:
Variety of attractant scents
22 inches on all sides
Six-layer system
From 50 pads to 150 pads per pack
4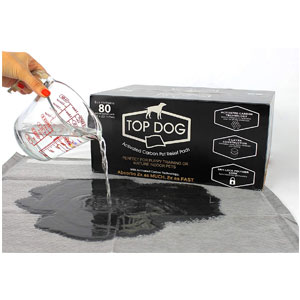 4.

Top Dog Deluxe Puppy Pads
The Top Dog Deluxe Puppy Pads is another five-layered set of pads that will potty training easier on both you and your pet. With this, training your dog to go will not be stressful, and you'll be happy with the results. A pack contains 80 pads, each with the same features that keep liquid in place with no mess or odor. The five layers start with a rip-resistant stretch layer, which is the first point of contact of the liquid and absorbs it. Then comes the activated carbon layer, which is responsible for neutralizing any odors and protecting you and your dog from bacteria. The third segment is the dry-lock polymer core, which instantly turns urine into gel. This ensures that your floors are dry, and there is no dripping even when the pad is squeezed. It is followed by the quilted absorption layer, which keeps the liquid in place inside the pad and prevents it from falling apart.
Last but not least important is the zero-spill bottom guard layer, which does not allow for any leakage or spillage onto your floor. The fantastic feature of these pads is that they are black and so they will fit into your space without standing out with stain marks. These pads also have the right pheromone attraction to make your dog feel more at ease when using the pad. Each pad measures 22 inches long and 23 inches wide, which is big enough to accommodate your dog.
Product Features:
Five-layer system
Pheromone attractant
80 pads per pack
22 inches long and 23 inches wide
5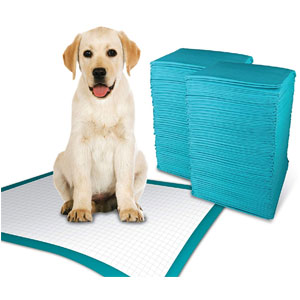 5.

Simple Solution Training Puppy Pads
The Simple Solution Training Puppy Pads are designed to be larger, thicker, and take more fluid capacity than the average pee pad. This makes it twice as effective and convenient to use in achieving a mess and stress-free potty training. This pad can hold up to seven cups of fluid without leaving a trace of it on your floor. It uses a six-layer system in absorbing and holding that much liquid with the help of the InstaShield technology. The layers include a tear-resistant top sheet, a quick-drying tissue, a super absorbent Instashield, an odor-neutralizing core, a heavy-duty base tissue, and a leak-proof backing. The urine first touches the tear-resistant top sheet, which soaks it and keeps it beneath the surface. This prevents any puddles from forming on the surface of the pad, which may cause tracking. Then the quick-drying tissue turns the liquid into a gel before the super absorbent Instashield holds it in, to prevent leakages.
The odor-neutralizing layer prevents the urine from stinking while the heavy-duty base tissue and leak-proof backing prevent the liquid from leaking into the floor. You can use these pads to train any dog in any lifestyle with no stress while keeping your floors fresh. The attractant in the pad lures the dog to it, engages and encourages it to use the pad instead of somewhere else. It has a color wetness indicator, which serves as a signal to change the pad when it is overfull. They come in different sizes as well as the number of pads in a pack to give you a variety to choose from.
Product Features:
Six-layer system
In-built attractant
Comes in a variety of sizes
Has a color wetness indicator
6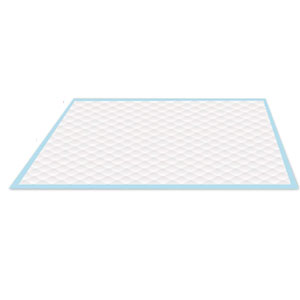 6.

Wee-Wee Puppy Pee Pads
If you want pads in large sizes to train your pet, then the Wee-Wee Puppy Pee Pads is the one for you. It provides extreme protection for you, your dog, and your home against the damaging effects of moisture, including the breeding of bacteria. It has a five-layer system of absorption, which starts with a quick-drying top layer. This top layer is the first absorption point that prevents puddles from developing on the surface of the pad. It not only locks in moisture but neutralizes the odor as well, leaving your room without a trace of urine. The second and fourth layers help the other layers by locking the liquid in and preventing leakages. The third layer is the superabsorbent polymer layer, which is responsible for turning the liquid into gel, making it challenging to leak. The last layer is what protects your floors from the content of the pad due to its leak-proof properties. The pads have an additive or attractant that entices your dog to use it.
The sizes range from little to gigantic, with one pack containing 40 pads. You can use the pads for dogs of all ages at any stage of their lives. With these pads, indoor cleaning got a lot easier, and using a tissue to clean up the dog mess will be a thing of the past.
Product Features:
Five-layer system
Extra-large size measures 28 inches long and 34 inches wide
The pads have anti-leak properties
Contains an attractant
7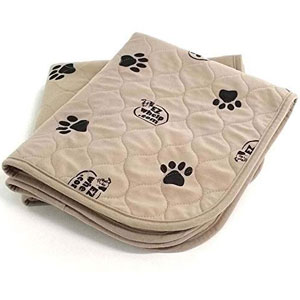 7.

EZwhelp Dog Mat-Pee Pad
Moving away from the plain pads comes the EZwhelp Dog Mat/Pee Pad, with the dog paw print decoration on the surface. The mat has rounded edges and measures 19.5 inches in length and 24.5 inches in width, but there are other sizes to accommodate different animals. It is equipped with the odor neutralizing property, and so you would not need to wash it every time it's used. You can lay it on any surface, including dog beds and human beds. It is very absorbent and can be washed in the machine and dried under low heat. The pad is very versatile and can be used for other pets like guinea pigs and kittens.
Product Features:
Rounded edges
Light brown with dark brown paw print
Odor neutralizing property
Different sizes are available
8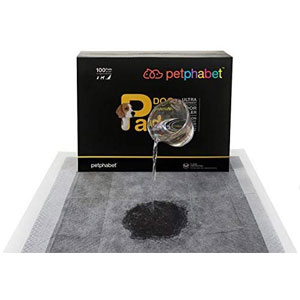 8.

Gardner Pet Group Petphabet Potty Pads
The Petphabet Potty Pads are another great addition to your home if you are a pet parent. They are designed for potty training, and within no time, your dog will learn where to do its business without messing up the house. You can also use these black pads to assist sick or aged dogs. There are 100 pieces in one pack, each measuring 22 inches long and 23 inches wide. The bottom of the pad is covered with leak-proof material that prevents any of the urine from seeping onto your floors.
One pad has different layers that perform various functions, all aimed at protecting your dog and your space. It begins with the top unwoven layer that is strong and resistant to tear and bacteria. The built-in charcoal bamboo layer absorbs the scent so that your room does not smell like urine. The following segment has the super absorbent layer that locks in the fluid by turning it into a gel. The leak-proof edges support the base of the pad in protecting your carpets and floors from the damaging effects of the liquid. Even though there are a lot of layers and barriers in the pad, it is still soft and breathable, and so your dog will feel comfortable using it.
If you are conscious about how this product affects the environment, then you'll like the fact that these pads are eco-friendly. They do not contribute to pollution of any kind, whether water, air, or land. The pads are safe to use in the car, pet bed, or the travel corner when you are out of the house. Each pad can hold up to about three cups of liquid and dries quickly to prevent tracking.
Product Features:
Multilayered
22 x 23 inches
Eco-friendly
100 pads per pack
9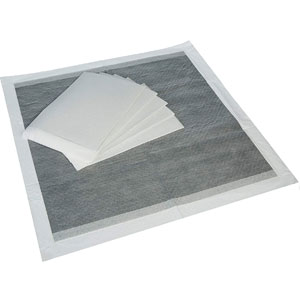 9.

AmazonBasics Carbon Pet Training Pads
You cannot go wrong with multi-layered pads, and the AmazonBasics Carbon Pet Training Pads will provide the security that your pet needs. There are 120 pads in a pack, each with the same absorbent features to keep your floors dry and fresh. There are five layers, and the pads are disposable. The dark color of the pads makes it easy to hide pee stains to leave your room still looking clean. The core of each pad is super absorbent by turning the fluid into a gel immediately, locking it in and preventing leakage. They also have carbon in them, which is responsible for masking the odor the urine might bring. 
As anti-leak support, the surface of the pads has a fast-drying effect that prevents tracking and the formation of puddles. The exterior also has an attractant component that entices and encourages your pet to pee on it. If you have an old dog, then you'll appreciate this pad more since it also helps you take care of it. Each pad is square-shaped, measuring 22 inches on all sides and weighs 34 grams. It has a manageable weight that allows you to carry around and is safe to throw away. This works for small dogs and puppies for occasions where going outside isn't a good option.
Product Features:
Five-layered design
In-built attractant
Fast-drying surface
Square shape
10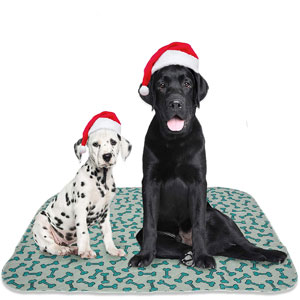 10.

Rocket and Rex Washable Puppy Pee Pads
The Rocket and Rex Washable Puppy Pee Pads are recommended because they are convenient and reduce waste. The pads are reusable and washable, thereby minimizing how much waste you produce. The mat has pictures of bones printed on it to make your dog feel more comfortable using it. The materials and design make it durable and eco-friendly. A set contains two pads, which are absorbent and control odor. You can use it a lot of other things other than potty training, including lining kennels and placing under food bowls to catch the fallout. It can also serve as a mattress protector for children or adults who wet the bed. It is the perfect tool for when going outdoors isn't an option, and you'll not have to worry about the smell. 
Each pad measures 30 x 36 inches, and it will still perform like new no matter how many times you wash it. Each pad has four layers, including a waterproof backing meant to protect your carpet and floors. They also do not contain any harmful substances that may hurt your dog. This product has been tested and approved to produce satisfying results for their users.
Product Features:
Four-layer system
Odor-neutralizing property
Measures 30 x 36 inches
Has a waterproof backing
Best Pee Pad for Dog Buying Guide & FAQ
What to Look for in Pee Pads for Dogs
With dog training pads, the more layers generally means the more absorbent the padding is going to be. Each of the segments has its properties, and they collectively help the pad soak and hold liquid. Always lookout for the feature that turns the fluid into a gel, preventing it from leaking. The size of the pad should also be considered when choosing a suitable pee pad for your pet. It should have a wide enough surface area to catch any splashes. The size of your dog and its bladder capacity will be essential factors to consider when choosing the pad. You'll need a thicker design if it is big and pees a lot as compared to the opposite.
Material plays a role in how long the pad will last in your home. Dogs like to play around, and so you should get a pad that can withstand the rough activity it may encounter. A tear-resistant material will do the job of protecting the pad against elements like your dog's nails or teeth. Since liquid will be involved, you should choose a material that can hold the liquid and prevent it from leaking. A pad with a plastic base is ideal for protecting your floor from the liquid.
While disposable pads are convenient, they can cost a lot of money to keep replacing. Reusable pads can be washed and used over and over without getting worn out, and you save money. If you wash the pads in the same machine as you do your regular clothes, then you should expect some leftover fur that might get in your clothes. Reusable pads should be waterproof so that they are not damaged after a few washes.
Attractant and Odor-Neutralizing
Dog urine can leave a foul, unbearable smell in your space, which will make it hard for you to stay there. This property in the pad is crucial, especially when you're training the animal. A good pad should have an odor-neutralizing property like carbon to mask the smell. Attractants are responsible for making your dog want to pee at a particular spot. Pads that have these are a better choice since they mimic the objects that dogs are most attracted to when they want to pee.

Why Does Your Dog Need a Pee Pad?
Dog pee pads become necessary, especially if you have a young dog that cannot control its bladder. It serves as a training tool for your pet good potty behavior while indoors. When you have to leave your dog in the house, you are not likely to come back to pee stains all over the place. With the right training, your dog will use the pee pad to your delight.
How Do I Get My Puppy to Use Dog Training Pads?
First of all, you have to notice the areas in the house that the dog feels most comfortable and place the mat in one spot. This spot can be close to their bed, playing area, or eating bowls. Just like with other types of training, you'll need to be patient and consistent with your dog. Allow your furry companion to smell the pad, exposing it to the attractants that will encourage it to use it. Continue the action until your pet learns to use the pad on its own. You can reinforce the behavior with treats so that the dog associates the action with a positive reward. Gradually remove the award until your pet continues the practice without any help. Avoid scolding or hitting your pet as you might make it afraid of you or worse, angry.
How to Make Your Own Dog Potty Pads
Factory-made dog potty pads will always be the best, but in dire situations, you can make your own pads for your pet. What you'll need are some towels and a plastic carpet runner with a side that grips the floor. Place the plastic runner on the floor and cover it with the sheets and voila, you have homemade potty pads. The towels are washable and can be reused, and the plastic is waterproof and will protect your floor.
Best Pee Pad for Dog FAQ:
Q: What are dog pee pads?
A: They are mats designed with features that soak up the liquid and are used to train pets on good potty behavior.
Q: How long should I use puppy pads?
A: This will depend on how fast your dog learns how to ease themselves and how long the pet owner wants to use it.
Q: Do dog pee pads have a scent?
A: Yes, they do. The scents are to make the pad attractive for peeing.
Q: Can I wash my dog pee pads?
A: Yes, some dog pads can be washed in the machine and reused. The washable dog pee pads usually have waterproof properties.

Our Top Pick
The AmazonBasics Pet Training and Puppy Pads is our number one choice for best pee pads for dogs because it comes with the features to get the job done. Notably, its five-layer design ensures maximum absorbency and the plastic polyethylene layer prevent leaks and overspill. Getting a puppy to do what you want, can be challenging, especially when it comes to easing themselves. These pads help lessen this issue with its built-in attractant that encourages the dog to pee on them. With 100 pads per pack as well as multiple pad sizes available, all your doggie pee needs will surely be covered whilst keeping your floors and room looking and smelling fresh.
Sources:
How to Train Your Puppy to Go on Potty Pads - The Spruce Pets
What Is the Attractant in Puppy Pads? - The Nest
Related Reads
Related Reads