PetSide may earn a small commission from affiliate links in this article.
Learn more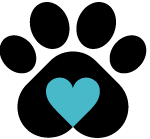 By Petside
Published 14:28 pm
Just like us, our canine companions appreciate a comfortable and cozy bed they can call their own. After all, they sleep between 12 and 14 hours a day, so a nice pet bed that ensures some sweet dreams is a must-have! Not only is a good night's sleep important for your furry friend's health, but a bed of their own also helps to keep them feel safe and protected. As a bonus, it also helps to keep them off your own bed!
With so many different pet beds on the market, choosing the best one for your pup can feel like a complicated process, so to help simplify it, we looked through dozens of different models, paying special attention to their design, material, and comfort level. We also sorted them by our favorites, including the best choice overall, best budget-buy, and premium pick. And if you need more info on how to choose the best dog bed? Our buying guide contains everything you need to know!
The Best Dog Bed
Best Dog Bed Buying Guide & FAQ
A comfortable pet bed will ensure that both you and your pooch have good-quality sleep every night. A proper dog bed becomes even more important if your pup suffers from arthritis and achy joints as it helps relieve pressure points and improve mobility. But with so many pet bed and mat options on the market, finding the right one for your furry friend can be challenging. To help point you in the right direction, we've not only reviewed some of the best models available for purchase, but have also put together this buying guide. Here, we cover everything you need to know about pet beds, including, of course, how to find the best one for your pupper!
Things to Consider When Buying a Dog Bed
You may think that you have already chosen your ideal dog bed from the list above, but it is worth taking a step back to ensure that you are making the right choice. Here are some of the top things to consider before making a purchase.
Obviously, one of the most important issues is ensuring that you choose the right size of dog bed for your pet. Now is the time to get out your tape measure to see precisely how big your furry friend is. Make sure that you choose a bed that gives your dog plenty of room, especially if they really like to stretch themselves out while sleeping.
If your dog is older or suffers from a joint condition like arthritis, you should start by choosing a bed that is easy for them to clamber into. A model that features a dipped design may be ideal. You should also consider choosing a bed that offers increased support for their spine, joints, and limbs, such as models made orthopedic or memory foam. On the other hand, if you have an energetic pup, they may prefer a smaller, fluffier option.
Each and every dog has a different sleeping style, so you should base your decision on how your dog likes to get their shut-eye. While some like to curl themselves up into a tight ball, others prefer to stretch out with their limbs all over the place. Take a bit of time to watch your pet while they are asleep, and it will become easier to choose a bed that suits their sleeping style best.
While it may not be the only important factor, your budget is still going to have an impact on your decision-making. As you will have been able to tell from the above product selection, some dog beds are very affordable, whereas others can be quite pricy. Of course, price isn't the only indication of quality. You can also match this up with the reviews to ensure that you are getting an exceptional product.
The style of your dog bed and how it fits into your house is another factor that you will want to consider. They are available in a wide range of sizes, shapes, colors, and textures, so if you are interested in improving or at least complementing your home décor, this is bound to be important to your artistic eye.
Check out our review of Dog Teepee Bed.
Since a bed is a place where your dog is likely to spend a lot of their time, it is bound to get covered in loose hair, dirt, and debris. So, the ease of cleaning is another important issue that is worth bearing in mind. Many of these beds are machine washable, and others are suitable for the dryer as well. Always double-check what cycle they need to be put on to ensure that you are not risking any damage to your pup's sleeping place.
Read here our guide on Washable Dog Beds.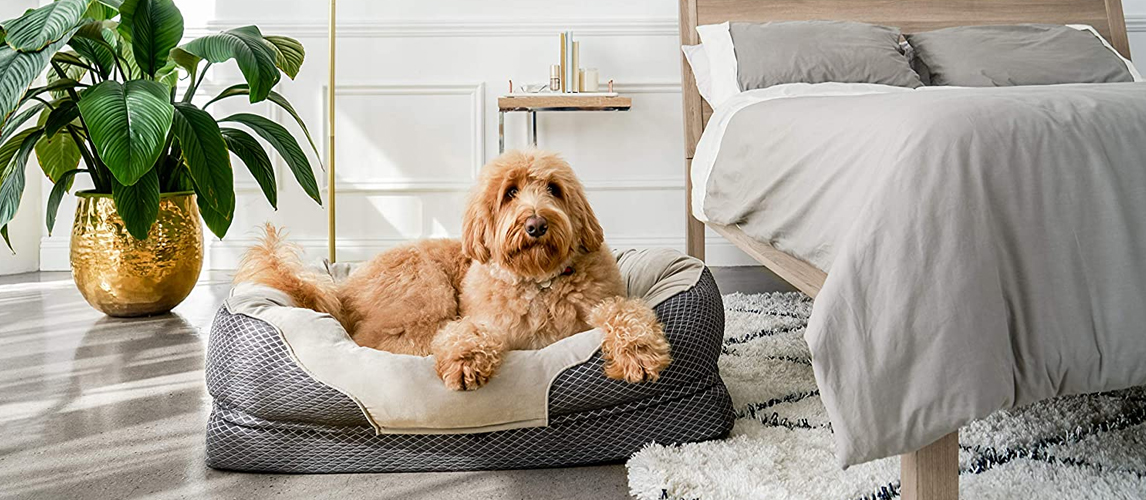 Benefits of Using a Dog Bed
Giving your dog a comfortable bed of their own where they can sleep and relax whenever they want to comes with a host of benefits, including:
Dogs love to have a place that they can call their own. Canines have an intrinsic need to feel safe, and their bed is a spot that they can retreat to whenever they would like. Just as your bedroom provides a sanctuary where you can escape from the stresses and strains of the world, the same goes for a dog bed as well.
A dog bed certainly provides a more comfortable sleeping environment than having to curl up on the floor. The cushioning and insulation also help to keep your pup warm during the long, cold nights, and models that come with higher edges offer protection from draughts. Historically, dogs would have stayed together in packs, sleeping together and finding warmth and companionship in this way. Domesticated dogs don't live in the same way but giving them a comfortable and warm place to sleep will help them to remember their nature and feel at ease.
You may also like our article on Heated Dog Beds.
Many dogs suffer from some type of joint or hip pain, whether they have arthritis, or are just getting older. If your pooch must sleep or lie down on a hard surface regularly, this can end up exacerbating the issue. Providing a comfortable and supportive dog bed will help to take the pressure off their joints. If your pet suffers from arthritis or has achy joints, we highly recommend beds made with orthopedic memory foam.
Plenty of dogs love sleeping on their owners' beds or sofas, but regular jumping up and down from high surfaces can end up putting unnecessary pressure on your dog's joints, which is especially bad if they suffer from a condition such as hip dysplasia. And if you have a smaller dog, they are bound to find it much harder to jump up and down from the bed, which could lead them to falling and injuring themselves. Most pet beds are much easier to get in and out of, so you don't have to worry so much about injuries or worsening a pre-existing condition.
Another major issue caused by your pet always sleeping in bed with you or on the sofa is that they are going to get fur, dirt, and debris all over the place. Not only does this look bad in your home, but it could also be problematic if you have a family member who suffers from allergies or asthma. If you buy a pet bed for your furry friend, all of this gets contained in one place, and it is much easier to clean. After all, most dog beds or at least their covers are machine washable!
Dog Bed Maintenance
When you spend money on a pet bed for your furry friend, it makes sense that you maintain it properly so that it lasts for as long as possible. Here is some advice that will contribute to your bed's longevity and cleanliness.
Check Washing Machine Suitability
Most of the dog beds above (or at least their covers) are suitable for the washing machine, but you should make sure that you follow the instructions carefully. Generally, they are supposed to go in low-spin or cold-water cycles. Anything which is too aggressive can end up causing damage to the bed. If the instructions are not clear, you may want to hand-wash the cover in cold water with a gentle detergent.
Some of the dog beds which we have discussed above are suitable for the tumble dryer, while others can be air-dried. Conversely, others expressly state that you shouldn't use one or the other method, so always confirm that you know which one is correct. Every product is designed differently, and each one has a specific method of care which you need to follow.
Undertake Regular Cleaning
Just because a dog bed can go in the washing machine, it doesn't mean that you have to do this after every single usage as long as you clean it regularly yourself. All you need to do is wipe clean the surface using a damp cloth from time to time. You could also vacuum it to clear up any dirt, hair, and other debris that may have accumulated in the fibers. Frequent cleaning will give your dog a much more pleasant place to sleep, as well as ensuring the bed looks its best in your home. Another useful tip is to use a deodorizer which will keep the bed smelling at its best.
Take Care of Deep Cleaning
Sometimes, you may find that your dog leaves behind stains which simply cannot be dealt with by machine washing alone. In this case, you could try using a specific stain remover on the fabric. Again, check any instructions to ensure that it is suitable for your dog bed material.
Types of Dog Bed
As you will have been able to tell from the above product guide, there are several different varieties of dog beds available. Here is a rundown of some of the main ones to help you make your mind up.
The classic style of dog bed is typically lowered in the middle with a raised edge running along the outside. The materials are varied, as are the shapes. Often, they are filled up with polyester or foam padding. The price point depends on the quality of the bed and the brand. On the downside, they don't offer as high a level of support as other options.
You may also like our guide on Indestructible Dog Beds.
These bed models have quite high sides for that nest-like design. Sometimes, they are soft, whereas other times they are sturdier to provide a place for your dog to rest their head. They are a great option for pets who love to curl up, and the raised sides often help them to feel safe and protected. However, the issue about them not being as supportive as others remains the same.
As it says in the name, this variety of dog bed is shaped like a donut with a deeply caved middle for your pup to sink into. Generally, these come in plush materials and, similarly to nest beds, are excellent for dogs who love to curl up. However, if your dog is old or infirm, they may struggle when getting in and out of these beds in contrast to other varieties.
If your dog suffers from arthritis or another muscle or joint condition, these beds are designed to offer the support that they need. They are usually made with some variety of thick foam, such as memory foam, which is designed to cradle or conform to their body. Since they are close to the ground, they are easy to clamber onto for infirm or senior dogs. They are also great for thin or bony dogs who don't get the support they need from other varieties of beds.
Next up, we have the types of dog bed which are specifically designed to fit inside kennels or crates. Often, they can be used alone too. Getting inside a container is not something which many dogs enjoy but giving them a comfortable surface will help to encourage them and make their experience more pleasant. Find out more about dog crates here.
The other main type of dog bed that you can get is one which is raised up off the ground. The frames are made of varied materials and the supporting material is generally thin and breathable. Ultimately, raised dog beds provide a gap between the floor and your dog's sleeping place so they can be well-aerated during hot weather. But if your dog struggles to climb up onto raised platforms, you may find that this is not a suitable sleeping location. Take a look at our guides on elevated dog beds and dog stairs.
Our Top Pick
While all dog beds that ended up on our top list are great products, our number one choice has to be the PetFusion dog bed that comes with a memory foam mattress for maximum comfort and support. The cover is both water and tear-resistant, so you can be confident that it will stand the test of time.
As well as being easy to spot clean and remove hair, you can also machine wash the cover when needed. The bottom of the bed is skid-proof so it won't budge no matter where it's placed. As a nice little bonus, the model is quite modern and stylish so it should complement most home decors nicely!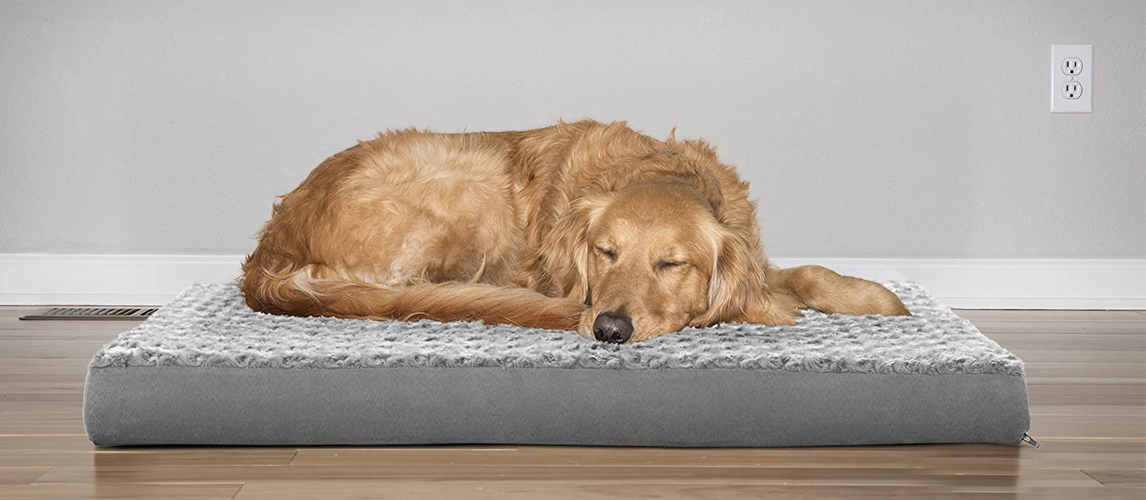 FAQ
Q:

Why does my dog always want to sleep on my bed?

A:

Most dogs love to be close to their owners, which comes from an in-built desire for company, warmth, and protection. Pooches tend to be picky about their choice of bed, but if you find the right one, it will encourage them to sleep there more regularly.
Q:

What size bed should I get for my dog?

A:

As a rule of thumb, you should go for a bed that is six inches bigger at all sides than your dog. So, get the tape measure out! If you are unsure, you are better off going for the bigger size.
Q:

How do I introduce a dog to a new bed?

A:

Start by showing your dog that the bed belongs to them by putting on their favorite blanket and toys. When they start to explore it, you can offer positive encouragement and treats. Stay patient and consistent with reward-based training until they realize it is their place to sleep.
Q:

What sort of filling should I look for?

A:

For a more supportive bed, orthopedic or memory foam is a great choice of material. These models are ideal if your pup suffers from achy joints or is getting older. Otherwise, you could choose a polyester fill for a more affordable option.
Q:

Are dog bed mattress waterproof?

A:

Not all dog bed mattresses are waterproof, so you should check the individual specifications for confirmation. That said, we tried to include as many water-resistant beds as possible on our top list, so take your pick!