The Best Orthopedic Dog Beds (Review) in 2020
Happy dogs make happy owners, and one way to make your dog happy is to make sure they are comfortable. One way to do this is by getting them a good dog bed. There are many different shapes and sizes of dog beds, but orthopedic dog beds have proven to be unbeatable when it comes to comfort. No matter the stage your dog is in life, the orthopedic bed will be beneficial to your dog. They are also a great luxury to pamper your dog with. Here are some of the best orthopedic dog beds available to help you choose the right one for your dog.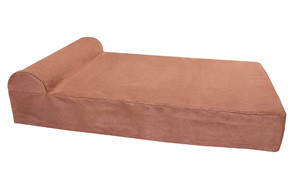 Big Barker Pillow Top Orthopedic Dog Bed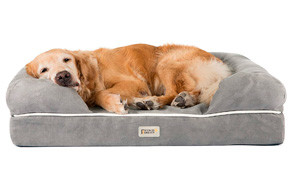 Friends Forever Orthopedic Dog Bed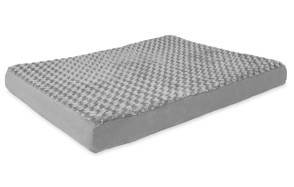 Furhaven Orthopedic Pet Bed
The Best Orthopedic Dog Bed
1.

Big Barker Pillow Top Orthopedic Dog Bed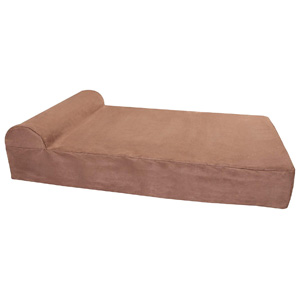 Key Features:
Four sections of foam
Removable 100% microfiber cover
Polyurethane foam
Seven inches thick with a two-inch-thick head-rest
First on our list of best orthopedic dog beds is the Big Barker Orthopedic Dog Bed, and for all the right reasons. It is constructed with flexible polyurethane foam that has been certified as safe, suitable, and functional for dogs. The foam has different sections that do different things cemented into one comfortable bed.  First is the four-inch textured foam that makes up the head-rest part of the bed, followed by the two-inch comfort foam. Then comes the three-inch support foam section, and lastly, another two inches of comfort foam. This build makes it last longer, and it will not flatten for about ten years. The bed's put together by experienced craftsmen and women who've been doing it for a long time and understand what comfort does for the body. It comes in different colors and sizes to accommodate the dog and its style preference. The mattress has a removable 100% microfiber cover and is soft to touch and easy to clean. This product's design makes it an excellent investment in your pet's comfort, and you won't regret getting it because it'll look great in your home.
Easy to clean
Does not flatten easily
Provides support for the body
Might not work for dogs that dig as there might be some tearing
It is highly insulated and so can get hot
The color of the bed might stain the floor, so it is advisable to get a mattress that matches the floor
2.

BarksBar Gray Orthopedic Dog Bed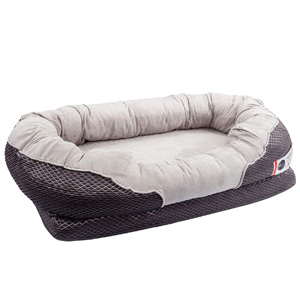 Key Features:
Measures 32 x 22 inches
Polyester cover
Orthopedic foam base with non-slip protection
Cotton-padded rims
Another great orthopedic dog bed you can get for your companion is the Barksbar Grey Orthopedic Dog Bed. This snuggly sleeper is perfect for dogs ranging from small to medium size, as well as multiple small dogs. It measures 32 x 22 inches and is made of high-quality materials to provide maximum comfort. These materials include a polyester cover, an orthopedic foam base, and a cotton-padded rim. The cover is ultra-soft and has a quilted design with a luxurious look and feel. The orthopedic foam base is four inches thick and grooved to provide the best balance for your pet while reducing joint pain and increasing mobility. The extra comfortable padded rim is made to support the dog's neck at all times. With these features, the bed will look like a decoration piece in your home. The bottom is covered with non-slip material to prevent it from sliding across your floors. The removable cover is machine washable and easy to spot-clean.
Provides support for your dog's body
Easy to clean
Very comfortable
It is not dig-proof and might not work for digging dogs
The thickness is not even
It is very thin
3.

PetFusion Ultimate Orthopedic Dog Bed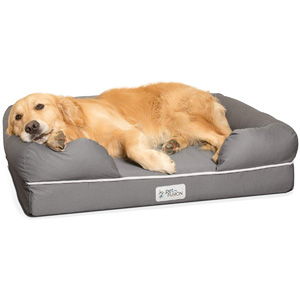 Key Features:
Four inches thick
Made from cotton and polyester
Memory foam base
Non-skid bottom
The PetFusion Ultimate Orthopedic Dog Bed has earned its way on this list by the practical features it comes with. The sizes range from small to extra extra large, and the design is a guarantee of your dog's comfort. One of its features is a memory foam base that is four inches thick and helps with joint pain and general health. It also helps with anxiety, and bolsters are filled adequately to provide support to your dog. It is also made from a combination of polyester (65%) and cotton (35%), making it extra comfortable. The cover of the bed is removable and water-resistant, while the bottom is non-skid. All the material used for the bed passed the safety test, and so your dog will not have any skin issues. Aside from these, the bed is also straightforward to clean, and it is ready to be used again after a tumble dry.
Easy to clean
Provides support for your dog's body
Safe to use
The sizing is not always accurate
The zippers used to remove and attached the covers quickly break
The fabric of the cover is thin, and so it might not last after a few washes
4.

Furhaven Orthopedic Plush Faux Fur Dog Bed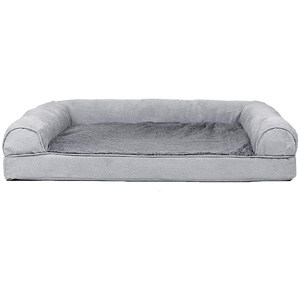 Key Features:
Three fluffy bolsters
Three-inch mattress
Faux fur exterior
Egg crate foam design
The Furhaven Pet Dog Bed is another orthopedic bed that sets the bar higher for some other dog beds. Its first noticeable features are the three bolsters that are filled generously to support your dog's body no matter its lying position. Each bolster is filled with recyclable fluffy material and surrounds the three-inch mattress. The mattress is covered in plush faux fur, while the bolsters are in smooth suede. These materials are gentle on your dog's nose and paws and make a great snuggle item. The bed is comfortable on the joints with the help of the egg crate foam-based design, which helps with spreading weight evenly across the body. The variety of colors and sizes makes it simple for everyone to get their taste. It is not recommended for dogs who enjoy biting into things since they will contribute to reducing the lifespan of the product. The bed has zippers, which make it easy to access the matress and bolster fillings when its time to clean.
Helps with joint pain
Safe for contact with skin
Improves blood circulation
Not suitable for biting dogs
Sizes are not reliable
The thickness might not meet the expectation
5.

Dogbed4less Premium Memory Foam Orthopedic Dog Bed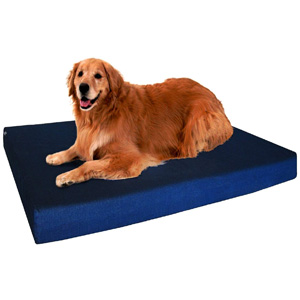 Key Features:
Gel-infused memory foam
Waterproof liner
Denim cover
Microsuede exterior
Another dog sofa to look out for is the Dogbed4less Premium Memory Foam Dog Bed, with its orthopedic properties and other desirable features. This bed is four inches thick and boasts of a waterproof liner and two extra covers. The waterproof cover is the first protection for the memory foam and has a zipper for easy removal. It is then covered by the heavy-duty washable blue denim and the brown microsuede exterior that comes into contact with the dog's skin. This outer cover has non-skid features at the bottom to prevent any damage on your floors. The foam itself is infused with a gel, which makes it about four times denser than other mattresses. It also has temperature regulating properties to keep your pet at a stable temperature no matter the weather outside. The design, density, and weight of this dog mattress combined make it very durable and chew-proof. It provides therapeutic comfort for your dog as well as adequate support for its body.
Density provides adequate support for your dog's body
Durable
Does not cause allergies
Might not be suitable for digging dogs
It might smell a little when it's new so you'd have to air it out
The waterproof feature might not hold up if you let the liquid sit on it for too long
6.

Friends Forever Orthopedic Dog Bed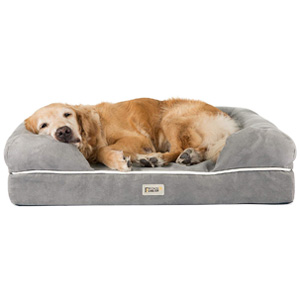 Key Features:
Water-resistant and a hair-resistant outer covering
Removable, machine-washable exterior liner
Four-inch memory foam
Five-inch bolsters
Just like in the name, the Friends Forever Orthopedic Dog Bed will keep you and your companion together forever as the best of friends. Available in four colors, this human-grade memory foam dog mattress has the features that make your dog's comfort a priority. It consists of a four-inch flatbed with five-inch bolsters surrounding three sides to support the neck and joints. It is covered with a hair and water-resistant liner, which is soft, durable, and machine-washable due to the zippers available that make it easy to remove. The orthopedic pet bed can carry medium to large-sized dogs and still provide maximum comfort. It also measures 36 x 28 x 9 inches and offers adequate support for all the pressure points on your dog's body like the hips, shoulders, and the back. With this bed, your dog can enjoy luxurious slumber on any day at any time.
Supports the pressure points on your dog's body
Easy to clean
Non-skid bottom protects your floor
The waterproof coating is not that strong and might not work with thicker fluids
The zipper can easily break
It might have a strong unpleasant smell when it's new and will need to be aired out
7.

Milliard Premium Orthopedic Memory Foam Dog Bed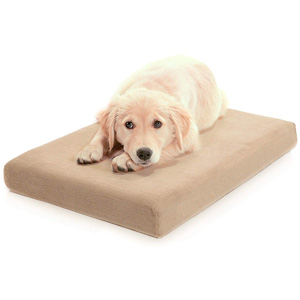 Key Features:
Two-inch foam base
Two-inch memory foam
Machine-washable external cover with zips
Non-skid base
Another premium quality bed that is worth the penny is the Milliard Orthopedic Memory Foam Dog Bed. This four-inch dog bed combines comfort and safety into one as a way to pamper your pet. They can be used for puppy beds as the sizes are from small to orthopedic dog bed large. It has a two-inch sturdy foam base and a two-inch memory foam fused for maximum support. This combination offers orthopedic support and promotes spinal alignment, catering to your dog's physical health. It is covered by a waterproof cover that easily comes off via a zipper and can be washed in the machine. This lining is non-skid, keeping it in place and protecting your floors. All the materials are high-quality and pass the safety standard as safe and chemical-free.
Easy to clean
Convenient
Supports your dog's body
You might need to check the foam itself regularly for mildew and mold
The waterproof feature is not that strong
The anti-skid bumps on the base might quickly come off after washing
8.

Petlo Orthopedic Pet Sofa Bed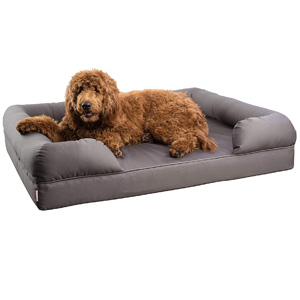 Key Features:
Non-skid bumps
Removable cover
High-density memory foam
Machine-washable
The Petlo Orthopedic Pet Sofa Bed is on this list because of not only the outstanding physical benefits but also the therapeutic properties. It indeed looks like a dog sofa with the foam base and the surrounding bolsters. There are sizes from small to extra-large, and it is available in slate grey and chocolate brown. This product is filled with high-density memory foam and supports your dog's pressure points as well as improves joint health. There are non-skid bumps beneath the bed to keep it in place and produce minimal movement. The outer cover can easily be removed to wash either in the machine or by spot cleaning when dirty. Assembling the bed back together is like a breeze, especially with the help of the zippers. The neutral design of this therapeutic dog bed makes it fit perfectly into your spaces as an elegant touch.
Easy to clean
Provides both therapeutic and physical support for the dog's body
Easy to assemble
The sizing is not always accurate
The zipper can easily break
Water-resistance is not so strong
9.

JOYELF Orthopedic Dog Bed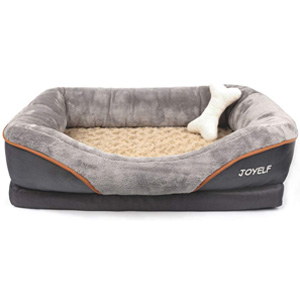 Key Features:
Non-skid bottom
All-round hidden zipper design
Soft, waterproof on the inner lining
Flame-retardant memory foam base
For comfort and convenience, the JOYELF Orthopedic Dog Bed will do great for your dog in helping it have a luxurious nap. The solid memory foam base with flame-retardant material provides support for every part of your dog's body, improving physical fitness in the long run. The bottom also has a non-skid feature to keep it in place and prevents damage to your floor. The inner lining is made with soft fabric that provides warmth for the dog and can withstand accidents like urination. The bolsters, which also serve as headrests, are made with breathable material and are sturdy enough to hold your dog's weight. They are also padded with cotton and surrounds the whole of the bed. The outer cover is attached to the foam by a zipper that goes all around the bed. It makes removal for washing simple, and with the zipper being hidden, you get a clean, classy look. It is also easy to spot and remove hair from the bed.
Easy to clean
Soft but sturdy
Durable
The bed might shed a lot
Has a strong scent and might need some airing
The thickness might not meet the expectation
10.

Furhaven Orthopedic Pet Bed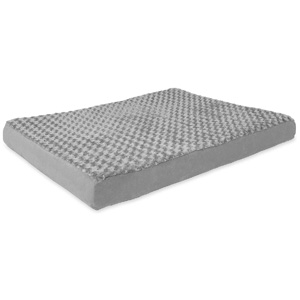 Key Features:
Open design bed
Faux fur surface
Suede sides
Egg crate foam base design
The Furhaven Pet Dog Bed is one of the simple orthopedic beds that comes in many different colors and styles. It is perfect for the dog that likes to cuddle, and the traditional open design gives more room for your dog to be comfy. The surface is covered with curly faux fur, which is soft and gentle on the nose and paw. In addition to the plush surface, the sides are covered in suede to give the bed a luxurious appearance. The foam uses the egg crate technology to provide support to every part f your dog's body. It comes in sizes from small to Jumbo plus, and the cover is removable for machine-washing.
It is not restrictive
Easy to clean
Supports your dog's body
Not suitable for biting dogs
The bottom is not skid-proof
It flattens quickly
Best Orthopedic Dog Bed Buying Guide & FAQ
Important Features to Consider When Buying an Orthopedic Dog Bed
Design: You should choose the design of the bed based on your dog's preference and need. The open layout features just the foam base, while some others have bolsters, headrests, or arms either partially or all around. More layers also make better beds for your dog since they can support it without flattening quickly.
Material: Memory foam, which is made of polyurethane, makes excellent dog beds because of its density and ability to relieve pain. This type of foam is also breathable and elastic enough to support the pressure points in your dog's body. Gel mattresses can cool your dog, so it'll be a better option when the weather is hot than the regular memory bed, which is insulated.
Machine washable: Dogs do not bath every day, so definitely, the bed will need to be cleaned regularly. A removable cover is convenient, more so if it is machine washable but equally suitable if it can be spot-cleaned and hand-washed.
Why An Orthopedic Dog Bed?
An orthopedic dog bed is preferred because it supports the joints, weight, and overall body in a way that an ordinary bed cannot. Orthopedic beds are thick and do not flatten quickly and bounce back when there isn't any pressure on it.
Down Side Of Orthopedic Dog Beds
Orthopedic dog beds are on the pricier side as compared to regular beds, and not everyone can afford it. Also, they are quite bulky or heavy and, therefore, can be challenging to move around.

Best Orthopedic Dog Bed FAQ:
Q: What Is an orthopedic dog bed?
A: It is dense bed sed to support the weight, joints, and back of dogs.
Q: What is an orthopedic dog bed made of?
A: It is mostly made of inches of thick, quality foam.
Q: How can I get my dog to like his new orthopedic bed?
Make sure the bed smells nice
Put it in a spot where the dog usually naps
Decorate the bed with toys and other fun stuff the dog likes
Our Top Pick
For the best orthopedic bed, the Big Barker Orthopedic Dog Bed takes the spot with its multilayers that offer maximum comfort. The polyurethane used in making this bed is flexible enough to accommodate the pressure points of your dog but sufficiently sturdy to support them. The 100% microfiber cushion also gives the dog something soft to lie on, and together these features, alongside others, make the perfect dog bed.
Sources:
The Benefits of an Orthopedic Dog Bed - VetInfo
Related Reads
Related Reads