The Best Washable Dog Beds (Review) in 2020
It is important for dogs to have adequate rest, to ensure their general wellbeing. Having suitable sleep helps to relieve pain, and makes every day more enjoyable. Furthermore, dogs require all the comfort they can get throughout the day and this is only possible with a comfortable dog bed. The only downside about dog beds is their tedious maintenance level. However, there is an intuitive type of dog bed, targeted at satisfying both the dog, and its owner. This is called a washable dog bed. Are you in need of a dog bed that provides comfort with an easier maintenance level assured for you? Then this selection of the best washable dog beds was created especially for you.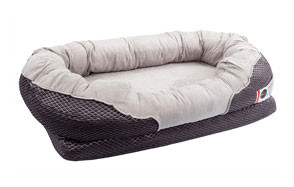 BarksBar Gray Orthopedic Washable Dog Bed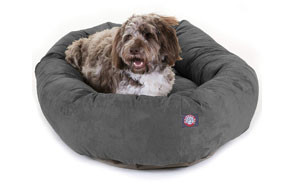 Majestic Pet Washable Dog Bed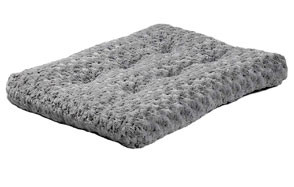 MidWest Homes for Pets Deluxe Washable Dog Bed
1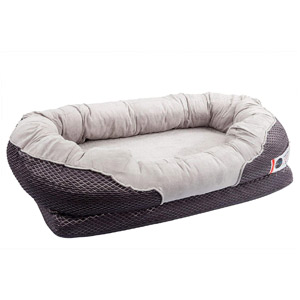 1.

BarksBar Gray Orthopedic Washable Dog Bed
BarksBar tremendously believes that your dog's quality sleep is mandatory for its general wellbeing; and as such, have made the necessary manufacturing processes to deliver a product to provide exactly this. Their BarksBar Gray Orthopedic Dog Bed features an outstanding human grade foam, in order to ensure that your dog has all the comfort it deserves. This dog bed features an orthopedic foam of extremely high quality, designed to provide intense cushioning advantages. For dog with regular pains and limited mobility, this bed is an adequate problem solver. It not only relaxes the dog's body, but also allows for sound rejuvenating sleep.
This washable pet bed also features padded walls, which are stuffed with cotton. This was crafted to ascertain adequate positioning of your dog's head and neck. There is also a provision of a cover over the dog bed, which can be removed, and is entirely machine washable for the most convenient maintenance level. What's more, this washable cover comes in an ideal quilted gray color, making the dog bed suitable for placement anywhere in a home, guaranteed to fit in quite effortlessly. Amazingly, there is a bonus feature which accompanies the BarksBar Gray Orthopedic Dog Bed; and that is undeniably on the topic of stability. It has a non-slip rubber covering at the bottom, to ensure this dog bed can be appropriately positioned on wooden or tiled floors, for an ideal placement structure.
Product Features:
Soft polyester covering
Orthopedic foam
Walls are padded with cotton
Machine washable cover
2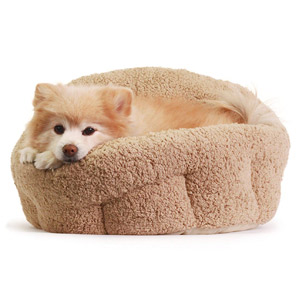 2.

Best Friends by Sheri Dog Bed
It's insightful to note that the manufacturers of this Deep Dish Cuddler were keen on providing dogs with the greatest snuggling encounter they could possibly need. With this intriguing idea in mind, they pushed through diverse manufacturing designs, until they finally arrived at an outstanding product for dogs to enjoy – the Best Friends by Sheri OrthoComfort Deep Dish Cuddler. This washable dog bed has a uniquely comfortable design, with several attestations of effectivity. It features a deep center construction in the form of a dish, with a high back and low front.
The back wall was specifically designed to provide comfort, and to relieve all forms of pain from the dog and the low front construction was positioned for a convenient head and neck positioning. Additionally, the major contributor to the comforting feel of this Deep Dish Cuddler is the type of fabric used on it. This dog bed features a Sherpa fabric, which is known for its outstanding cozy and comfortable nature. The comfortable nature of this fabric is known to help dogs sleep better, and for longer periods, in order for their bodies to fully recuperate. Furthermore, the Deep Dish Cuddler also features an incredible finished stitch work, accurately done to secure all the fillings, and to guarantee a long span of use.
Product Features:
Tough nylon backing
12-inch back wall
9-inch front wall
Airloft fiber stuffing
3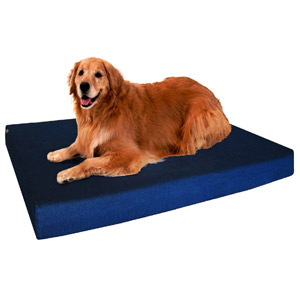 3.

Dogbed4less Memory Foam Washable Dog Bed
A common problem encountered with dog beds, is that of the bed losing its original shape after a period of time. This problem identifiably generates from the type of foam pad used for construction. Dogbed4less identified this problem, and has put in the necessary efforts to provide a durable product for users to enjoy – the Dogbed4less Premium Memory Foam Dog Bed. This bed which was crafted with a definite goal of extreme quality, assures its users of a high-grade dog bed, ascertained to retain its shape even for the longest use and this has been made possible, due to the orthopedic foam used for construction.
This memory foam is fully gelled, and possesses a hypo-allergenic feature for prolonged durability. It effectively wards off bacteria, mildew, and all other substances that are known to reduce the durability of a dog bed, and possibly deter the dog's health. What's more, this foam pad also features a tremendous comforting feel, which is known to fully aid several recuperating processes for dogs and also ensures that dogs sleep better and deeper, fully attaining all the rest they need.  The Dogbed4less Premium Memory Foam Dog Bed comes with a waterproof interior covering with a zipper closure, and two external covers: a navy blue denim cover, and a brown suede case. The external denim cover is suitable for machine wash, enabling easy maintenance for the dog bed.
Product Features:
Hypoallergenic foam
Waterproof interior covering included
2 external covers provided
3.2 lbs. foam weight
4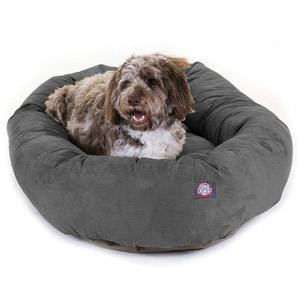 4.

Majestic Pet Washable Dog Bed
Majestic Pet Products Inc. is a top manufacturer in the world of pet products. They have been manufacturing quality products since 1994, and have established solid grounds in their line of work. Their outstanding products have enabled them to maintain a solid reputation over the years, and their fully washable dog bed is a clear example of the quality craftsmanship of Majestic Pet Products. This Suede Dog Bed features a microsuede cover with a zipper closure. This cover has an extremely cozy and comfortable feel, ascertained to embrace your dog's skin beautifully, and ensure adequate sleep. It features a gray color, suitable to complement any home's interior décor. The structural design of this dog bed also ensures it can adequately blend into any home. For the best convenience, this Suede Dog Bed has been stuffed with premium quality polyester fill.
The quality of stuffing ascertains this dog bed as a premium selection for use. Aside from this stuffing being comfortable, it has also been recycled, to ensure it is entirely eco friendly, and safe for use. What's more, the polyester used is high loft, making this dog bed suitable for machine wash which guarantees an easy maintenance strategy. Another feature of this Suede Dog Bed, which ensures it can easily be maintained, is the inclusion of a waterproof base which serves as a protective measure against spillages, to ensure the dog bed can stay dry and comfortable at all times.
Product Features:
Has four different size options
Waterproof base
Polyester fil stuffing
Microsuede cover
5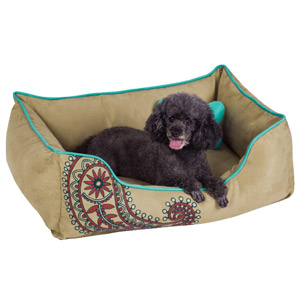 5.

Blueberry Pet Dog Bed with Washable Cover
Blueberry Pet products have outstanding delivery incorporated with extreme effectiveness. This has been made possible due to the extreme processes each product goes through, before being released for purchase. There are over 550 laboratory tests which these products undergo, coupled with over 750 inspections, to ensure its full working capabilities. This has enabled Blueberry Pet maintain a sound reputation over the years. A suitable example of Blueberry Pet's excellence delivered through their products, is their pet bed – the Blueberry Pet Heavy Duty Pet Bed. This dog bed features bolster sides, specifically targeted at giving dogs a comfortable lounging experience. To ascertain the most effectiveness, these bolster sides have been stuffed with fiber batting, for a guaranteed comfortable feel.
Blueberry Pet has also strived to deliver durability, and this was achieved by their accuracy in stitching. And to prevent the stuffing from shifting, the dog bed is adequately stitched onto the pad as a better durability measure. Additionally, this Blueberry Pet Heavy Duty Pet Bed has a removable cover, featuring a zipper closure which makes it quite convenient to remove and toss into the washer for easy maintenance. The cover also possesses a comfortable feel, made with microsuede fabric, and in a variety of beautiful colors. Furthermore, this dog bed with washable cover also has a unique design of a sofa, engineered to fit into any home perfectly.
Product Features:
Microsuede fabric
Ecofriendly fiber fill
External washable cover with zipper
Bolster sides
6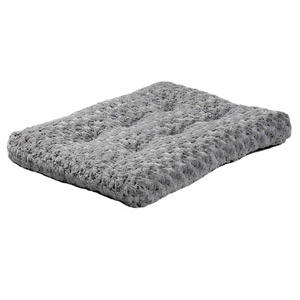 6.

MidWest Homes for Pets Deluxe Washable Dog Bed
An important feature to consider when purchasing a dog bed, is that of size. The size has to be coherent to your dog's own, in order to deliver effective comfort. To totally eliminate the incidence of buyers falling in love with the features that a pet bed has to offer, but getting disappointed with the size specifications, manufacturers are putting in their very best to deliver their products in varying sizes. An innovative manufacturer which has adapted the method of size delivery, is the Midwest Homes for Pets. Midwest Homes for Pets presents their Ombre Swirl Pet Bed, which has been designed in a total of seven different bed sizes, to ensure that all dog owners, have the absolute provision of a size recommendation to suit their dogs. The sizes vary from small to large, making it suitable for all dogs to enjoy. For the big dogs, the large washable dog bed can accommodate their size effectively; and for the smaller sized dogs, the washable dog beds for small dogs is a perfect fit.
The Ombre Swirl Pet Bed by Midwest Homes for Pets has been designed in a beautiful gray color, suitable for blending into all homes. It is entirely machine washable, due to the high quality poly fiberfill used for the construction. The polyester covering also has several attestations of a magnificent feel, suitable for dogs to attain comfortable rest and also features a non-slip backing great for positioning on all hardwood floors. These array of features only ascertains this bed as a best value option.
Product Features:
Polyfiber fill
Comfy polyester cover
Machine washable dog bed
Non-slip base
7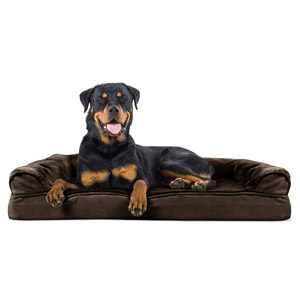 7.

Furhaven Dog Bed with Washable Cover
For better head and neck positioning, Furhaven Pet Dog Bed offers more comfort in one purchase. This bed features three bolsters positioned perfectly to encourage healthy sleep postures. With the provision of these three bolsters, there are more sleep position options provided for your dog to comfortably interchange when it needs to. It's also insightful to note that these bolsters were strategically positioned to provide the mandatory comfort that dogs look for when they need to rest or sleep. There are corners also featured on this dog bed which guarantees the essential comfortable feel on a dog's body and it was created to ensure that dogs can perfectly snuggle into these corners, and adequately position their bodies in the best way possible.
The Furhaaven Pet Dog Bed features a sophisticated sofa design, suitable for fitting into any home with ease. With the inclusion of faux fur on the exterior cover, dogs are ascertained to encounter an extremely comfortable material on their bed. This wonderfully designed faux fur is also incorporated with silk suede situated on the bolsters, to assure dogs of extreme premium comfort. What's more, the foam base implemented on this dog bed is of top notch quality, helping to relieve pain and ensure full recuperation from tedious activities. Stuffed with an outstanding eco friendly fluffy material, there is nothing aside from convenience guaranteed. For better maintenance levels, this entirely machine washable dog bed, provides the needed convenience to the dog owner as well.
Product Features:
Faux fur
Three bolster construction
Silk suede bolster material
Machine washable dog bed
8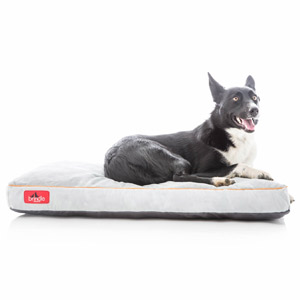 8.

Brindle Dog Bed with Removable Washable Cover
Brindle is a manufacturing company that is deeply in love with all pets. This love is shown adequately through their daily donations to pets in a humane society, in order to provide them with the comfort sleep they duly deserve. They have a mission that the very comfort their beds provide, should also be given to the dogs that direly need it. With this insight, they have manufactured the Brindle Soft Memory Foam Dog Bed for the dogs at home too. This dog bed features shredded memory foam, ranging up to a total height of 3 inches. This orthopedic foam bed is able to accommodate the weight of any dog accordingly, and effectively provide a comfortable feel.
The shredded memory foam provides several advantages, unlike other foams. It allows for increased amount of airflow for your dogs, enabling them to have the most comfortable rest when they need to. It also helps to relieve pains and rejuvenates the body accordingly, by spreading to all parts, the comfort feel of the bed. In total, the shredded foam ensures comfort on every angle that your dog lays on. There is also the provision of a removable cover on the Brindle Soft Memory Foam which solely aids the maintenance of this dog bed. Furthermore, this dog bed with removable washable cover has an outstandingly soft fabric feel, ensuring that dogs can lay conveniently. This Brindle dog bed also intuitively features various sizes in order to fully suit all dog breeds comfortably.
Product Features:
Microsuede external cover
Orthopedic shredded memory foam
Removable washable cover
3-inch foam height
Best Washable Dog Bed Buying Guide
What to Look for in a Washable Dog Bed
Despite the exciting features that accompany a washable dog bed, the topic of comfort cannot be ruled out. In order to ascertain a sweet and sound sleep for your dog, it is important to ensure that the dog bed to be purchased, is extremely comfortable.
When considering buying a washable dog bed, the size has to relatively match that of your dog. This is to ensure that the bed fits accordingly, and that your dog will be able to use it effectively and without hassles. Hence, the need to carefully pick out the right size of bed for your dog.
Despite knowing that all washable dog beds come with an easy maintenance level, it is quite insightful to point out that maintenance levels vary with each product. Some washable dog beds come with a removable machine washable cover, while some will require washing the entire bed. Depending on which you feel will be more convenient, and will require an easy maintenance implementation, this should be a guide to the most suitable dog bed for purchase.
The type of foam used for construction, will guarantee the durability of the dog bed. Other factors that will ensure the bed lives out its full span is that of stitching, stuffing, base backing, and the type of covering used. All these have to be carefully considered in order to ascertain a great use of the dog bed in the long run.

Why You Should Use a Washable ​Dog Bed?
Dog beds are far easier to maintain than regular dog beds. This maintenance feature provides convenience to the dog owner, and ensures that every dog gets to sleep on a sanitary surface.
Due to major competition in the market, manufacturers of washable dog beds are putting effective strategies to ensure purchases. This has been done with great advancements to make these beds more suitable for dogs. A major implementation is on the topic of comfort. Manufacturers are using high grade foams with outstanding quality, guaranteed to give your dog better sleep; and this is a solid reason why you should consider a washable dog bed for your dog.
Since washable dog beds come with an easy maintenance feature, it effectively guarantees that the dog bed will be used for as long as intended. This is a great choice, ensuring every buyer gets tremendous value for their purchase.
Tips for Keeping Your Dog's Bed Clean
In order to keep your washable pet bed in a clean and sanitary state at all points in time, it is highly recommended to vacuum the dog bed as often as possible. This is solely because your dog is bound to shed some hair, which will stick to the bed. Vacuuming is a convenient way to ensure your dog's bed is always clean.
As important as it is to vacuum your dog's bed regularly, it cannot take the place of regular washes. Regularly washing your dog's bed guarantees that stains don't penetrate deeply into the fabric, making them hard to remove. It also ensures that your dog gets to sleep on a tidy bed, which is a factor that boosts healthy living. Hence, in order for your dog to get the best sleep possible, regular washes are needed.
Use recommended detergents
In order to preserve the beautiful nature of the fabric used on a dog bed, it is important to consider using detergents specifically recommended for dog beds. This will help to keep the state of the dog bed a new as possible, and ensure stains are gotten rid of effectively. Using recommended detergents also ensure a safer clean for your dogs.

Our Top Pick
Our top pick is the BarksBar Gray Orthopedic Dog Bed, simply because it offers the most effective features. On the topic of comfort, this dog bed offers a superior quality of human-grade foam for your dogs to have the most comfortable sleep. The comfortable foam pad ensures that your dog is relieved from pains, and can sleep longer and better. There is also the provision of cotton padded walls, which provide comfort positioning for your dog's head and neck. On the topic of durability, it has tremendous retaining properties, guaranteed not to change shape with time. The BarksBar Gray Orthopedic Dog Bed is comfortable, durable, and has an easy maintenance feature with its machine washable cover, ensuring your dog gets only the best.
Sources:
The Guide to Washing a Dog Bed - PetMD
Related Reads
Related Reads