PetSide may earn a small commission from affiliate links in this article.
Learn more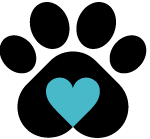 By Petside
Published 11:23 am
Whatever your dog's breed, they need a safe space to lay their head. You're probably familiar with all the usual dog sleeping spots – kennels, crates, cushions, or even your bed – but a new sleeping arrangement is now jumping onto the scene. This is the dog teepee; a conical tent designed specially for canine napping.
The main advantage of a teepee bed is the security and privacy it provides – with a fabric roof over their heads, dogs will feel as if they're in a cozy den, mirroring the way they would sleep in the wild. Pet teepees are a lot more attractive to look at than many conventional pet beds, offering a fun and quirky look, available in all kinds of patterns and styles. If you think this type of dog bed could be perfect for your pooch, you've come to the right place. We've searched the petcare market for the best teepees on offer right now, and compiled a list of our top 10 to help you choose. We've also taken the time to answer some common questions about these beds, and their uses.
The Best Dog Teepee Bed
Best Dog Teepee Bed Buying Guide
These 10 beds are the best dog teepees about, and we're confident you'll find something to meet your dog's need no matter their size and your style.
To help you pick, and to get the most out of these beds, we've put together this handy buying guide.
Things to Look for in a Teepee Bed
Exactly which bed you choose will depend on a few factors, which we discuss below:
The first thing to bear in mind when purchasing a teepee bed for your dog is size. You should measure your dog from the tip of their nose to the end of their tail, and from their feet to the tops of their ears. Use these measurements as a guideline when choosing your pet's bed. Some manufacturers will provide guidance about which of their sizes are suitable for various breeds.
Another thing to consider when choosing your dog's new teepee is the budget you're working with. Fortunately, our list includes options suitable for every budget. You can come by a quality teepee for as little as $25, but pricier options often include extra features.
Whichever dog bed you choose, chances are it will be a prominent feature in your home. For this reason, it's important to choose one you find appealing. Luckily, petcare companies have you covered - whether you're looking for something simple, or fun patterns and bright colors, we're confident you'll be able to find something on our list that suits your preferences.
Last but not least, it's a good idea to consider which extra features you want when choosing a teepee for your dog. Many designs come with a specially shaped pillow, helping pets stay comfortable when they curl up inside. Another popular extra is a hanging chalkboard, which you can use to personalise the bed with your dog's name. It's also a good idea to look out for teepees that collapse easily, so you can transport and store them without hassle.
You may also like our article on Washable Dog Bed.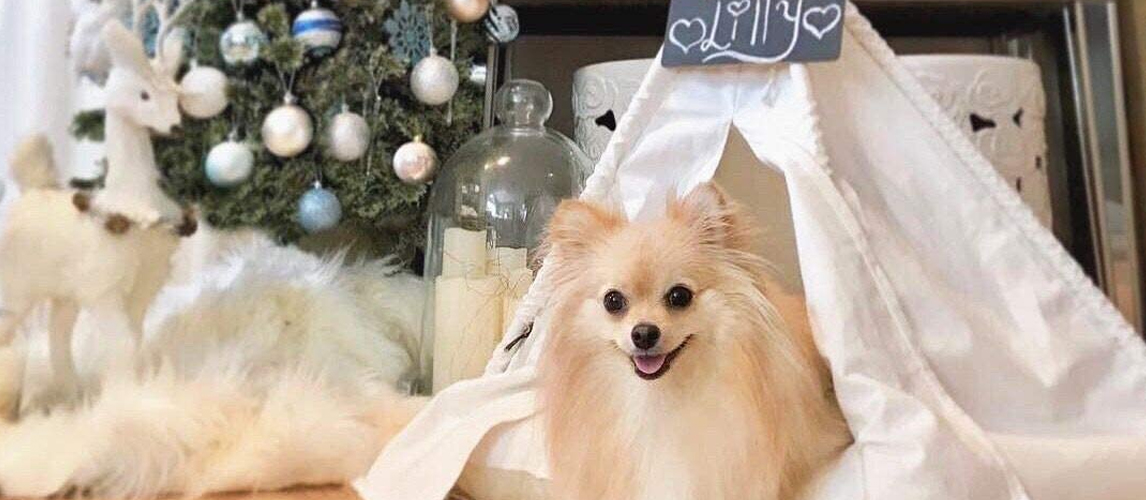 Benefits of Using Dog Teepee Bed
Choosing a teepee bed for your dog has a number of advantages:
Their attractive appearance makes them a stylish addition to your home
They offer dogs a cozy and secure space, promoting relaxation
Sleeping in this kind of small space mimics how dogs would sleep in dens in the wild
Teepee beds for dogs are available in a number of colors and styles
This kind of bed is easy to disassemble for storage and transportation
Teepees provide a safe space for dogs to hide their toys and treats. Take a look at our reviews of dog toys and dog treats.
Teepees can be brought outside in dry weather to provide your pooch with some shade
Check out our guide on Elevated Dog Bed for more info.
Alternative Uses for a Dog Teepee Bed
Another great reason to invest in a teepee bed for your dog is their excellent versatility. As well as providing a cozy spot for your pooch at home, they can be put to a few other uses.
Cat owners can make use of these handy pet beds, too. Cats, like dogs, enjoy relaxing in cozy spaces - jus think of the almost universal feline penchant for cardboard boxes! Teepees without pillows in their base can also be used to cover litter boxes, giving cats some privacy while they go about their business.
In sunny weather, you can take your pet teepee outdoors to provide your pooch with some much-needed shade. The canvas cover makes an excellent doggie parasol, protecting them from the sun and reducing the risk of heat stroke and dehydration.
Teepees also make great hiding spots for your pet when they need to get away from it all. Shy or anxious pets can become stressed by changes about the house and unfamiliar guests, so having a secure place to call their own really helps with relaxation. The hiding spot which teepees provide can also be used by your pet to stow their treats and toys away.
Our Top Pick
For us, the best dog teepee bed has to be Zaihe's sturdy but stylish offering. Made from 100% cotton canvas and natural pine supports, it's lightweight, breathable, and durable. The lace detailing adds a touch of class to your pooch's cozy space, which can be had in three different sizes, so you're sure to find the right fit whether you're shopping for a Yorkie or a Labrador.
Each teepee comes with its own cushioned base, which fits perfectly inside the tent and gives dogs a soft and comfortable surface on which to rest their tired paws. The easy-to-assemble design can be quickly collapsed for superior storage and transportation, too, while the chalkboard and chalk included with every purchase makes it easy to personalise your pet's bed to suit their unique character, Overall, this pet teepee is a sound and stylish investment for both you and your canine companion.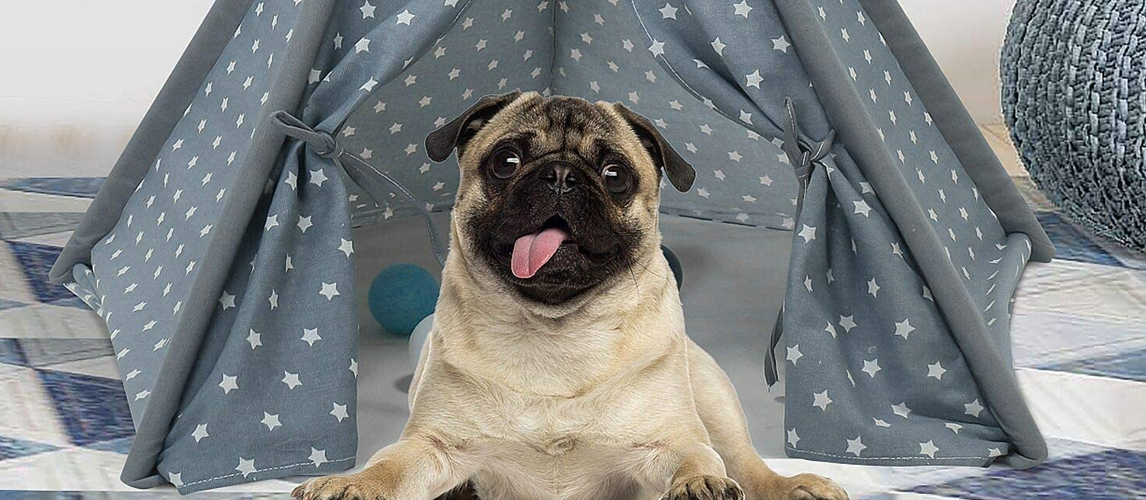 FAQ
Q:

What is a dog teepee bed?

A:

Dog teepees are a type of pet bed. Their design is based on the conical tents originally used by  native American tribes. The beds consist of a series of poles, tilted so their ends meet at a peak, engulfed by a canvas over.

Of course, dog teepees are far smaller than their human counterparts, and can comfortably fit in the corner of your living room. They're an ideal spot for smaller dogs, such as Chihuahuas and Yorkies, to relax and sleep. Many dog teepees include a specially shaped pillow in their base, to keep pooches comfortable during use.
Q:

Is a dog teepee bed waterproof?

A:

Unfortunately, the dog teepee beds on this list are not waterproof. Their covers are made from cotton canvas, which is lightweight, durable, soft, and breathable. This last characteristic makes the beds cool and comfortable, but also means that water can penetrate the fabric.
Q:

How should I clean my dog teepee bed?

A:

Any dog bed should be cleaned at least once a week. This ensures that excess hair, dander, and dirt are removed from your dog's sleeping space, leaving it more comfortable and hygienic.

Most dog teepees are fairly straightforward to clean. Their cotton covers are usually machine washable, so you can simply remove them, and wash at a low temperature. We recommend using a sensitive detergent, to reduce your dog's risk of experiencing skin irritation.

During molting season, or after a particularly muddy walk, you may need to wash your dog's bed more than once a week. Every dog is different, but you'll soon fall into a routine that works for you both.
Q:

My dog loves to chew, will teepee bed hold up?

A:

Chewing is a natural behavior for dogs - like toddlers, they largely explore the world through their mouths.

However, dogs who tend to chew furniture are also very likely to chew up their bedding, be it a teepee of conventional cushion. Fortunately, there are a few things you can try to stop your dog from chewing up their new bed:

Provide your pooch with plenty of chew toys, so they can channel their need to gnaw in a non-destructive way
Consider a repellant spray with a bad taste. You can spray these products on furniture and your dog's bed to discourage them from chewing
Make sure your dog has plenty of exercise, as destructive chewing is sometimes the result of pent up energy
Seek advice from your vet. Destructive chewing could be the symptom of a more serious underlying issue, such as separation anxiety
Take a look at our review of indestructible dog beds for more options.
Q:

Can I use teepee bed outdoors?

A:

Teepee beds can indeed be used outdoors, but only in certain circumstances.

As we mentioned earlier, they're not usually waterproof, so can't replace a traditional outdoor kennel. However, on dry days, it's completely fine to take your dog's teepee out into your yard or garden, to provide them with a shady and comfortable place to lie.