The Best Elevated Dog Bed (Review) in 2020
During your outdoor trips and also while your dog rests, you can make use of an elevated dog bed to help your canine feel more comfortable. These beds, also referred to as cooling beds, are great for dogs that are not aggressive chewers. What's more, they are suitable for daily use, and are perfect for all homes and dog breeds. In recent times a lot of varying models have come onto the market, and this availability often gets dog owners confused. Finding quality elevated beds for your dog should be an easy task, and to ensure this, we have drawn the very best from the lot into this article. We love these ten best elevated dog beds because they feature the required elements that keep your dog comfortable for days on end.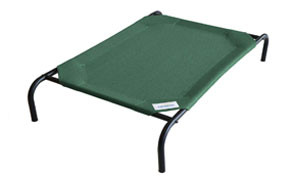 Coolaroo Elevated Dog Bed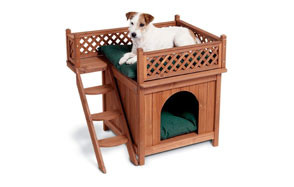 Merry Pet Elevated Dog Bed with Stairs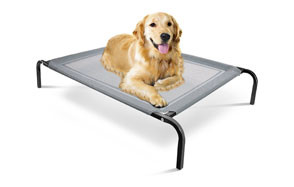 Paws & Pals Elevated Dog Bed
1.

Coolaroo Elevated Dog Bed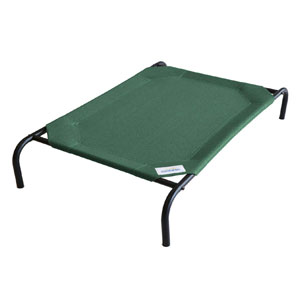 Key Features:
Mold and mildew resistant
Easy to maintain
Lightweight, yet sturdy powder-coated steel frame
Portable design
Coolaro is a brand with a lot of high-quality products under their belt. They love to keep customers comfortable, be it pet owners or the pets themselves. Their latest creation is the Coolaro Original Elevated Pet Bed, which is a carefully crafted unit with an off-the-ground design. This elevated bed helps increase airflow on the bed while promoting coolness for your dog every time he/she lays on it. 
This bed from Coolaro is also fresh in all aspects and features a suspended platform, included by manufacturers, to offer better and more prolonged comfort. All joints and pressure points of your dog are met with low-impact areas that were placed explicitly for better flexibility and extreme comfort. 
Your dog will love this breathable elevated coolaroo dog bed because it eliminates all hot spots and is as straightforward to clean and maintain as it is lightweight, offering enough for movement around your home. Give your pet the quality and comfort it deserves by investing in greatness from Coolaro.
Rated for indoor and outdoor use
Supports the weight of large dogs
Some tools are required for assembly
Limited warranty
Screws may need to be replaced from time to time
2.

K&H Pet Products Original Dog Cot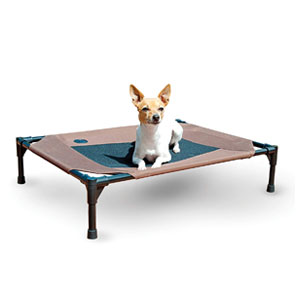 Key Features:
Durable & tested for strength
Non-skid rubber feet
Washable cover
One-year limited warranty
Out of all high-quality brands that are responsible for the production of animal accessories, K&H tops the charts with their varying designs, excellent quality, and impressive performances. They are recognized across the globe for their fantastic work done to help animals feel and look better and their k&h Original Pet Cot is a classic example of such quality products.
This is an elevated bed for dogs designed with a waterproof fabric. It features the use of a 6-denier material, which is both durable and sturdy. The product has been tested for both strength and durability; thus, you're assured of this bed lasting for a longer time, as compared to a lot of competition.
Furthermore, the K&H dog bed has the most carefree maintenance and cleaning, as the cover is removable and washable. It comes with a warranty and a tool-free assembly that saves you time after purchase for the setup. We recommend the original pet cot for all dogs, as it will help keep them fresh during the hot summer days.
Ideal for the outdoors
Water, bacteria, and mold proof composition
Comes with a one-year warranty
Issues with dogs refusing to sleep on it
3.

Kuranda Elevated Dog Bed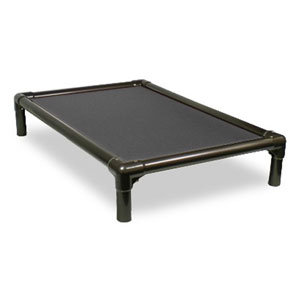 Key Features:
Chewproof design
Walnut PVC
Provides traction
Best for allergies/sensitive skin
We're confident that your canine will fall in love with the Kuranda Dog Bed. Out of all elevated dog bed models we have come across, this is the most economical. We love how its structure is made from a chew-proof material to enhance its durability. Made from a walnut PVC, this dog bed promises to last for a very long time, no matter the pressure it experiences.
The Kuranda Dog bed also features an orthopedic design that keeps your dog comfortable, relaxed, and dry always. The design is such that you can make use of the bed, both indoor and outdoor and the Cordura fabric used is the best on the market for dogs with allergies or sensitive skin.
Cleaning this kuranda bed repeatedly will not reduce its quality; we know that having this unit at home will go a long way to keep you and your canine happy. This is because of the endless reviews we received all over the world from existing users.
Has a high-strength PVC frame
Easy to clean
Good overall quality for
4.

AmazonBasics Elevated Cooling Dog Bed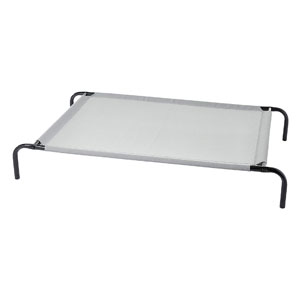 Key Features:
Breathable mesh fabric
Elevates pets 7 inches off the ground
Easy to clean
Simple assembly
Amazon has a sub-brand that is known to deliver the best products to customers across the world. These products are needed in various aspects of every household. From food to books and equipment, we have come across a wide array of items that AmazonBasics provides on a whimand the AmazonBasics Elevated Cooling Pet Be is one of them..
This elevated bed unit is lifted seven inches off the ground to allow for thorough cooling and improved ventilation. It is made from a breathable mesh fabric that is easy to clean and simple to assemble an dthere are various sizes of this bed to accommodate all sizes of dogs as well as breeds.
We recommend the AmazonBasics dog bed for all dogs that have sensitive skin, and those who experience extreme heat during summer. This off the ground dog beds can be used in your home or at the park without issues and can be your dog's bedtime spot after a long, active day.
Perfect for outdoor pets
Use indoors as well
Easy to set up and clean
May tend to sag with heavy use by bigger pets
May not accommodate huge breeds
5.

Merry Pet Elevated Dog Bed with Stairs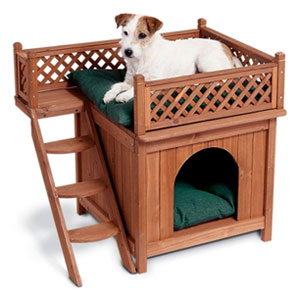 Key Features:
Includes latticework, and side steps
An indoor/outdoor structure
Lightweight yet durable construction
Quick and easy assembly
The Merry Pet House is a jolly creation made a leading manufacturer of animal and pet accessories. They have perfected their design of elevated beds such that their newest addition to their collection is a bestselling unit all over the globe. The Merry Pet House is a beautiful bed designed especially for dogs. It is lifted off the ground and is ideal by design for use both outdoor and indoor. We love this bed because it is made from the treatment of natural color stains and the use of kiln-dried cedar. 
Installing this raised pet bed doesn't take more than twenty minutes, and this is shorter than many pet beds in the market. We recommend this bed for use on your side steps, balconies, and even on the latticework. It is a beautiful, lightweight unit that can also be moved around along with your dog.
Works great for all sleeping styles
Is super comfy for your pet
Several color choices to match any home
May not accommodate substantial breeds
May tend to lose its shape
6.

Paws & Pals Elevated Dog Bed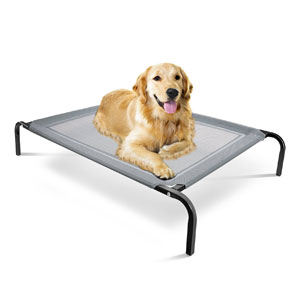 Key Features:
Two (2) sizes
Easy to clean
Waterproof design
Takes up tiny space pros
There are many high dog bed models in the market today, and one can get confused with such availability. Paws & Pals has come to make the search easier, by creating the Paws & Pals Elevated Pet Bed. This bed is truly amazing with its functioning.
It has been put together by the best hands in the world, who happen to be dog lovers themselves. With knowledge on the needs of dogs and the quality of materials for comfort, they have created this state of the art unit meant to take up only a little space, but provide your dog with all the support they ever have.
Easy to clean
Very comfy and supportive
Perfect for pets with mobility limitations
The cover is slightly on the thin side
May tend to sag with heavy use
7.

Superjare Elevated Dog Cot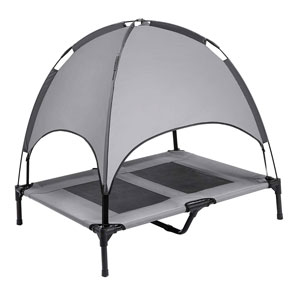 Key Features:
Elevated pet cot with canopy
Portable for camping
Durable oxford fabric
Extra carrying bag
If you love your dog, you will seek to everything possible, to ensure that his comfort is attained. This is done via the purchase of an elevated bed. These are beds that keep your dog fresh at all times, and also offer him a great space to rest.
The Superjare Dog Bed is an outdoor dog bed, made from waterproof, durable Oxford fabric and has a canopy that keeps moisture further away and can be packed for your trips to the beach or camps. This bed is ideal for all breeds of dogs. It is sturdy, durable, and very functional and comes with a steel frame that enhances its longevity, and the easiest installation one can ever do. 
Has a luxurious look
Features a sturdy design
Lightweight and great for travel
Straps are a little flimsy
Has some issues with rusting
8.

GigaTent Elevated Dog Cot with Steel Frame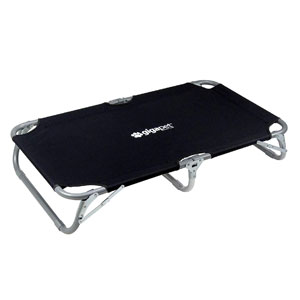 Key Features:
Steel frame
Foldable raised
Portable pet bed
Suitable for dogs and cats
Your pets can now sleep in peace and harmony, thanks to the design and development of the GigaTent Elevated Pet Cot. Pet cots are a great way to keep your animals safe and comfortable when the weather decides to act up and this elevated dog bed is made from lightweight and easily portable materials, which makes installation a breeze. It is made with durable and sturdy u-shaped legs that offer the much-needed support your dog will need while resting.
The Gigatent dog cot bed is comfortable to store and simple to maintain and doesn't demand a lot of scrubbing, as the covers can be removed as and when they get dirty. It is also a very affordable unit designed for every pet owner's pocket and home. 
Easy to assemble and wash
Easy to wash
Lightweight to handle
Cover can rip at the seams, so needs to be handled with care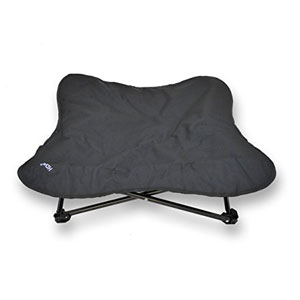 Key Features:
Heavy-duty
Water-resistant polyester oxford
Rust-resistant frame
Protects pets from uncomfortable surfaces
Say hello to the HDP Elevated Napper Cot, a dog bed made with simple and easy to clean materials. The quality of this raised dog bed is assured via the choice of material; thus, manufacturers design and develop this bed unit from the best waterproof materials.
This bed comes as a ready to use products, already folded in a beautiful packaging that makes it an ideal gift option too. There's no need for tools or installation, and maintenance is a breeze. The elevated construction of this unit makes it a bestselling high bed across the globe, while its durability brings in the countless positive reviews we love.
If you need an elevated bed for your dog during hot days, look no further than the HDP. This is a beautiful brand.
Easy washing
More affordable than other travel beds
Compact
Faulty and incomplete packaging
Easily break after a few weeks
Not suitable for chewy dogs
10.

K&H Pet Products Elevated Dog Bed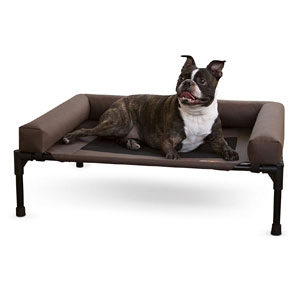 Key Features:
Mesh center
Tested for strength
Tool-free assembly with
Non-skid rubber feet
The final addition to the article has been in existence for a long time but still manages to be a part of the best-elevated beds in the market. This is the K&H Original Bolster Elevated bed, made for your dog's comfort. This is an outdoor designed bed, elevated above the ground to allow for better ventilation and enhanced comfort.
It features the use of a six-denier nylon material, which is mildew resistant and waterproof. What's more, the choice of content reduces the rate at which bacteria settle and grow on this bed.
We love this elevated dog bed because it is easy and straightforward to install. It also comes with a one-year warranty for added confidence, and terrific results from durability and strength tests undertaken by professionals. The K&H Pet Bed is an excellent way for your canine to unwind and rest.
With a removable and washable cover
Has a one-year limited warranty
Easy to clean
Not as durable as the others
Not suitable for chewy dogs
Best Elevated Dog Bed Guide & FAQ
How to Choose the Best Raised Dog Bed
There are a lot of elevated dog bed models around, and many of them do not have the required design elements that will ensure your dog's comfort. The design of these beds is so intricate; you need to have in-depth knowledge of their features and how they're meant to operate. In the following, we highlight some factors every dog owner needs to consider before purchasing an elevated bed.
The bed frame should ideally be made from steel or aluminum. If you have a medium-sized dog, you can buy a bed with a PVC frame, even though they're not as sturdy as their metal counterparts. As much as possible, opt for a bed material that can withstand the weight and load exerted by your dog.
For extreme comfort of your dog at all times, choose a bed size that can cater to your dog's height. Elevated beds should be long and wide enough to allow your dog to curl its limbs without having them hang over the bed's frame. Also, the height of your bed shouldn't be too high from the floor, to ensure that your dog can get or get off the couch at any time.
Mattresses that can be moved easily need to be lightweight and very easy to assemble. Depending on your needs and intended use of this elevated bed, you might want to opt for a portable unit, which can be moved around as and when you please. There are high bed models that are ideal for travel and hiking trips; thus, you need to study the product description before making a purchase.
All elevated beds must be made of materials that are simple and easy to clean. This helps maintain hygiene and the health of your dog; thus, it's essential. Equipment such as canvas is easy to wipe without destroying the integrity of the bed. Also, for better cleaning, opt for mattresses made of waterproof materials and elements to prevent the development of mold and mildew.
Purchasing a bed needs to be done after a lot of thought. Any investment made needs to serve you and your dog for a very long time. It is advised that you purchase an elevated bed that will withstand a lot of abuse from your dog. The high bed must last for an extended period, holding up against teething and consistent use by senior and adult dogs.

Why You Should Use an Elevated Dog Bed
Elevated dog beds are a luxury for dogs, thanks to their versatility. These beds can be used both indoor and outdoor, on hikes, and during camps. The purchase of these beds helps you save both money and time for other accessories.
Another benefit of the elevated dog bed is that it is simple to clean. These beds are made with resistant cloth that allows you to track dirt easily.
When regular beds are used outside, they tend to get spoiled fast. With the elevated beds, they've been designed for external use, so they usually last longer than their regular bed counterparts.
Types of Raised Dog Beds
These are beds designed for aging pets and those with health issues concerning their spine. The orthopedic bed offers dogs extra support, thanks to its thinner sides and roomy shape. They work well for dogs with arthritis and joint pains and are also fantastic for larger pets.
This bed has an oval or round cushioned base, with sides raised such that your dog can comfortably lean against or burrow into. The donut & Bolster bed Is excellent for dogs who need calming anxiety in pets and offering them a proper sense of security.
The heated elevated dog bed Is great for thinner, older dogs. It comes with a heating system that acts like a warm blanket to regulate the temperature of your dog, especially during the winter.
Teaching Your Dog to Use Her Elevated Bed
Training a dog to use an elevated bed takes some time. Remember, high beds are designed for one primary purpose, which is to provide both support and comfort to your dog while keeping them off the ground. It requires patience; thus, you need to take your time. When training your dog to use the elevated, you can direct as you would normally do with other pet training methods.  It is also a good idea to make use of snacks to entice and reward them
Best Elevated Dog Bed FAQ:
Q: What is an elevated dog bed?
A: The human cost is equivalent to the elevated bed for dogs. High beds are similar to regular beds, with the significant difference being their elevation above the ground. These beds come with four robust legs to deliver a sturdy frame. Also, elevated beds often come with a fabric that is pulled taut across the frame, and this is meant to hold your dog's body.
Q: Are elevated dog beds chew proof?
A: Not all elevated beds are chew proof, but a few come with a material that is highly resistant to chewing. Most often, high beds aren't required for dogs that love to eat or make excessive use of their teeth. This is because the material used for their construction isn't safe for consumption and can cause significant damage to their internal system.
Q: Do I need blankets on a raised bed?
A: Some elevated bed models come with blankets, while others may require an external purchase. Depending on the material used in making your dog a high bed, you might need to use a blanket for extra warmth. As much as possible, opt for a bed model with additional warm bed material as this will ensure that you don't need to make an additional purchase.

Our Top Pick
The first product on our is everyone's favourite, the Coolaro Elevated bed. This is one of the best-lifted beds designed for use by dogs of all kinds. It is designed with a sturdy, waterproof, and mildew resistant material that offers your dog all the needed comfort. This elevated bed has an off the ground design, with its elevation being up to seven inches above the ground. We recommend this bed because it offers prolonged comfort all year round. It has improved ventilation that helps keep your dog cool longer.
Source:
How to Train Your Young Dog to Sleep in a Dog Bed - Wag Walking
Related Reads
Related Reads