The Best Dog Sleeping Bags in 2022
Last Updated: January 4, 2022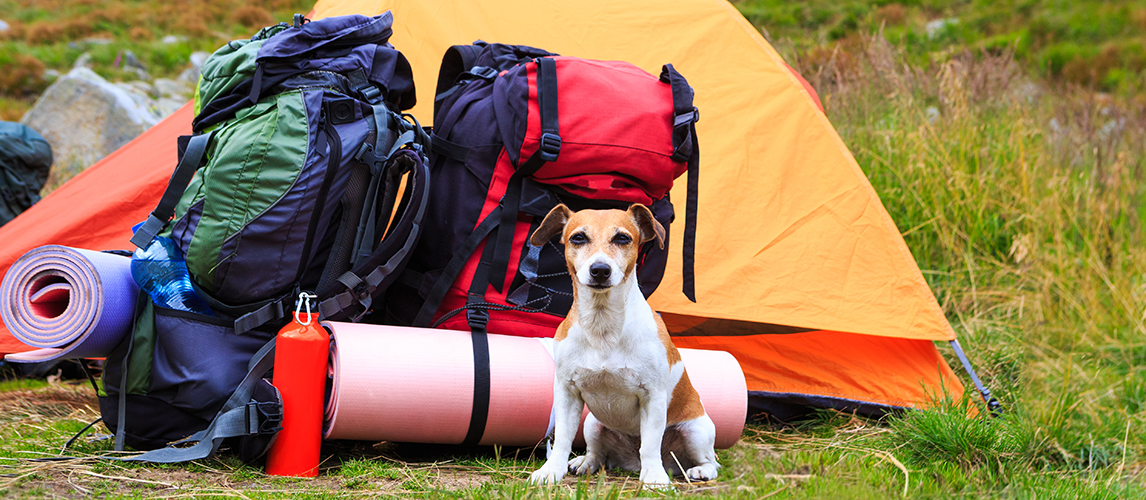 PetSide may earn a small commission from affiliate links in this article.
Learn more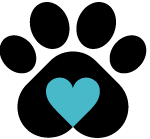 By Petside
Published 14:05 pm
If you're thinking about going travelling or backpacking with your dog, you should certainly be considering adding a dog sleeping bag to your camping gear inventory. Aside from making your fur baby look even more adorable, all snuggled up in their very own travel comforter inside your tent, dog sleeping bags have several practical uses when adventuring with your pet. Yes, we know it's more to carry, but we promise it's totally worth it!
A good pet sleeping bag will provide your pup with warmth and comfort, and insulate him from the cold ground below. You'll also be much more likely to get a good night's rest yourself if your faithful friend is sleeping soundly in his own sleeping bag, and not yours. Sound good? Then read on for our pick of the best dog sleeping bags on the market, so you and your pup can be the happiest of canine campers.
The Best Dog Sleeping Bag
Best Dog Sleeping Bag Buying Guide & FAQ
Still not sure which dog sleeping bag your precious pooch would want to be snuggled up in on your upcoming camping trip? Or even if your dog really needs his own sleeping bag at all? (Trust us, if you don't want him in yours, he does!) Read on for our full buying guide and FAQs which should clear up any of your remaining quilt-based queries.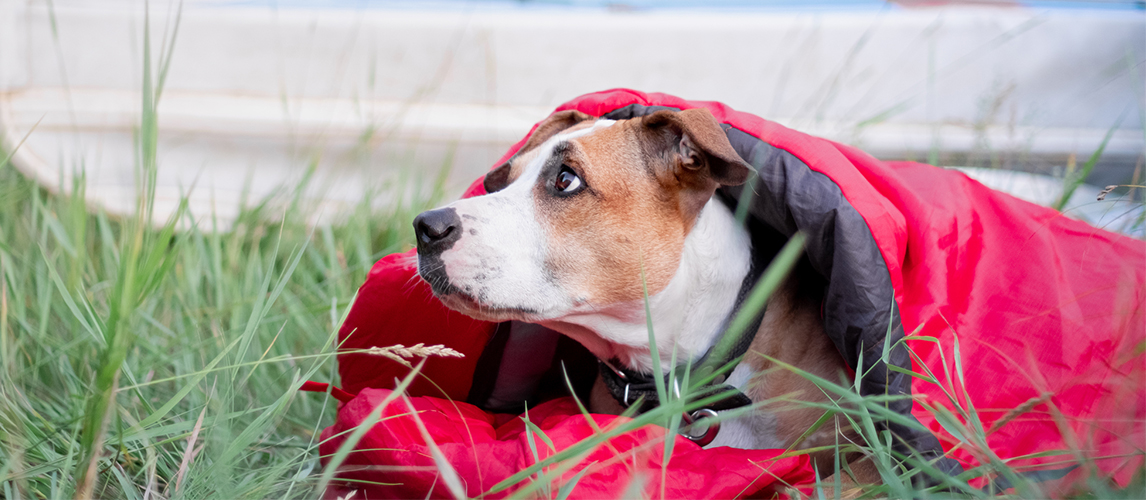 Features to Look for in a Dog Sleeping Bag
If your dog is going to be using his sleeping bag on camping or backpacking trips, you're going to want to make sure at least the base is water-resistant. This will prevent moisture from the ground seeping into your pup's bed, helping to keep him dry and warm.
On the same theme as above, you should make sure the sleeping bag is well-insulated, especially if you're intending for your dog to be sleeping outside in a tent. Ideally, it should also have a cover, so your dog can burrow into it if the temperature really drops. Find out more about dog tents here.
There's no point in a dog sleeping bag that your fur ball struggles to get into! Look for sleeping bags with a wide opening or a large side zip, so you can help your dog get in (and tuck him in for the night!)
The whole reason you want a dog sleeping bag is more than likely to take it travelling with you – whether that's in your car or RV, or on a backpacking or camping trip. Either way, you're going to want the sleeping bag to be easy to transport. If you're going hiking, look for one that rolls up small into a stuff sack. If you're in a vehicle, it won't matter as much, but you should at least look for a bed that doesn't take up too much room.
As above, if you're going backpacking or camping and will be carrying your stuff with you, you will want your dog's sleeping bag to be as lightweight as possible (as with your own!) You'll probably want to avoid chunkier designs, such as the Best Friends by Sheri Deep Dish Cuddler Bed, in favor of a thinner (but still well-insulated) style, like the Hurtta Outback Dreamer. For more options, check out our detailed review of dog backpacks.
Last but not least, make life easy for yourself by choosing a dog sleeping bag that can be machine washed when you get home – bonus points if you can chuck it in the tumble dryer too!
Benefits of Dog Sleeping Bags
Keeps your dog warm and dry
The best and most obvious benefit to investing in a dog sleeping bag is that it will keep your furry best friend dry and toasty – just like your sleeping bag does for you.
Good for dogs with joint problems
As well as keeping your dog comfortable, a sleeping bag can actually have health benefits for dogs with joint problems, as it's much better for them than having to sleep on the cold, hard ground. Take a look at our review of dog joint supplements for more info.
Encourages your dog to stay with you
Another advantage of giving your dog a designated place to sleep is that it may encourage him to stay in your tent. This can be particularly important for dogs that aren't used to camping, and who may become agitated or interested in external noises during the night. The last thing you want is your pup ripping his way through canvas to chase an unsuspecting owl!
Keeps your dog out of your sleeping bag
You might want to keep your dog inside your tent, but you probably don't want to go as far as letting him in your sleeping bag. Giving him his own bed will ensure no muddy fur balls try and sneak into yours for warmth in the middle of the night!
Helps ensure a good night's sleep for you both
Lastly, following on from the above, having a separate, comfy sleeping space for you dog will help ensure you both get the best night's sleep possible – particularly important if you're hiking for miles each day!
Check out our guide on Dog Strollers for more info.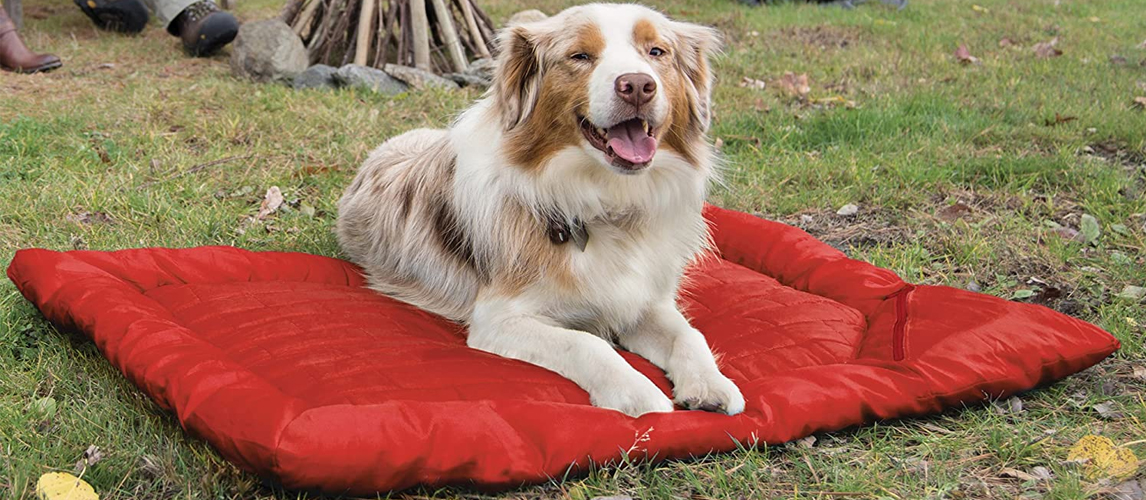 Types of Dog Sleeping Bag
This is the type that most resembles a human sleeping bag. Usually made from polyester or nylon, it will have a padded base and a wide zip with a cover, all of which can be packed down into a stuff sack. This is the type of sleeping bag that will generally keep your pup the warmest.
Other travel dog beds are more similar to camping mattresses. These padded cushion-styles work well to protect your dog from the ground, but may not provide the same level of warmth when used alone as a sleeping bag with a cover. They can usually be folded down into some form of carry bag.
The final most common type of 'dog sleeping bag' isn't a sleeping bag at all, but rather a lighter, more portable version of a classic dog bed, with a padded base and border. These usually take up the most space, and so are more suited to use in a car or RV, rather than camping or hiking.
Dog Body Temperature
When camping in the cold you should consider the effect it will have on your dog's body temperature. Keep in mind that dogs with a thicker coat, country dogs and those accustomed to being outside are unlikely to feel the cold as much as a city dog who rarely goes outside for long periods of time - and therefore probably won't need such a heavily insulated sleeping bag. If you're camping in cold weather (or somewhere with low nighttime temperatures) a sleeping bag with a cover is ideal, as it gives your dog the option to cover themselves if they need to, helping them to regulate their own body temperature.
Related Post: Backpack Dog Carriers
Our Top Pick
There are some super-snug pet sleeping bags on this list, but our pick of the best has to be the RUFFWEAR Highlands Sleeping Bag for Dogs. This cozy sleeping bag is water-resistant, fully insulated and has a large side zip to allow your pup easy access. It packs down small into the included stuff sack and is machine washable when you get home. With this awesome dog sleeping bag as part of your camping gear, you and your fur baby are guaranteed to catch some 'zzzs' on your next outdoor adventure!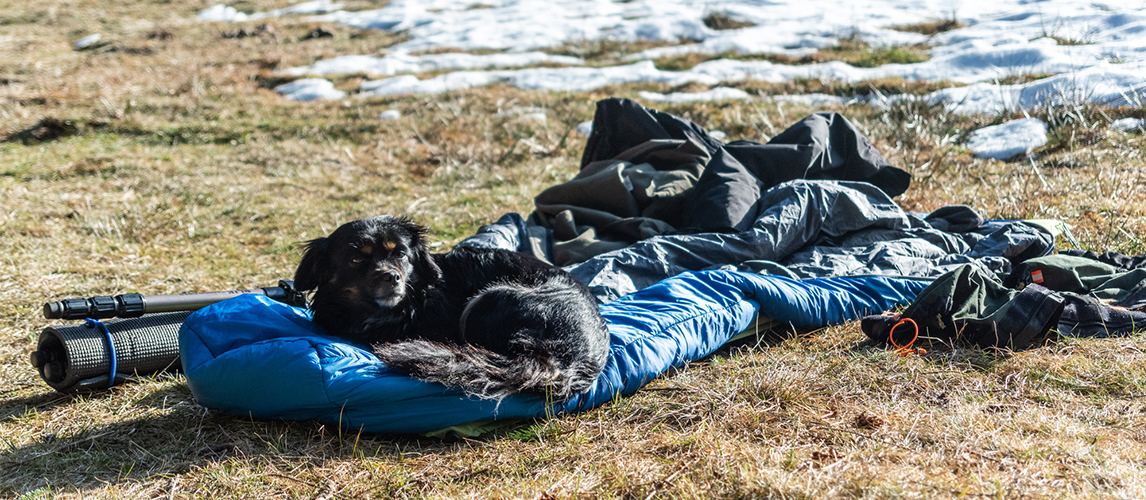 FAQ
Q:

Can't I just put my dog in my sleeping bag?

A:

Although there's theoretically nothing stopping you having your dog inside your sleeping bag with you, you should consider whether the risk of a terrible night's sleep and rolling over and squashing your pup in the middle of the night is worth it. Also, imagine how wet and muddy your dog is likely to be after a day of hiking alongside you, jumping in all the puddles and having fun – do you really want that to share your warm, dry, down sleeping bag with that, no matter how cute he is? Additionally, think about how your dog might react to camping and sleeping in a tent, especially if they've never done it before. Dogs are active sleepers anyway, and they're likely to be particularly restless at first, as they hear sounds and smell things they're not used to. Do you both a favor and invest in some dog camping gear your pup can call his own – just keep his bed close to yours, so you can share body heat and make sure he's safe and sound!
Q:

Are all of these products waterproof?

A:

Not all of the products here are entirely waterproof, but most are water-resistant, or at least have a water-resistant bottom to protect from damp ground. This is an especially important feature if you plan to place the sleeping bag in a tent porch or gazebo without a floor. Water-resistance is also helpful in keeping the sleeping bag dry in your/your dog's backpack. However, pretty much all the beds here can be machine washed, so you don't need to panic if your dog's sleeping bag gets a little wet and muddy on your outdoor adventures!
Q:

What size do I get for my dog?

A:

When considering which size bed to buy, you should be prepared with your dog's weight. Most dog sleeping bags are listed with both their dimensions, and the recommended maximum weight of dog they are suitable for. You should choose a size large enough to accommodate your pup's weight to ensure they have enough room to move around, but not so large they are dwarfed by the sleeping bag. If it's too big, it won't keep your pup as snug, and will leave you with extra unnecessary weight to carry!
Q:

How do I get my dog to use the sleeping bag?

A:

Whilst some dogs are natural burrowers, not all will take to a sleeping bag straight away - especially one with a cover - if they aren't used to it. Try getting your dog to sleep on top of the bag initially, by tempting them there with treats or their favorite toy. Do this at home first, before taking it with you on camping trips, so they know what to do when you're out in the wilderness. You'll probably find that as the temperature drops, they tuck themselves in under the cover to keep warm!