The Best Dog Bike Trailers in 2022
Last Updated: January 4, 2022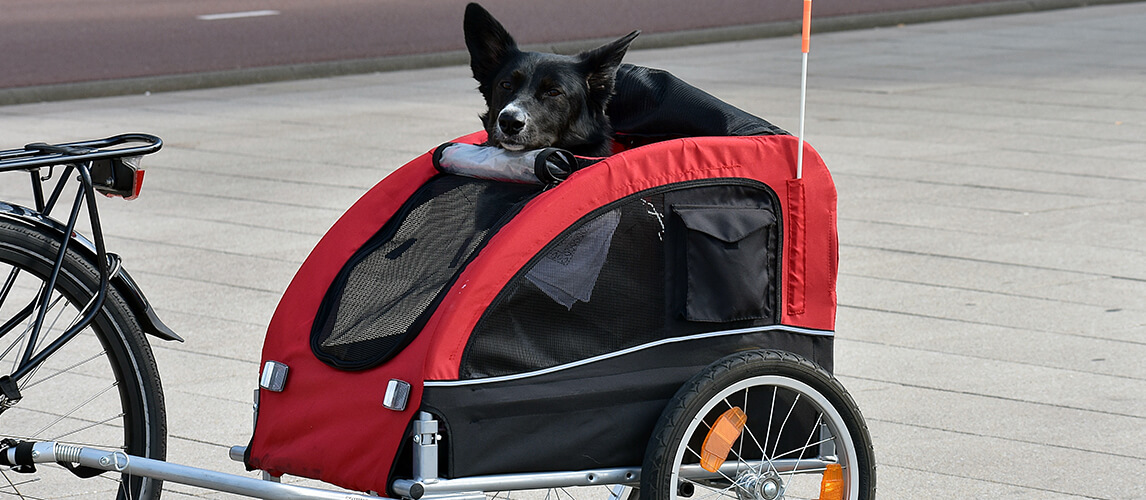 PetSide may earn a small commission from affiliate links in this article.
Learn more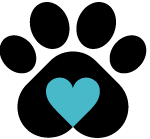 By Petside
Published 10:29 am
The sight of a pup merrily enjoying a ride in a bike trailer is always going to raise a smile but there's much more to these canine chariots than a quick blast around the block. More and more pet owners are turning to these super practical trailers to ensure their pets get the fresh air and adventures they deserve.
While a dog bike trailer can enable an avid cyclist to bring their canine chum along for the ride, they are also a wonderful way to enable a less mobile, aging, or ailing dog to still get some quality outdoor time. Whether that's as a quick transport to the local park or as an alternative way to give an immobile pet their daily 'walk', there's a pet bike trailer for all occasions.
To help, we've tracked down some of the best dog bike trailers currently out there, so you can confidently choose the right cycle cart for your canine friend.
Best Dog Bike Trailer
Best Dog Bike Trailers Guide & FAQ
Features to Look for in a Dog Bike Trailer
If you're putting your pooch into a trailer, you need to make sure it will keep him comfortable, safe and happy. When selecting the trailer that's right for you both, check out the following:
You need to get a trailer that's going to last the distance, so durability is essential. How a dog bike trailer is constructed and what it's made from is going to make all the difference. Look at the material used for the trailer frame – aluminum is lighter but less durable than stainless steel. If possible, opt for a trailer that also has a solid floor rather than a fabric bottom, as it will provide more support for your pet. And when it comes to the side panels, you need to match it to your dog's size and behavior: mesh panels are more breathable but will tear easily if your pooch is a scratcher or becomes unsettled.
While some dog bike trailers may state they are a universal fit, always check it will work with your bike model as you need to ensure the trailer fits accurately, safely and securely every time you go out.
It may look big enough for your pet but double-check the capacity of your chosen dog bike trailer to ensure it can take his weight. Lighter trailers made from aluminum and fabric may be less able to carry his bulk, especially if he is a larger breed. Also measure his length, height and width and check against the dimensions of the trailer.
Opt for a suspension system if you can as this will create a smoother ride for your travel-happy canine. The trade-off is that it will add a little more weight to the trailer but if you're regularly taking your pooch off-road then it's worth the extra pedal effort to keep him comfortable.
Always opt for air-filled aluminum-frame wheels rather than solid plastic tires – this gives the most comfortable ride. Also consider the type of terrain you plan to mostly ride on as trailers with larger wheels can give a higher clearance over all those bumps.
You want your four-legged friend to travel in style, so do check out any additional dog accessories that may be on offer. Useful add ons to consider include interior dividers (for two dogs traveling at once), kick stand for additional support at the front, safety flags, external pockets and bug screens.
Know your budget and go for the best dog bike trailer you can afford without busting your bank account. When setting your budget, consider how often you will use the trailer, and the type of terrain it will be used on.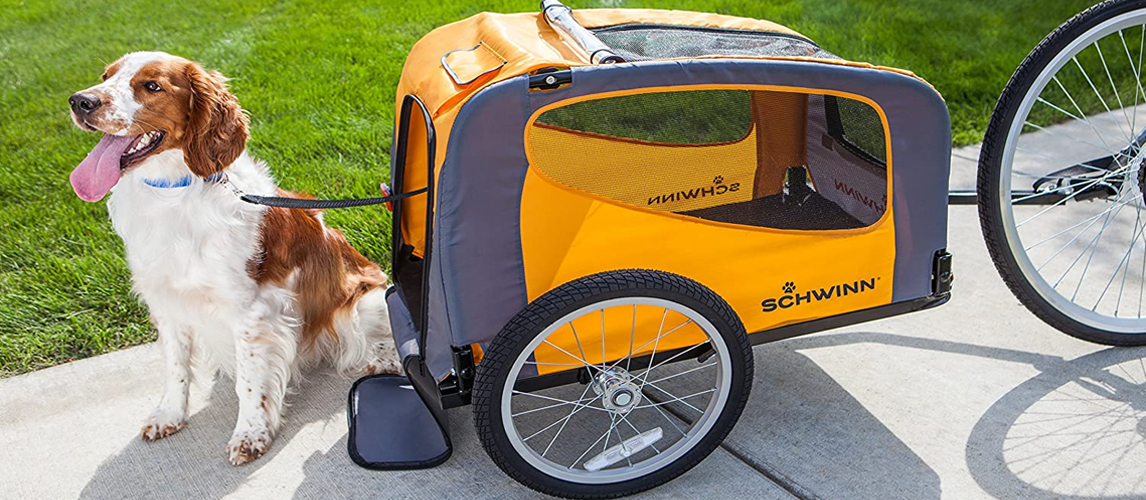 Why Use a Bike Trailer for Your Dog?
There are real and practical reasons why a bike trailer is a good option for your dog. If you're very active and love to cycle, bringing your dog with you along for the ride can be a blast for you both, especially if they're not quite fit enough to run alongside.
If your dog is getting older and has mobility issues or has recently been sick or injured and still needs to recover, a dog bike trailer is an excellent way of getting them out and about in the fresh air during his 'crate confinement' time. And if your dog is older and can still be mobile but the distance to a walk site is an issue, then pop them into the trailer to get him to the park, and he can still enjoy a stroll without getting exhausted.
You may also like our article on Dog Strollers.
Dog Bike Trailer Safety Tips
All pets can be unpredictable so when using a dog bike trailer, it's important to take precautions to keep both you and your pet safe.
Always secure your dog to the inside of the trailer. Not only will this keep him safe and where he should be, but if he's in the center of the trailer, it makes things easier to balance and pedal.
Wear the essential safety equipment
Don't neglect your own safety, pop on that bike helmet. Also, make sure you and your trailer are always visible, especially in lower light, so pack on those reflective armbands, tabards, and dog collars. Add reflective lights and strips to your trailer too, if they've not already got them. Take a look at our reviews of dog leashes and dog motorcycle helmets for more options.
You may be going off-road, but that doesn't mean you should be seeking out the thrilling lumps and drops, you have a dog on board! Always follow the smoother paths and avoid those bumps; even if your mountain bike is the toughest one the road, your trailer and your dog have not been designed to follow.
Although bike trailers are not that heavy, the total mass of you, your bike, dog and trailer mean it will take longer to stop, so factor this in when you prepare to come to a halt by braking sooner and allowing more distance to finally stop.
Take a corner too sharply and there's a good chance your dog trailer will pull you off balance or even tip over. Always be mindful of the precious cargo you are pulling and take your time, read the road conditions, and plan ahead. Then adjust your riding style, braking, and maneuvering accordingly to keep you all upright and safe.
Check out our guide on Dog Bike Baskets for more info.
Train Your Dog to Ride in a Pet Bike Trailer
A ride in a dog bike trailer is not the most natural thing in the world for your pet, so take your time to introduce him to his new chariot:
Place the trailer where he can see it, smell it and watch what you are doing. Encourage him to explore it by placing toys or treats inside so he can get used to sitting inside.
Now take it outside yard and attach it to your bike. Encourage your pet to get back into the trailer and sit while it is not moving. Praise and reassure him.
With your pet sitting in the trailer, clip him on to the safety strap and manually push your bike and the trailer around so he can get used to the movement. Repeat this over a few days until you think he is ready to go for a short ride.
Get on your bike! Take your pooch for a short ride, ensuring he is secured inside. Pick a smooth, straight route that's not too busy and avoid bumps, lumps or sudden stops. Praise frequently and reward with yummy treats. For a wider selection of choices, check out our dog treats guide.
If he is doing well, go for more rides, making each one longer each time – until you are both a total bike trailer double act.
And finally, know your dog and understand his reaction and behavior. If it's obvious that bike trailer riding is simply not his thing, then stop. You can always try again another day.
Our Top Pick
For its versatility, quality build, ease of use, and value price, the Schwinn Rascal Pet Trailer was a natural for our review's best choice pick. Ideal for small to medium dogs, the Rascal packs in a lot of features and oodles of comfort to keep your precious pet on the go and totally happy. With spec that you would most likely find on a more expensive model, we think the Schwinn Rascal Pet Trailer is a wheel-spinning winner.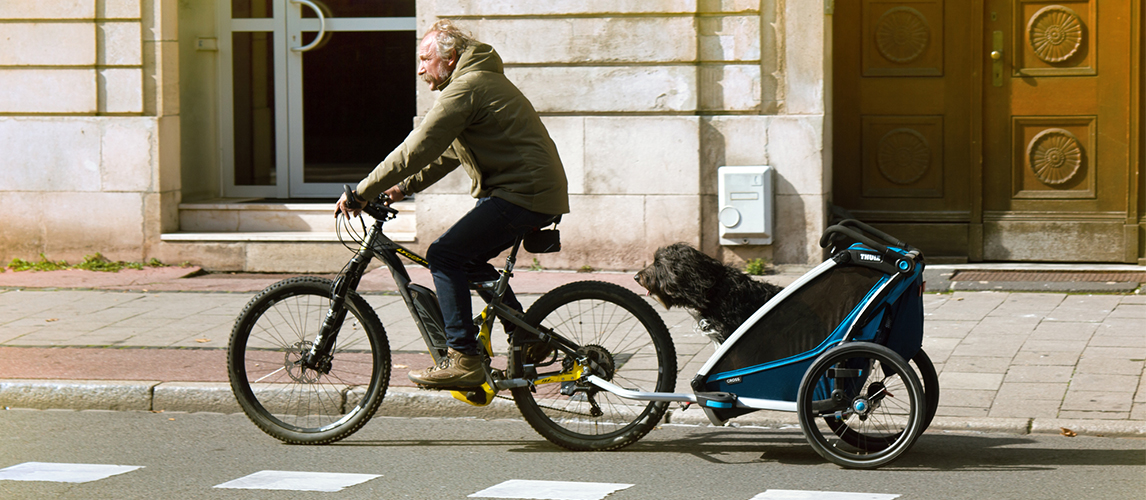 FAQ
Q:

What is a pet bicycle trailer and how does it work?

A:

A pet bike trailer is a way of carrying your pooch behind you as you cycle – in the same way, you can pull a trailer behind a car. They typically comprise of a four-wheeled open-top box container for your dog that securely attaches to the back of your bicycle. With your pet safely secured inside the trailer, you can then happily cycle, while pulling your dog behind you.
Q:

What size bike trailer do I need for my dog?

A:

The size of the trailer will be dictated by the size and weight of your pet.  Most dog bike trailers have been averagely sized for a medium dog of 30 pounds or less. If you have a large dog breed or your pooch is overweight, then make sure you have an appropriate trailer for their size and that the materials used are durable enough to keep them secure and safe.
Q:

What type of hitch will work for my bike?

A:

The hitch is what connects the dog bike trailer to the back of your bicycle. Many dog trailers state that their hitch is universal but don't take this on face value but check, as some bikes, such as certain mountain bikes, will not work with a universal hitch.  The hitch connector is essential to the safety of you and your pet, so look for the best quality metal hardware rather than plastic and ensure there is also an additional hitch safety strap.
Q:

How much weight can a dog bike trailer handle?

A:

The maximum weight capacity of your new dog bike trailer should be stated on the box and in the manufacturer's instructions. But as a general rule of thumb, medium sized trailers, made from aluminum or steel, should be able to take up to 30 pounds while for larger dog breeds, always opt for a stainless-steel construction and refer to the manufacturer's guidance. Plastic framed trailers are best avoided – for any size of dog as they are too flimsy to be totally safe, even for the smallest of pets.