The Best Dog Bike Baskets in 2022
Last Updated: January 4, 2022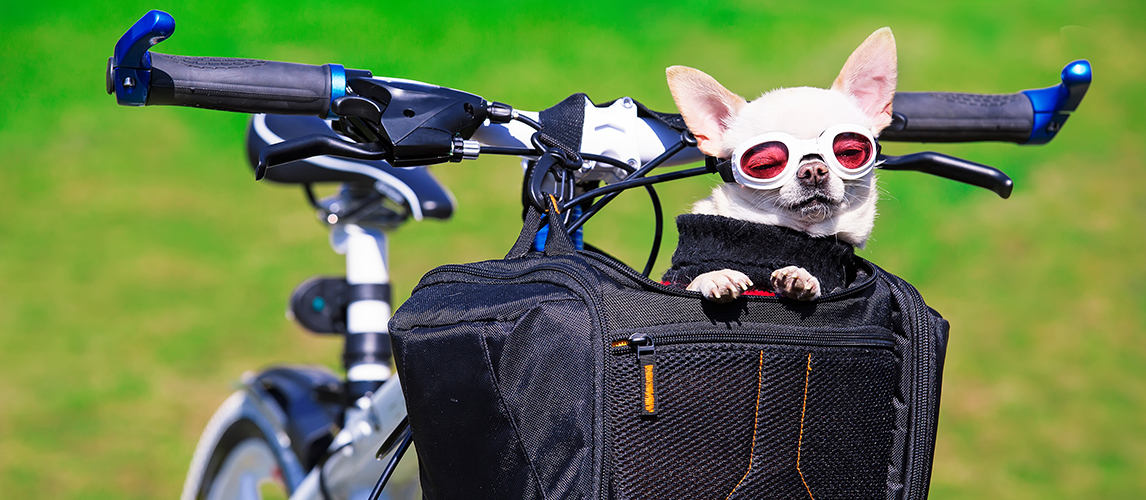 PetSide may earn a small commission from affiliate links in this article.
Learn more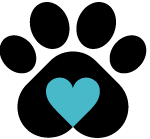 By Petside
Published 10:01 am
We love to take our pooches wherever we go, whether that's out in the car, around town, to the park or when we go away on vacation. And if you are an avid cyclist, you can also take your smaller doggo onboard, thanks to the wide range of dog bike baskets currently on the market. Specifically designed to carry your dog while you pedal along, you both get to enjoy that feeling of the wind in your hair – or ears – together. So, if you fancy taking your furry friend with you on your next bike ride, here's the lowdown on some of the best dog bike carriers you can buy.
The Best Dog Bike Basket
Best Dog Bike Baskets Buying Guide & FAQ
Things to Consider When Buying Dog Bike Baskets
There are some essentials to take into account when looking for a new dog bike basket:
Suitability: Knowing where and how often you will be using your new bicycle dog carrier will mean you will choose the most suitable one. If you are going to be using the basket daily, then look for a durable, all-weather proof model whereas if it's for occasional use in the park, then a less expensive basket would work well. But whatever the budget, ensure all the necessary safety and attachment systems are tough enough to do their job.
Positioning: Decide where you want the basket to be fixed so you get the right style. Some pet baskets for bikes are designed to sit behind your seat and fix onto the back rack, while others fit onto your bike's handlebars. Also, consider which position is best for your dog's temperament and size. As a general guide, a handlebar carrier is only suited to smaller dogs, and any pooch over 12 pounds (up to the product's maximum weight) will be more stable in a rear-mounted basket.
Size and weight: The size and weight of your dog also counts as most dog baskets come with a maximum capacity restriction due to safety. And always ensure the pet basket is a sufficient size to comfortably and securely hold your dog and that they can sit and lie down if they need to.
Comfort: Look for extra creature comforts such as cushions, removable liners, and padded edges. A rain cover, as well as an attachable sunshade, are also good ideas.
How it is secured: The basket's attachment system is the most important part of any dog bike carrier. The fixing method should be easy to use and secure enough to safely carry your dog as you pedal without shifting or working loose.
Inner security: You also want to ensure your dog is held in place when in their bike basket, for their sake as well as your own as you don't want a dog escaping mid-ride. Look for effective security systems, including a leash attachment or a built-in harness. A dome or mesh top which can zip over the top of the basket are best if your dog is prone to trying to jump out, even if they are secured by a leash.
Durability: Look for a dog bike basket that is made from tough and durable material that can also cope with changes in the weather. Wicker and Oxford fabric are both good materials to look for.
Extra features: A few extras can also help make your bike journey with your pet an enjoyable one. Look for features such as side pockets for pet-related essentials such as wipes, treats and dog toys as well as air vents, breathable mesh panels and high visibility reflective tape.
You may also like our articles on Dog Carrier Slings and Dog Strollers.
Why You Should Use Dog Baskets for Bikes
If you're planning on taking your pet out with you on your bike, then a bicycle dog carrier is a must. A dog basket ensures their safety and yours and will keep them secure as you ride. For the smaller pet who may struggle to keep up with you on your bike if running along, a basket enables them to come out with you and enjoy the fun. They can also be used to take your pet to essential appointments if you have no alternative form of pet-friendly transport. A bike basket for dogs is also a handy addition come walkies time if you have an older or less mobile pooch.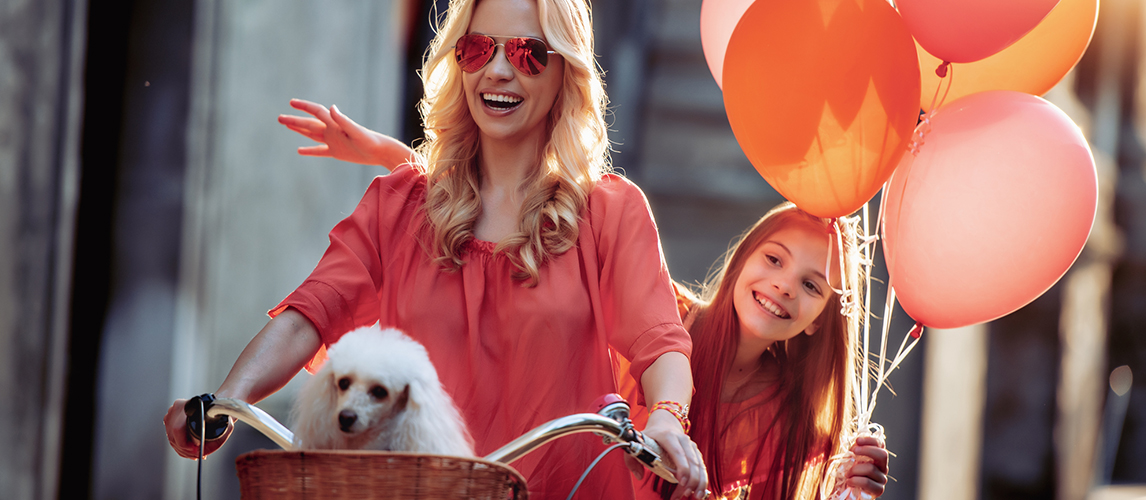 Different Types of Dog Bicycle Baskets
There are two main types of bicycle basket for dogs:
Hard basket: These are rigid bike baskets made from wicker, plastic or durable polypropylene. Strong and sturdy, they are easy to use and keep clean.
Soft basket: Similar to a soft carrier or gym bag, soft dog baskets for bikes are usually made from flexible fabric, with a rigid bottom to hold its basket shape.
The type of basket you choose will depend on the weight and size of your pet and the type of bicycle you have. Both types can come with options of front or back fitting, depending on your bike and riding preferences.
Take a look at our reviews of Airline Approved Pet Carriers and Dog Bike Trailers for more info.
Safety Tips When Using Pet Baskets for Bike
Here are our top safety tips for using a pet bike basket:
Always follow the manufacturer's instructions when it comes to fixing the pet bike basket for your bicycle. Routinely check all the straps, fitting and fixings are in full working order.
Never take your pooch out on your bicycle unless they are safely secured inside their dog bike basket. Use the inner safety leash attachment or fit the safety harness if supplied. Also, ensure their tail, fur and feet are firmly inside the bike carrier and not at risk of being entangled in any of the bike's moving parts.
If you are taking your dog out on your bike in rain or bad weather, cover with a rain hood. A sunshade is also essential during the summer to prevent your pet from getting sunburnt or succumbing to heatstroke.
And finally…make sure your dog is sufficiently hydrated by carrying a bottle of water and collapsible bowl with you so you can keep their hydration levels topped up, especially in warm weather. Find out more about dog water bottles.
Our Top Pick
A combination of classic wicker styling, easy and secure fixing and superior pet comfort, the PetSafe Happy Ride Wicker Bicycle Basket scoops our top pick. Weather-resistant, and with a design that allows for ample ventilation to keep your pet cool, comfortable and dry, it is also super-easy to fit your handlebars, thanks to the ingenious one hand fix and release design. A smart basket that will get you and your pooch noticed for all the right reasons.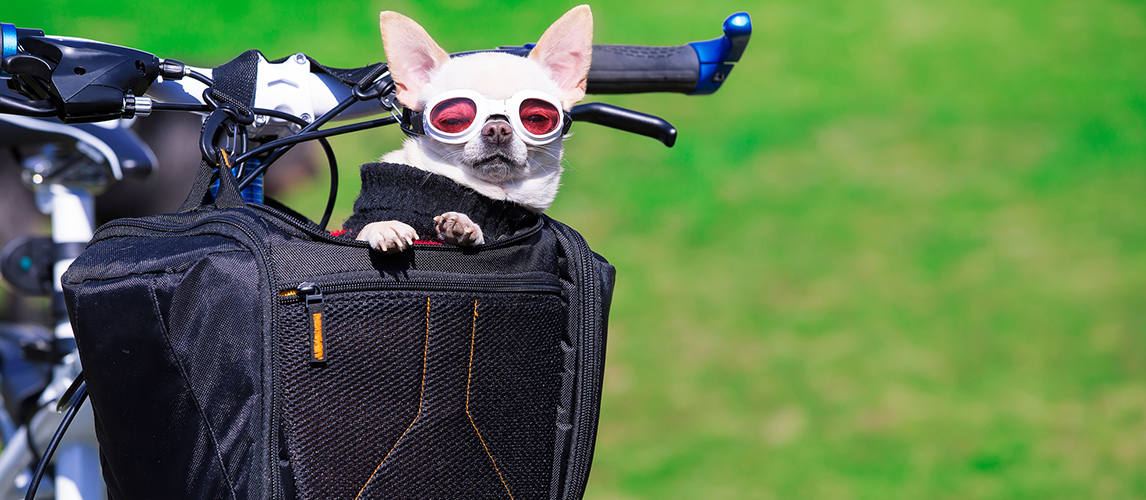 FAQ
Q:

Is it safe to bike with my dog?

A:

If you exercise caution when taking your dog out in a bike carrier, follow the rules of the road, ensure the basket fits well and that your dog is secured by a safety leash and happy and not stressed by the experience, it should be perfectly safe to bike with your pooch. You also need to judge each planned ride on its own merits and adjust or abort the ride if need be, especially if your dog is becoming skittish or scared.
Q:

How do I train my dog to ride in the basket?

A:

Never force a scared or unsure dog into a bike carrier and take them on a long ride as you could be asking for trouble. Even if your pooch is a chilled-out dude, you should always ease them into their bike basket and never rush them, otherwise, you could put them off bicycle travel for life.
Pick a basket that fits your dog and make sure it's one they will feel comfortable in, whether standing up or sitting down. Add some cushions or a blanket if there's no inner padding.
Start off by introducing them to the basket away from your bike. Pop it on the floor and put them inside so they can sniff and explore. Now move the basket to your stationary bike, put them in it and clip them to the safety leash attachment, giving them positive praise and perhaps a treat to reassure.
At this stage, start to push the bike around your garden or drive with you walking alongside and your dog inside the basket, so they get used to the movement. You could even add in a few little bumps (a rough patch in the tarmac or lump on the lawn).
Once they are comfortable in the basket as it moves with the bike, get on board and cycle slowly along a flat, quiet path, reassuring all the time.
You are almost there – you can now start building up the distance you ride each time, as well as the speed and terrain until your pooch is a happy bike carrier rider.
Q:

Which types of dogs do best in a dog bike basket?

A:

Dog baskets are really only suited to smaller dogs, typically less than 20 pounds due to the need for you to feel balanced and able to ride safely. For larger pooches, you could consider getting a dog bike trailer so that they don't miss out on the fun. But whatever size of dog or type of bike carrier, bicycle basket or trailer you opt for, the temperament and personality of your dog is key. Calm and positive dogs will love the experience, whereas the more lively, strong-willed or anxious pooch can make the experience much less enjoyable, for both you and your pet.
Q:

Will these baskets fit on any bicycle?

A:

A bike carrier for dogs will work on most types of bicycles although hybrid, mountain or utility bikes are better suited, especially for front carriers as they have more space at the front between the tire and the handlebars. However, pretty much all bikes can be adapted at the back with an added bicycle rack, which are perfect for a rear fixed dog basket.