The Best Elevated Dog Bowls in 2022
Last Updated: January 4, 2022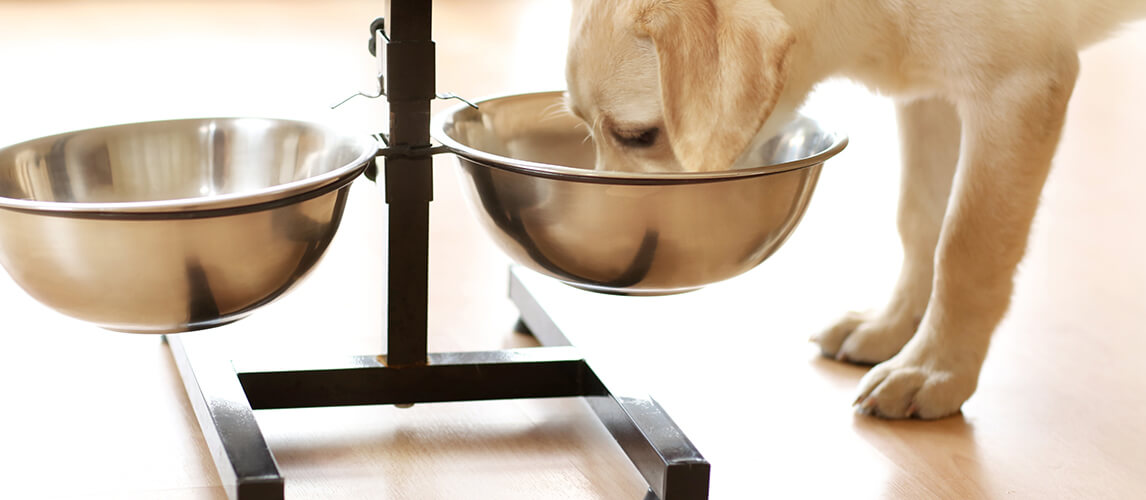 PetSide may earn a small commission from affiliate links in this article.
Learn more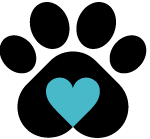 By Petside
Published 08:47 am
Dog bowls are an essential item found in every household that is occupied by four-legged family members with a healthy appetite for food and play. These bowls can become a source of regular mess, forcing you to clean after your pooch every single time you feed him. Enthusiastic pets who love nothing more than picking up their bowls and slamming them against the kitchen floor can give you a headache and ruin your precious hardwood floors in the process. If you happen to be looking for a simple solution to this food-related issue and you want this alternative to be both comfortable and healthy for your pet, then why not check out our curated list of the best elevated dog bowls on the market?
The Best Elevated Dog Bowl
Best Elevated Dog Bowl Buying Guide & FAQ
Things to Consider When Buying a Raised Dog Bowl
Knowing the optimal height that works for your dog is necessary before purchasing this type of feeder. That is why you need to measure your pooch from the floor to the highest point of their shoulder blade, and then compare this measurement to the size guide available for this product. Another option would be to invest in an elevated stand with adjustable legs. This will allow you to customize the height without having to measure your pooch.
Elevated dog dishes are usually recommended by vets for dogs who suffer from joint problems or those who are simply too old to put strain on their neck and back. In this case, their purpose is to alleviate this strain and make mealtimes more tolerable for senior dogs or injured pooches. If your dog is in the habit of playing with his water bowl and turning your kitchen tiles into a slipping hazard, then the elevated feeder might put an end to this problem. Some people also opt for this type of dog food stand to put less distance between them and the floor when replenishing the bowls.
Your dog's physical attributes and feeding requirements dictate the dog bowl size that you need to purchase. After all, what is the point of buying the perfect feeder if your pooch is having a hard time eating from his extremely shallow bowl? For example, long eared dogs can benefit from a steep sided bowl that prevents their ears from falling into their food. Meanwhile, dog breeds famous for having long noses such as the Afghan hound will have a better dining experience if they eat from a deep bowl that grants them more nose room. Puppies, on the other hand, are better matched with a shallow bowl that accommodates their small size.
Head over to our reviews of Dog Crate Water Bottle and Heated Water Bowls for Dogs for more choices.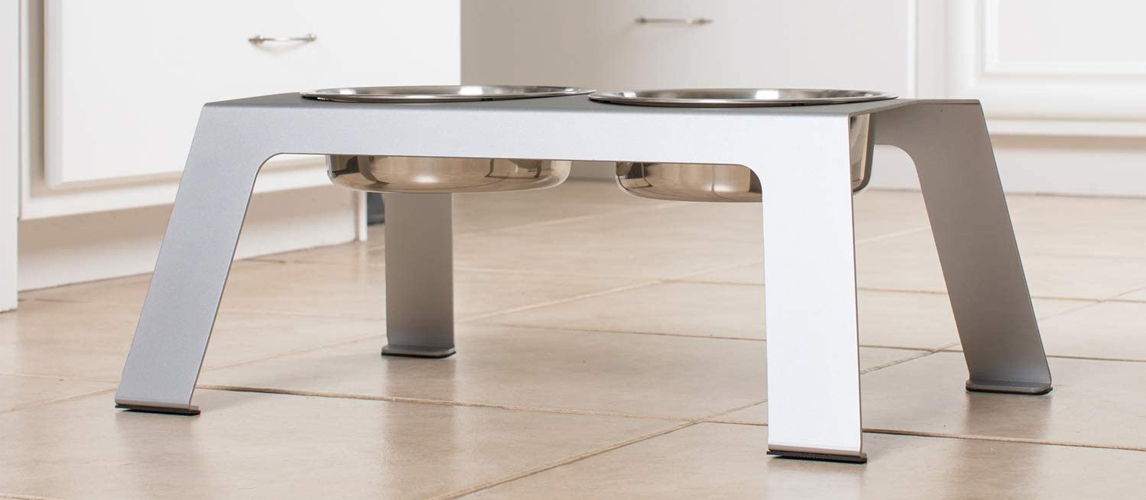 Advantages of an Elevated Dog Bowl
Non-elevated bowls are not only unstable, but they are also more prone to spillage and skidding. In contrast, elevated dog bowls are more stable and most of them are fitted with non-slip insets to secure the dishes in place. Eating from a sturdy platform transforms messy and noise filled feeding stations into clean and quiet areas.
Maintaining a proper posture while eating can do wonders for large dogs who often have to bend their necks and stand in an uncomfortable position for a long period of time. Elevated dog stands improve this dining situation and make it more comfortable, especially for dogs who suffer from arthritis and other medical conditions. That is why some vets recommend them for senior dogs who might also have a hard time eating from their non-elevated bowls due to their aging bodies.
Raised dog bowl stands provide easy access to food and water. This accessibility facilitates digestion by easing the transition of food from the mouth to the stomach. Having their food bowl rise to their level also helps pets who suffer from an enlarged and weak esophagus. This condition causes the food to accumulate within this abnormally dilated tube rather than move down to the stomach.
You may also like our article on Automatic Dog Feeders.
Elevated Feeders and Bloat in Dogs
Bloat, also known as GDV, is a serious life threatening medical condition that is common amongst large dog breeds. It occurs when the stomach becomes bloated enough to block the veins located in the abdomen. This causes the dog's blood pressure to drop, resulting in shock and damage to the internal organs. This catastrophic condition is not only dangerous, but it is also capable of killing the bloated dog.
There are many reasons why bloat occurs. Consuming copious amounts of food quickly or drinking too much water before or after a meal may trigger this condition. Bloat can also take place if the dog becomes physically active right after eating his food. The aforementioned causes are generally accepted and agreed upon. However, the precise conditions that lead to bloat are far from clear. This also applies to the connection between elevated dog bowls and bloat, making them a highly debated topic.
A study conducted by Purdue University in 2004 argued that these elevated bowls increased the risk of bloat. In contrast, another study conducted by Pipan et al found no significant effect of feeder height on the risk of having a GDV episode. These conflicting studies make it tough for dog owners to find the right answer.
The best thing to do in this situation is to look for ways to prevent bloat from occurring. This includes scheduling meals and coming up with ways to make fast eaters who gobble down their food eat at a much slower pace. It also recommended to delay physical activity for 30 minutes to an hour after eating.
Observing your pooch during this time allows you to detect any signs of bloat. These signs include vomiting, labored breathing and a swollen hard stomach. If you see any of the previously mentioned signs , you need to drive your dog to the vet straight away.
Take a look at our reviews of Dog Water Fountains and Slow Feeder Dog Bowl.
Our Top Pick
The IRIS elevated feeder is one of the best feeders on the market due to its functional height and easy assembly. The tall legs provide a more comfortable eating position for your pooch and give you a break from crouching down or bending over to clean your kitchen. The tall rims surrounding the feeding bowls prevent any spilled kibble or water from ending up on the floor. The IRIS feeder also comes with its own stainless steel dishes that sit perfectly inside the plastic platform. Each bowl can be easily removed in order to be refilled or cleaned. In summary, this product ticks all the right boxes in terms of comfort and sturdiness. Rewarding your dog with a pleasant and ergonomic dining experience is the best gift you can give yourself and your pooch this festive season.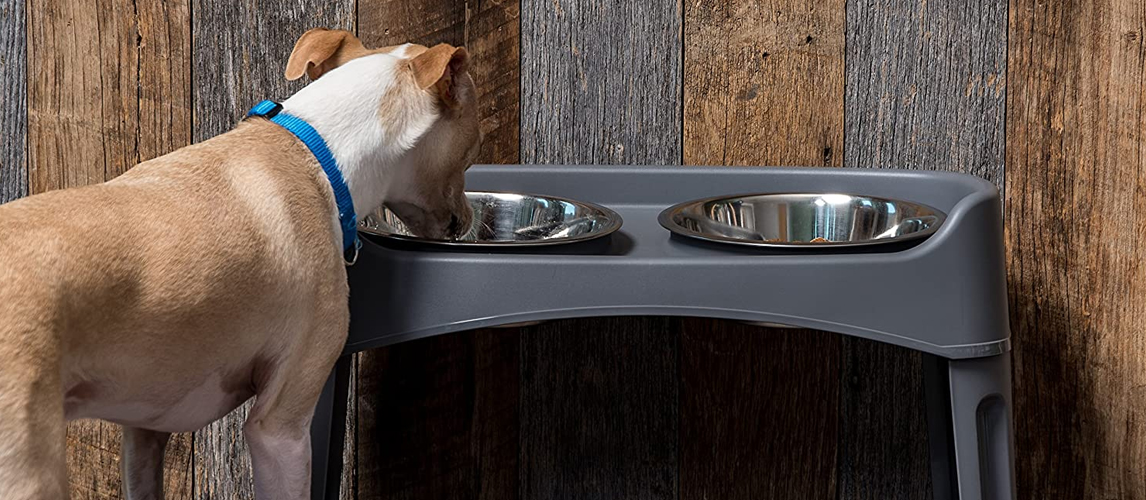 FAQ
Q:

What material are the elevated feeders constructed of?

A:

It depends on the brand. Some feeders are made of BPA-free plastic while others are made of lightweight aluminum. Others are built out of water resistant bamboo and look a lot like natural wood. Wrought iron feeders are also available for those searching for something a bit more rustic. The feeding bowls are usually made out of stainless steel, but some brands offer ceramic ones.
Q:

How do I determine the correct height?

A:

The simplest way to figure out the correct height is to measure your dog from the floor to his lower chest level while standing with his two front feet directly under him. This measurement gives you the optimal feeder height for your pooch.
Q:

How do I determine the correct bowl size?

A:

Your dog's snout dictates the size of his dog bowl. This means that the bowl needs to be large enough to accommodate his nose and mouth so he can eat and drink comfortably. As for small breeds such as Chihuahuas and toy poodles, their ideal food bowl is slightly larger than the average dessert cup. Water bowls need to be 2 to 4 times larger than the food bowl.
Q:

How do I clean the elevated feeder?

A:

A combination of soap and lukewarm water can be used to gently wipe the surface of your feeder. Tough spots can be easily removed using everyday household cleaners such as Windex for example. Just make sure you wipe them off with warm water afterwards.