The Best Dog Water Fountains in 2022
Last Updated: January 4, 2022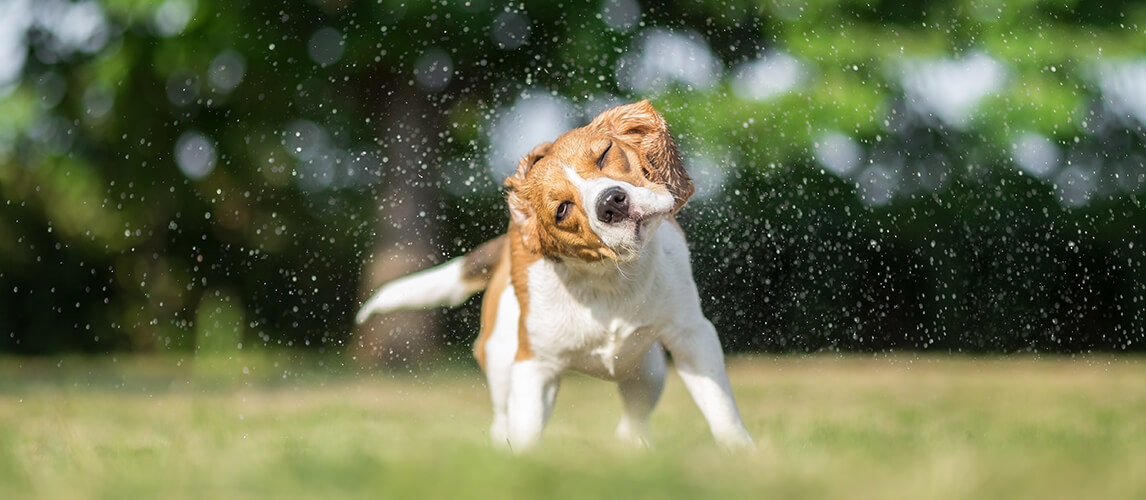 PetSide may earn a small commission from affiliate links in this article.
Learn more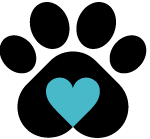 By Petside
Published 13:30 pm
Just like their human counterparts, dogs' and cats' bodies are around 70% water. For this reason, it's vital to ensure that your pooch stays hydrated, and this means giving them easy access to clean water.
You could use a standard bowl, but an increasing number of owners are opting for an alternative solution: pet water fountains. These handy devices provide your pet with running water, which studies show they prefer to drink from. If you've ever noticed a dog or cat drinking water from a dripping tap around the house, this is why – in the wild, running water is a much safer bet than still water, which can sometimes be stagnant. Doggie fountains are also a great way to give your pet access to water when you need to leave them alone, and ensuring the water they do drink is as fresh and appealing as possible.
With so many benefits, it's unsurprising that many petcare companies have made their own dog water fountain. To help you choose one, we've compiled a list of the top 10 fountains on the market right now. We've also included some important information about how to keep your pet properly hydrated, helping them to stay happy and healthy.
The Best Dog Water Fountain
Best Dog Water Fountain Buying Guide
All the fountains on our list have been curated for quality, so you can rest assured you'll be purchasing a reliable product whichever one you choose. Below we run through some factors to bear in mind when purchasing a drinking fountain, and how to keep it in good condition.
Because proper hydration plays such a vital role in keeping pooches healthy, we've also compiled some useful information about what dehydration looks like, and how it can be prevented.
What To Look For When Buying a Dog Fountain
Which fountain you choose will very much depend upon the needs of you and your pet - below are some key factors to bear in mind:
The first question you'll need to answer when choosing a dog water fountain is whether you'll be using it for indoors or out. Outdoor designs don't tend to be fountains per se - instead, they replenish water as your dog drinks, and are typically attached to a garden hose. Indoor fountains do have flowing water, and depend on a mains outlet for power.
The next factor to bear in mind is water capacity. How much you need the reservoir to hold depends on how many animals will be using it, and how large they are. As a rule of thumb, healthy dogs should drink about an ounce of water per pound of body weight per day. With this in mind, you'll notice that many of the fountains here have capacities large enough to support your dog for several days without topping up.
Dog water fountains tend to made from plastic or stainless steel. Stainless steel designs are little heavier and more durable, but can be a more expensive to purchase. Whichever material you choose, though, you can rest assured it's non-toxic and safe. That being said, if your pup is a chewer, investing in steel might be a good call!
Another factor to consider when buying a water fountain is how loud it will be. If you need to keep it in a room that you frequently occupy, look out for low voltage pumps, and models designed to run quietly so as not to be bothered by the noise.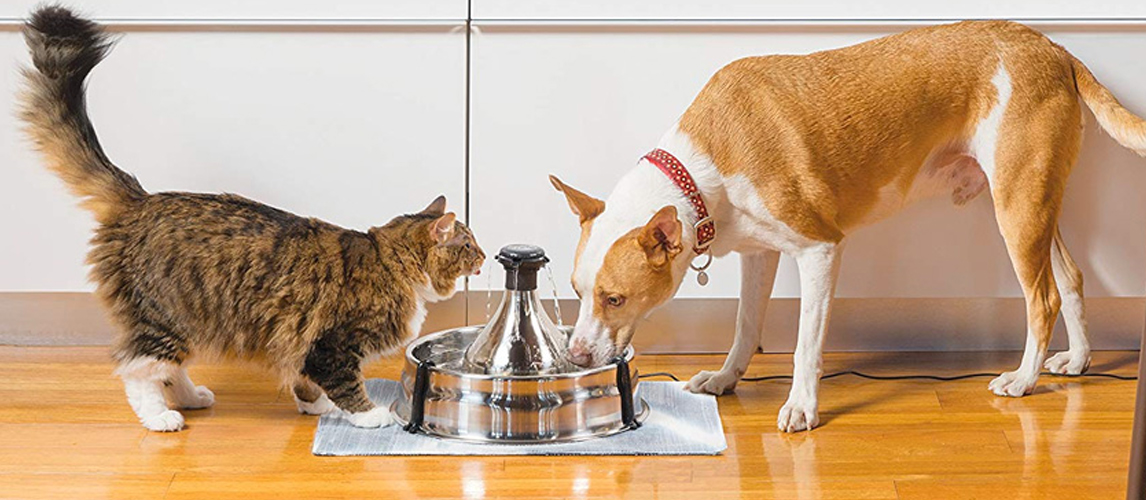 Advantages of Dog Water Fountains
Dog water fountains offer many benefits:
Running water is more appealing to dogs, encouraging them to stay hydrated
Fountains usually feature filters to keep the water safe and fresh
Attached reservoirs mean you don't need to top up the water in your fountain regularly
Proper hydration makes for healthy pets
Many fountains are designed to prevent spillage
Dog water fountains are cost-effective to run, thanks to low powered motors
Pet drinking fountains can quench the thirst of multiple pets
Signs Your Dog Might Be Dehydrated
Replacing your dog's water bowl with a drinking fountain can encourage them to drink more and prevent dehydration, which can be a serious problem resulting in kidney failure, heatstroke, or even death.
Fortunately, dehydration in dogs is fairly easy to spot; look out for the following symptoms:
Lethargy
Sunken eyes that appear dry
Dry gums and nose
Reduced skin elasticity
Dark urine
Breathing difficulty in extreme cases
If you suspect your dog is dehydrated, encourage them to drink. If they refuse to do so, it's vital to contact your vet as soon as possible.
Take a look at our review of Crate Water Bottle for more options.
How to Prevent Dehydration in Dogs
With so many bodily functions depending upon water, staving off dehydration is incredibly important. Below are some tips to stop your dog becoming dehydrated before damage can be done:
Provide them with a constant source of fresh, clean water, checking that it's topped up regularly
Clean water bowls and fountains regularly to prevent bacterial growth
Take bottles of water for your dog as well as yourself when you go walking. Find out more about dog water bottles.
Avoid encouraging dogs to exercise on hot days
Keep dogs indoors or in the shade in hot climates
Never leave your dog alone in the car if you can avoid it - especially in warm weather
You may also like our articles on Elevated Dog Bowls and Heated Water Bowls for Dogs.
How To Clean a Dog Fountain
Dog water fountains need to be regularly cleaned if they're to work effectively, and how this is done will naturally vary from manufacturer to manufacturer. Most suppliers will provide guidance on how to properly clean their specific product, but you can expect to use these tips:
Unplug and disassemble the fountain first, rather than trying to clean it as a whole
When cleaning a filter, avoid soap and just use water - soap can leave deposits and impede its functioning
Use an acidic cleaner such as lemon juice or vinegar to scrub deposits from steel bowls
Check to see if your fountain is dishwasher safe; many are, and knowing this could save you a lot of time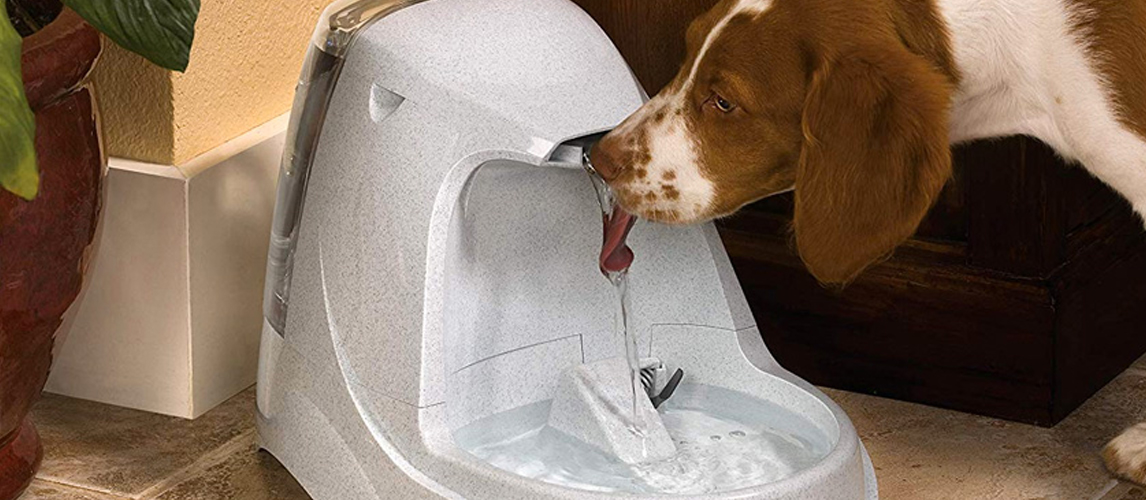 Our Top Pick
For us, the best dog water fountain on the market right now is PetSafe's famous drinkwell fountain. Its attractive, multi-tier design allows multiple pets to drink side by side comfortably, and its raised top tier is especially convenient for senior dogs who are less able to bend low.
Its substantial 100 ounce water capacity will keep pets hydrated all day, so you won't need to worry if they'll have enough to drink whenever you head out the house. The free-falling stream encourages pets to drink more, which can prevent a whole host of health problems down the line. Constantly circulating water not only tastes better to dogs and cats, it's also far less likely to harbor harmful bacteria. This fountain's built-in filtration system ensures the water within is even safer, by removing hair and dirt, as well as removing bad tastes and smells. Thanks to its quiet motor, you'll barely even notice it's running.
PetSafe have been helping pooches stay happy and healthy since 1991, and they've channeled that experience into this fountain to great acclaim.