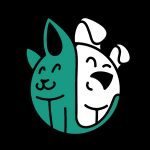 Looking for the best dog motorcycle helmet on the market? If your dog is used to the wilder side of life and enjoys the thrills of your regular bike trips, you would also want to ensure their safety. In addition to a dog carrier, your dog needs to look the part of a biker and more importantly, be safe with the help of one of the best dog motorcycle helmets listed below.
The Best Dog Motorcycle Helmet
Prima Skull Dog Motorcycle Helmet
See More Reviews

The Prima Dog Skull Helmet is our top choice for the best dog motorcycle helmets. If your dog is a member of a notorious biker crew that causes mayhem in the city, or if you're simply planning a long road trip on a motorbike, whatever the case may be, they will certainly look the part in this helmet.
The Prima Dog Company helmet offers an eye-catching design of a skull and two crossbones. Also adding some extra appeal is an additional witty design option with a "Bad to the Bone" slogan. Apart from being a vintage piece, this helmet was, first and foremost, made to serve its primary purpose of safety. And to do this thoroughly, it has been designed with a special padding on the inside which offers additional protection when on the highway. So, in the case you encounter bumpy roads, you will be ensured that your pup will not be affected.
Key Features:
Two graphic design options; skull with crossbones and a "Bad to the Bone" slogan.
Internal padding for comfort and added protection
Adjustable nylon strap
Black visor to protect eyes
Specification:
Brand

Prima Dog

Weight

2.08 ounces
Lifeunion Funny Cool Dog Motorcycle Helmet
See More Reviews

The next dog motorcycle helmet up for grabs is the Lifeunion Funny Cool Pet Motorcycle Helmet. If the intention is to give your pet a bit of additional protection on a motorcycle ride whilst it stays strapped to your back seat, the Lifeunion makes a good choice and is also suitable for other small pets.
In terms of design, this dog helmet is perfect for minimalists who keep functionality over style. Despite the simplicity in design, for some additional character, it offers four bold and bright colors. As black tends to be the go-to color for motorcycle riding apparel, it comes as no surprise how fast the color is selling out. However, if black is not your thing and both you and your dog want to break out of the norm, the remaining bright orange, pink or purple colors are bound to appeal.
Key Features:
Simple minimalist design
Strong, premium ABS material
Chin strap
Multiple sizes and color options
Specification:
Brand

Lifeunion

Weight

4.2 ounces
Prima Firework Dog Motorcycle Helmet
See More Reviews

Dogs are one of the most popular pets globally and for many reasons too. In addition to the joy and happiness they bring, they also work day in, day out to protect us from potential danger. As hard as they work to make us happy and keep us safe, it is only fair we do the same. A great way to ensure their safety whether on or off the road is with the use of a motorcycle helmet and you can be sure that this next product on our list can do the job efficiently. This is yet another product from the Prima Dog Company, the Prima Dog Firework Helmet.
Although offering a more feminine design from the Prima Dog Skull Helmet, don't be fooled into thinking the intentions are not the same.  Your four-legged biker chicks can ride and look cute on the road with pink fireworks on either side of their helmet. And to guarantee long-lasting safety, this helmet is designed with durable polyethylene material. So, if a long motorcycle ride is a primary reason for purchasing this product, the safety of your precious pet is guaranteed. What's more, to ensure the helmet stays tightly fastened throughout the trip, the adjustable nylon strap makes this possible and hassle-free.
Key Features:
Pink firework design
Sturdy polyethylene material
Adjustable strap
Spongy padding for comfort
Specification:
Brand

Prima Dog

Weight

2.08 ounces
Braceus Cool Dog Motorcycle Helmet
See More Reviews

Perhaps you need a stress-free method to guard your dog against the elements while on the move? If so, you can seek help from the Braceus Cool Dog Helmet. This dog motorcycle gear by Braceus is as lightweight as the previously reviewed models and meets the safety needs of your mutt, whilst weighing a meager 0.32 ounces.
The durable material that has been incorporated into this helmet is ABS plastic which does a great job of keeping away the elements of harsh weather from your pets dome, be it winds, rain or the sun's harmful rays. This way, there's no chance it will be affected by minor bumps or scrapes along the way. On the inside of the helmet is a purposefully positioned stuffing that provides a buffer effect in the event of a head collision. This is followed by an adjustable band that helps provide a comfy and secure fitting.
Key Features:
Lightweight headgear
Solid ABS plastic
Adjustable band
In-built sun visor
Specification:
Brand

Braceus

Weight

0.32 ounces
Gorgester Dog Motorcycle Helmet
See More Reviews

Last but not least of the best dog motorcycle helmets to merit a place is another feminine style. The Gorgester Pet Helmet is an adaptable motorcycle riding apparel which is ideal for all small pets and also does a great job protecting pets from the breeze, sun, rainfall, flying objects when on the highway. 
Just like all the previously reviewed helmets, the Gorgester offers a tough and resilient ABS plastic material which is prized for its anti-shock and anti-corrosive properties. An additional feature of this helmet is the internal padding that offers added protection and defense from environmental factors.
Key Features:
Adorable pink design
Anti-shock and anti-corrosive ABS material
Comfortable internal padding
Multiple sizes
Specification:
Brand

Gorgester

Weight

3.2 ounces
Best Dog Motorcycle Helmet Buying Guide
In terms of protecting your dog while riding, the above featured dog motorcycle helmets happen to be the top products for the job. To provide further assistance, we have taken the liberty to compile this useful buying guide. We have also highlighted some crucial aspects to consider to make the right choice for your pup and further listed the most common questions concerning dog motorcycle gear to ensure your furry friend gets the best out of your purchase.
What to Consider When Buying a Dog Motorcycle Helmet
Before making your choice of a dog motorcycle helmet, here are some things to consider:
All helmets are made for the primary reason of ensuring its user's safety, so be sure to keep this as top priority when picking a dog motorcycle helmet. The fact is that most dog helmets are not built differently from each other; with some being more resilient than others. Thus, you should ensure that your pet has maximum protection.
Premium quality helmets will keep your dog safe from environmental elements, flying objects, and bumps on the road. Therefore, you ought to be in the market for helmets manufactured with ABS plastic material prized for its high resistance to shock. The addition of an internal foam padding is another vital feature for the necessary support of the head in case of a collision.
A strong, sturdy helmet is of no use if it does not fit. You will, therefore, need to ensure the helmet you want to purchase for your pup or adult dog is the right fit. Although most motorcycle helmet brands vary in the way they manage sizing, however, they usually offer dimensions and sizing options to work with. As we move along this buying guide, we'll provide tips to help you measure your dogs' head the right way.
To ensure that your dog feel comfortable in its helmet, it's vital to watch their reaction once the helmet is slipped on. They will not hesitate to show you they are not happy in it. It's therefore, also vital to consider helmets that offers enough padding for comfort, along with a visor to block the sun as well as adjustable straps. You should also make sure the helmet isn't too heavy to prevent it weighing down your pet.
It may appear to be insignificant, but the aesthetic design of your dog's motorcycle helmet is actually another crucial element to take into consideration. If the helmet is aesthetically pleasing, then you and your pooch are not likely to leave it behind while hitting the road. Helmet manufacturers take these aspects into consideration as they make helmets in different designs, , and varieties. This way, it wouldn't be difficult to find helmets that match your dog's distinctive character.
Just like any other item, you have to consider your budget before spending on a dog motorcycle helmet. We advise that you take your time to carefully browse through the features of different helmets, and then make comparisons so you can narrow down the most budget-friendly option. Of course, you don't want to put the price of a helmet over the protection and safety of your dog, but you do want to get value for your money and ensure your investment is worthwhile.

Why You Should Use Dog Motorcycle Helmet
Motorcycle riding apparels are essential for safety and protection on the highways. A helmet is one of these items. If you require one, then so does your dog. Here are a few ways your dog can be protected by a motorcycle helmet:
On a hot day, a motorcycle helmet helps to shield your dog from the sun's UV rays.
A dog bike helmet also helps to keep the rain and wind at bay.
Your dog is also safe from flying objects such as little pebbles and rocks with a helmet on.
Dog motorcycle helmets also provide head support on bumpy roads, or even in an accident.
General speaking, your pooches head is safe from danger.
Best Dog Motorcycle Helmet FAQ:
Q: Do Dog Motorcycle Helmets Really Protect Your Pup?
A: Depending on the helmet, the degree of safety and protection it provides varies. But generally speaking, you can be rest assured that your dog's head will be protected by a motorcycle helmet. More and more manufacturers are making helmets as trinkets; however, premium quality helmets will serve their primary purpose of protection.
Q: How Do I Choose The Right Size
A: Choosing the right size helmet is fairly easy. To do this start with measuring your dog's head using the following the tips:
Measure the width of your dog's head.
With the tape measure in hand, jot down the distance from your dog's ears from the crown of its head.
Measure the circumference of your dog's head.
Take the measurement of your dog's head, starting from front to back by wrapping the tape measure around its head. In case your pooch has droopy ears, continue to measure around the ears. On the other hand, for dogs with sharper ears, bend the ears and add to your dimension.
These two dimensions will ensure a perfect helmet fit for your dog.
Q: How Should I Maintain My Motorcycle Helmet?
A: Just like all safety gear, if you want to preserve it in sound order, you'll have to take care of it.
When exposed to a serious collision, the helmet has to be replaced.
To stop the adhesive used within the helmet from wearing away, store in a dry place.
When the helmet gets dirty swab off with warm foamy water. Also, avoid solvents.
Periodically check the helmet for damaged areas.

Our Top Pick
All in all, all reviewed motorcycle helmets for dogs are top-notch in their quality and design. However, our top choice when it comes to the best dog motorcycle helmet is the Prima Dog Helmet that has been built with charm and grit. It is a sturdy and durable motorcycle helmet that has been constructed from ABS plastic material that keeps flying objects and the elements at bay. The most notable feature is the crossbones design that makes your dog look and feel the part. What's more, its inside padding provides comfort for your pooch which is very much needed during a long ride. In addition, its light build and multiway straps for the chin offer the additional security needed. Overall, it's a dream helmet for small dog breeds and is perfect for all those adventurous biker dogs out there.
Sources:
How Motorcycle Pet Traveling Works - HowStuffWorks
Related Reads
Related Reads