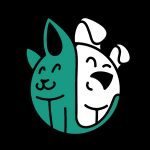 As all dog owners know, a hydrated pooch is a happy one, so an accessible source of fresh, clean water is an essential to keep your pet healthy and full of energy. At home, it's a simple case of topping up their water bowl throughout the day to keep the water levels where they should be. But when out and out – on a long walk or on a road trip – it isn't always that easy.
Heat, exercise, travel can all actually up your dog's need for more water so going short or even running out is a pet owner total no-no. So how do you keep your pup happily hydrated when out on the road? Step up the dog water bottle – an ingeniously simple device that is the answer to your H2O concerns. We take a look at 10 of the best dog water bottles so you can find the ideal on-the-go hydrator for your canine bud.
The Best Dog Water Bottle
See More Reviews
For total convenience while out with your pooch, this compact dog water bottle from M&MKPET is a winner. With its neat, one-hand operation and the ready to use drinking trough built in, this portable bottle is easy for your pet to drink from. It is on the small side – holding ounces of water – so more suited to the small dog or other small animals but there is also an 18-ounce version available.
Made from antibacterial, BPA-free plastic, this dog travel water bottle is durable and also super easy to clean. You operate the water dispenser by a single click of a button and the flow to the trough is smooth. Plus, the key lock lid means you can rest easy against spills and leaks in your bag or rucksack. We think this bottle is also a great puppy water bottle and one to have in your bag or car for whenever you and your small pet are on the go.
Key Features:
Made from antibacterial, BPA-free plastic
One-hand use – press button to release water
Wide trough section for easy drinking
Lockable lid to prevent spills and leaks
Perfect for smaller dogs or puppies
Specification:
Brand

M&MKPET

Weight

7 ounces
See More Reviews

So often it is the simple ideas that are the best, and this certainly applies to the clever AutoDogMug. A sturdy dog water bottle with a nice-sized top drinking trough, you'll wonder how you ever managed without this dog bowl water bottle on those long walks or trips in the car.
In a choice of three colors and holding a decent 20 ounces, dispensing water with its one-hand system is easy helps you avoid waste or mess. Simply squeeze the body of the dog bottle to release water into the bowl, and when you release the squeeze the valve allows the water to return. Or if the water has become mucky, just tip it away without the risk of it contaminating the rest of the fresh water inside the bottle. With the squeeze system you can control the amount of water your pet drinks each time and saves water for a later dog-thirsty drinking session. Made from BPA-free plastic, the AutoDogMug is totally pet safe and tough and comes with a removable Velcro strap so you can attach to your backpack or use as a carry handle. Plus, this portable dog water bottle has been designed to fit into most car cup holders for extra security as you drive.
Key Features:
Large 20-ounce water capacity
Built-in bowl suitable for all dogs
Made from BPA-free durable plastic
One-hand operation to release water into the bowl
Fits car cup holders or attach to your bag
Specification:
Brand

Highwave

Model

SYNCHKG071299

Weight

4.8 ounces
H2O4K9 Stainless Steel Dog Water Bottle
See More Reviews

Although this is a handsome-looking dog water bottle, with the H2O4K9 it's not a case of style over substance as you get a super-large 25-ounce capacity and a simple to use drinking bowl to boot. Made from food-grade stainless steel with a recyclable and BPA-free lid, this is a sturdy pet water bottle that is particularly suited to larger dogs. The lid doubles up as the drinking bowl and is shaped to be comfortable for most sizes of medium to large canines, without spilling any water as they slurp away. And the designers have made the mouth of the bottle large enough to pop in a couple of ice cubes to keep the water cool.
Despite its designer looks, the H2O4K9 is a tough cookie and more than at home out on the trail or on an adventure trip. It fits in most cup holders and with a top loop, can be easily attached to the outer of a rucksack with a carabiner clip, which is the only thing that is not included. This is a durable, activity friendly dog drinking bottle that has been built to last.
Key Features:
25-ounce water capacity
Leak proof with food grade water seal
Made from durable stainless steel
2-in-1 lid becomes the bowl for water on the go
Light weight and portable
Specification:
Brand

H2O4K9

Model

PJ1211

Weight

2.72 ounces
See More Reviews

Perfect for the smaller dog, these great-priced pet water bottles from Gulpy feature a pull-out trough that snugly fits the length of the bottle when not in use.  The minimalist design of the Gulpy dog water bottle makes it super easy to use and carry and can hold enough water for an average length walk or journey in the car. And it saves on wasted water too as you only dispense as much as you squeeze.
The trough is a good size and the length means you pooch can comfortably get their muzzle in to drink without spilling or slobbering. When you're finished, simply tip the surplus trough water away and clip it back into place and have a slimline water bottle to pop back in to you bag. The top end of the trough also acts as a carry loop so you can clip the Gulpy dog water bowl bottle on to your belt or backpack for hands-free, convenient carrying so you and your pooch can get on with your walk or playtime.
Key Features:
Decent 20-ounce water capacity
Made from BPA-free plastic
Simple flip-open drinking trough design
Slip-proof grip for easy carrying
Belt loop to clip on to your bag
Specification:
Brand

Gulpy

Model

GU11120B

Weight

2.9 ounces
ANPETBEST Dog Water Bottle
See More Reviews

For the smaller dog or pup, this is a simple but effective pet water bottle that will ensure your pooch is always hydrated wherever you go. Using the same 'flip down' lid style as the Gulpy, this is a smaller capacity bottle that is so easy to use and carry. Holding up to 11 ounces of fluid, it can also be used for other smaller animals such as cats or rabbits. 
Made from the all-important BPA-free plastic it is safe for your small pet and will give them access to fresh, clean drinking water when out on a walk or in the car. To use, you need to place the dog bottle on the ground and hold it in place or hold in your hand while your pet quenches their thirst. The bottle is leak-proof too, so ideal for popping in your backpack when not in use. We really like the cute design and the price is good too – a great choice for a puppy water bottle.
Key Features:
Holds up to 11 ounces of water
Made from BPA-free plastic
Flip down drinking trough for easy use
Leak-proof lid and carry handle
Ideal for puppies and small dogs
Specification:
Brand

ANPETBEST

Weight

4.5 ounces
Lixit Dog Travel Water Bowl 3 Quarts
See More Reviews

If you are looking for a large capacity dog travel water bottle that will fit in your car for long journeys, a camping trip or extended travel, then check out this super-sized travel water bowl from Lixit.
Holding a whopping 2.84 liters, this is more of a water transporter than a portable water bottle but is perfect for road trips. Made from durable, BPA-free plastic, the drinking bowl is built in to the side so all you need to do is lie the container on your side and you are good to go. The drinking bowl section is cleverly designed to sit deep enough inside the container to keep it filled without spills or splashes. Pooches with wide faces may struggle a little to get their muzzle totally into the drinking trough but all in all this is a good, sturdy dog drinking bottle that is perfect when you are needing more of a water butt.
Key Features:
Holds up to 2.84 liters of water
Built-in water bowl to reduce spills and splashes
Made from durable, BPA-free plastic
Convenient carry handle
Ideal for the car on long journeys or camping trips
Specification:
Brand

Lixit

Model

843

Weight

12.8 ounces
XUANR Pet Water Dispenser
See More Reviews

Top design and practicality, what's not to love about the Pet Water Dispenser from XUANR! This smart-looking water bottle taps into some nice tech to create a smooth and efficient water dispenser for your on-the-go dog. Holding around 14 ounces, this is portable bottle is ideal for puppies and small to medium pooches and, with its one touch button, is super easy to use. Simply press the button to release fresh water into the drinking trough for your pup to lap up. We really like the design of the drinking section – with its coconut shell shape, it makes drinking a breeze and also acting as the bottle's locking, leak-proof lid.
Antibacterial to keep nasty germs at bay, this dog water bottle also includes an activated carbon filter to absorb any impurities in the water, ensuring your pup gets a fresh, clean drink every time. Each filter lasts up to six months, so great value too. One for the backpack and the car for on-the-go pooch hydration!
Key Features:
14-ounce water capacity
One hand, press button use
Antibacterial, easy drinking trough
Includes activated carbon filter
Key-lock, leak proof lid
Specification:
Brand

XUANR

Model

Dog Travel Cup

Weight

8 ounces
OllyBottle BPA Free Water Bottle for Dogs
See More Reviews

With the looks of a more conventional 'human' water bottle, the OllyBottle steps up to quench your dog's thirst, whether out on a walk or on a road trip. Wrapped around the side of the central water bottle, the drinking trough is detachable to give you more stability on the ground. Simply take off the trough and fill from the water bottle and your dog is good to go.
Made from BPA-free plastic that is dishwasher safe, this is a practical and hardwearing dog water bottle that comes in a more than decent 1-liter capacity but as a bottle is lightweight so can be easily clipped on to your backpack and carried with you. Plus, you get a silicone ring on the cap for leak-proof sealing.  For a solid, 'does what it says on the tin' dog water bottle that won't confuse or put off your pet, this is a good buy and provides enough essential water for even the hottest of days.
Key Features:
Holds up to 1 liters of water
Made from BPA-free Eastman Tritan plastic
Detachable water trough for convenience
Ideal for all sizes of dogs
Easy to fill and clean
Specification:
Brand

OllyDog

Model

1030-1000-56

Weight

5.9 ounces
H2O4K9 K9 Unit Insulated Dog Water Bottle
See More Reviews

This dog water bottle looks like it means business as it has been developed from feedback from military and police dog handlers, so you know you are getting a tough bottle for your money. This bottle has been field tested by K9 handlers and has been designed to eliminate any complex parts that can rust, break, scratch or easily dent. It has a large capacity lid that doubles up as an impact resistant, non-slip outer that also helps to keep the water cool. There is nothing complicated about how to use this portable dog water bowl and that's its beauty – simply twist off the lid and pour in water from the bottle, ready for your pooch to lap up.
This is an ideal pet water bottle for rougher conditions as it can deal with extreme temperatures to keep the water fresh. The loop on the lid also means you can safely clip it onto your rucksack for some long off trail hikes and adventures with your dog.
Key Features:
Large 25-ounce water capacity
Designed for tough conditions
BPA-free plastic that's durable and impact resistant
Outer lid acts as the drinking trough
Outer shell is insulating and non-slip
Specification:
Brand

H2O4K9

Model

K9RED

Weight

11.2 ounces
Tuff Pupper PupFlask Portable Water Bottle
See More Reviews

It may look a little quirky but the Tuff Pupper PupFlask is a super portable water bottle that really hits the spot when your dog needs a drink on the go. With a 24-ounce water capacity and made from durable stainless steel, the design of the water trough is what will really turn your head. A flip up lid that's made from silicone, it is stored as a wrap around the main bottle but then easily converts into an attached drinking bowl that is easy for your pooch to sip from. Genius! And it is made from BPA-free materials so totally safe for your pet.
While the PupFlask is at the top end of our best dog water bottle review, there is a lot to like about it – the opening of the water bottle is large enough to pop in some ice cubes on a hot day and the flip up silicon trough can also be used on other similar or even larger sized bottles when your main one is being cleaned. And the whole bottle includes a clip so you can attach to your belt or rucksack.  This is a high-performing, robust everyday water bottle for your pooch that has some really nice design touches to make life easier.
Key Features:
Holds up to 24 ounces of water
Made from durable stainless steel and BPA-free plastic
Silicon outer wrap that flips up to form the bowl
Drinking bowl can be attached to other water bottles
Wide bottle opening can fit ice cubes
Specification:
Brand

Tuff Pupper

Weight

4.7 ounces
Best Dog Water Bottle Buying Guide & FAQ
What to Look for in a Dog Water Bottle
There are a lot of innovative dog water bottle designs to choose from, so to help you narrow down the search when it comes to the specific needs of your canine, we've listed the key features you need to consider:
Generally speaking, the best dog water bottles are made from one of three main materials – stainless steel, plastic and BPA-free plastic. All three are pretty durable and on face value make excellent dog water bottles. But there are pros and cons to each.
Stainless steel is durable, dishwasher safe and if designed with insulating properties, can help to keep your pooch's H2O cooler for longer, but they are heavier to carry around and if not insulated will heat up quickly on a hot summer's day.
Plastic is durable and lightweight as well as being a low-cost option and should be easy to keep clean. However, they are not as tough as stainless steel and the jury is out on the impact plastic toxins can have on your dog. BPA-free plastic will give you greater peace of mind when it comes to your pet's health but are not quite as long-lasting as other types of pet travel bottles.
Pretty much all dog bowl water bottles will have their own take on an attached cup or trough that is designed to let your pup lap up the water.  Some dog drinking bottle designs will have a large lid that can double up as a cup while others will have a fold out section that acts as a water trough while others will have a built-in dispenser. The style of cup feature you choose on your dog water bottle will depend on the size of your pet and their muzzle as well as their drinking style so check out the design to make sure it really will work for your dog on the go.
When considering the size of your new dog water bottle, you also need to consider how you will mostly be using and carrying it as well as what time of year it will be. The ideal is a bottle small enough to travel with but with enough volume to provide your pet with enough hydration for the duration of your walk or journey. Pet water bottles will come in a range of capacities, from as little as seven ounces to well over 28 ounces so with a little research you should find the bottle that provides your pooch with the water he needs.
As well as volume of water you need, you will also be sure the size and design of the dog water bottle you are looking to buy is portable and easy to use on the go. For example, if it's mainly for long hikes on the trail with your faithful friend, opt for lightweight and ideally with a carabiner, clip or strap you can attach to your backpack. If it's for around town or out in the car, you can go a little more substantial but make sure it will fit in whatever bag you need to carry it in. Another tip is to check the dog drinking bottle's lid seal to ensure it is a sturdy, leak-proof design so you don't have any unfortunate spillages in your bag or car.

The Importance Of Dog Water Bottles
As convenient and portable way to ensure your dog is hydrated when traveling or out walking, a dog water bottle is an important piece of equipment for your pup. Having quick and easy access to water will ensure your pet is healthy and has sufficient access to water.
Especially if your dog likes really long walks, or you take him on extended car journeys when you cannot always guarantee you will find clean water, a dog drinking bottle is a must. Plus, they are so easy to use, are relatively mess-free and can be easily carried in your car, rucksack or travel bag.
Why Dog Hydration Matters
Just like his human, your pooch would not be able to survive for very long without access to clean water. Drunk regularly throughout the day, H2O keeps his cells healthy, his bodily functions working and regulates his body temperature. Without water, especially during a long walk on a hot day and your pet can become hydrated and if it's not remedied quickly, can put your four-legged friend's health at risk. Prolonged dehydration can lead to amongst other symptoms, lethargy, poor circulation, an elevated heart rate and ultimately life-threatening organ failure. With a dog drinking bottle you can ensure your pet is happy and hydrated out walking, biking or on a road trip when there are no other sources of fresh, clean water available.
Best Dog Water Bottle  FAQ:
Q: How do I use a dog water bottle?
A: How you use a specific dog drinking bottle will depend on its model and design, but the basic premise is largely the same. When your dog needs a drink, you simply remove the lid from the water bottle and pour or squeeze the water into the dispensing section, cup or attached trough. This then creates a portable bowl that allows your pooch to have a nice long drink.
Q: How do I clean a dog water bottle?
A: You can keep your dog drinking bottle in tip-top condition by cleaning, ideally after every use. Rinse thoroughly with warm, soapy water, taking particular care to get into the interior nooks and crannies. A specially made bottle brush (similar to the ones you can buy for baby feeding bottles) can be really effective. Also, pay attention to the bottle's attachments and trough or cup, ensuring these are thoroughly cleaned too. Then rinse in fresh, clean water and leave to dry. Alternatively, your pet water bottle may well be dishwasher-safe so do check the label.  And, if the model of bottle you have bought also has any internal tubes or small water pipes, make sure you regularly remove these and soak in sterilizing fluid to clear out any stubborn, lurking bacteria and dirt.

Q: Do I need a dog water bottle stand?
A: For most models of dog water bottles a separate bottle stand is not needed as the dog drinking position is with the bottle held in your hand. With the bottles that you place on the floor, the trough or bowl section is usually enough to keep the bottle upright and stable. If in any doubt about whether you need a separate stand, read the product's description on the box.
However, for travel in the car you should check that your dog bottle will fit in your vehicle's cup holder if you need a source of stability. Many models are designed to travel and so should fit most car cup holders and bike bottle cages as well a standard-sized bottle pouches found on backpacks.
Our Top Pick
If you are looking for an everyday dog water bottle that offers a decent capacity at a good price, then you can't go far wrong with the M&MKPET Dog Water Bottle. Compact, it will fit easily into your dog walking life and the one-touch dispenser is really easy to use. Plus, it is made from antibacterial, BPA-free plastic making it super safe for your pooch. And with the drinking trough built-in, you can quench your dog's thirst with the minimum of fuss. A great buy all-round.
Source:
Related Reads
Related Reads