The Best Dog Water Bottles in 2022
Last Updated: January 4, 2022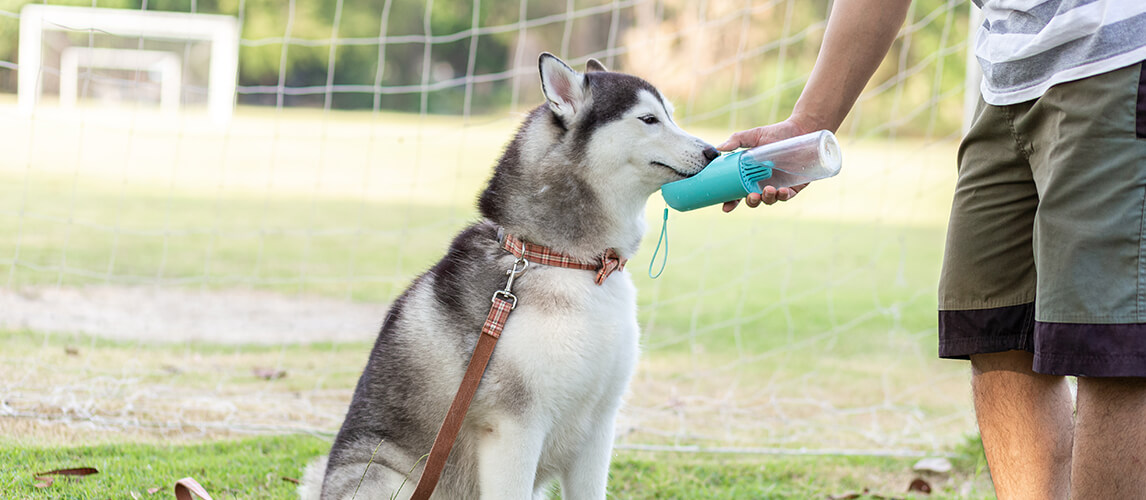 PetSide may earn a small commission from affiliate links in this article.
Learn more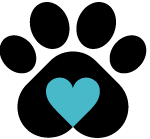 By Petside
Published 10:31 am
As all dog owners know, a hydrated pooch is a happy one, so an accessible source of fresh, clean water is essential to keep your pet healthy and full of energy. At home, it's a simple case of topping up their water bowl throughout the day to keep the water levels where they should be. But when out and out – on a long walk or on a road trip – it isn't always that easy.
Heat, exercise, travel can all actually up your dog's need for more water so going short or even running out is a pet owner total no-no. So how do you keep your pup happily hydrated when out on the road? Step up the dog water bottle – an ingeniously simple device that is the answer to your H2O concerns. We take a look at 10 of the best dog water bottles so you can find the ideal on-the-go hydrator for your canine bud.
The Best Dog Water Bottle
Best Dog Water Bottle Buying Guide & FAQ
What to Look for in a Dog Water Bottle
There are a lot of innovative dog water bottle designs to choose from, so to help you narrow down the search when it comes to the specific needs of your canine, we've listed the key features you need to consider:
Generally speaking, the best dog water bottles are made from one of three main materials – stainless steel, plastic and BPA-free plastic. All three are pretty durable and on face value make excellent dog water bottles. But there are pros and cons to each.
Stainless steel is durable, dishwasher safe and if designed with insulating properties, can help to keep your pooch's H2O cooler for longer, but they are heavier to carry around and if not insulated will heat up quickly on a hot summer's day.
Plastic is durable and lightweight as well as being a low-cost option and should be easy to keep clean. However, they are not as tough as stainless steel and the jury is out on the impact plastic toxins can have on your dog. BPA-free plastic will give you greater peace of mind when it comes to your pet's health but are not quite as long-lasting as other types of pet travel bottles.
Take a look at our review of Heated Water Bowls for Dogs for more info.
Pretty much all dog bowl water bottles will have their own take on an attached cup or trough that is designed to let your pup lap up the water. Some dog drinking bottle designs will have a large lid that can double up as a cup while others will have a fold out section that acts as a water trough while others will have a built-in dispenser. The style of cup feature you choose on your dog water bottle will depend on the size of your pet and their muzzle as well as their drinking style so check out the design to make sure it really will work for your dog on the go.
When considering the size of your new dog water bottle, you also need to consider how you will mostly be using and carrying it as well as what time of year it will be. The ideal is a bottle small enough to travel with but with enough volume to provide your pet with enough hydration for the duration of your walk or journey. Pet water bottles will come in a range of capacities, from as little as seven ounces to well over 28 ounces so with a little research you should find the bottle that provides your pooch with the water he needs.
As well as volume of water you need, you will also be sure the size and design of the dog water bottle you are looking to buy is portable and easy to use on the go. For example, if it's mainly for long hikes on the trail with your faithful friend, opt for lightweight and ideally with a carabiner, clip or strap you can attach to your backpack. If it's for around town or out in the car, you can go a little more substantial but make sure it will fit in whatever bag you need to carry it in. Another tip is to check the dog drinking bottle's lid seal to ensure it is a sturdy, leak-proof design so you don't have any unfortunate spillages in your bag or car.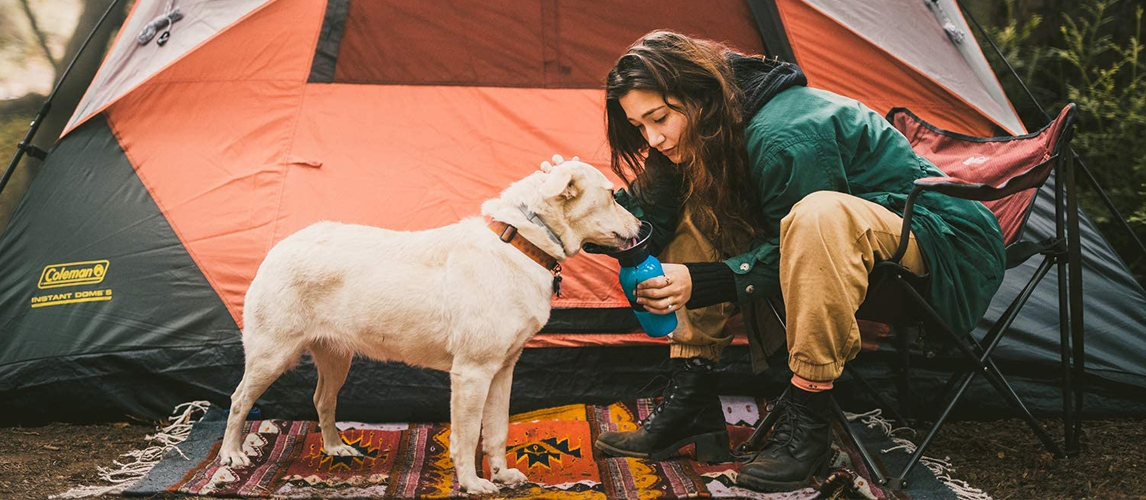 The Importance of Dog Water Bottles
As a convenient and portable way to ensure your dog is hydrated when traveling or out walking, a dog water bottle is an important piece of equipment for your pup. Having quick and easy access to water will ensure your pet is healthy and has sufficient access to water. Check out our guide on dog water fountains for more info.
Especially if your dog likes really long walks, or you take him on extended car journeys when you cannot always guarantee you will find clean water, a dog drinking bottle is a must. Plus, they are so easy to use, are relatively mess-free and can be easily carried in your car, rucksack or travel bag. You may also like our article on dog backpacks.
Why Dog Hydration Matters
Just like his human, your pooch would not be able to survive for very long without access to clean water. Drunk regularly throughout the day, H2O keeps his cells healthy, his bodily functions working and regulates his body temperature. Without water, especially during a long walk on a hot day and your pet can become hydrated and if it's not remedied quickly, can put your four-legged friend's health at risk. Prolonged dehydration can lead to amongst other symptoms, lethargy, poor circulation, an elevated heart rate and ultimately life-threatening organ failure. With a dog drinking bottle, you can ensure your pet is happy and hydrated out walking, biking or on a road trip when there are no other sources of fresh, clean water available.
For more options head over to our guide on Dog Crate Water Bottle.
Our Top Pick
If you are looking for an everyday dog water bottle that offers a decent capacity at a good price, then you can't go far wrong with the M&MKPET Dog Water Bottle. Compact, it will fit easily into your dog walking life and the one-touch dispenser is really easy to use. Plus, it is made from antibacterial, BPA-free plastic making it super safe for your pooch. And with the drinking trough built-in, you can quench your dog's thirst with the minimum of fuss. A great buy all-round.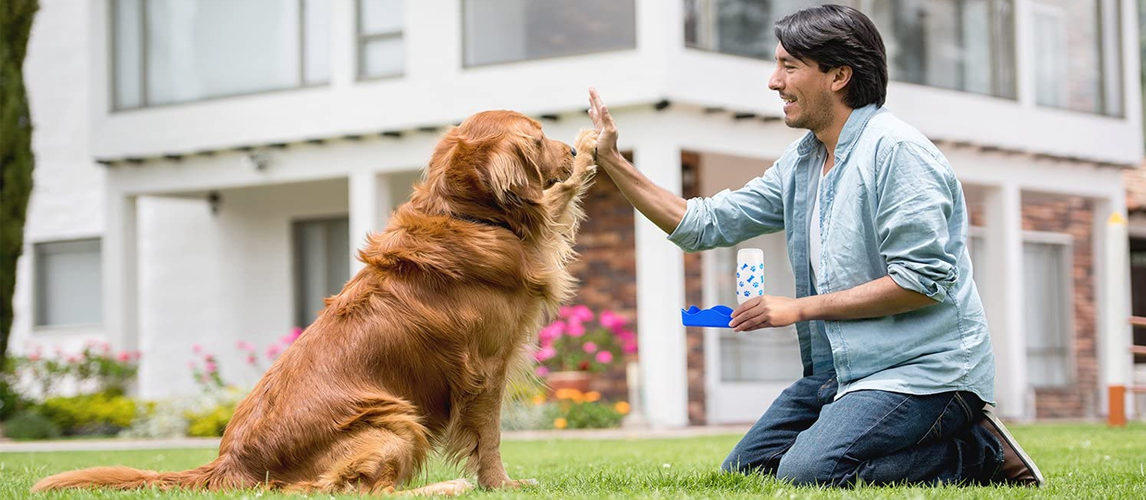 FAQ
Q:

How do I use a dog water bottle?

A:

How you use a specific dog drinking bottle will depend on its model and design, but the basic premise is largely the same. When your dog needs a drink, you simply remove the lid from the water bottle and pour or squeeze the water into the dispensing section, cup or attached trough. This then creates a portable bowl that allows your pooch to have a nice long drink.
Q:

How do I clean a dog water bottle?

A:

You can keep your dog drinking bottle in tip-top condition by cleaning, ideally after every use. Rinse thoroughly with warm, soapy water, taking particular care to get into the interior nooks and crannies. A specially made bottle brush (similar to the ones you can buy for baby feeding bottles) can be really effective. Also, pay attention to the bottle's attachments and trough or cup, ensuring these are thoroughly cleaned too. Then rinse in fresh, clean water and leave to dry. Alternatively, your pet water bottle may well be dishwasher-safe so do check the label.  And, if the model of bottle you have bought also has any internal tubes or small water pipes, make sure you regularly remove these and soak in sterilizing fluid to clear out any stubborn, lurking bacteria and dirt.
Q:

Do I need a dog water bottle stand?

A:

For most models of dog water bottles a separate bottle stand is not needed as the dog drinking position is with the bottle held in your hand. With the bottles that you place on the floor, the trough or bowl section is usually enough to keep the bottle upright and stable. If in any doubt about whether you need a separate stand, read the product's description on the box.

However, for travel in the car you should check that your dog bottle will fit in your vehicle's cup holder if you need a source of stability. Many models are designed to travel and so should fit most car cup holders and bike bottle cages as well a standard-sized bottle pouches found on backpacks.