The Best Dog Crates (Review) in 2020
Last Updated: August 6, 2020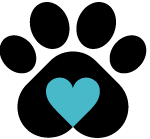 By Petside
Published 11:54 am
Crate training your dog is a great way to give your pooch their own special space, and a sense of security. Some owners worry that putting a dog in this relatively confined space is cruel, but provided you properly train your canine companion, and choose an appropriately sized crate, the benefits far outweigh any potential setbacks. Since dogs have an innate instinct to find a den, they tend to take well to crate training and retreat to their own space when they feel anxious or tired.
Dogs who are used to sitting in a crate from time to time will also find travel a lot less stressful – since you can bring the crate along for the ride, your dog will be able to fall back on this familiar setting and be comforted.
Dog crates can be a real lifesaver for owners and pets alike, and with so many options about you're sure to find a crate that's right for you and your pet. To help you choose, we've compiled a list of the best crates available right now. Here you'll find everything from simple dog cages to more elaborate wooden dog crates, suitable for pooches of all sizes. We've also answered some commonly asked questions about pet crates, so you and your pet can use them safely and effectively.
The Best Dog Crate
Best Dog Crate Buying Guide & FAQ
Whether you're shopping for a small dog crate or something large and heavy duty, we're confident our list has you covered. To help you choose the crate that best meets the needs of you and your dog, we've compiled this handy buying guide below.
Here, we discuss what you should bear in mind when purchasing a dog crate, how to choose the correct size for your pooch, tips for crate training a dog, and more. By answering some commonly asked questions about these products, we hope to offer the guidance that you and your pet need to get the most out of whichever option you choose.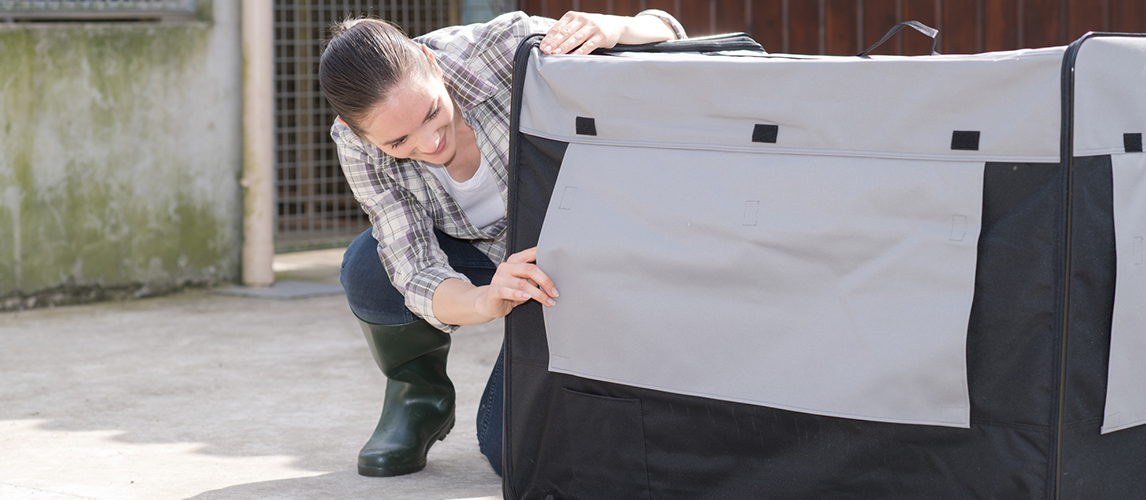 Things to Consider When Buying a Dog Crate
Exactly which crate works best for you and your dog will depend on several factors. Below, we discuss some of the most important issues to bear in mind:
First and foremost, it's important to consider the size of your dog when purchasing your crate. We'll discuss this in more detail later, but it bears repeating here - measure your dog and ensure the crate is large enough to accommodate them before you make a final decision.
The next thing to bear in mind when buying a dog crate is what construction material you want. There are a few different crate materials to choose from: wire mesh, fabric, heavy duty steel, plastic, and wood. We'll discuss the pros and cons of each in more detail later on.
The next factor to bear in mind when choosing a dog crate is how easy it will be to transport. If you need to use the crate on the go, consider a plastic or fabric option, and look out for a collapsible, lightweight design, and carry handles.
Most owners keep their dog's crate in the home, so its appearance can be quite important. If you want to place the crate in your living area, consider a wooden design that doubles up as an end table, such as options five or 10 on our list.
Another important factor to bear in mind when choosing a dog crate is how well it'll contain your dog. Unless your dog is destructive or anxious, this will be more of an issue for travel crates than one designed for use in the home. The strongest crates tend to be the heavy duty steel designs, which often feature especially strong latch bolts. For travelling, plastic crates tend to offer the best security.
Finally, as with any purchase, you'll need to bear in mind what budget you're working with. Luckily, a good quality wire dog crate can be had for as little as $30, although wooden and heavy duty steel options will set you back considerably more, with prices for the latter ranging from $300 to $1,000.
Benefits of Using a Dog Crate
Keeping a dog crate on hand at home or on the go comes with a number of benefits - below are some key advantages to bear in mind:
Crates prevent anxious dogs from causing destruction in your home
Using a crate can help to toilet train your puppy - they won't go in their sleeping space
Keeping dogs safe from household hazards at times you can't supervise them
Crates can provide a safe, secure, and comfortable space for your dog to relax
Using a crate replicates wild dogs' natural behavior: they sleep in cozy dens for up to 16 hours a day!
Crates can be a great time-out space for when puppies are naughty
Having a crate in your home gives your dog a space to retire to when they don't want to be bothered
Crates are a versatile travel solution for pets
Dog crates are often easy to disassemble and store
Many crates are designed to be attractive and look good in your home
Dog crates are available for every budget
Types of Dog Crates
When it comes to selecting your crate, you'll have plenty of options! Below we've categorised these different types by the material they're made from - as you'll see, each has its pros and cons:
Metal wire is the most common material for pet crates to be made from. Wire crates are cost-effective, sturdy, and provide your pet with plenty of ventilation and great visibility. They often come with a carry handle too, for easy transportation. Bear in mind that this type of cage might not be tough enough for particularly wiley pets, and doesn't blend in well with home interiors compared to other materials on the market.
For strong heavy dogs, or pooches who are known escape artists, a crate constructed from heavy duty steel could be the best solution. These dog crates tend to be heavy, and can be difficult to move, but many are equipped with small wheels at each corner to make things easier. They also tend to be the most expensive options, because of the high quality material.
These crates tend to be the most lightweight options, making them ideal for RVs, camping, and dogs on the go in general. The fabric often features mesh 'windows' so your canine companion can see out and keep cool. They're easy to collapse and assemble, too. Many fabrics are easier to clean than wire frame options, because of their wipe-down fabric, and they're often suitable for both inside and outside use.
Wooden crates are another option you might choose. They're designed to look attractive and blend in with the other furniture in your home, but don't tend to be very portable and can be pricey if you choose one made from solid wood.
Most plastic crates are designed for travelling. Plastic is lightweight and rigid, making it perfect for this purpose. Plastic crates tend to be equipped with a carry handle and ventilation holes on the side. They're perhaps the least attractive option, and don't tend to be large enough for everyday use in the home.
Our Top Pick
These 10 options are the best dog crates around. Of these products, our top pick has to be Amazon Basics' durable and affordable folding metal crate. Available with either one or two doors, and in six different sizes, Amazon have taken into account pooches of every shape and size. The manufacturers even offer an optional divider panel that lets you adjust the size of the crate as your puppy grows.
The two slide-bolt door latches ensure your pet is held securely when required, while the sturdy wire mesh design offers a safe and durable space for them to call their own. The crate is convenient to use and store too, folding flat in a matter of minutes for storage, and featuring a well-placed carry handle for easy transportation. On the crate's bottom is a detachable plastic tray, which prevents any dirt your dog tracks in from making it onto the carpet, and can be easily removed for fast and convenient cleaning. Overall, this versatile crate is a great option for the majority of dogs and owners; it offers pets a safe, sturdy space, and owners a convenient, long-lasting crating solution.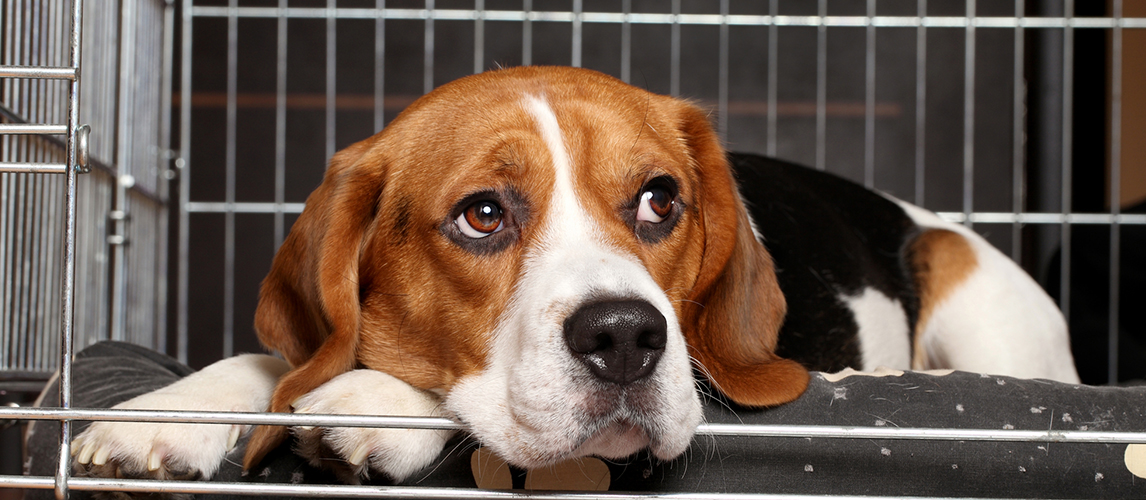 Best Dog Crate FAQ:
Q:

What is a crate for a dog?

A:

Dog crates, sometimes referred to as dog cages, provide a safe and secure space for your pet. They emulate the dens that dogs frequently occupy in the wild, and with proper training they can provide a peaceful haven for pets. As mentioned earlier, they can be made from a wide range of materials, and in a variety of designs.

Crates can be used in isolation, or in combination with dog kennels for outdoor use. How well your dog takes to a crate will depend on their age and temperament, so it's a good idea to introduce them to the crate gradually - especially if you only begin crate training them as an adult.
Q:

How big of a crate do I need for my dog?

A:

Choosing the right size crate can be a surprisingly complex process! We've broken it down below:

Have a Rough Idea in Mind

Before you start shopping for crates, it's a good idea to have a rough idea of what sort of size you'll need:

Dogs between 1 and 10 pounds - Breeds including chiuauas, jack russell terriers, and pugs. Expect to buy a crate measuring roughly 24 x 18 x 21 inches.

Dogs between 11 and 25 pounds - Breeds such as Boston terriers, miniature Dachshunds, and Maltese. Expect to buy a crate measuring roughly 24 x 18 x 21 inches.

Dogs between 26 and 40 pounds - Breeds such as cocker spaniels, American pitbulls, and Welsh terriers. Expect to buy a crate measuring roughly 30 x 21 x 24 inches.

Dogs between 41 and 70 pounds - Breeds including basset hounds, English setters, and Schnauzers. Expect to buy a crate measuring roughly 36 x 24 x 27 inches.

Dogs between 71 and 90 pounds - Breeds such as Australian Shepherd, Border Collie, Boxer, Chow-Chow, and Dalmations. Expect to buy a crate measuring roughly 42 x 28 x 31 inches.

Dogs weighing more than 90 pounds - Breeds including Bernese Mountain Dogs, Bloodhounds, Giant Schnauzers, and Great Danes. You'll need a crate measuring around 46 x 30 x 33 inches.

Choose a Crate that's not too Large or Small

The golden rule when choosing a crate for your dog is to find one that's not too big and not too small. Too big, and your pooch might be tempted to go to the toilet at one end rather than asking to be let out; too small, and they could end up cramped and uncomfortable. If you're buying a crate for a puppy, it's a good idea to select one with a moveable panel, which allows you to adjust the size as they grow.
Q:

How do I measure a dog for a crate?

A:

The first thing you need to do is take a tape measure, and measure the length of your dog from nose to tail. Add 2 - 4 inches to this length and make a note of it. Next, measure your dog's height, from the top of their head to the floor, and make a note of this too. Finally, to determine the width you require, add 2 - 4 inches to the height measurement you have just taken. You should end up with 3 measurements, which can then be compared against manufacturer's descriptions.

Use the rough guide above to work out what dimensions you're likely to need.
Q:

Where is the best place to put a dog crate?

A:

The great thing about dog crates is that you can move them around, so you don't need to make any final decision when it comes to placing them.

During the day, it's usually best to place the crate in the busiest room of your home - most likely the kitchen or living room. Dogs are highly social animals, and like to see what's going on even when they're resting. Including the crate in a busy area means your dog feels included even when they're in their own space. Placing the crate in a quieter area could lead to your dog feeling isolated, and seeing the crate as a punishment.

For new puppies, it's best to place the crate in your bedroom at night. Being able to see, hear and smell you at night will ease your puppy's transition from sleeping alongside their littermates to sleeping alone. If your new dog will always sleep in your room, it's fine to leave the crate here, but you could also move it to its daytime spot after a week or so. For adult dogs, place the crate in their final sleeping spot straight away.

Wherever you put the crate, ensure it's at a comfortable temperature. Avoid placing it near radiators or in drafty spots.
Q:

How do I get my dog to stop whining in his crate?

A:

If your dog is new to crate training, they may cry or whine when you first introduce them. It can be hard to hear, but with time and proper training your pooch will learn to regard the crate as a safe space and no longer feel the need to whine.

In the meantime, there are some steps you can take to help your dog feel more secure in the crate, and stop whining:

Feed your dog in their crate at first, to create positive associations.
Make the crate a comfortable space, by introducing bedding and toys. Puzzles that double up as treat dispensers, such as a Kong, along with chew toys, can keep dogs entertained for hours. Being entertained in their crate will also solidify positive associations.
Keep your dog in their crate from time to time while you're at home, as well as putting them inside when you're away. This ensures they don't associate the crate itself with being alone, which significantly reduces their anxiety at being inside it.
Be sure not to reward whining behavior with attention, but do check if your dog is whining because they need to go to the toilet. If they continue to whine for several minutes, say the phrase they associate with going outside, and see if they respond. If they do, take them outside briskly before returning them to the crate.
Do not yell at your dog or bang on the crate - this will only increase their anxiety.
Q:

How long can I leave my dog in a crate?

A:

Leave your dog in their crate for progressively longer stretches of time. Building up gradually will keep your pet's stress levels to a minimum.

Puppies shouldn't be kept in their crate for more than a few hours at a time, while adult dogs who are used to it can sit comfortably in their crate for up to eight hours or so. As long as the dog has adequate exercise and attention every day, leaving them in the crate for the length of a standard work day should be no problem.