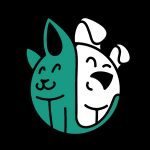 If your home is starting to look like a pet shop and you feel the need for a declutter, then a dog crate that doubles up as a nice-looking piece of furniture could be the way to go.
With a dog crate end table, you have an attractive table in the living room to match your décor that also a comfortable living space for your canine best friend – now that's a win/win situation in our books!
Having a sleeping or relaxing space for your dog that blends into your home means your pet can be a part of the family. They are ideal for crate-trained pets, as well as dogs that are sensitive or new to your family as it provides a safe space where they can find their feet and settle down. In return, you get a nice piece of furniture that is a great space saver too. To help you find the perfect dog-friendly piece of furniture, we've put together a list of what we think are currently the best dog crate end tables for your pooch.
The Best Dog Crate Furniture
Crown Pet Products Wood Crate End Table
See More Reviews

A solid crate wrapped inside a quality table and finished in a lovely teak-look stain, this end table from Crown ticks all the boxes on the style front. This is a nice-looking dog crate table that has been built to be durable and easy to look after yet will slot into most living rooms without making a fuss. It also comes in two good sizes (for small/medium dogs and large dogs up to 80 pounds), to fit both your dog and your home. So, what about the canine experience? It may be a nice piece of furniture, but this crate has been built with your pet pooch's comfort in mind. It is well ventilated to give your pet a 360-degree view even when they are tucked away inside. And the door has been cleverly built so it rotates inside for a full open front for your dog when he wants to be at the heart of the family.
Importantly for both human and pet is how easy this wooden dog crate is to keep clean. The floor is made from waterproof MDF that's wipe clean and also helps to eliminate the absorption of liquids and dog odors – great for your living space and for a happy pooch.
Key Features:
Made from sustainable rubberwood
Stained and lacquered finish
Swing-through door rotates away
Waterproof melamine-covered MDF floor
Available in two sizes
Specification:
Brand

Crown Pet Products

Model

Crate-M-ESP

Weight

46 pounds
Waterproof MDF floor for easy cleaning
Door can be rotated out of the way
No internal cushion supplied
Internet's Best Wood & Wire Dog Crate
See More Reviews

There's a nice delicate look to this dog crate table that would fit as well in the bedroom as it will in your lounge, without compromising on your pooch's comfort.
The white stain is calming and the mix of durable MDF for the frame and wire internal crate makes this a welcoming haven for your dog. The wire gives a clearer view than more solid wooden bars and there is a choice of two entry points – a double side door as well as an end door – meaning more flexibility in where you position it in your home. The double side door also makes for super quick and easy cleaning and the crate comes with a nicely-padded removable dog bed. And the locks and hinges are well made too, in a satin nickel for a low-key smart look. As well as classy white, the table is also available in a cool-looking espresso color.  This dog crate is ideal for small to medium sized dogs and can take canines up to 58 pounds in weight.
Key Features:
Made from strong MDF with internal wire side panels
Comes with a removable padded cushion
Choice of two entry points
Satin nickel locks and hinges
For dogs up to 58 pounds in weight
Specification:
Brand

Internet's Best

Weight

58 pounds
Wire bars for a clearer view
Two entry points for easy access and cleaning
Not suitable for large dogs
Merry Pet 2-in-1 Configurable Pet Crate
See More Reviews

If you like products that are two for one, then this smart looking crate end table from Merry Pet is right up your street as you also get a pet gate as well as a crate for your money.
With its clever configurable design, you can comfortably house your pet in the living room when he needs to take a little time out. But for those times when he wants to roam your home, this wooden dog furniture can be quickly converted into a gate to close off any doorways to keep him safely contained.
Key Features:
Crate than reconfigures to be a pet gate
Solid wood veneer design with wire bars
Removable plastic floor tray for easy cleaning
Comes in two sizes
Easy to assemble
Specification:
Brand

Merry Pets

Model

PH0101751800

Weight

46 pounds
Crate and gate for the price of one!
Good size and wire bars give your pet a clear view
Not quite durable enough for extra-large dogs
Table is on the tall side so not ideal for small spaces
Casual Home Wooden Pet Crate
See More Reviews

The first thing that strikes you about this wooden pet crate is its quality look that looks much more expensive than its less than $80 price tag. It is a solid 'chew-resistant' construction, made from dark stained wood with dark matching hinges and locks that would make a smart addition to your living space.
It comes in three sizes, so would suit most small – medium/large dogs and they are light and easy to assemble. As a piece of furniture, it works really well, but what about a home for your pooch? The bars are half height, so if your pet is a little nervous or doesn't like to be separated, it might be an issue but you can always leave the front door open so he can be part of the family to put him at ease. But as a private space for your dog, if he likes to be tucked away, this is a cozy, secure space for sleeping and snoozing. It comes in an impressive range of four colors too.
Key Features:
Made from durable sustainably sourced wood
Lockable end gate and open side slats
'Chew-resistant' design
Comes in three sizes
Quick and easy to assemble
Specification:
Brand

Casual Home

Model

600-44

Weight

28.2 pounds
Solidly made and great value for money
Good choice of colors to suit most homes
Could be too enclosed for some dogs
zoovilla Slide Aside Crate and End Table
See More Reviews

This is a well-priced dog crate end table that has a subtle design to blend into most rooms in the home and at a size that can be easily tucked away or put on show.
Made from MDF with a solid wood veneer, it is also good quality and easy to use, for both you and your four-legged friend. The wooden frame with the interior wire bars gives an excellent field of view for your dog, making him feel he is really in the thick of the family action while having a cozy space all of his own. The door works really well for flexible pet living – open on a hinge to keep it part open or slide into the inside to be totally invisible, allowing your pet the freedom to come and go. The bottom of the crate has also been reinforced for extra strength, making it a really durable as well as nice looking piece of dog furniture for your home.  In a color choice of white or black, the Zoovilla Slide Aside can take an animal up to 50 pounds, so good for small to medium sized dogs, to allow plenty of space to move around.
Key Features:
Door can either hinge or slide into the side
Solid bottom for added strength
Weight capacity of top of crate:300LB
Solid wood veneer MDF and metal rod construction
Comes in a choice of two colors
Specification:
Brand

zoovilla

Model

PTH0641720110

Weight

50.4 pounds
Well-designed and sleek to fit into your home
Neat slide inside door to give your pet open access
Not suitable for larger dogs
Merry Products Cage with Crate Cover Set
See More Reviews

If you need the flexibility of a dog crate that can be disguised when needed, then this clever cover set will help to you blend a wire cage into a piece of furniture, so it doesn't stand out in the living room.
With this set from Merry Products you get a black wire dog crate along with a removable MDF with solid wood veneer frame to turn the wire cage into a fully functioning table surface when you need it. Then take the crate out and you can use it for traveling with your pet.  The wooden frame can also be used with an existing crate if the dimensions match.
Key Features:
Frame is made from MDF with solid wood veneer
Includes a powder coated steel crate
Frame is easily removed for crate use only
Can be used with other crates
Includes a removable plastic bottom tray
Specification:
Brand

Merry Products

Model

MPMC001

Weight

39 pounds
Flexible use – with the wood frame or crate only
Good value and frame can be used with other crates
Not as attractive as other crate end tables
The wire cage is a little lightweight
Richell Wooden End Table Crate
See More Reviews

For a classic decorative dog crate that is well built and provides a comfortable space for your furry friend, the Richell wooden end table is a solid and reliable bet. At the top end of our best dog crate furniture review, you get a sturdy, handsome piece for your money that is both practical and durable.
In an attractive mahogany hue, it will complement most rooms and offers a comfortable, easy to clean space that your crate trained pooch will love. It has half barred side and back for ample ventilation, while the hinged door is fully barred for accessible viewing, whether opened or closed. When open, a side stopper will keep the door in place, to allow your dog to come and go. The only downside is the door is not retractable so can stick out when open. But a solid quality dog crate end table that both you and your canine will love.
Key Features:
Made of a durable all hardwood construction
Side stopper to keep front door open
Includes removable tray for easy cleaning
Good top surface space for personal items
Medium size for dogs up to 44 pounds
Specification:
Brand

Richell

Model

94916

Weight

35.7 pounds
Attractive solid wood design
Good ventilation but still provides a private space
Casual Home Wooden Pet Crate
See More Reviews

The mid-sized version of Casual Home's popular wooden pet crate, this version is a flexible option if you have a couple of small dogs or one medium sized animal. The price means this is good value for money too, as its durable design means it has been built to last.
An attractive design, this dog crate end table will easily fit into your home, thanks to the design touches, such as the color, solid hardwood, neat spindles and pretty latch. Chew-resistant, the half-height spindles may not be suitable for the more anxious dog, but it does create a safe and comforting space. Leave the door open and your pet is accessible and part of the family. Well-built, this is a good option for a small dog or growing pup.
Key Features:
End table design made from solid hardwood
Chew-resistant spindles and side slats
Lockable gate on the front door
Open side slats for ventilation
Quick and easy to assemble
Specification:
Brand

Casual Home

Model

600-24-PARENT

Weight

41.7 pounds
Good size for a couple of smaller dogs or a growing pup
Lockable gate for peace of mind
Bottom tray is not removable
New Age Pet ecoFlex Crate/End Table
See More Reviews

For less than $90, you get a rather interesting looking end table that would eco-style up your room, whether it's the lounge or bedroom. Plus, it can be painted to match your décor and the top is removable for super easy cleaning. As a pet crate, it works well too, although it may be too enclosed and solid for some dogs. However, it does offer ample ventilation and bars on three sides so your pooch can see it. The door is door and stands open on its own or secured with the latch. The floor isn't removable, and it doesn't come with a cushion but with chew resistant stainless-steel tubing in the spindles, this is a dog crate end table that is built to last so is also good value for money.
Key Features:
Made of 'Environment Flex' that won't warp, crack or split
Spindles made of stainless-steel tubing
Can be painted to match your own décor
Chew-resistant, long-lasting design
Easy, no-tools assembly
Specification:
Brand

New Age Pet

Model

EHHC403S-16

Weight

24.3 pounds
Good eco credentials and built with durable materials
Crate frame can be painted
Could be too enclosed for some dogs
Door is not retractable
See More Reviews

Our Premium Pick is this double-fronted wooden dog crate that is substantial enough for a large dog or a couple of smaller animals to be housed in quality comfort. This wooden pet crate from Casual Home can take an animal up to 69 pounds so a versatile piece of dog crate furniture. It is solid and attractively built from chew resistant hardwood, that has been stained a lovely rich color and would look good in any room. The slats are half height, but the ventilation and view are good, and with the double doors open your pet will feel included as well as free to come and go. The doors can be locked for added security. In short, this is an extra-large quality dog crate that is nice to look at and has been built to last.
Key Features:
Dual doors serve as a lockable gate
End table style top for additional storage space
Spacious interior for maximum comfort
Solid wood construction for durability
Light and easy assembly
Specification:
Brand

Casual Home

Model

600-84

Weight

69.1 pounds
Extra-large gives your pet plenty of room
Double-fronted doors for easy access
The half height spindles can create an enclosed feel
Best Dog Crate Furniture Buying Guide
Things to Look Out For When Buying
The trick to buying a dog crate furniture is to balance the comfort and safety of your pooch with the aesthetics of your living room to ensure you get a product you will both love! Here are the main things to consider:
Of both your dog and the space available for it in your home. First up, your dog. You will need to know your pet's full adult size, even if he is still a pup. Dog crate furniture can be a little pricy if you are looking for quality, so you want to buy a product to last. The crate will need to be able to also accommodate your puppy when he reaches adulthood and to be able to cope with his growth spurts without cramping his style. As an adult dog, your pet will need to be able to lie down comfortably in his new crate as well as have extra room to turn, stretch out and move around. Once you know the size of crate that is right for your dog – they typically come in small, medium or large - check the measurements fit your home and where you plan to store it, whether that it is next to the sofa, bed or other furniture. Never buy a crate that fits the space rather than your dog.
Most quality dog crate end tables are made from wood, or a combination of wood and other materials so should be an attractive addition to your home. The materials you choose for your new dog crate furniture should also suit your dog and their temperament too, particularly if they have a tendency to chew. Durable hardwood is a good option, combined with a pet friendly interior such as MDF which can be wiped clean.
The last thing you want is to create is a cramped, stuffy box space that's no fun for you pooch, even if it looks the part when it comes to your décor. Your pet needs to have adequate ventilation as well as plenty of clear space to be able to look out and see around. Check out the slats or bars on the pet crate end table to make sure there is enough ventilation space to create a happy environment for your dog. It's not about boxing in your pet but creating a comfortable place where he can also feel part of the family.
With dog crates that look like furniture you can play it straight or look for extra features for your dog. These include retracting doors (great for small living spaces), internal upholstery and cushions. You can also look for removable sliding trays, handy if your pooch has an 'accident' or gets a bit messy with his chew toy as it makes the crate quick and easy to clean.

Advantages of End Table Style Crates
When it comes to a dog crate furniture, it needs to work for both your pet and for your home. Here are the main advantages to investing in an end table style crate:
A crate/furniture combo will give your pooch his own private space while being in the thick of it when it comes to family life.
They are great space savers! With one piece of furniture you get an attractive end table while your dog gets a cozy bed and chill out space. They can work really well in smaller houses or apartments where space is tight.
Your dog is part of the family, right? With a dog crate end table they can be at the heart of everything and included, rather than excluded, making him feel loved, relaxed and secure. Crate furniture is also good for anxious dogs who could be stressed by separation if left in another room.
If you have a nervous dog, a crate in the living room can really help, as they psychologically have a 'safe space' they can tuck themselves away in but are still near to their humans.
They won't ruin your interior design! Wooden dog crates are so much more attractive than the metal or plastic and can be disguised as part of your ordinary furniture. Plus, they have a dual function as a table so it's a win, win.
Crate End Tables Maintenance
Although they are disguised at furniture, at the end of the day dog crate tables are for your pet, so keeping them clean is essential for both you and your dog. But they really don't need much more attention than a typical dog bed, with a regular wipe with a clean, wet cloth and regular washing of any dog blankets to keep the crate smelling fresh.  You can make your life even easier by buying a crate end table with a removable tray so you can clean it 'on the go'.  But it shouldn't take more effort than this to keep it clean. Just make sure your dog is toilet trained before introducing them to the crate way of living.
Best Dog Crate Furniture FAQ:
Q: Are crate end tables appropriate for large dogs?
A: Dog crate end tables tend to come in small, medium and large so you can get the right fit for your canine, with room to spare but on the whole, they tend to be best for smaller or medium sized dogs, as you need the crate to fit in with the size and shape of the rest of your furniture. Always measure your pooch before you buy a crate to make sure it is the right size to keep them comfortable.
Q: How durable are crate end tables?
A: By the nature of their intended use, wooden dog crates should be built to last and withstand the daily rigors of housing your canine. But it does all depend on both the materials used and how 'boisterous' your dog can be. If your pet is prone to chewing, then the shelf life of the crate will not be as long as it should be, so we suggest the issue of chewing is addressed through training before introducing your dog to its new den.
Q: What are crate end tables made out of?
A: Hardwood is the main material for dog crate end tables, with the whole crate made from wood such as rubberwood or with a wooden table top and metal bar sides. MDF with hardwood veneers are also used. Internally look for a waterproof MDF. When choosing your dog crate furniture look for an attractive product that is also hardwearing and designed to last.
Q: What if my dog chews up the crate?
A: Most dog crate end tables are made from wood and so are not really chew-proof, even if they claim to be. If your pet is a chewer or has a habit of scratching and chewing when bored, then your lovely new table/crate combo is not going to last the distance. The solution is to deal with the chewing issue through training before buying a wooden dog crate for your pet.

Our Top Pick
Crown Pet Products Wood Pet Crate End Table
Our top pick is a solid crate built as a quality piece of wooden furniture that will blend into the home. This is a durable medium-sized crate that can take a couple of small dogs as well as grow with your medium-sized pup. It's easy to clean, thanks to its waterproof floor and the door has a nifty rotating design to disappear when opened. At a good price, this is a dog crate end table that will look after your pet.
Related Reads
Related Reads