Best Dog Crate Furniture: End Table For Your Pooch!
Last Updated: November 25, 2021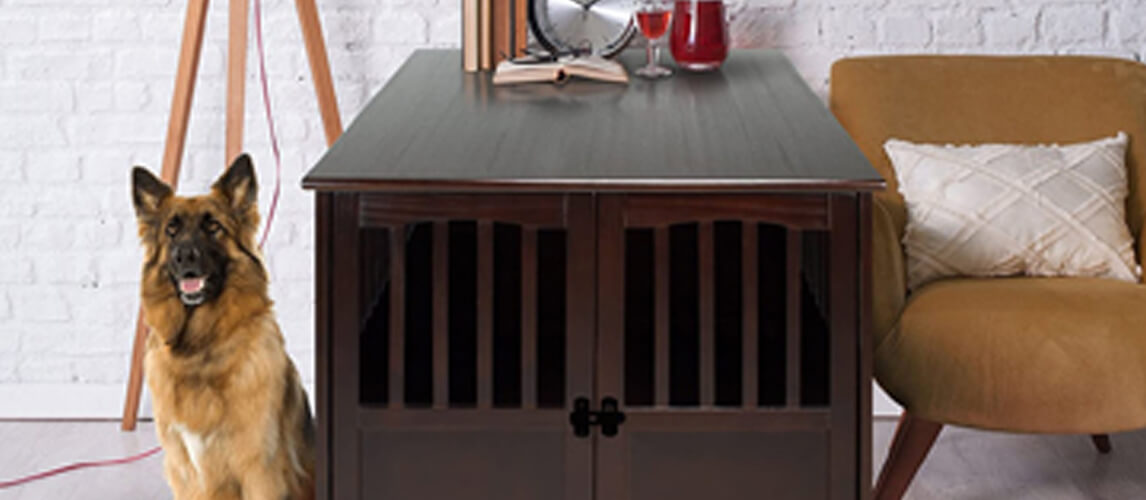 PetSide may earn a small commission from affiliate links in this article.
Learn more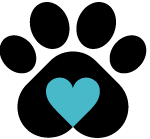 By Petside
Published 13:02 pm
If your home is starting to look like a pet shop and you feel the need for a declutter, then a dog crate that doubles up as a nice-looking piece of furniture could be the way to go.
With a dog crate end table, you have an attractive table in the living room to match your décor that also a comfortable living space for your canine best friend – now that's a win/win situation in our books!
Having a sleeping or relaxing space for your dog that blends into your home means your pet can be a part of the family. They are ideal for crate-trained pets, as well as dogs that are sensitive or new to your family as it provides a safe space where they can find their feet and settle down. In return, you get a nice piece of furniture that is a great space saver too. To help you find the perfect dog-friendly piece of furniture, we've put together a list of what we think are currently the best dog crate end tables for your pooch.
The Best Dog Crate Furniture
Best Dog Crate Furniture Buying Guide
Things to Look Out For When Buying
The trick to buying a dog crate furniture is to balance the comfort and safety of your pooch with the aesthetics of your living room to ensure you get a product you will both love! Here are the main things to consider:
Of both your dog and the space available for it in your home. First up, your dog. You will need to know your pet's full adult size, even if he is still a pup. Dog crate furniture can be a little pricy if you are looking for quality, so you want to buy a product to last. The crate will need to be able to also accommodate your puppy when he reaches adulthood and to be able to cope with his growth spurts without cramping his style. As an adult dog, your pet will need to be able to lie down comfortably in his new crate as well as have extra room to turn, stretch out and move around. Once you know the size of crate that is right for your dog – they typically come in small, medium or large - check the measurements fit your home and where you plan to store it, whether that it is next to the sofa, bed or other furniture. Never buy a crate that fits the space rather than your dog.
Most quality dog crate end tables are made from wood, or a combination of wood and other materials so should be an attractive addition to your home. The materials you choose for your new dog crate furniture should also suit your dog and their temperament too, particularly if they have a tendency to chew. Durable hardwood is a good option, combined with a pet friendly interior such as MDF which can be wiped clean.
The last thing you want is to create is a cramped, stuffy box space that's no fun for you pooch, even if it looks the part when it comes to your décor. Your pet needs to have adequate ventilation as well as plenty of clear space to be able to look out and see around. Check out the slats or bars on the pet crate end table to make sure there is enough ventilation space to create a happy environment for your dog. It's not about boxing in your pet but creating a comfortable place where he can also feel part of the family.
With dog crates that look like furniture you can play it straight or look for extra features for your dog. These include retracting doors (great for small living spaces), internal upholstery and cushions. You can also look for removable sliding trays, handy if your pooch has an 'accident' or gets a bit messy with his chew toy as it makes the crate quick and easy to clean.
Related Posts: Dog Gates and Dog Crate Covers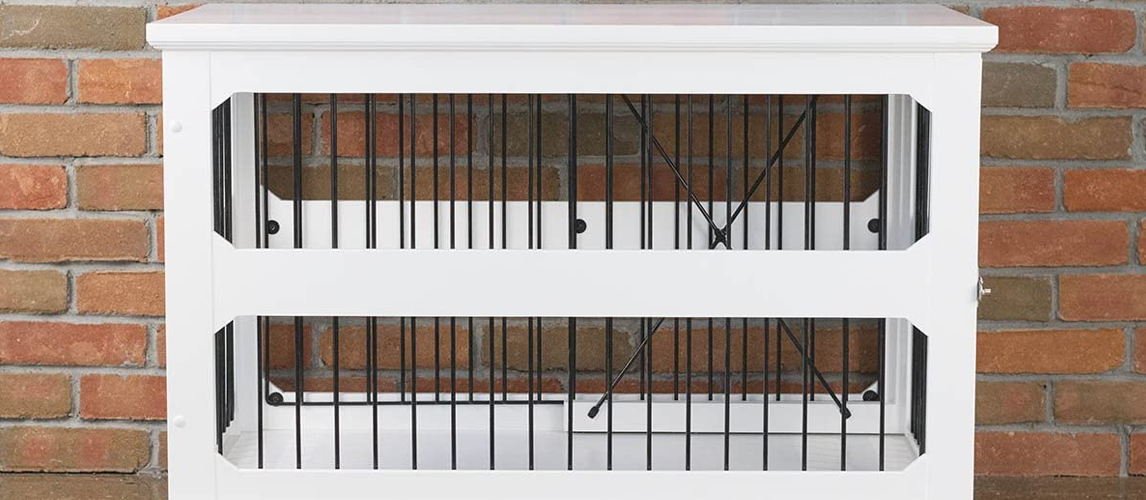 Advantages of End Table Style Crates
When it comes to a dog crate furniture, it needs to work for both your pet and for your home. Here are the main advantages to investing in an end table style crate:
A crate/furniture combo will give your pooch his own private space while being in the thick of it when it comes to family life.
They are great space savers! With one piece of furniture you get an attractive end table while your dog gets a cozy bed and chill out space. They can work really well in smaller houses or apartments where space is tight.
Your dog is part of the family, right? With a dog crate end table they can be at the heart of everything and included, rather than excluded, making him feel loved, relaxed and secure. Crate furniture is also good for anxious dogs who could be stressed by separation if left in another room.
If you have a nervous dog, a crate in the living room can really help, as they psychologically have a 'safe space' they can tuck themselves away in but are still near to their humans.
They won't ruin your interior design! Wooden dog crates are so much more attractive than the metal or plastic and can be disguised as part of your ordinary furniture. Plus, they have a dual function as a table so it's a win, win.
Crate End Tables Maintenance
Although they are disguised at furniture, at the end of the day dog crate tables are for your pet, so keeping them clean is essential for both you and your dog. But they really don't need much more attention than a typical dog bed, with a regular wipe with a clean, wet cloth and regular washing of any dog blankets to keep the crate smelling fresh. You can make your life even easier by buying a crate end table with a removable tray so you can clean it 'on the go'. But it shouldn't take more effort than this to keep it clean. Just make sure your dog is toilet trained before introducing them to the crate way of living.
If you are looking for more options, check out our guides on Dog Playpens and Dog Crate Pads.
Our Top Pick
Crown Pet Products Wood Pet Crate End Table
Our top pick is a solid crate built as a quality piece of wooden furniture that will blend into the home. This is a durable medium-sized crate that can take a couple of small dogs as well as grow with your medium-sized pup. It's easy to clean, thanks to its waterproof floor and the door has a nifty rotating design to disappear when opened. At a good price, this is a dog crate end table that will look after your pet.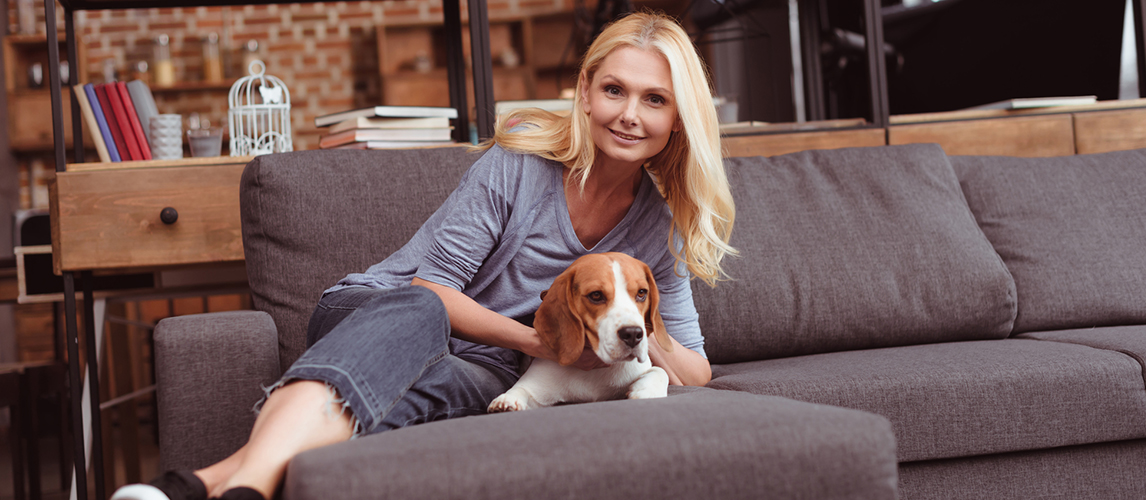 FAQ
Q:

Are crate end tables appropriate for large dogs?

A:

Dog crate end tables tend to come in small, medium and large so you can get the right fit for your canine, with room to spare but on the whole, they tend to be best for smaller or medium sized dogs, as you need the crate to fit in with the size and shape of the rest of your furniture. Always measure your pooch before you buy a crate to make sure it is the right size to keep them comfortable.
Q:

How durable are crate end tables?

A:

By the nature of their intended use, wooden dog crates should be built to last and withstand the daily rigors of housing your canine. But it does all depend on both the materials used and how 'boisterous' your dog can be. If your pet is prone to chewing, then the shelf life of the crate will not be as long as it should be, so we suggest the issue of chewing is addressed through training before introducing your dog to its new den.
Q:

What are crate end tables made out of?

A:

Hardwood is the main material for dog crate end tables, with the whole crate made from wood such as rubberwood or with a wooden table top and metal bar sides. MDF with hardwood veneers are also used. Internally look for a waterproof MDF. When choosing your dog crate furniture look for an attractive product that is also hardwearing and designed to last.
Q:

What if my dog chews up the crate?

A:

Most dog crate end tables are made from wood and so are not really chew-proof, even if they claim to be. If your pet is a chewer or has a habit of scratching and chewing when bored, then your lovely new table/crate combo is not going to last the distance. The solution is to deal with the chewing issue through training before buying a wooden dog crate for your pet.