The Best Dog Playpens in 2022
Last Updated: January 4, 2022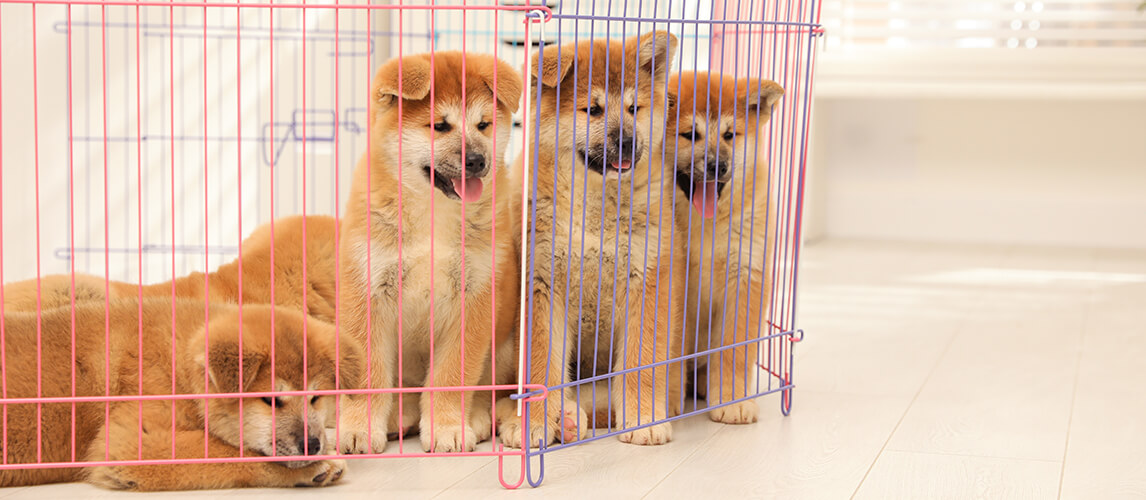 PetSide may earn a small commission from affiliate links in this article.
Learn more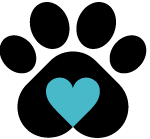 By Petside
Published 08:43 am
We all want our pups to spend time with us but there will be occasions when we need them confined to a single space. This is important for their own safety and sometimes for our sanity! On these occasions, a dog playpen is a perfect solution.
There are many different shapes and styles of dog playpen so it is worth taking some time to select one that has the features that will suit your dog and your lifestyle. You have a range of options for materials, heights, area, and features. To help you out, here is our guide to getting the best dog playpens for your home.
The Best Dog Playpen
Best Dog Playpens Buying Guide & FAQ
What to Consider When Buying a Dog Playpen
Here's what to look out for when buying a puppy pen:
Is it big enough to give your dog room to move around but small enough to fit in your room? Playpens that are configurable to fit awkward spaces are best.
There is no point in having a playpen that your dog can step or jump over to make sure that you get one that is the right height!
Will your dog chew it? Metal playpens are more durable but they need a coating on them to prevent rust if you are going to use them outside.
Some dogs are great at escaping! Look carefully at the latch provided with the playpen. Will it stop your pooch from getting out?
Do you want the portable dog pen to be used when you are traveling? If so, you need a playpen that is very quick and easy to put up and take down.
Extra features. Some playpens have rubber feet to protect indoor floor surfaces and others come with anchors to fix them to the ground when they are outside.
For more options, check out our detailed review of Dog Gates.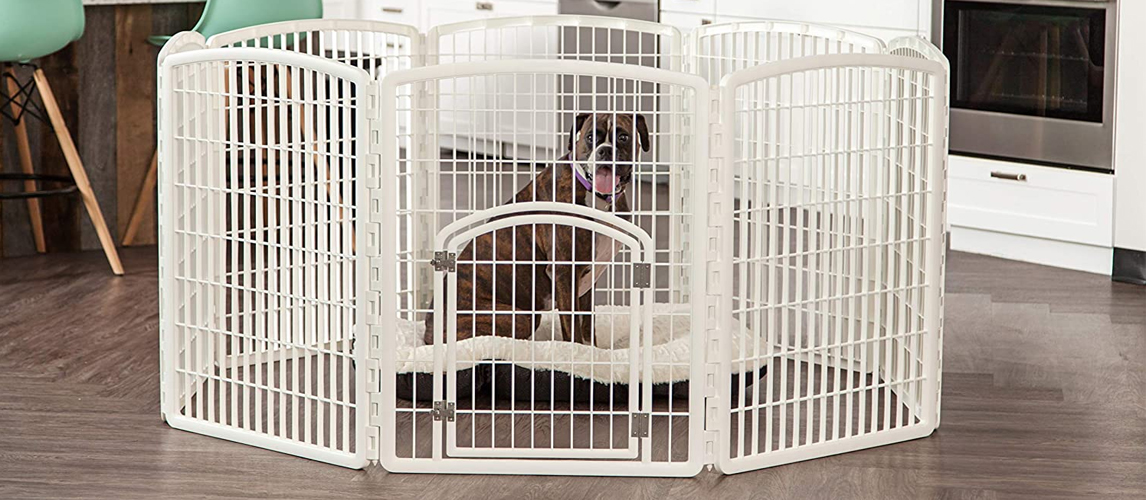 Why You Should Use a Dog Playpen
A dog playpen is an amazingly useful device for keeping your pup or adult dog in a confined space without having to resort to putting them in a crate. Sometimes it is essential for you to temporarily enclose your dog into one enclosed space. It ensures their safety and protects the fabric of your home. They should not be used as a way of isolating your dog as punishment as this can only make undesirable behavior worse. Head over to our reviews of the best dog crates and best dog crate covers for more alternatives.
Here are some of the occasions when a playpen could be worth its weight in gold!
When you have a new puppy
A new puppy is totally adorable but is also very hard work! They need constant supervision because their desire to explore their environment can land them in a lot of trouble and can damage your house. Sometimes, you are just too busy to focus on them and a puppy pen is a perfect answer. The area is big enough for them to play in and you can put a water bowl in too. Because you can easily see into a playpen, you can pop back to keep an eye on them.
When you have a digger or a destroyer
We all want our dogs to be able to enjoy being outdoors on a nice day but some dogs have unpleasant garden habits! They may dig up your garden or chew your favorite plants. By setting up a pet play yard on a hard surface, they can enjoy being outside with the family without the risk of damaging the lawn.
If you are camping, visiting the park or staying at a friend's house, it can make life easier if your pooch is confined in one place. They can wander around and play with their toys but you will always know where they are and what they are doing. It ensures their safety and the safety of your friend's house! Take a look at our review of dog toys for more options.
When you have nervous guests
We all support the 'love me, love my dog' attitude but sometimes it is simply not appropriate to allow your dog unlimited access to your house guests. This may be because your guests have very young children, are unsteady on their feet or have a phobia of dogs. It may also be because they are there to do a job for you such as decorating or plumbing and your dog's help is not appreciated! A dog indoor playpen is a great way of enclosing your dog without cutting them off from where the humans in the house are spending their time.
When you need to socialize your dog
Playpens provide an enclosed space within which to introduce your pooch to other dogs in a controlled environment. This helps them with their social skills
When you are training your puppy
Pups can find it hard to concentrate and have a habit of wandering off when you are trying to teach them new skills. It gives you more control during the training sessions so they will be more successful.
When you want to protect your house
Unfortunately, some dogs can be destructive when it comes to home décor and furnishings. A playpen affords your home a lot of protection but still allows your dog to spend time with all of the family.
Types of Dog Play Pens
Here are the main types of dog pen:
A plastic playpen is a durable and lightweight option that can be used inside and outdoors. It is fairly resilient to chewing but try to select one that is free from harmful chemicals such as phthalates.
Wood. Best reserved for indoors where they look very attractive and blend in with the furniture. They are not suitable for big chewers!
Metal. Very durable and will stand up to chewing. However, the metal must be coated to prevent corrosion for use outdoors. For indoor use, you need padding to protect floors from scratches.
Fabric. The most lightweight and portable option. Perfect for days out but may not be sturdy enough for a very strong dog.
Outdoor Puppy Playpen or Wireless Fence?
There are several methods of dog containment and it is up to you to choose which is best. Dog playpens are obviously visible whereas a wireless fence works by sending an electric shock to a dog collar when they stray over a boundary. This is not acceptable to some owners and they would prefer physical containment. For a wider selection of choices, check out our electric dog fences guide.
Our Top Pick
Midwest Exercise Dog Playpens - a playpen for breeds that are up to 20 inches in height and 26 and 40 pounds in weight, it gives your dog 16 square feet of secure space to enjoy. It's made from wire mesh coated panels that will not rust and it is configurable.
The playpen is quick to assemble and comes with eight ground anchors for outdoor use. The door is secured with a double latch.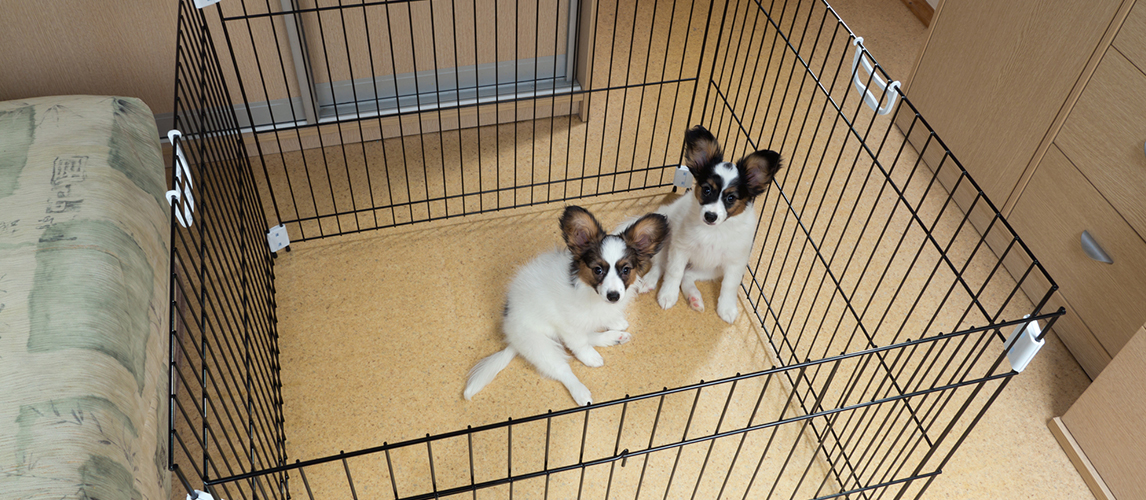 FAQ
Q:

What is a puppy playpen?

A:

It is a means of securing a dog in one area, in a similar way to a child playpen. They come in different sizes and materials to suit your home and your dog.
Q:

Can dog playpens hurt a pet?

A:

Playpens are designed with your pet's safety in mind and will not hurt them as long as they are used responsibly. They should not be used as punishment.
Q:

Can I leave my puppy in a playpen while I'm at work?

A:

You can leave a pup in a playpen whilst you are out as long as they have adequate food and water. Leaving a young pup unsupervised for long periods of time is not advisable.
Q:

How do I get my dog to like the playpen?

A:

Start by introducing your pup to the playpen for short periods and gradually build up. Make it a fun place to spend time by putting their favorite blanket and toys in there. Find out more about dog blankets here.
Q:

Should I use doggy playpens at night?

A:

Playpens are preferred by some owners for containing a pup at night. They have more room to move around and will be more comfortable. Always make sure that your pup has access to clean water.