15 Tips for Camping with Dogs
Camping is an activity that allows you to strengthen your bond with your furry, four-legged best friend. It's a great way for dogs to get their exercise and give them the opportunity to explore. Camping does not have to be difficult or rough for your pet, however. Whether it is on a sunny beach, a lush forest, or inside your RV, your pet deserves the best in terms of comfort and safety. By observing these 15 easy tips, you are not only ensuring the safety of your pet; you are also guaranteeing a wonderful time for both of you.
Plan Your Camping Activity Well
Any activity should begin with a plan. Whenever you go camping with your dog, it is important to pay attention to the place where you are going to camp. There are parks that do not allow dogs. It is best to determine beforehand whether the place you're going will allow dogs in the area. The same is true with the hiking trails. There are also camping grounds that may allow dogs, but will require you to have them on a leash. Make sure you understand these to help avoid penalties later on.
Since you're already planning your adventure, make sure to keep an eye on the weather forecast. You don't want to head out when there's a storm brewing in the horizon.
Related Post: Best Dog Leashes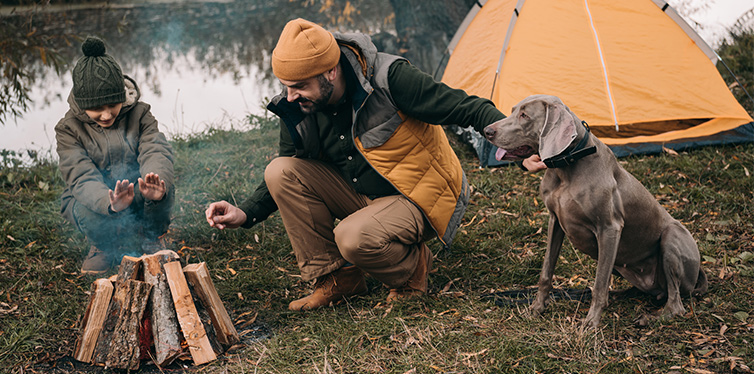 Get a Clean Bill of Health for Your Dog
It is always wise to bring your pet to the vet a few days before your camping activity. This is to make sure that it gets a clean bill of health. Your vet can perform a thorough physical examination of your pet. He needs to evaluate your pet's joints so you will have an idea of how much of a hike is too much for your hound. Its cardiovascular wellbeing is also important.
This is also the best time to ask for additional tips on how you can make the camping adventure safer for your pet. In all likelihood, your vet already has many clients who have gone camping with their respective dogs. He can share with you their experiences so you'll have a heads-up on what to expect.
Protect Your Pet against Pests
When you go camping, you are at the mercy of the elements, not to mention Mother Nature's other creations. Pests like ticks and fleas as well as mosquitoes abound in the wilderness. Mosquitoes can bring heartworm disease to your dog. Fleas can cause flea bite dermatitis while ticks can produce different health problems depending on the infectious microorganism inside its gut.
It is always best to apply a flea and tick preventative to your dog before you go camping. This is true for instances where you'll be camping in flea- and tick-infested areas. Many flea and tick preventatives work for at least a month. You can also let your dog wear a flea and tick collar for added protection.
Related Posts: Best Flea Treatment for Dogs and Best Flea Collars for Dogs
Keep Your Pet Well-Hydrated
Every camper and hiker knows that water is a luxury in the outdoors. You don't have access to safe and potable water. Most of the time, you will need to boil your water in an effort to kill the germs that may be present.
Dogs do not have an efficient heat regulation mechanism. The only way they can cool their bodies after a long hike is for them to pant. This is often not enough and can lead to dehydration. That's why it is best to bring a water bottle and a collapsible water bowl whenever you go on a day hike with your pet.
Related Posts: Best Dog Water Bottles and Best Dog Water Fountains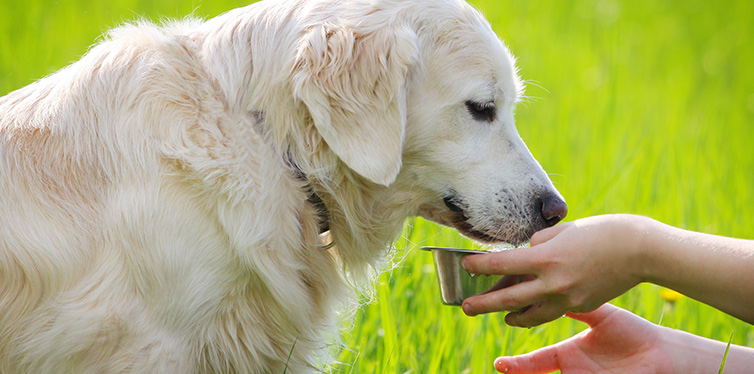 Pack Emergency Dog Supplies
Camping can be so much fun, but it can also be full of risks. That is why you also have to prepare for any emergencies. You can fill a dog backpack with canine first aid and emergency kit. A bandana is always a must as it can serve as a makeshift muzzle. You will also need flat-bladed tweezers which can help you remove ticks on your pet. A small bottle of mineral oil can also come in handy in killing the tick.
Another emergency dog supply that you may need is a fold-up thermal blanket for managing hypothermia or shock. You may also need a multi-function tool with needle-nose pliers attachment for removing porcupine quills or thorns. Dog boots can also come in handy when you're trekking over uneven or rocky terrain. Your vet can also give you a list of the medications that your dog may need on the trail.
Create a Safer and More Comfortable Sleeping Area
Most of us have this notion that it is okay for dogs to sleep on bare earth. We don't recommend this, however. Your dog deserves the same comfort and protection that you need whenever you go sleeping under the bright moon of a cloudless night. As such, a suitable dog sleeping bag is a must. Consider this as a smaller version of your own sleeping bag. It should help make your dog feel more comfortable as the ground can be cold at night.
It is also best to let your dog stay with you inside your tent. The camp grounds can have other "visitors" at night. These can include wolves, jackals, and the like. They can pose danger to your pet if you leave your dog to sleep outside.
Related Post: Best Dog Tents
Watch Your Dog's Nutritional Needs on the Trail and at the Camp
It is easy to think that your dog will be having the same meal as you. When you go fishing and grill your catch over fire, you may have this temptation to give your pet your scraps. Don't! Your dog will still require the same nutrition that it does when you're at home. Depending on your camping activities, however, your hound may need to increase its calorie needs. For example, if you have been walking or hiking all day long, your dog will need more calories to replenish its energy reserves.
Bringing your dog's nutritionally-balanced and complete dog food is crucial. You'll also need to bring your pet's food bowl, unless you don't mind it feeding from your mess kit. Nutritious doggie treats are also essential whenever you go hiking from your base camp.
Related Posts: Best Dog Treats and Best Dog Bowls
Use a Collar or Harness with Safety Features on Your Dog
The campgrounds are a huge place for your dog to roam around. It is easy for it to get lost. It can also be difficult to spot from the bush. Nighttime conditions can also make it more difficult to see your pet. As such, it is often best to let your dog wear a collar or a dog harness that comes with reflective trim. These will help improve their visibility in the dark.
You can also invest in a pet GPS tracking system. It is more expensive, of course, but the benefits far outweigh the costs. This technology enables you to keep track of your pet from your smartphone. You may want to get one with multiple geo-location services such as GPS, RF signals, cellular service, and Bluetooth. It's best to have a system you can fall back on in case one fails.
Getting a dog ID tag on your dog's collar also helps. Make sure it contains your contact information in the event that somebody finds your dog.
Manage Your Pet's Wastes
Camping doesn't give you the right to allow your pet to do its business anywhere and everywhere. There are other campers and hikers in the area, too. You should also be mindful of their need to have a dog poop-free environment. It is for this reason that you will also need to bring dog poop bags.
Ordinary plastic bags may suffice, but you will have to make sure you dispose of your pet's waste in the correct manner. Most dog-friendly campsites will have waste disposal units that are specific for pet waste. Use these. Don't forget to bring your dog poop scooper if you don't like scooping your pet's poop with your hands.
Take Your Dog on Day Hikes
There are many activities to enjoy in the camp grounds. There are trails to take and explore. Make sure to bring your dog on a day hike. This will help provide your dog with the necessary stimulus for it to be happy.
Day hikes with your dog are best when your pet wears a dog backpack. There are different designs of doggie backpacks. Some look like saddlebags while others look more like extra-large vests. Whatever the case, your dog can carry all of its essentials in the backpack. You can pack your dog's first aid kit, dog food, water bottle, doggie treats, and a whole lot more. This should make the hike more interesting before you head back to your campsite.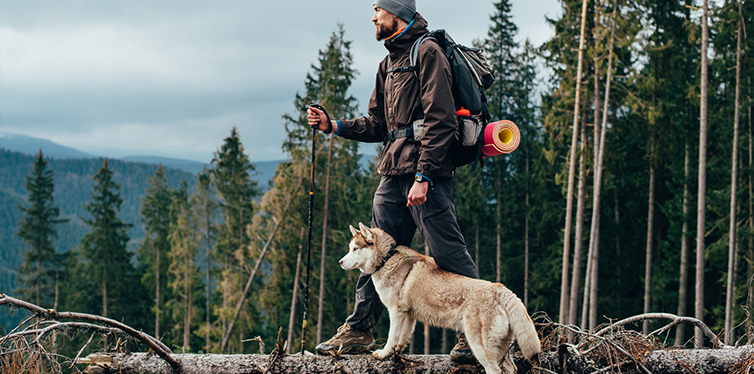 Set Up a Safe Zone for Your Dog
It is quite impossible to keep your eyes on your dog 100% of the time. You will be pitching your tent, building your camp fire, and fetching water from a nearby river or lake. There will be certain activities at the camp where your focus will not be on your dog.
In such instances, it is ideal if you can create safe zones for your pet. You can bring portable pet enclosures that are similar to a baby playpen. You can also create a zipline for your pet. Tie a sturdy rope in between two adjacent trees. This zipline can serve as anchor for your pet's leash. If the cord is too short, you can improvise by staking it to the ground. This will serve as an anchor point for your pet's leash.
Stay in the Shade
This should already be part of your camping plan. It is critical to pick an area where there is plenty of shade. You don't want your dog to suffer from exposure to the harsh rays of the sun. Dehydration can be a real issue in the great outdoors.
There are also breeds of dogs that are more prone to overheating. These can include dogs with short muzzles or flat faces. Obese dogs also tend to overheat faster than lean ones.
Steer Clear of Areas where Local Wildlife Inhabit
You and your dog are not alone in your campsite. There can be wildlife, too. If you will be taking a day hike with your pet, make sure to steer clear of areas where there are wild animals. Pay special attention to warning signs that tell you about the presence of bears, coyotes, or other wildlife in the area.
Be mindful of the trails. Keep an eye out for telltale signs of recent animal activity such as claw marks on tree trunks or paw prints on the ground. Your life and that of your dog may depend on how vigilant you can be outdoors.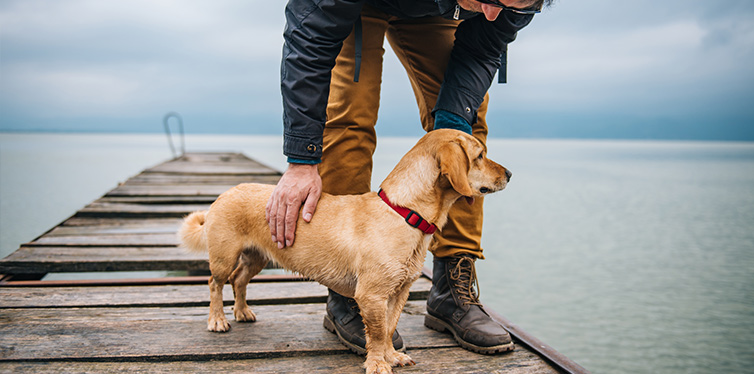 Organize and Keep Handy Your Dog's Documents
Barring any untoward incident, it is best to bring with you the important documents of your dog. Its identification papers, vaccination record, and recent veterinary record can come in handy when the need arises.
You will never know if an accident will occur that may require the administration of certain medications to your dog. Its allergy and health history can give first responders an idea of how best to manage your dog's condition.
Let Your Dog Have Fun
Give your pet the break it deserves. Make sure that it is free to roam around and explore the new surroundings. Make sure that you are camping in a safe area, free from wild animals. It is also important that your dog has mastery of the recall command. Whenever you call its name, your dog should run to you in an instant.
Camping is a special time for your pet to have fun. Let it be. Let your dog explore, run, jump, and chase butterflies. If you're camping near a body of water, it's a good time for a swim, too.
Camping can offer a lot of opportunities for you and your dog. Heed these tips and we can guarantee that you'll have a great time with your pet.
Sources:
5 Tips for Family Camping with the Dog – HowStuffWorks