The Best Dog Car Harnesses in 2022
Last Updated: January 4, 2022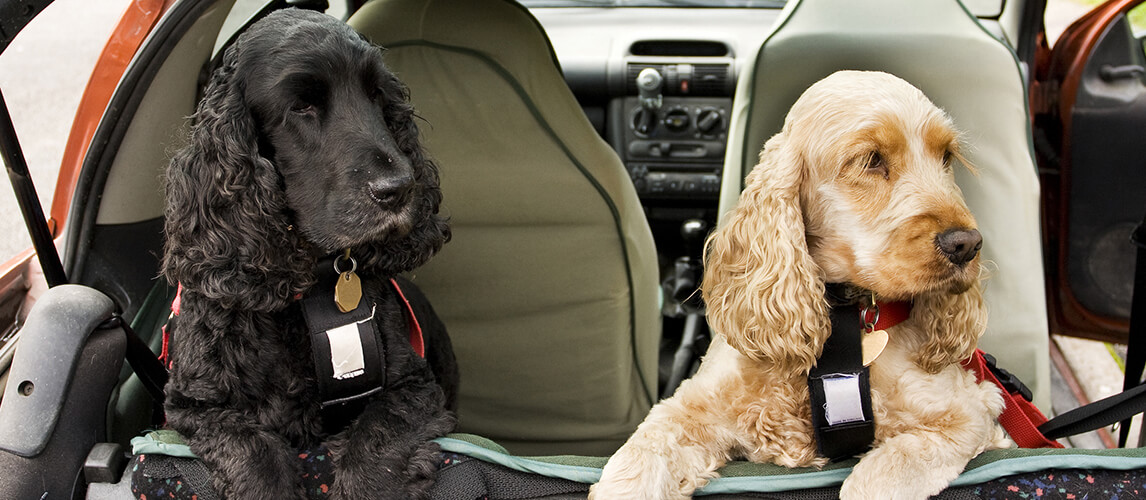 PetSide may earn a small commission from affiliate links in this article.
Learn more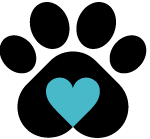 By Petside
Published 14:54 pm
If asked to picture a dog in a car, the large majority of people envisage a quintessential Golden Retriever hanging out the window of an RV with their tongue floating in the wind. This is perfectly understandable: after all, this is the stock image for dogs that is plastered all over the internet. However, although we consider happy dogs hanging their heads out of car windows to exemplify what happiness is all about, it's critical for our pet's safety that we only laugh at these funny images online, not in real life.
If you need more convincing, our buying guide and FAQ sections will illustrate why your dog should be restrained in your cat for both your safety as well as theirs. Beforehand, however, we hope the varied selection of dog car harnesses will either change your mind or further reinforce your beliefs that a dog's happiness hanging out the car window is temporary, whereas long-term injuries from a crash remain for life.
The Best Dog Car Harness
Best Dog Car Harness Buying Guide & FAQ
Why You Need a Dog Car Harness
You'll be able to concentrate better on the road: As the driver, strapping your dog into the back of your vehicle will noticeably improve your focus on the road, opposed to if your dog was unstrapped in the front seat of your car. A survey sponsored by AAA and Kurgo Pet Products backs this statement up with a few worrisome statistics, detailed below:
52% of drivers pet their dog while driving
17% had their dog sitting in their lap
13% give their dog treats when on the road
4% even played with their pet during car travel
Ultimately, you'll find that knowing your dog is safely strapped into the back seat will grant you peace of mind, leading to a more enjoyable road trip overall.
Your dog and others on the road will be kept safe: Evidently, this is the principal reason why you desperately need a reliable, crash tested dog harness for your car: to keep your canine and other road users out of harm's way. A chilling statistic that depicts the danger your dog is in when unrestrained is from 2016, when American Humane estimated that at least 100,000 dogs die in accidents each year as a result of them riding in truck beds. This terrifying statistic that doesn't even include the humans who died or were seriously injured from these dogs flying towards their windscreens.
You may also like our article on Dog Car Barriers.
Things to Look for in a Car Harness for Your Pooch
Is the dog harness adjustable?: Being able to adjust the dog harness is a must-have feature for safety harnesses. This feature allows your dog to be mobile in their seat, permitting them to either sit up or lie down in the backseat depending on what they find most comfortable.
Does it have chest and neck padding?: Pet car harnesses worth your while will always have breathable chest padding, whereas premium dog car safety harnesses will include neck padding, too.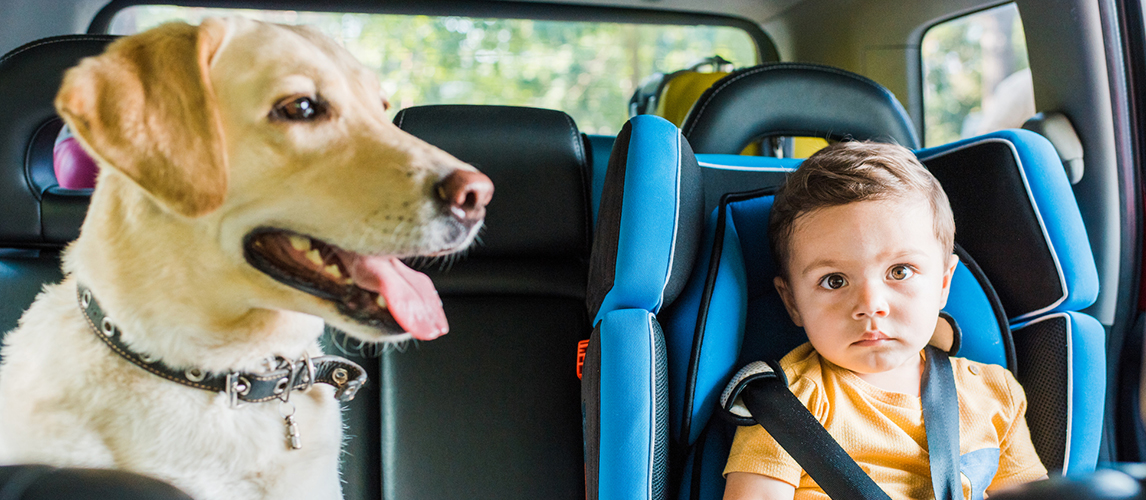 Challenges of Car Safety Harnesses
It's very difficult to measure what harness will fit your dog: One of the greatest challenges with dog harnesses is knowing how to measure your canine effectively to ensure their dog harness is a good fit. As finding your pooch the perfect dog harness fit can be a matter of life or death, we've outlined how to measure a dog's body for a harness below:
1 Measure your dog's chest girth: Measuring girth is the most important for deciding the correct size of harness. Place the measuring tape at the back of the neck far up your dog's body and loop it down to just behind their front legs.
2 Now, measure their neck size: To correctly measure your dog's neck, their lower part of their neck should be measured and looped round to guarantee a correct measurement.
Top Tip: If your careful measuring ends up in between two different sizes, choosing the larger harness is recommended. The larger size is hopefully includes adjustable straps and will feature larger chest padding.
Take a look at our reviews of Dog Car Seats and Dog Car Seat Covers for more options.
Our Top Pick
We hope you've profited from our vast selection of the best dog car harnesses on the market. However, if urged to choose our favorite, what dog car harness would we pick for our own pooch to protect them from harm? Kurgo's Dog Harness would have to be our top choice. Tested for dogs weighing up to 75 pounds, the harness has been tested at a reputable testing facility and includes five adjustment points so all breeds of dog are comfortable moving about while strapped in. Besides, as well as protecting your dog in the car, the harness is able to function as a walking harness too. Compatible with every car by virtue of Kurgo's seat belt tether, we recommend buying this fantastic harness for your pet before it sells out completely.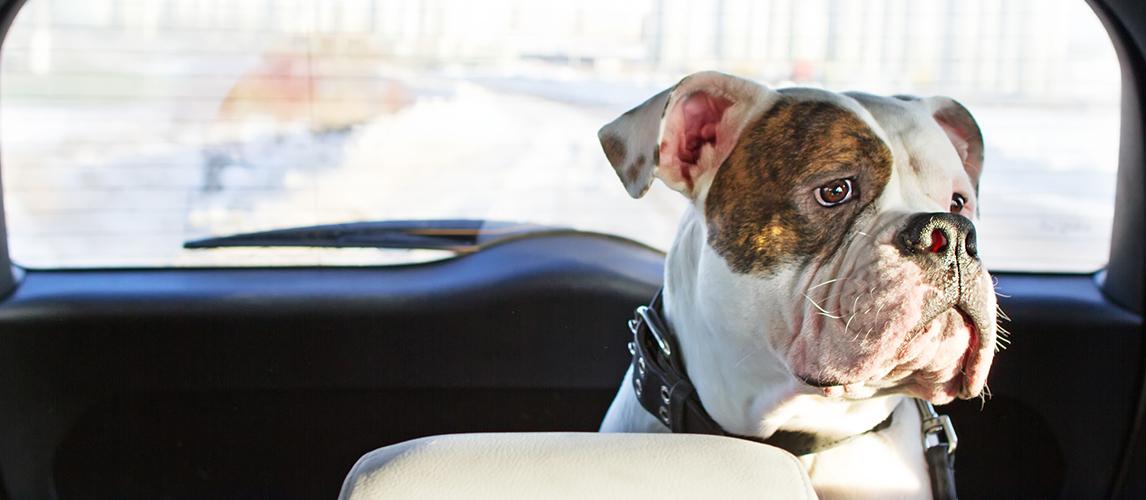 FAQ
Q:

Can I use a regular dog harness in the car?

A:

You really shouldn't. We understand why it might be appealing to use your dog's walking harness to strap them in – after all, these things usually include buckles to attach to the car and will save you a chunk of money. However, dog car harnesses are designed for a) restraining your dog so they're in a safe position if a crash occurs, and b) ensuring your dog has the correct padding to protect delicate areas of their body (most notably, their chest and neck) in the event of a collision.
Q:

Do dogs have to be restrained in cars by law?

A:

In the UK, it's legal to restrain dogs in your car. To confirm this statement, we've found an extract from the UK Highway Code's 57th rule, which reads as follows:

"When in a vehicle make sure dogs or other animals are suitably restrained so they cannot distract you while you are driving or injure you, or themselves, if you stop quickly. A seat belt harness, pet carrier, dog cage or dog guard are ways of restraining animals in cars".

In the USA, however, the law is a little more complicated and differs by states. Only the following states listed below consider it to be an offence if you do not restrain your dog in your vehicle:
Minnesota
Maine
New Hampshire
Massachusetts
Connecticut
Rhode Island
However, legislation for making dog seatbelts mandatory is being heavily considered in many states, and others have passed legislation banning dogs from sitting with drivers in the front, truck bed, or vehicles, and even laps. Therefore, as legislators across the country clash over this hot topic, it makes much more sense to purchase your dog their very own harness to prevent you from being fined and, most importantly, to keep them safe.
Q:

Where should my dog sit in the car?

A:

As we elucidated above, certain states such as Arizona don't insist on having dogs wear seat belts, but drivers may be charged if an individual drives with their dog in their lap. The back of the car is the safest place for your dog to chill out in your vehicle for a couple of hours when strapped in with a harness. This will give them the space to lie down and get comfy for the journey ahead.

If in the event of a crash, your dog being in the back seat of the car will stop them from smashing through the front window. Instead, they'll hit off the back of the back seats, instead. Although no situation is ideal, at least the latter situation keeps you dog inside the car.