The Best Dog Life Jackets in 2022
Last Updated: January 4, 2022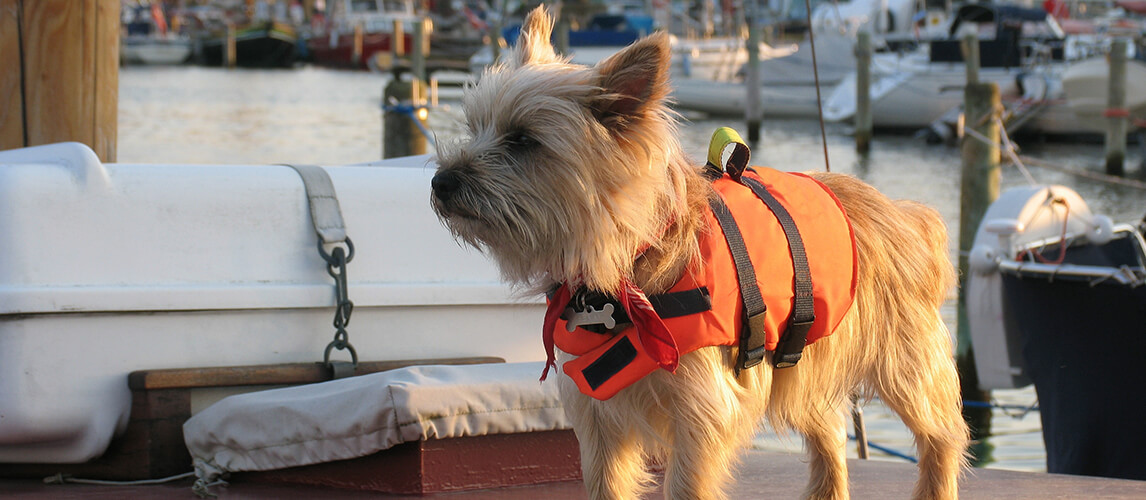 PetSide may earn a small commission from affiliate links in this article.
Learn more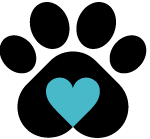 By Petside
Published 11:26 am
It may not be at the forefront of every dog owner's mind, but for those who love to live their life on the water- or as close the water as possible- having a dog floatation device can easily be the best investment you'll ever make in the wellbeing of your dog. Aside from having the potential to save your dog's life, should the worst happen, they can also make your dog feel more comfortable in the water, allowing you to enjoy your time with your pup, doing your favorite activities!
The best dog life jackets are dependable, strong, stable, come with lots of features and are available at a great price. Not sure where you can source one? Never fear, we're here to take care of all the details and provide you with some of the best life jackets for dogs available, today. And, if you still aren't sold on the idea of buying a dog floatation device, just read our buying guide for those answers to your frequently asked questions and get to know a little more about why you should buy a life jacket for your dog.
The Best Dog Life Jacket
Best Dog Life Jacket Buying Guide & FAQ
Things to Look for in a Dog Life Jacket
It's fairly obvious but this should be your first on your list, when searching for a dog swim vest. After all, a dachshund life jacket is not going to be the same size as a pet life jacket designed for Bernese Mountain Dogs!
Most sellers will provide a general idea of what size matches which breed or give a size guide alongside their page which will allow you to buy with greater confidence of getting the right size of dog water vest for your pup.
If you aren't too sure on size, it can be a good idea to grab a pet life jacket that comes with adjustable straps. These are usually based around the shoulders, middle/abdomen and neck. You'll want to leave enough room for your dog's comfort while ensuring that they can't slip out of their dog life preserver, at the same time.
Speaking of comfort, it's important that your dog is happy wearing his or her life jacket for dogs, or you'll likely find yourself chasing a dog who has no intention of ever wearing his life jacket- never mind swimming in it. This can be a case of trying a small variety on, or checking the reviews of your chosen product, since these will give you a good idea of how snug a fit is.
It also depends on your dog's preference- would they prefer the security of a snug fit, or do they prefer to have one that has a slimmer design and gives aid without getting in the way?
It's somewhat obvious, but there's not much point in buying any dog floatation device that doesn't actually float. Check the reviews and blurbs of each description to get the right buoyancy aid for you. Nervous dogs will likely require a lot more padding and buoyancy, as they may panic if they feel themselves dropping in the water. Other dogs may just need a touch of buoyancy to help stop them tiring out too quickly.
There's a huge range of different materials available when it comes to dog life vests. The right one for you depends on how frequently you'd like to use it. The best dog life jackets will be made from a strong material that can handle you pulling them out of the water, if needs be, while also remaining lightweight enough to not cause any discomfort to your dog. You may also want a material that dries quickly, once playtime is over, if you like to visit the local pond regularly.
Features can make or break a good product and, if you're stuck between two choices, it's likely that these will be the deciding factor for you. Common features include:
Handle- a handle will aid you in being able to pull your dog out of the water, if they're struggling or floundering
Reflective strips or material- these will ensure that you're able to keep an eye on your dog at all times
Front floatation pad- designed to keep your dogs head above water should they become incapacitated- the best of these will be stable yet not inhibit your dog's natural movements
Abdominal floatation pad- Designed to add a little extra buoyancy to your puppy life jacket, these are great for bigger dogs
You may also like our article on Tactical Dog Vests.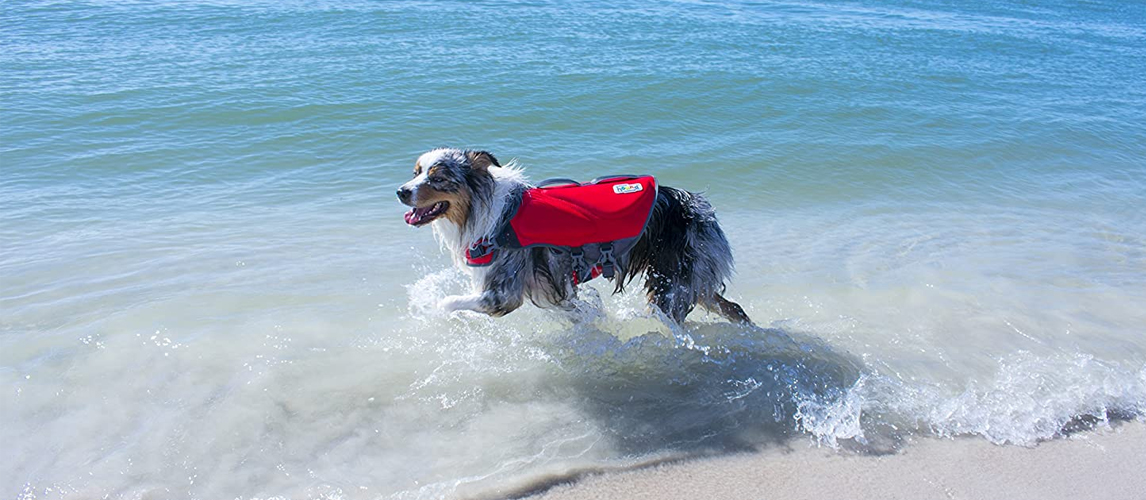 Why Do Dogs Need Life Vests?
Swimming is a great exercise for any dogs, old or young, as it can help with therapy such as older dogs with arthritis or simply provide more physical stimulation for dogs with boundless energy, such as the Border Collie. Of course, not all dogs are equally good at swimming and some need a helping hand, whether that's occasional assistance or regular days out at the pond.
While many dogs are born to swim, it's not uncommon for young dogs to struggle with the movement. Meanwhile, elderly dogs are likely to come up against cramps or joint issues that can make them less effective in water, and some dogs just straight-up aren't very good at swimming. Not to mention that it's likely that your dog will tire out more quickly when swimming than they would on a traditional walk.
Take a look at our review of Dog Floats for Pool for more options.
A life vest is there to act as a swimming aid, as opposed to being a life-saving device- of course, if you like to take your pup out on a boat regularly, it's certainly not a bad idea to invest in a dog life jacket for your trips, either! A good dog life vest will give your dog a helping hand while still allowing them to move freely and enjoy their water-based activities, so don't worry about it being a hindrance.
All-in-all dog's need a high-quality dog life vest in order to make the most out of their days to the pond, hydrotherapy and vacations. And while it may not be a necessity for some dogs, there's no harm in bringing one along, so you can have the peace of mind in knowing that you dog is safe, even if they get tired or develop a cramp when swimming.
Safety Tips for Dog Flotation Vest
First and foremost, allow your dog to become comfortable with their life jacket. Pop it on your pup when you're at home, where they know they are safe. It's important for your dog to become used to wearing a dog life preserver, so that they don't become stressed or panic when it's first placed on them- especially when swimming.
Secondly, you should always make sure that your dog life jacket provides a comfortable- and safe- fit. Too loose and your dog may become tangled up in their life jacket, too tight and they will struggle with their movements, leading them to become stressed and be unable to hold themselves up.
It's important to remember that life jackets are an aid- and drowning is still possible when wearing a life jacket. This is vital to remember, as it's easy to become complacent- but, if your dog becomes stressed, tired or confused, you should immediately take them to dry land and allow them to recover. Do not rely on your dog life jacket to save them in every scenario, especially as they are unaware that you may be trying to help, and that the life jacket is there to help them, too.
If your dog is not comfortable near water, then do not force them to go into water. All that will happen is that you will reinforce that negative emotion, each time you try to encourage them to swim. Simply allow your dog to see that there will be no harm to come to them, from swimming- and the best way to do this is by showing them!
Head over to our review of Dog Cooling Vests for more choices.
Our Top Pick
Perfectly designed to protect your dog against the worst that could happen, the Outward Hound Granby Dog Life Jacket shoots to the top of our list thanks to the sheer number of safety features it provides at such an affordable price.
Great for dogs of any size, the Granby Life jacket for dogs from Outward Hound is able to fit and match of almost any shape, while the front panel ensure that, even if your dog were to lose consciousness in the water, they will still be able to remain out of harm's way until you can get them to safety.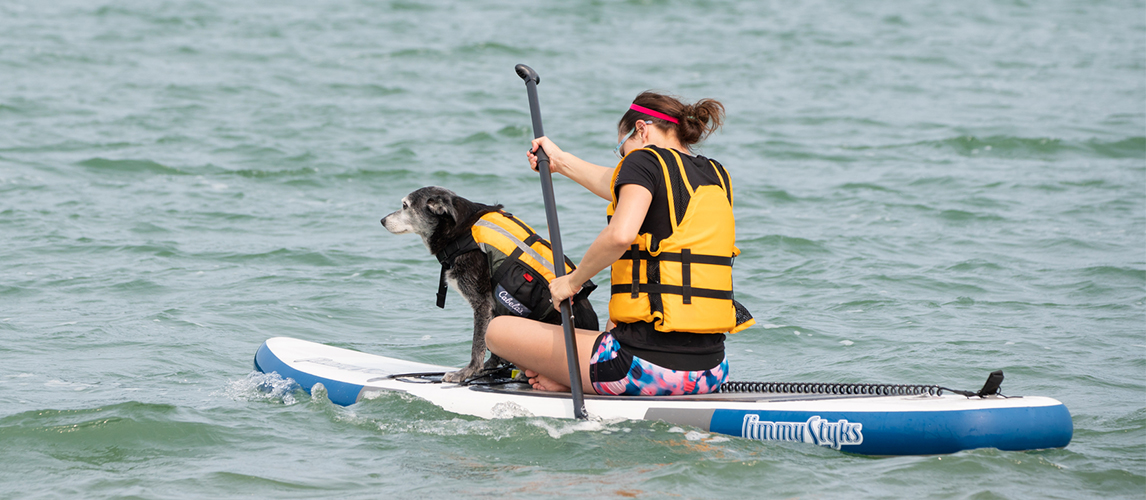 FAQ
Q:

What is a dog life vest and how does it work?

A:

A dog life vest is a piece of equipment, consisting of buoyant materials, wrapped in a waterproof material, that allows the dog to stay afloat in water. When used properly, a dog life vest will fit well and allow your dog to maintain a full range of movement.

They work in two ways- firstly, they can help a dog feel more at easy with the feeling of being in water, as the snug fit gives them a feeling of security. Secondly, the floatation devices are applied in several areas, providing even support and aiding your dog in staying afloat while swimming, without hindering them as they move in the water.
Q:

Does my dog need a life jacket to be on a boat?

A:

Yes. Everyone who is on a boat should have a life jacket and wear it at all times. Drowning is the biggest cause of death during boating accidents and 80% of these deaths show that the victim was not wearing a life jacket at the time of death. Indeed, many who drowned were in fact fully able to swim- but the currents and waves of water have proven to be too strong for them to successfully recover from their accident.

In regard to dogs, it's not hard to see why a dog may get over-excited and jump into the water, especially if your dog is fond of water-based activities. They may see a duck and their instinct kick in, or they may simply be trying to have fun. No matter the reason, they are more likely to fall overboard when boating and having a dog life jacket on can mean the difference between getting them back to safety in no time or, sadly, dying.
Q:

How should I measure my dog for a life jacket?

A:

A key factor in the safety of your dog is finding a life jacket that provides a good fit. In order to do this, you'll need to measure your dog using the following method:

Firstly, measure your dog's length. You need to find the distance between the base of the neck and the base of the tail. Try to do this with your dog standing on all four paws, so as to get an accurate measurement.
Next, check the girth of your dog's body. In the same way that we might measure our chest, you'll need to pop a tailor's tape measure around the thickest part of your dog's chest, just behind the front legs
Finally, measure the girth of your dog's neck. The best place is usually just above where your dog's collar would usually sit, at the thickest part of their neck. Bear in mind that this will need to be a little loose, so as not to restrict breathing, when worn.

You should then be able to use these measurements alongside a size guide, online. This will give you a better idea of what size you should buy, in order to best fit your dog. Ideally, you would be able to get an adjustable life jacket for your dog, as this will be most likely to fit well in all three areas.