The Best Weighted Blankets for Dogs in 2022
Last Updated: January 4, 2022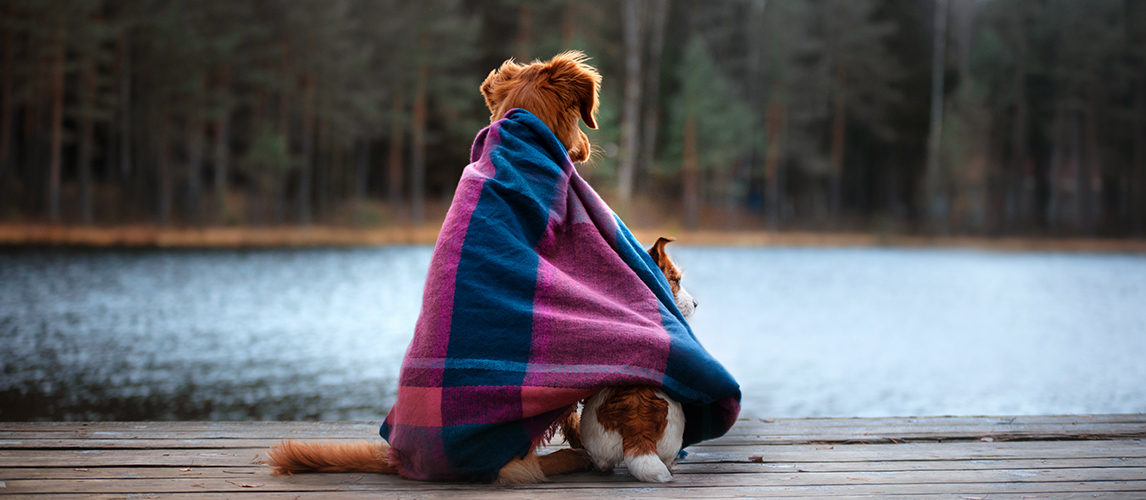 PetSide may earn a small commission from affiliate links in this article.
Learn more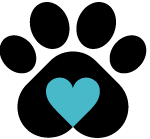 By Petside
Published 13:53 pm
Weighted blankets for dogs can feel like a lifesaver for those whose pooches suffer from severe separation anxiety and stress. In this blog post, we look at all the reasons why they can be so effective in helping alleviate a dog's anxious nature.
But, given that these blankets can be so life-changing for some dogs, finding the right model for your pup can be a little overwhelming. To help you get the perfect blankie for your pup, we also take a look at some of the best weighted blankets for dogs currently on the pet market.
The Best Weighted Blanket for Dog
Best Weighted Blankets for Dogs Guide & FAQ
What is a Weighted Blanket?
A weighted blanket for a dog is a piece of material that is filled or made of a fabric that adds considerable weight to the overall blanket. They are designed to enable deep touch pressure, or DTP. Many occupational therapists use this type of pressure in their work. They use it as a larger part of their mental support for a dog that includes Deep Pressure Therapy. It is thought to be effective as it helps a dog feel like he or she is being held or hugged.
Therapists like to use this form of therapy in their work, particularly with animals or even people that are dealing with the after effects of PTSD. Post traumatic stress disorder can make dogs anxious or stressed and generally too scared to do anything. Weighted blankets have also been used when a dog suffers from separation anxiety from its owner, as the weight of the blanket is thought to give the dog a feeling of security.
Related Posts: Dog Pajamas and Gifts for Dog Lovers
What to Look for in a Weighted Blanket for Your Dog
Weighted blankets for dogs can help even the most anxious of dogs in stressful situations. However, to be of any use, a few considerations need to be kept in mind. Firstly, the correct weight for your dog needs to be chosen as well as size. If it is too small, too big, too heavy or too light, it either won't be comfortable for your dog to use, or your dog will not feel any benefits from it.
Secondly, ensure that the innards are made of a substance you are happy with. The best stuffing is either made up of glass beads or of plastic ones that are totally non toxic and hypoallergenic. Bearing the stuffing inside, make sure that your chosen blanket is robust enough to deal with your dog should they chew it any time, or simply make sure that the blanket is well made so that any stitching does not become loose so the insides leak out everywhere, causing a choking or digestive hazard.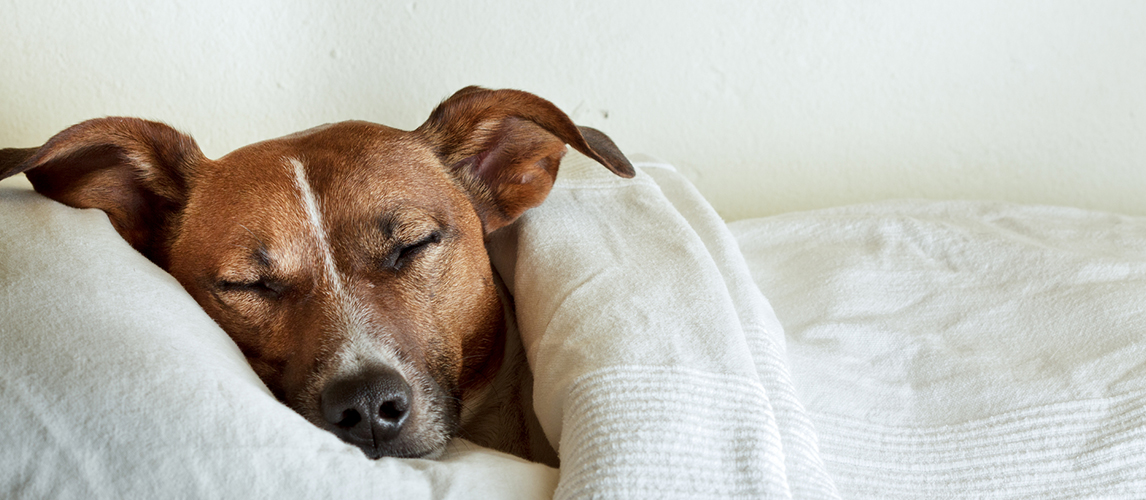 Benefits of Using a Weighted Blanket
The benefits of a weighted blanket for dogs are far reaching. This is because dogs are definitely more sensitive souls than we give them credit for. Yes they may bound up to us every time we walk in the home, but their excitable natures hide the fact that they scare easily. This anxiety may manifest itself in different ways. Some dogs will shake and quiver, while breeds we think of as brave may actually become ostensibly aggressive. You may also like our article on the best dog anxiety vests.
There will be a number of factors that cause your dog to scare. Easy to think of causes include loud noises like fireworks or trains. Some dogs do not find these sounds nearly as stressful as others. But for some, a clap of thunder has them running for their crate or hiding under beds.
Weighted blankets have been used in the past to alleviate the level of anxiety that your dog reaches. This is particularly true if your dog is a rescue pup that had a hard start in life where he or she was abused or neglected. It is not exaggerating to say that this type of experience can lead a dog to suffer from PTSD. PTSD is hard to diagnose even for vets, but as an owner you will know whether your dog is suffering from anxiety or not. In cases where they are dealing with anxious dogs, vets always recommend the use of a weighted blanket to help dogs relax.
This is down to the weight of the blanket putting pressure on a dog's body which helps the body to calm down by producing helpful hormones. In the case of a dog, when it is starting to relax, its body will release serotonin and dopamine in the brain which is then channeled to the nervous system. This further helps your dog to destress.
Weighted Blankets vs. Thunder Shirts & Weighted Vests
Weighted blankets are not the only form of sensory aid that can help treat a dog's anxiety or trauma. Some owners also use weighted vests or shirts - a popular one is called the Thundershirt. They have all been seen to have their benefits and work wonders on scared dogs, though all do have slightly different uses.
The vest or shirt is ideal if you know in advance that there will be a trigger that sets your dog off to cowering under the bed. A good example would be any night where you know fireworks will be let off - so perhaps the Fourth of July or New Year's Eve. The problem that solely relying on a weighted vest or thunder shirt is that putting it on once your dog has become anxious and stressed can be difficult. They need to have it on before the fireworks, or stress trigger, begins.
This is why a weighted blanket is great to use in emergencies. This, for an easily anxiety ridden dog, can be a whole multitude of events that owners may not be able to foresee or anticipate. For instance, dogs can become anxious if they are left with a dogsitter they do not know or is in an unfamiliar environment with unfamiliar sounds. A weighted blanket is therefore perfect for these situations as any person that the dog is with can place the blanket upon them with little need for any physical touch. This is especially important if a dog exhibits its stress through barking and nipping.
What is also great about a weighted blanket is that they are a one size fits all item. Weighted vests and thunder shirts only really work if they are the correct size. Plus, dogs can choose when to take off a weighted blanket by moving. If you put a vest on a dog when you leave the house, as he or she suffers from separation anxiety, they have to wear it all day whether they find it comfortable or not.
Head over to our reviews of Area Rugs For Dogs and Dog Couch Covers for more options.
Our Top Pick
This blanket from ZonLi is the best weighted blanket that is available to purchase on the market at the moment. It makes a fantastic weighted blanket for anxiety issues that your pet dogs may have as the weight that the glass beads inside give to the heavy blanket, allows pressure to fall onto your dog's body at crucial points.
It is incredibly well made too and is perfect for use with dogs. The glass beads that fill the blanket to give it its weight, along with the microfiber stuffing make it safe to use as a weighted blanket for dogs especially if owners take the time to figure out the best weight for their dog's size. (Around 7 to 13% of their body weight). The heavy blanket is not necessarily going to make your dog too hot either as the cotton fabric allows the dog's body to breathe so it is suitable for use in all seasons.
Plus filling this weighted anxiety blanket with non toxic glass beads also minimizes the chances that your dog may suffer from any allergic reactions to the stuffing inside. These beads also all stay evenly distributed throughout the blanket as ZonLi have designed the padding in such a way that no leakage can occur.
These design features, along with the fact that the blanket comes in such a large variety of shapes and sizes are the reasons why this is the best weighted blanket that money can buy. If you are looking for an anxiety blanket for dogs, then you need look no further than this example by ZonLi.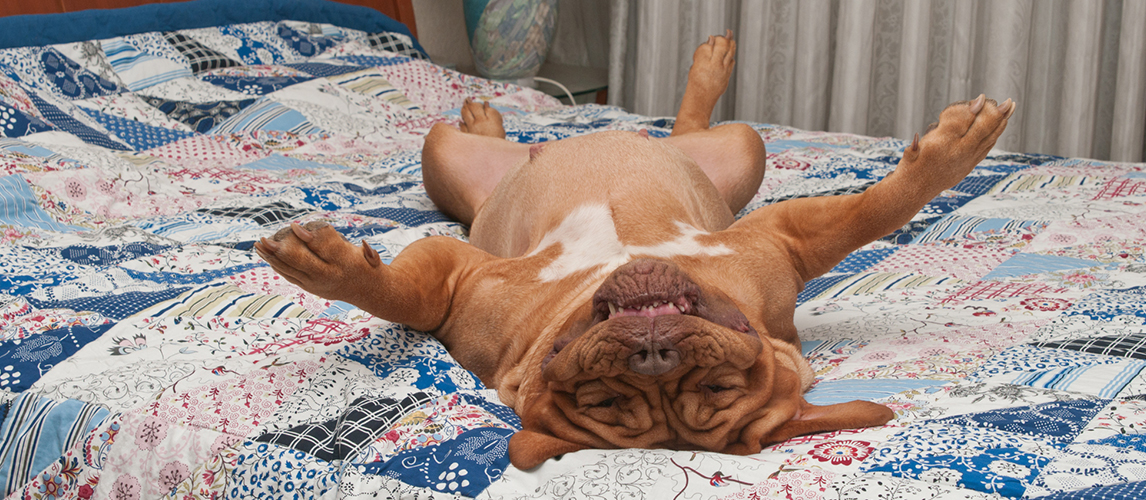 FAQ
Q:

Are Anxiety Blankets Safe for Pets?

A:

Whenever we introduce a new piece of equipment into our dog's lives, we need to ask whether it is safe to do so or not. This is especially true of a weighted blanket that is otherwise a pretty safe looking item. While they do not appear immediately dangerous, if your dog suffers from asthma or is a breed with a flatter face so prone to breathing difficulties, you will need to ensure that the weight of the blanket is not so great to make these issues worse.

Additionally, does your dog have a skin problem? If they have sensitive skin that is easily irritated, the pressure of a weighted blanket may make the issue even worse, so it would be best to look at other solutions to their anxiety.

Weighted blankets can also cause issues for dogs that love to chew on their own bed. This is because the substances that fill a weighted blanket can be dangerous if the blanket is chewed into smaller pieces. Sometimes blankets are filled with small plastic beads which can be dangerous for a dog to ingest accidently for a whole host of reasons. It may cause them to have an upset stomach and to therefore suffer from vomiting or diarrhea. It may even cause the need for surgery as the stuffing of a weighted blanket could become lodged in your dog's intestine and need removing.
Q:

What's inside a weighted blanket?

A:

The stuffing inside a weighted blanket for dogs can really vary. However, the best weighted dog blanket will use one of two types. Glass beads that are non toxic are popular as well as one of the safer substances used in making weighted blankets. The other are plastic pellets that are also non toxic but also hypoallergenic so that they can be used by dogs with allergy problems.

In addition to the beads that give the blanket weight, make sure there is some sort of lining that helps prevent against any of these small beads leaking out everywhere so as to avoid any hazards for your dog.
Q:

Can I wash a weighted blanket?

A:

Given the delicate nature of the stuffing of a weighted blanket, it is best to wash a weighted blanket for dogs with the the utmost care possible. This means putting your dog's weighted comfort into a washer set to cold. If possible, reduce the spin cycle of your machine to as low as it will go. Then, when finished, allow it to air dry. Never put it in the tumble dryer as the rotation and spin is too harsh for this type of heavy blanket. Plus, if it is filled with plastic beads like many of the best weighted blankets for dogs are, they can wreak havoc in the hot environment of a dryer. If needed, place a towel under any radiators or indoor drying frames to soak up the excess water that drops off from the weighted anxiety blanket when it comes out of the washer.

If you have a large dog and therefore have had to purchase one of the larger weighted blankets for dogs, you may have to take it to the dry cleaner to be washed properly. This is because your chosen heavy blanket may simply be too big to put in your own home washer. Your dry cleaner should know what to do, but emphasis the need to them that your weighted anxiety blanket is delicate and needs careful care.

Under no circumstances microwave or dry clean an anxiety blanket for dogs.
Q:

What weight should I get for a weighted blanket?

A:

Getting the weight right so you buy the best weighted blanket available for your dog is crucial if you want to reap the rewards that these items can provide. If you get the wrong weight, so that it is either too light or too heavy, your dog simply won't get the full effect that an anxiety blanket for dogs can provide. If it is too heavy, it won't be comfortable enough for your dog to use, or want to use, at any time - regardless of whether they are anxious or not. If it is too light, it will not be able to provide any form of relief that a weighted comforter ordinarily would.

The general rule of thumb is to buy a blanket that is around 10% of your dog's body weight. If you figure out what is the best weighted blanket for your dog by going on a percentage of its weight, it means that you won't fall into the trap of buying a heavy blanket that is not fit for purpose.