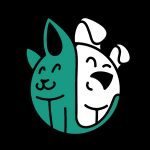 Tech that makes the life of a dog owner and their pooch easier is a good thing in my book and for pets that need garden access while you are at work, then an electronic dog door is top of the list.
From dog flaps that open via a wireless key on your dog's collar to a full door panel that can be remotely controlled, these genius panels are secure, easy to use and give your pet the freedom to come and go, even when you are not at home. You can even get dog flap panels that can be temporarily installed, perfect if you live in a rental property or don't want to make a major change to your home.
To help you choose the right product for you and your dog, PetSide has reviewed the best electronic doors currently out there. Let us open the door to a whole new level of pet convenience….
The Best Electronic Dog Door
PetSafe Electronic Smart Dog Door
See More Reviews

For an uncomplicated but fully electronic pet door that is as easy to use as it is to install, you can't really go wrong with this straightforward model from PetSafe. It may not have the sleek looks of the more expensive sliding door panels, but the PetSafe electronic dog door is a well-made and tough cookie that will give plenty of door life, even with the most energetic of pooches!
Using radio-frequency, the door flap swings open thanks to a smart key which you attach to your dog's collar. Then once through, the door then locks securely behind your pet, reducing the risk of any unwanted animals or strays following your dog into the house. The smart key has an adjustable range up to three feet and the door can be programmed for up to five pets, so good for a multi-pooch family. There are also three modes, so you can choose locked, manual or automatic and the unit is battery operated so no need for wiring. It is also easy to install, although you will need a tunnel extension for thicker doors, and you will also need to buy a conversion kit if the door is to be placed into a wall. But for a solid and straightforward smart pet door at an affordable price, the PetSafe gets the PetSide thumbs up.
Key Features:
Programmable selective entry, exit and auto-locking options
Works with the waterproof SmartKey worn on your pet's collar
Can be programmed for up to five pets
Battery operated with an adjustable range
Will need a conversion kit if to be fitted into a wall
Specification:
Brand

PetSafe

Model

PPA11-10709

Weight

8 pounds
High Tech Pet Power Pet Electronic Pet Door
See More Reviews

This fully automatic pet door from High Tech Pet uses an ultrasonic mechanism to give both pooch and owner a high level of control when it comes to access and security. It's a slick operator too – responding to a transmitter collar on your dog, the door vertically slides up and down to let your pooch go about his business with minimal fuss.
This is one of the lower priced full panel smart pet doors in our review, but it certainly gives the more expensive models a run for their money and has enough tech bells and whistles to make it worth the investment. An adjustable directional sensor knows when your dog is just walking on by, and when he really does need to be let through and the unit gives you a four-way access control so you can set it for full access, one way only or total lock-down. The mechanism is nice and quiet so won't spook your pet, meaning he should get used to working with new door in no time. It does only come with one transmitter collar but can work with dogs up to 100 pounds.
Key Features:
Motor driven vertically-sliding door
Activated by MS-4 ultrasonic collar
Sensing system knows when your pet is on a direct approach
Select from a four-way access control
Wind and weatherproof with airtight seal
Specification:
Brand

High Tech Pet

Model

PX-2

Weight

18 pounds
Solo Pet Door Automatic Electronic Dog Door
See More Reviews

Not only do we like the clean look of this automatic pet door from Solo, we love the fact that it comes in 10 different sizes, so can work with most dogs (and cats), no matter how big or small!
This is a mid-priced high-tech pet door that uses a magnetic pet tag system, so no need for batteries or the worry of replacing them. And the door is really pet safe – no risk of it cheekily slapping him on the butt – with a slow close of the sliding door, thanks to a clever system that uses gravity to gently bring the door back into place. You can set the duration of the door opening and once back in closed position, it is also super-secure, for added peace of mind. There are two versions of the model – one for doors and one for walls – so make sure you buy the right version for how you intend to install the door. There are limited extras – no remote control for example – and the pack only comes with one magnetic pet collar – but for a well-made pet safe electronic dog door that works with most pet sizes and will blend nicely with your home, this is a model that deserves to be on our best electronic dog door list.
Key Features:
Comes in 10 sizes so great for all dog breeds
Magnetic operated tag so no need for batteries
Slow close mechanism for extra pet safety
Adjustable settings for open duration
Suitable for doors and walls
Specification:
Brand

Solo Pet Doors

Weight

15.2 pounds
PetSafe Extreme Weather Energy Efficient Pet Door
See More Reviews

If you are getting tired of the drafts billowing into your usually toasty home every time your pooch needs to go out for a pee, then check out this superior energy efficient door from PetSafe.
While not electronic, the PetSafe Extreme Weather uses insulating technology to make it 3.5 times more energy efficient than single flap doors so from a tech point of view, we couldn't leave this handy door out of our review. It uses a clever three-flap system that works in both hot and cold climates to keep the temperature in your home nice and controlled. Plus, you can also buy an extra closing panel if you really need to up the insulation even more. The Extreme Weather is easy for your dog to use and can work with animals up to 100 pounds. And you can quickly control access via a simple but effective snap on closed panel to stop your pet from walking through. What we also like about this minimalist look dog door is how easy it is to install in both walls and doors and with a paintable frame, it can be quickly blended into your home's décor.
Key Features:
Unique three-flap design beats drafts and temperature changes
3.5 times more energy efficient than single flap doors
Easy to install and can be used for both doors and walls
Clip on outer panel securely locks the door
Comes with a paintable frame
Specification:
Brand

PetSafe

Model

PPA00-10986

Weight

6.3 pounds
SureFlap Microchip Pet Door
See More Reviews

The SureFlap is a best-selling automatic pet door for a reason – it's totally affordable but offers a quality design with tech spec you would more likely find on a much more expensive model. And so when it came to picking our best value product, the SureFlap won hands' down. OK, it is best for medium to smaller dogs so no good for larger breeds but what it offers is great value for money. Using RFID tech on a collar tag, the SureFlap can be programmed to work with up to a seriously impressive 32 animals so great for a multi-pet home or even a kennel. It can also be programmed to recognize you pets' microchips (otherwise you will have to buy the additional tags as the set only comes with one collar tag). It looks clean and neat too, with a clear plastic swing door that opens smoothly. And we really like the programmable modes, which includes a time-specific 'curfew' mode for when you need to ground your pet at night!
The SureFlap microchip dog door is reassuringly easy to install and will fit cleanly in your door and can also be fitted into glass and walls. If you are looking to install into a metal frame or door, you may need to buy a separate mounting frame so that it doesn't interfere with the tag frequency so if in doubt, do check with your supplier.  Operated via four C cell batteries, you can also expect to get a good 12 months' use out of the SureFlap before you need to replace.
Key Features:
Works with your pet's existing microchip or SureFlap RFID tag
Can be programmed to work with up to 32 pets
Curfew Mode – program to lock and unlock at specified times
Can be fitted into doors, glass and walls
Best suited to small up to medium-sized dogs
Specification:
Brand

SureFlap

Model

SUR101

Weight

3.28 pounds
Plexidor Large Wall Mount PDE Electronic Pet Door
See More Reviews

From our Best Value, we move to our Premium Pick, which is the lux-looking and lux-priced Plexidor electronic pet door. This large wall mounted door is an impressive piece of automated kit which, if you can work around its price, gives a lot of quality tech for the dollar.  And, if you have a large canine, then with a size capacity of up to 125 pounds, this extra-large electronic dog door would suit you (if not your bank balance!) rather well.
The Plexidor works using RFID technology which operates via a waterproof smart key you program then clip onto your dog's collar for on the go access in and out of your home. The timings are all adjustable so you can manage the time the slide door stays open and it opens smoothly when your dog is ready to pass through. You will have to have this door hardwired into your house system so is a bit more involved when it comes to its installation, but it does fit with pretty much all doors, as well as walls up to 12 inches thick. (although you will need to buy the specific wall kit version). The price of $2500 is a bit of a kicker and a hardwired unit is not everyone's preference but the Plexidor is a tried and dog door with sensor which comes with a five-year warranty.
Key Features:
Pet and child safe-won't close when obstructed
Waterproof collar key opens and closes the door
Won't interfere with home security systems
For dogs up to 125 pounds and all cats
Five-year limited residential warranty
Specification:
Brand

Plexidor

Model

PDE WALL LG WH

Weight

32 pounds
Power Pet Fully Automatic Patio Pet Door
See More Reviews

This smart looking door panel from Power Pet is ideal if you are wanting to put your pet's access route to the back yard in a patio or glass door. Pre-installed into an aluminum-framed glass panel, the Power Pet high tech dog door is easy to install and works naturally with an existing sliding patio door. It also offers a nice amount of smart tech to make your pet's movements in and out of the house to the yard a breeze.
Activated via an ultra-sonic collar, the motor driven door has a smooth movement as it slides vertically, and its directional sensors means it only opens when your dog is ready and willing to pass through. There is also a four-way access control so you can pre-program it, from full-access to closed and locked. The panel comes in three sizes to fit most patio windows and two door sizes, which means is can work with larger dogs, up to 100 pounds. The door mechanism can be a little noisy, but not enough to put your pet off from happily using it. And despite its relatively slim size to fit a patio, the door is impressively waterproof.
Key Features:
Inserts into your sliding glass patio door track
Motor driven vertically-sliding door activated by ultrasonic collar
Directional sensing system opens when your pet is on a direct approach
Four-way access control
Works with pets up to 100 pounds
Specification:
Brand

Power Pet

Weight

53 pounds
Best Electronic Dog Door Buying Guide
Features to Consider When Buying an Electronic Dog Door
An electronic dog door can make a real difference to you and your pet, but it's important to get the right style for your needs. When looking to buy the best electronic dog door, make sure you consider the following first:
You'll need to decide which sensor system to operate the automatic dog door is best for your home set up. If your dog has been microchipped, you should look at a sensor system that is operated by the chip under his skin. Then there are systems where an RFID chip or smart key tag on your dog's collar will release the smart pet door. For a less-expensive model, you could consider a magnetic tag, although these are not as secure as other sensor types and could be opened by other dogs as they can't differentiate between animals. If you have several dogs, you will also need to check that the automatic dog door you are looking to buy can be used for multiple pets as some models are for single pet use only.
The more control you have over your petsafe electronic dog door the better so do check what settings are on offer. An excellent feature to look for is access control, which enables you to set the door to lock when you need to, for example to stop your pet from going out or coming in, or to prevent the door from opening from the outside when your dog is back inside the home. Also check if the dog door with sensor offers a directional system which means that the door will only open when your pet is wanting to go in or out, rather than opening every time he simply walks past.
This is an important one, as with any high-tech pet door, you are going to be making a physical change to your home. Consider the aesthetic appeal of the door you are choosing as well as the quality and durability of the materials used. Stainless steel automatic dog doors may last longer than plastic, especially if you have a large, energetic dog but may not blend as well into the wall or door. And, as you are effectively creating another opening in your house, look into the energy efficiency of the door you are looking to buy and how weather proof it is.
Not all electronic pet doors will work for all dog sizes so it is important to check the door panel size against the size of your own pet to ensure it will fit. The location of the door is also important when considering different products so be clear as to whether you are looking to fit it in an existing door or a wall.  Door systems require less work to fit whereas a wall panel is more flexible as to where you locate the door, enabling you to hide the entrance more effectively. Wall doors, however, will require more construction, especially if the walls are thick.
It goes without saying that some automatic dog doors will be easier to install than others! Make sure you are happy with the necessary installation and inevitable physical changes to your home before you buy a particular model and look for a professional to install if you don't have the right tools or DIY 'know-how'.
A smart dog door is not just a hole with a flap and tech means there are other added features you could consider to make your life, and the life of your pooch, much easier. Added extras could include a remote control, so you can open the door when not in the same room and also timers, so you can control when your dog as access. This is a really good feature to consider if your pooch is a bit of a happy barker and you want to stop him going outside at night, waking the neighborhood!

Why Should You Buy an Electronic Dog Door
An automatic dog door is an excellent option if you have an enclosed and secure back yard or outdoor space which your pooch can safely let himself in and out, without you having to keep opening the door. They are also a good choice if you are out during the day, but this needs to be carefully managed to ensure your pooch is secure when he lets himself outside and the outdoor space is free of any hazards.
An electronic dog door also helps you to have greater control over your pet's movements at home and where they can and cannot go. They can also work well in an apartment, for example, as a replacement panel in a sliding door.
Dog Door Size Chart
When buying an electronic dog door, it is essential to get the right size for your own canine as you may well need an extra-large electronic dog door! To get this right, measure your dog's standing height and width and then add 1-2 inches to each of these measurements. This is the minimum size of the flap opening in the dog door you will need.  You will also need to consider the step over height of the dog door itself and make sure your pet can get over it as they walk through the opening. For example, a small dog or puppy will need a much lower step height that a long-legged tall hound.
Best Electronic Dog Door FAQ:
Q: What is an electronic dog door and how does it work?
A: Put simply, an automatic dog door is an additional entrance within an existing door or wall that allows your pet in and out of the house and access to an enclosed outdoor space. With an electronic dog door, you get added security in that it only opens 'on demand' and it also gives your pet the freedom to come and go as they need. Using sensors that pick up on either a microchip, smart tag or magnet on your dog or his collar, the high-tech dog door will only open if the right connection has been made, meaning other animals (as well as unwanted humans!) cannot gain access to your home. The beauty of an electronic dog door is that you can also control access and lock the flap to prevent your pet getting out. Most electronic dog doors can be easily fitted into an existing door or wall or can be used to replace a whole panel.

Q: How do I install a doggie door?
A: The first rule of installing a new doggie door is to read and follow the instructions for the particular model you have bought! You shouldn't need too many tools and most electronic dog doors can be installed without the need of calling out a professional. It is important that you have all the measurements correct, as well as the right sized door panel for your pooch.  Then use the cutting template supplied with your new dog door to cut and create the hole you need in an existing door or wall to fit the new dog door panel snugly inside. Tip: if you are inserting the panel inside a door, consider taking the door off its hinges first, so you can work smoothly and more accurately when cutting the required hole.
Check the panel fits first before securing it in place, and trim back the edges of the hole if need be to get a solid and secure fit. Once installed and everything is back in place, introduce your four-legged friend to his new door and slowly let him get used to using it.
Q: Can I install an electronic dog door in the wall?
A: You can buy electronic dog doors for walls specifically to fit within your home to provide your pet with access to the outside. Wall doors do need a bit more construction and fitting than a straight-up door flap, and you may need to bring in a professional if the walls are thick or there is a lot of concrete to cut through. But the benefit of a wall door is that you can choose where it goes in your home and they can be placed to be more discrete and give direct access to your preferred (but still enclosed) outdoor space.
Related Reads
Related Reads