The Best Dog Cameras and Monitors in 2022
Last Updated: January 4, 2022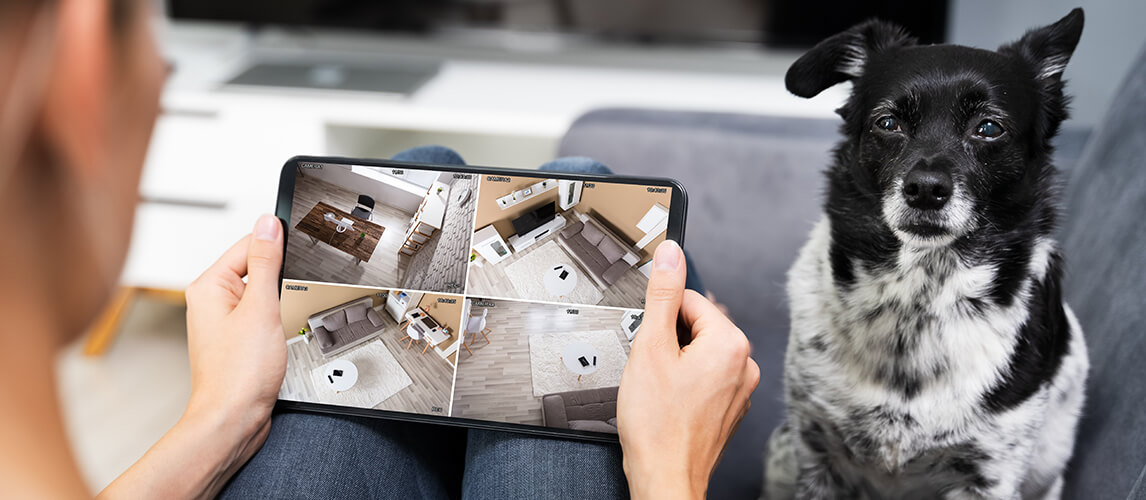 PetSide may earn a small commission from affiliate links in this article.
Learn more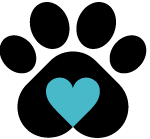 By Petside
Published 11:34 am
If you suffer from separation anxiety when forced to spend eight hours of your working day away from your beloved fur baby, then a dog video camera could be the solution. (N.B. it also helps if your dog is the one who gets anxious too!)
So, what exactly is this genius device? Well, dog cameras vary from standard home security cameras that provide you with a visual and audio feed of your dog, to specially-designed, interactive pet cameras, that allow you to see, speak to, play with and treat your dog, all remotely, from your mobile phone or computer screen.
Imagine how much more exciting your lunch break would be if you could check in on your favorite fur ball, watch him cock his little head as you tell him what a good boy he is and give him a treat? We know, you're sold. Read on for our detailed buying guide to the best dog cameras available today, to help you make an informed decision about the best way to be there for your pup, even when you're miles apart.
The Best Dog Cameras and Monitors
Best Dog Camera Buying Guide & FAQ
Still feeling overwhelmed by the amount of ways to check in with your precious pooch throughout the day? Hopefully our buying guide and FAQ will help clear up that camera confusion.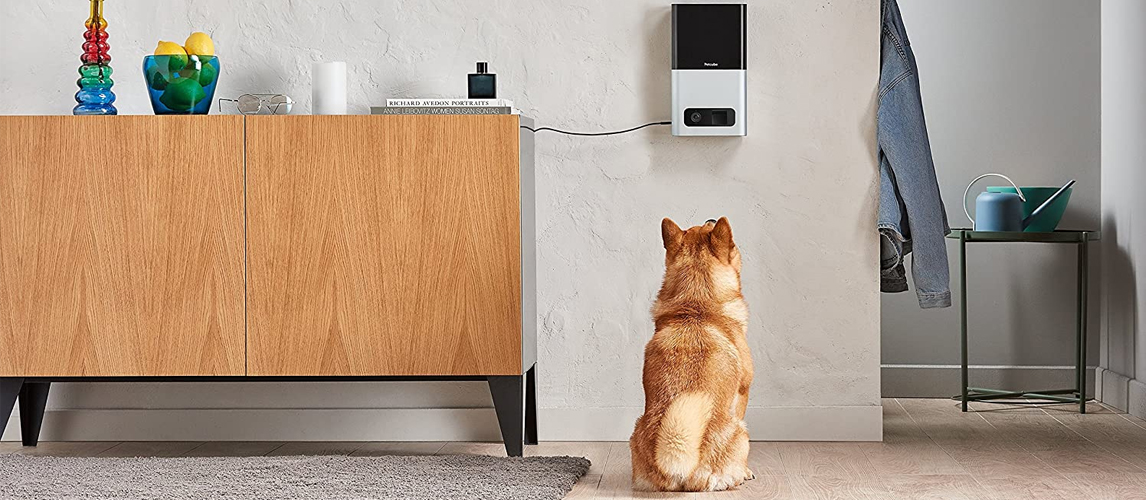 Features to Look for in a Dog Camera
This first consideration is the most important – after all, the main purpose of a dog camera is to see your pup's smiling face – so make sure you choose a high quality HD camera, possibly with the ability to zoom if the camera will be in a large room. If you'll be using the camera to check on your pup at night (assuming you don't want to leave all your house lights on), you'll want a camera with decent night vision. Another important consideration is whether you want a two-way video so your dog will be able to see you too. This is a fairly advanced feature, and most of the more affordable dog cameras on the market do not yet have it, but for those able to spend the extra, it's a lovely addition – try the PetChatz HD Digital Daycare, if you want your pup to be able to see what you're up to too.
As above, the audio specification of your dog camera is an important thing to look out for. You'll want to make sure to choose a camera with two-way audio (most cameras have this) so you can hear when your pup is barking, and be able to soothe them with your voice. Check reviews to see how existing customers rate the sound quality of each potential camera.
What entertainment does it offer your dog?
Consider whether the dog camera offers Fido additional mental and physical stimulation. Does it dispense dog treats / emit smells / play laser games? Can these functions be automated, so your pooch can enjoy them even when you're not able to tune in? Bear in mind that you will only get these features with an interactive pet camera, not a home security camera.
What other additional features are there?
There are other ways in which your dog camera can help you. For example, our top pick, the Furbo Dog Camera, has a barking alert feature that will send you a message when your pup is being noisy – this could be a lifesaver if you're trying to build a better relationship with your neighbors! It also has a Dog Selfie and a Doggy Diary feature, which are nice extra touches for you as a proud puppy parent.
What sort of photo taking/sharing/recording ability does it have?
It goes without saying that your dog camera will observe some pretty adorable behavior from your dog – after all, your dog is adorable even when he's not doing anything – and you're bound to want to record, store and share this cuteness. Consider whether your camera needs a memory card to record, or is there cloud-based storage? If so, is this cloud storage free, or is there an additional cost? Some cameras also come with the ability to take photos and share them instantly to social media, whilst others allow multiple users, meaning the whole family can tune in live to the pup show.
Power, connectivity, and mounting
Most dog cameras need to be plugged into mains power and connected to your Wi-Fi. Many also require downloading an app to an iOS or Android operating system, and some are compatible with Amazon Alexa, so consider all this and select a dog camera that works with your current home tech. Depending on where you want to install your pet surveillance camera, you might want to choose a freestanding or wall-mounted unit.
You may also like our articles on GPS Trackers for Dogs and Electric Dog Fences.
Why You Should Use a Pet Monitor
Reduce separation anxiety
If your furry friend gets anxious when you're not around, checking in on them regularly throughout the day can be a great way to comfort them and reduce their distress. As well as improving your dog's mental wellbeing, this can also be useful if your dog acts out and say, chews the furniture when he's stressed.
Mental and physical stimulation
Following on from the above, even if your dog isn't particularly anxious, if you're at work or out for hours at a time, your pup is missing out on the mental and physical stimulation of your company. Many dog cameras include games and treat dispensing features that can provide entertainment for your dog, even when you're not able to be there.
Know when they're barking
Some dog video cameras have bark alerts which will let you know when your pup is using their voice and give you the opportunity to tune in and soothe them into silence – all of which can do wonders for neighbor relations!
This one's a bit more serious, but it's an important consideration – if something bad happened, maybe if there was a fire, or if your dog somehow got into a cupboard and devoured a family sized bar of poisonous chocolate, you'd be able to see this on the camera and do something about it. Several reviewers of the dog cameras listed here claim that the camera in some way saved their fur baby's life. Additionally, it may help you to diagnose an illness in your pup, as you'll be able to see how they behave throughout the day – for example, if they're sleeping too much or not drinking water.
A dog camera with the ability to dispense treats will make you and your dog happy, especially if you're out for the day and breakfast was a long time ago. If possible, Fido might love you even more after this!
Give your day a little lift
Aside from the numerous benefits to your dog of having you virtually "pop in" to check on them, pet cameras are very beneficial to you as a dog owner too. You're a parent who loves their fur baby and hates being apart from them. Being around your pup makes you happy and offers you comfort when stressed – and now you can tap into that feeling, wherever you are.
Security Camera vs. Pet Camera
When deciding between a home security camera or a pet camera, you should consider that security cameras are perfectly fine for monitoring your dog, but lack the additional features of a specialized pet camera, such as treat dispensing, built-in laser toys and barking alerts. Security cameras are usually wall-mounted, whilst pet cameras are more often freestanding or intended to be eye-level for your dog. A security camera can often be the cheaper option, but an interactive pet camera offers a lot more opportunity for mental and physical stimulation for your pup, and usually more helpful features for you as an owner.
Check out our guides on Electronic Dog Door and Dog House Heaters.
Our Top Pick
Our pick of the best dog cameras is the Furbo Dog Camera. It's high-spec, with all the essential features such as 2-way audio and night vision, but also a host of additional smart features, such as barking alerts and a 60-second highlight reel of your dog's day. Most importantly, it allows you to dispense your dog their favorite treats throughout the day, so it's possible they'll love you even more. And if it's good enough for Ellen, it's good enough for us!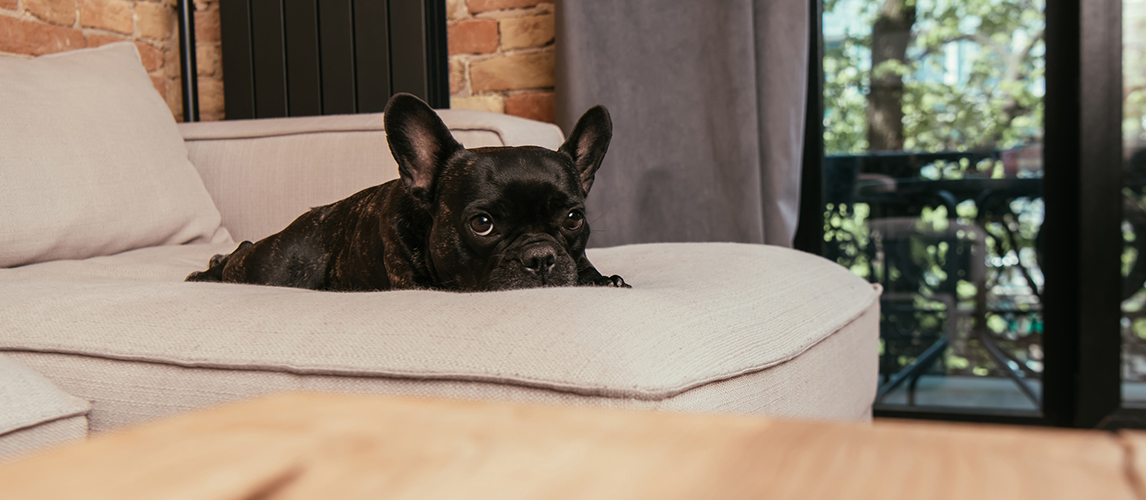 FAQ
Q:

Where in my house should I set up my dog camera?

A:

You should set your dog camera up in the room most frequented by your dog when you're not home, or in the room in which they require the most supervision – such as the living room, with all those chewable soft furnishings! Depending on which dog camera you are using, it may be freestanding, or it may require mounting to a wall. Bear in mind that if your dog camera has dual vision, it will need to be in a place where your dog can see the screen. Most dog cameras will come with recommendations for positioning, and always make sure to test out the position (for visual, sound and treat dispensing features), before making any permanent changes to your home.
Q:

How do I install my dog camera?

A:

This really depends on the dog camera you've chosen. Many, including our top pick, the Furbo Dog Camera, are as simple to set-up as plugging it in, downloading the app and connecting it to your Wi-Fi. Others may require a little more set-up, although for most the basic principles of connecting to a power source and Wi-Fi apply. Always make sure to follow the instructions, as improper set-up can prevent your dog camera from functioning correctly – which will be very frustrating for both you and Fido when he tries to call.
Q:

Do dog cameras need batteries?

A:

Again, this does depend on the individual dog camera you have chosen, however, most dog cameras are mains powered, and do not require batteries (none of those in our top 10 require batteries). The majority of pet cameras need to be connected to Wi-Fi to work, so bear that in mind if you live off-the-grid. Depending on your model, you may need a Micro SD card to record footage of your pup, or it may come with included or additional cloud storage.
Q:

Can I use the camera outdoors?

A:

Generally speaking, dog cameras are designed to be used indoors - none of the cameras featured here are suitable for outdoor use. They also need to be plugged into the mains and connected to your Wi-Fi. If you need a dog camera outside, you should be able to find a home security camera that is designed for outdoor use – always check the manufacturer's specification before purchasing.